Dagobah
If you like exploring, this trip is your ticket to adventure!
A humid, swampy planet, mostly covered in shallow marshland, interspersed with stifling forests. Excited yet? Well, there is more. Dagobah is also home to many creatures, such as bogwings, dragonsnakes, nudj, sleens, vine snakes, and swamp slugs. And flora lovers can find excellent specimen of the Gnarltree and Meat flower.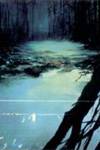 System: Dagobah
Region: Outer Rim Territories
Environment: Swamps
Official Language: Growling
Flights to this destination: No Available Flights At This Time
Related
As an international photographer, Kris encounters many sides of the entertainment business. Passionated by Star Tours, he founded EndorExpress in 2002.
Related Posts
D23 Expo 2013, Star Tours
At the heart of each and every D23 Expo is Walt Disney Imagineering and every time, they deliver the most impressive display.  This year, the...
Disneyland, Star Tours, Star Wars
If you're a Star Wars fan, you know Dennis Muren.  If you're a visual effects fan, you know Dennis Muren.  I'm actually more surprised when I...