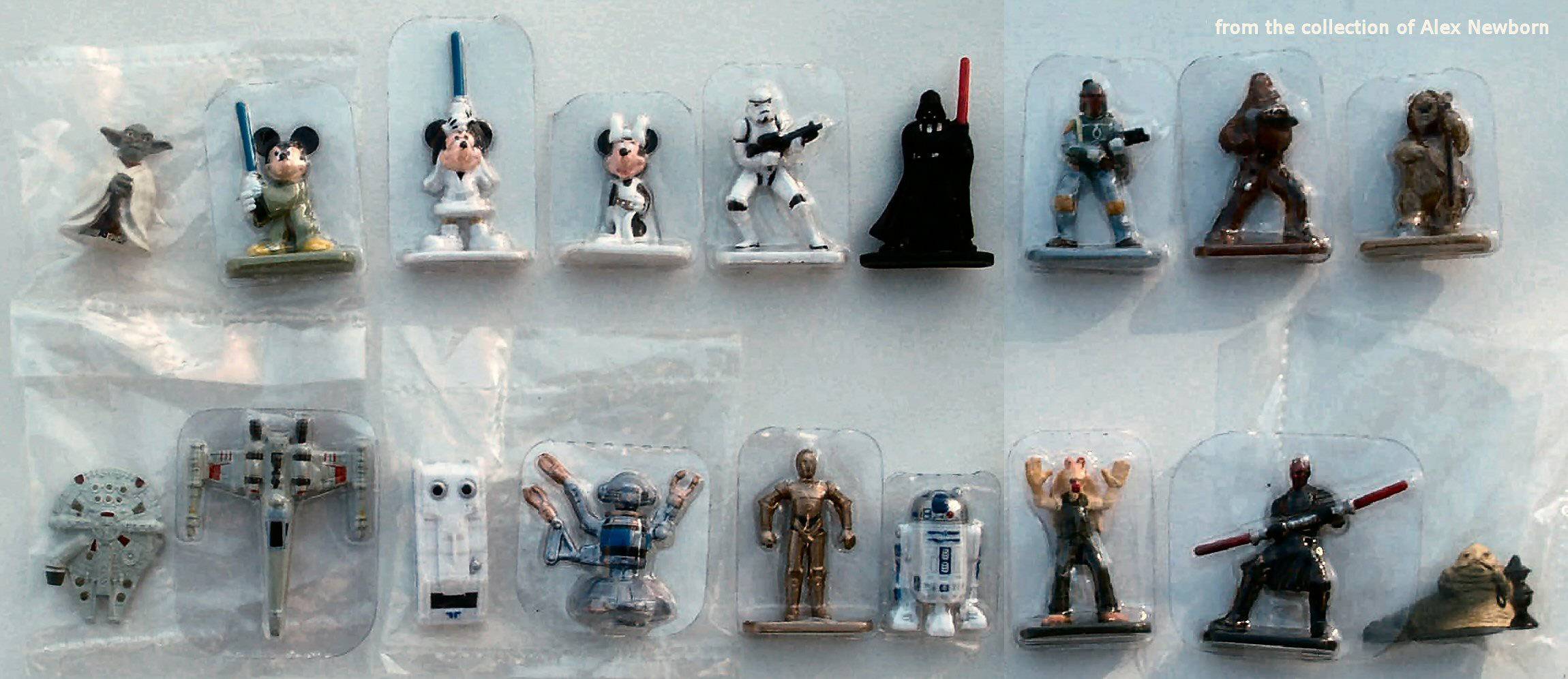 Star Tours Collector Mini-Packs
Manufactured by none other than Hasbro, these eighteen miniatures were originally sold only at Disney Theme Parks, blind-packed as random sets of three for $5. You didn't know which figures you were getting until you ripped open your purchase.
Alex explains that he heard an as-yet-unconfirmed rumor that the Collector Packs were no longer being sold at the Parks, and began his collection quite simply one night a few weeks ago by bidding on a loose StarSpeeder 3000 that was being offered on eBay.
"After that," Alex says, "I was hooked." He made a few additional purchases of subsets (one seller was offering fourteen of them) and then found a seller offering individual figures for fairly reasonable Buy It Now prices, and jumped at the chance to select the remaining pieces he required.
But it pays to shop smart, he advises. The BIN seller's price for Vader was higher than another seller's auction which contained a Vader in a lot with several of the spaceships.
"So that's why my Vader is the only figure I own that's not still in his shrinkwrap and/or clamshell. But for less money than I would have spent on the Buy It Now, I not only got the last figure I needed, but three extra StarSpeeders as well… so now I'm building a fleet!"
Alex offers one final piece of advice when searching on eBay: Narrow your search! "The other day I typed in 'rx-24' but forgot to specify the category of Toys and Hobbies… and it yielded two very surprising results among the action figures and other Star Tours memorabilia. One was a 24 Ghz module for a microwave oven and the other was a certain virility-enhancing medicine (Rx being the abbreviation for prescription). LOL"
Click to enlarge.
Top row (l to r): Yoda, Jedi Mickey, Mickey as Luke, Minnie as Leia, Stormtrooper, Darth Vader, Boba Fett, Chewbacca, Ewok
Bottow row (l to r): Millennium Falcon, X-wing Fighter, StarSpeeder 3000, RX-24, C-3PO, R2-D2, Jar Jar Binks, Darth Maul, Jabba the Hutt