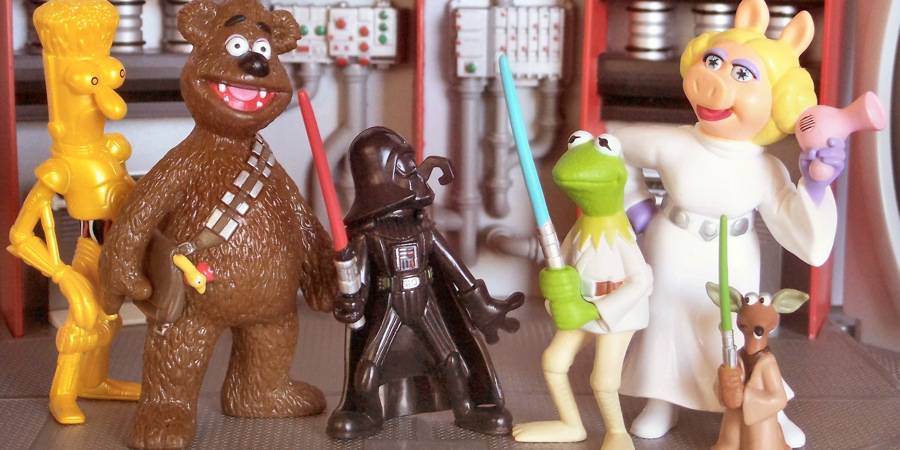 Star Wars/ Muppets Figure Set
One of the most anticipated Star Wars crossovers are these Muppet figures. These are non-articulated (pvc) figures and will be sold as a boxed set.
Characters include Kermit as Luke, Miss Piggy as Leia, Beaker as C3PO, Fozzie as Chewbacca, Rizzo as Yoda, and Gonzo as Darth Vader. The expected delivery is early July.
Approximate retail price is $12.95.
Review and photo posted below by Alex Newborn
Hi-ho, Alex the fanboy here!
I love the Muppets. I love Star Wars. I love Disney collectibles. So this boxed set of six Park-exclusive figures from 2008 was a triple-win for me.
From left to right: Beaker as C-3PO, Fozzie as Chewbacca, Gonzo as Darth Vader, Kermit as Luke Skywalker, Miss Piggy as Princess Leia, and Rizzo as Yoda. Their backdrop is a Palisades toys "Swinetrek" playset from my extensive Muppet Show collection. The figures are non-poseable. Beaker, Gonzo, and Kermit all came with detachable stands (not shown in photo). Original price was $16.95.
Of course, even the most casual Star Wars fans probably recall the season four episode of the Muppet Show when Mark Hamill guest-starred, playing both himself and his 'cousin' Luke Skywalker. Although the episode aired a short time prior to the 1980 release of Empire Strikes Back, Hamill had already developed a strong working relationship with Frank Oz, the talented performer for both Yoda and such Muppets as Miss Piggy and Fozzie. In fact, the stages in England where they filmed ESB were right around the corner from the studios where Jim Henson and crew filmed The Muppet Show.
In the episode, when Luke and the droids hijack Link Hogthrob's Swinetrek to search for a missing Chewbacca, they encounter an evil black-helmeted fiend. No, not Darth Vader… this is Dearth Nadir! When he turns profile, it's fairly obvious the baddie is the Great Gonzo (Dave Goelz) in disguise. Miss Piggy also masquerades as "The Princess", complete with white dress and Star Puffs hairstyle.
Funnily enough, the Dearth puppet was not built specifically for the Hamill episode. It had actually appeared in a Pigs in Space skit on an earlier fourth-season episode guest-starring Crystal Gayle, complete with a cadre of "chicken stormtroopers".
The Muppets and Star Wars have crossed-over several times since, including a Muppet Magazine comic strip from the 80's where another Gonzo/Darth and Piggy/Leia were joined by Kermit/Luke, Fozzie/Chewie, and even Link Hogthrob/Han Solo. The script was full of pun names, such as "Princess Loina" and "Chew-wokka." But I don't specifically recall ever seeing a Beaker-as-Threepio or a Rizzo-as-Yoda prior to this set of figures.
I was very excited when I first heard about this Disney set, because many years ago when I was collecting the Muppet Show action figure line, I corresponded with an exec at Palisades Toys, inquiring whether they would ever produce a 'Dearth Nadir' action figure, or would I have to customize one on my own?
He said no, they would not be manufacturing one, though he assured me it was not for lack of trying. There were just too many hurdles to clear in getting the rights secured from all the organizations involved. (Oddly, they did later produce an "Adventure Kermit" in Indiana Jones attire, from the TV special "The Muppets At Walt Disney World".)
Even though I did customize a Dearth action figure from a Palisades Gonzo and a PEZ Darth Vader helmet, I still wanted a production toy of the character. So my only real qualms with this set of six figures have to do with the inevitable comparison to the Palisades line. Namely, they're slightly too short to be compatible in a display, and they're not poseable.
If they made a second set, though, I'd definitely buy it.
AN