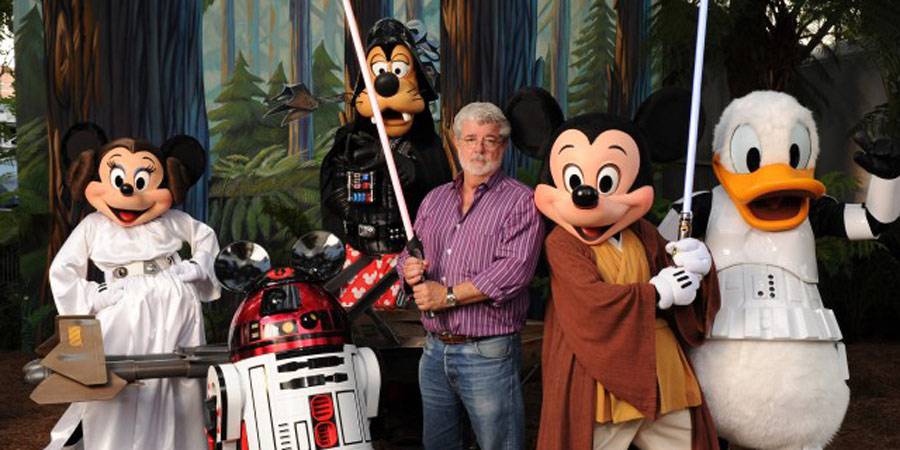 Kris Van de Sande
Celebrity Visits
Article
July 21, 2014
Star Tours is located in the most famous theme parks in the world so you might on occasion see a celebrity on board the Starspeeder 1000. Or perhaps tweet about their visit.
Almost every summer since 2000 Disney's Hollywood Studios at the Walt Disney World Resort in Orlando, Florida has held Star Wars Weekends during the summer. During those weekends you can have the chance to meet some of the people that worked on the Star Wars films both in front of the camera and behind the scenes.
On Saturday August 14, 2010 Disney's Hollywood Studios held "The Last Tour to Endor." Star Wars Celebration V was also being held in Orlando that weekend. Lots of celebs from the Star Wars universe were on hand for the "Last Tour" including George Lucas.
If you have an image or come across a tweet you would like to share please contact us.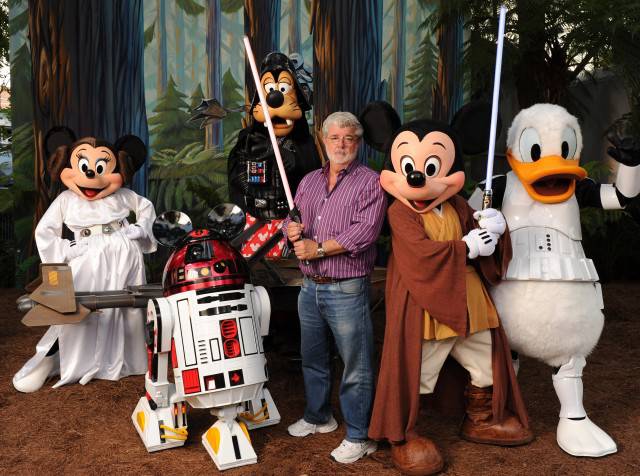 George Lucas Aug. 14, 2010. The legendary filmmaker attended "The Last Tour to Endor."
Image © Disney/Lucasfilm
Harrison Ford made a visit to Disneyland in September 2007 and a photo of him on Space Mountain quickly made its way online. Have to wonder if Han Solo took a trip to Endor or if Indiana Jones toured the Temple of the Forbidden Eye?
---
Dwight Howard May 6, 2011. NBA All-Star Dwight Howard with Chewbacca poses in front of Star Tours: The Adventures Continues at Disney's Hollywood Studios.
Image © Disney/Lucasfilm
Ashley Eckstein Voice of Star Wars The Clone Wars Ahsoka Tano and Host of Star Wars Weekends 2011.
Image © Disney/Lucasfilm
Ray Park Best known to Star Wars fans for his role as Darth Maul in Star Wars Episode 1 The Phantom Menace. Ray Park has also played Snake Eyes in the GiJoe films and Toad in X-Men. Mr. Park has been a guest at Star Wars Weekends in 2007, 2009 & 2011.
Image © Disney/Lucasfilm
---
Matt Lanter November 21, 2011. The voice of Anakin Skywalker in Star Wars: The Clone Wars has visited Star Tours more than once. He also visited in Oct 2009 with his 90210 co-star Michael Steger.
Images © Disney/Lucasfilm
---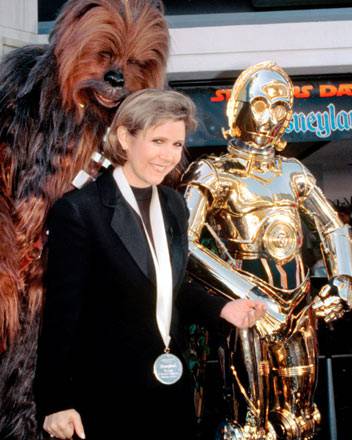 Carrie Fisher 1987
Temuera Morrison Played Jango Fett in Star Wars Episode 2 Attack of the Clones visited Star Wars Weekends in 2004.
Image © Disney/Lucasfilm
Peter Mayhew Played the mighty wookie Chewbacca in all three original trilogy Star Wars films. He also played Chewie in Episode 3 Revenge of the Sith, The Star Wars holiday special, The Muppet Show and most recently he recorded dialogue for Chewie for The Clone Wars. Mr. Mayhew is a frequent guest of Star Wars Weekends.
Image © Disney/Lucasfilm
Warwick Davis played Wicket the ewok in Return of the Jedi and both Ewok movies. Mr. Davis also starred as the title character of the Lucasfilm produced Willow. He has been a guest and host of Star Wars Weekends for several years.
Image © Disney/Lucasfilm
Antwaan Randle El is well-known for the 43-yard touchdown pass he threw for the Pittsburgh Steelers in Super XL on Feb. 5, 2006. Antwaan Randle El made a visit during the opening day of Star Wars Weekends 2006.
Image © Disney/Lucasfilm
---
Holly Madison @hollymadison Nov 1 2011
"Had a dream I was standing in line for Star Tours at Disney with a boy I like. What in the hell does that signify?"
---
Dope. But it still gives me motion sickness. RT @Kt_christine: @ZacharyLevi What are your thoughts on the redone star tours ride? #disnerd

— Zachary Levi (@ZacharyLevi) January 6, 2012
Image ©ocregister.com
---
"Just went on Star Tours. Had to go thru the podrace, again, but no Starcave of Thonboka. Total rip off" Me #OverheardAtDisneyland

— Colin Hanks (@ColinHanks) January 7, 2012
the descriptions of each story are pretty hilarious…Thonboka is my favorite by far, for both Title and description…

— Colin Hanks (@ColinHanks) January 6, 2012
And yes, the new Star Tours ride, in all of it's forms, is awesome. In love with the fact that it will always be different #Dinneyland

— Colin Hanks (@ColinHanks) August 12, 2011
Image © IMDB.com
---
Don't hate ….I love Star Wars! I'm pretty much having the time of my life at Disneyland! Best place on the planet! http://t.co/1Evxtb2a

— Kelly Clarkson (@kelly_clarkson) July 18, 2012
Image © @kelly_clarkson
---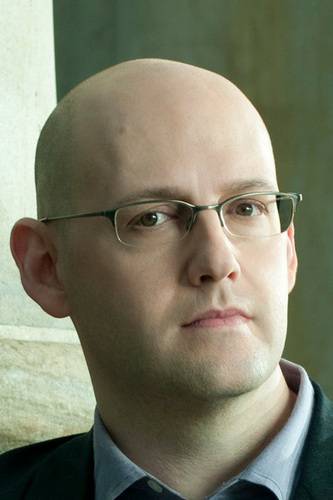 New Star Tours ride is so nerdy spectacular. When Yoda said MTFBWY, I almost saluted.

— Brad Meltzer (@bradmeltzer) May 18, 2012
Image © @bradmeltzer
---
Yesterday at Disney. Right after this pic @thebrianposehn took the Stormtrooper's helmet and ran away. pic.twitter.com/S87jqBVe

— Scott Ian (@Scott_Ian) January 30, 2013