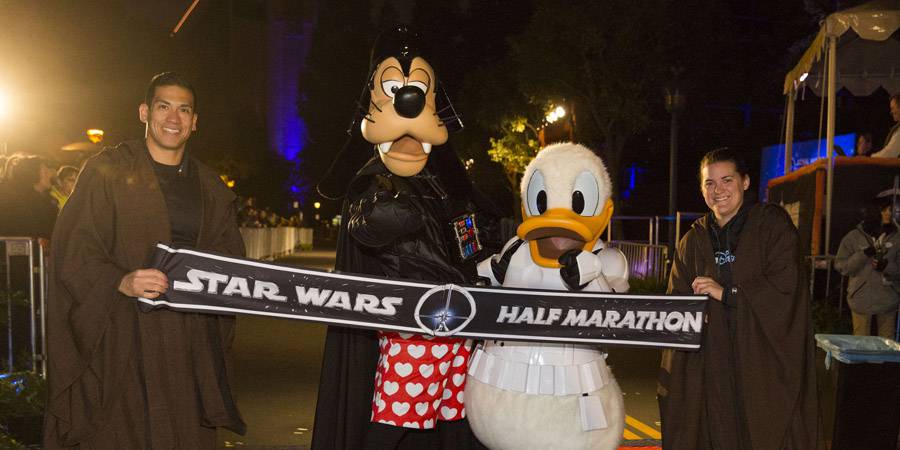 Brian Curran
Star Wars Half Marathon Weekend Recap
January 22, 2015
This past MLK weekend runDisney pulled off the inaugural Star Wars Half Marathon Weekend at the Disneyland Resort and by all accounts, it was a massive success. RunDisney events have been held at both Disneyland and Walt Disney World resorts now for several years and are always sold out, even without any Star Wars presence! There was a 5K, 10K, and a Half Marathon so basically something for all skill levels. Kids Races were also available.
The weekend began with a separate ticket Wookiee Welcome party held inside Tomorrowland. Select rides were open and photo opportunities with Disney characters in Star Wars costumes were also available. An Expo was also held at the Disneyland Hotel with seminars including talent such as Sean Astin; and official runDisney merchandise and other vendors were present to sell their wares. If you wanted New Balance shoes with Mickey or Minnie, here's where you get them!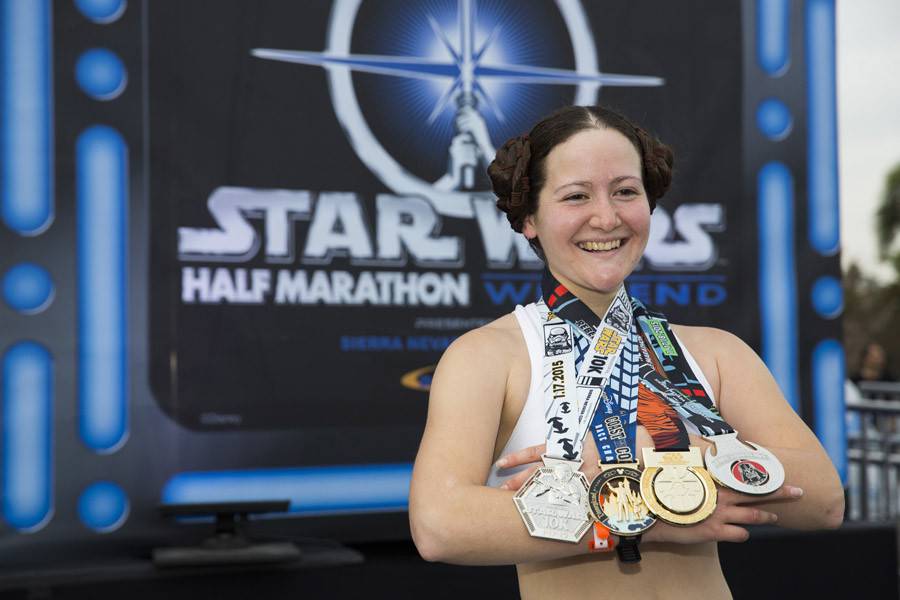 Each race earned you a different finisher's medal, so if you're a collector of these, signing up for every race is the way to go. If you do the Rebel Challenge, which is finishing the 10K as well as the Half Marathon, an additional medal is awarded to you. To top that, if you've run a marathon in Walt Disney World AND Disneyland in the same year, you can get a Coast to Coast medal! They really know how to get ya! This inaugural year, Chewbacca was the mascot and the finisher's medal for the Star Wars Half was appropriate, showing a close resemblance to the medals given at the end of Star Wars Episode IV. You remember the ceremony where Chewbacca received nothing right? Well this year, they let the Wookiee win.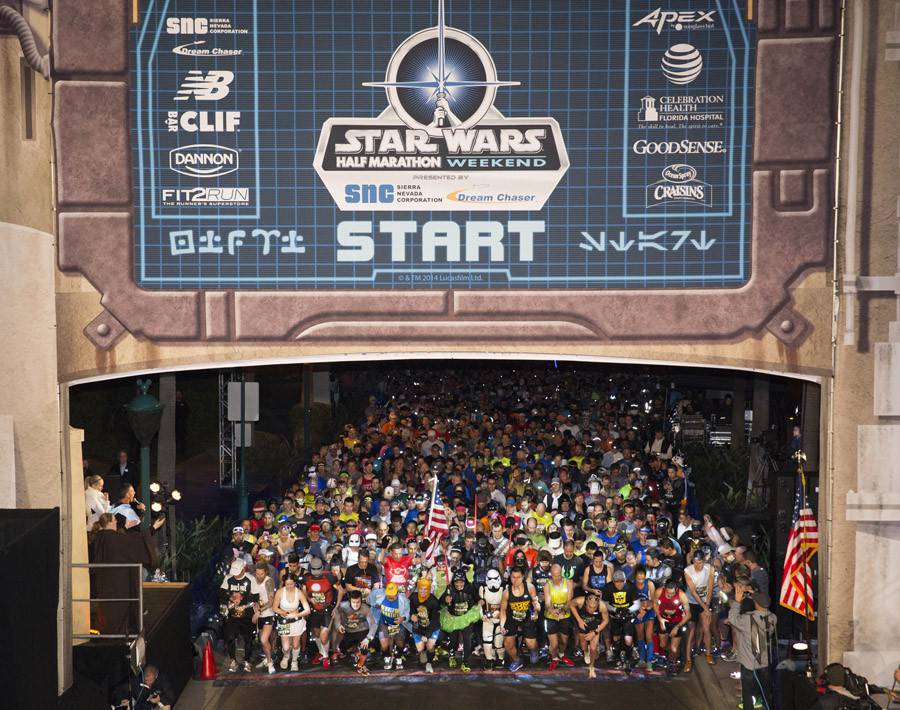 This year I signed up for the 10K, which is the first race I've ever signed up for. Having the race so close to the holidays really didn't help my training, but being the brash, wannabe Jedi, I felt I was ready. What I wasn't ready for was waking up before our one sun rises, as the race begins promptly at 5:30am. Five separate corrals helped keep the racers from crawling on top of each other but by 6am, most everyone got their start along the route. C-3PO and R2-D2 were at the starting line to cheer the runners on, many of them dressed up as their favorite characters. It was like Comic-Con but… HEALTHIER.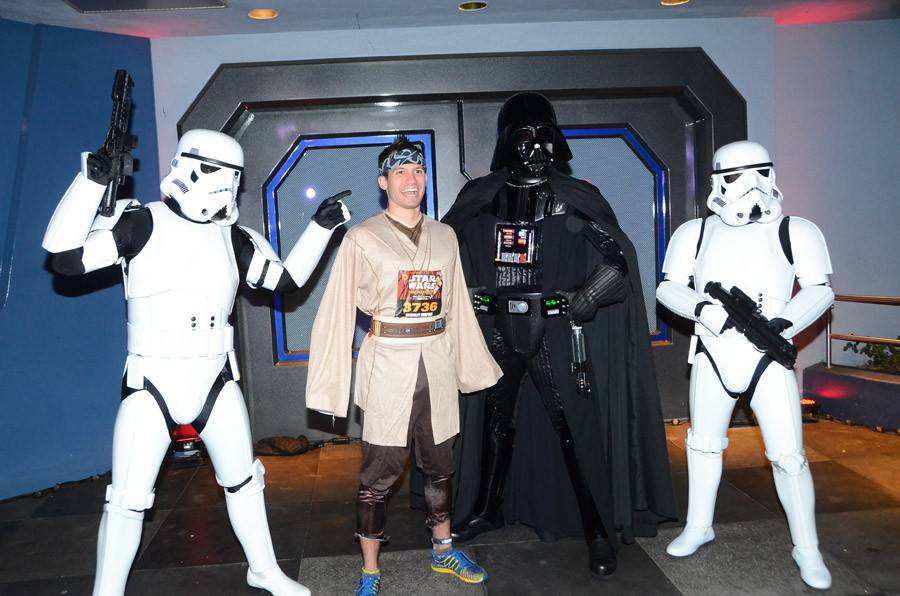 The greatest thing about the 10K is that the majority of the course is through Disneyland and Disney California Adventure park with a few small stretches on the highways around Disneyland. The Half Marathon had long stretches away from Disneyland and while the thought of that frightens me, my friends are already egging me to do just that next time. Along the route, Star Wars characters were there to pose for pictures. The queue for Chewbacca and Darth Vader were incredibly long so I just kept running. I stopped to take several pictures along the way when I could because it was just great to be in the parks so early.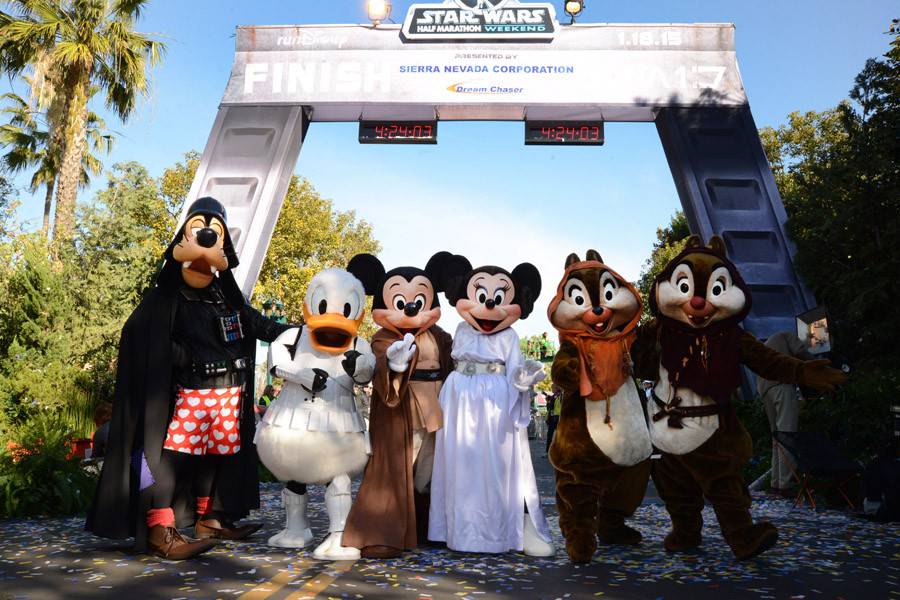 At last I've reached the end, never having run that distance ever before. My feet were killing me and I would do anything for a floating wheelchair. But here I am with a shiny medal with a Stormtrooper on it! Never in my childhood dreams would I think that an adult version of me would earn a medal like that. There's a sense of pride and accomplishment when completing a race that's sometimes difficult to explain to those who haven't done it. What's next? Another 10K? A Half Marathon perhaps? Cloudy, the future is.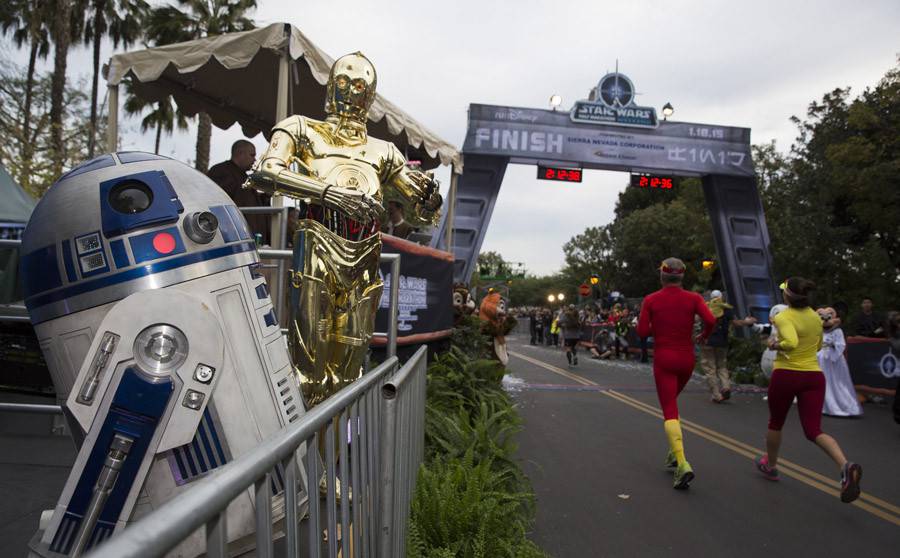 I finished my first 10K. It's impressive, but I am not a Jedi yet.
If you missed out on this year's Star Wars Half Marathon festivities, the dates for next year's have been announced! Sign up to be notified to race or be a volunteer! May the Course be with you!
More photos than you can shake a gaffi stick at down below!
Photography courtesy of runDisney