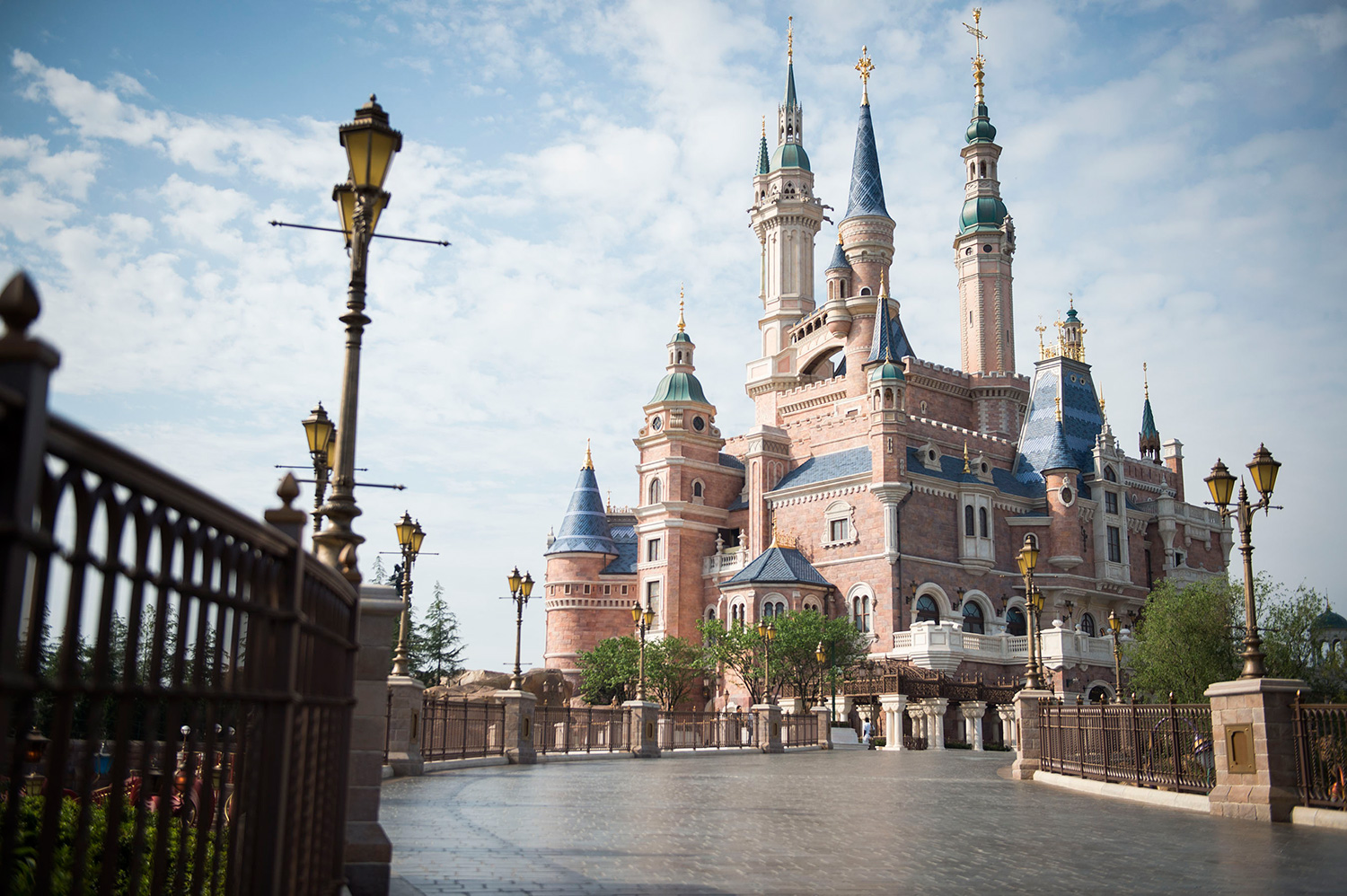 Kris Van de Sande
Shanghai Disneyland's Magical Opening
June 15, 2016
It's finally here: Shanghai Disneyland. In pure Disney fashion came a grand opening gala, which can be watched right here:
Here are some interesting tidbits from two press releases:
---
On the eve of the Grand Opening of Shanghai Disney Resort, Disney celebrated the historic occasion with a star-studded, two-hour broadcast that captured the extraordinary spirit of the first Disney resort in Mainland China. Marking a moment years in the making, world-renowned composer Tan Dun conducted the Shanghai Symphony Orchestra in an inspiring performance of his original composition, "Igniting the Magical Dream" —which celebrates the occasion's poetic message—and Disney stories came to life in wondrous ways on the Enchanted Storybook Castle.
Disney Chairman and chief executive officer Bob Iger said the musical celebration was a perfect way to share the grand opening excitement with China.
"Music has always been an essential part of Disney's legendary storytelling," Iger said. "On the eve of our Grand Opening, we are proud and honored to have Tan Dun tell the spectacular story of Shanghai Disney Resort through original music that perfectly captures the very soul of this special place; and we are thrilled to have such renowned Chinese artists sharing their talents to bring this magical story to life in this extraordinary, historic performance."
The two-hour special was broadcast nationwide on China's Dragon TV. The "Shanghai Disney Resort Grand Opening Celebration" took a special look at Shanghai Disneyland in the two-hour program. The show is being presented for U.S. audiences on Disney Channel, Disney Junior and Disney XD and each channel's App, and on Freeform.
During the special, beloved composer Tan Dun, widely known for film scores including "Crouching Tiger, Hidden Dragon," led musicians in a stirring performance of the symphony, which blended Chinese and Western musical motifs along with iconic Disney music. This was the first time that Disney has commissioned an original symphony to commemorate the opening of a resort. The concert also featured top celebrity performers, including famed actress Sun Li; accomplished pianist Lang Lang playing a custom arrangement of "Let it Go" from Disney's "Frozen," and star vocalists Tan Weiwei, Jane Zhang and Hacken Lee.
The Enchanted Storybook Castle—the largest, tallest castle at any Disney park—came to life with dramatic lighting and elaborate projections of Disney stories, while spectacular fireworks illuminated the night sky. Projections in the castle show offered a glimpse into the magical transformation guests will soon enjoy when they attend nightly performances of "Ignite the Dream: A Nighttime Spectacular of Magic and Light."
Honoring the resort's appeal to multiple generations and the dreams of young and old alike, the concert featured the talents of an elderly male Erhu player and a young female violinist playing side by side. The performance culminated with an 800-person, multi- generational choir filling the stage as Enchanted Storybook Castle sparkled with light, representing new dreams being ignited to unlock the childlike spirit in everyone.
In the park, these same celebrated talents performed live at the Evergreen Playhouse for guests of the three-day Grand Opening celebration. Afterward, the celebration continued in Tomorrowland, where guests enjoyed a performance by contemporary pop star Momo Wu at the Pepsi E-Stage.
Thursday, June 16, 2016, will mark another historic milestone as Shanghai Disneyland opens its gates and welcomes its first official guests.
---
The Walt Disney Company Celebrates Historic Grand Opening of Shanghai Disney Resort
The Walt Disney Company is proud to celebrate the opening of Shanghai Disney Resort, the first Disney resort in Mainland China and the sixth Disney resort worldwide. A three-day grand opening celebration commemorates the culmination of one of the largest foreign investment projects in China's history, and Disney's largest investment to date outside of the United States. The resort's opening is the result of a long collaborative relationship with the Shanghai Municipal Government and joint venture partner Shanghai Shendi Group, and offers a new world-class tourism destination for guests from China and around the world. At opening, the first phase of the resort is within a land area of 963 acres with additional land available to accommodate future expansion, including additional theme park and other related resort development.
"The grand opening of Shanghai Disney Resort is one of the proudest moments in the history of The Walt Disney Company, and we've planned a truly spectacular celebration worthy of this historic achievement," said Bob Iger, chairman and chief executive officer, The Walt Disney Company. "Just like the park itself, the next three days will be a grand experience filled with great joy and excitement along with stunning entertainment experiences. We are honored to be joined by so many distinguished guests for this momentous occasion, and look forward to officially opening the gates and sharing this extraordinary authentically Disney, distinctly Chinese destination with the world."
The three-day celebration begins on June 14 with the global premiere of the first Mandarin production of the Broadway hit THE LION KING at the 1,200-seat Walt Disney Grand Theatre in Disneytown. It continues on June 15 with a grand opening gala concert at the Enchanted Storybook Castle led by award-winning composer Tan Dun, known for film scores including "Crouching Tiger, Hidden Dragon" followed by a Starlight Celebration dessert party in Tomorrowland. On June 16, there will be a festive dedication ceremony in front of the Enchanted Storybook Castle to officially open Shanghai Disney Resort to guests.
Shanghai Disney Resort is a first-of-its-kind resort that combines the very best of Disney in a way that is distinctly Chinese and tailor-made for the people of China. At opening it features a newly designed Magic Kingdom-style theme park, Shanghai Disneyland, with six themed lands filled with immersive attractions, including Adventure Isle, Gardens of Imagination, Mickey Avenue, Tomorrowland, Treasure Cove and Fantasyland. These lands are located around the iconic Enchanted Storybook Castle, the tallest, largest and most interactive castle at any Disney park. The resort also features world-class live entertainment, two exquisite hotels, a shopping, dining and entertainment district called Disneytown and a 98-acre recreational area called Wishing Star Park with a lake that is open to the public.
The resort showcases Disney's industry-leading practices, including quality and safety standards, the introduction of new innovative technologies, and operational best practices — all of which contribute to the overall theme park industry and the development of Shanghai's tourism industry. It is a result of years of collaboration and innovation, with contributions from Disney cast members and Imagineers, as well as thousands of artists, designers, construction workers and suppliers from across China and around the world.
Shanghai Disney Resort broke ground in 2011. In April 2014, the resort's shareholders jointly announced an accelerated expansion plan to capitalize on the tremendous growth in China's tourism sector – adding more attractions, entertainment and other offerings to increase capacity at the theme park on opening day.
Throughout its development, Shanghai Disney Resort aimed to not only build a world-class tourism destination, but also serve as a valuable community partner and active corporate citizen in Shanghai and China. Working within the community, the resort provides support to address a wide range of needs for children while creating opportunities to strengthen relationships with the important adults in their lives. Last week, in honor of the grand opening of Shanghai Disney Resort, The Walt Disney Company announced a $3.1 million USD (RMB 20 million) donation to support the creation of Disney-themed play spaces in 50 children's hospitals throughout China.
Shanghai Disney Resort also adopted a number of new technologies and design elements to enable Shanghai Disney Resort to reduce its environmental impact, including a leading new technology to supply the resort with heating, cooling and compressed air, which is anticipated to improve the estimated energy efficiency for resort operation by 300 percent and reduce greenhouse emissions generated from resort operations by 60 percent.