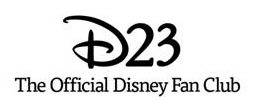 Kris Van de Sande
D23 Expo 2011 Update
September 28, 2010
D23 Announces
The Ultimate Disney Trivia Tournament
as Part of the Upcoming D23 Expo, Bringing Additional Excitement to the 2011 Disney Fan Event
Two Walt Disney World Events Also Announced to Celebrate the Resort's 40th Anniversary and the Second Exciting Year of Disney's Official Fan Club
Burbank, Calif., September 27, 2010 – This weekend D23: The Official Disney Fan Club announced The Ultimate Disney Trivia Tournament as an exciting addition to the already highly anticipated D23 Expo 2011. The tournament will allow Disney enthusiasts to compete for the title of Disney Trivia Champion at "The Ultimate Fan Event" to be held next August 19–21 in Anaheim, California.
In a little more than a year, D23 has grown into a community of tens of thousands of Disney fans from every state in the U.S. and more than 30 different countries.
"D23 Members often surprise us with the vast knowledge they possess of all things Disney as well as their passionate nature when it comes to who knows the most about the magic," said Steven Clark, head of D23. "So we've decided to feed their competitive spirit with a new signature event, The Ultimate Disney Trivia Tournament at the D23 Expo, as well as D23's Great Disney Scavenger Hunt at Walt Disney World, which will take place in conjunction with our Destination D: Walt Disney World 40th Anniversary celebration next spring."
Upcoming D23 Expo 2011 announcements include:
Ultimate Disney Trivia Tournament.

The Ultimate Disney Trivia Tournament is an exciting new addition to the D23 Expo 2011. The eccentric, professorial quack-meister Ludwig Von Drake will be presiding over the festivities as competitors demonstrate their deep knowledge of all things Disney, including park attractions and shows and parades, past and present; films and TV shows through the years; consumer products, games, company history and, of course, Walt and his family. No corner of Disney's magical kingdom will be left unexplored in this quest to find that uniquely talented individual who knows more about Disney than anyone else.
Potential champions can test themselves and hone their skills by visiting the Ultimate Disney Trivia Tournament Web page, which will launch soon. A new sample question will be posted each week as well as lists of suggested reading/cramming materials, the official contest rules and exactly how to participate. Details will be available soon at D23.com and D23Expo.com.
Fan Art Contest

.

The One Hundred and One Dalmatians Fan Art Contest invites members of D23 to depict those classic canines in almost any type of art installation. The contest is in honor of the 50th anniversary of the beloved animated feature, and the winners will have their work displayed inside the Fan Art Gallery, which will be themed to the infamous House of de Vil at the D23 Expo 2011. Following "The Ultimate Fan Event," these works of art will become a part of the Walt Disney Archives permanent collection.
To enter, Disney fans must submit sketches of proposed artwork no later than April 4, 2011. Entrants must be members of D23: The Official Disney Fan Club. More information and art specifications available at: http://D23.disney.go.com/expo/articles/20100819-disneysfanartcontesthonor.html
Collectors' Forum

. The Collectors' Forum is the ultimate Disney marketplace for fans. Collectors, dealers and other vendors have the chance to showcase their collections in this ultimate forum for buying, selling and trading Disney merchandise and memorabilia. This year, in addition to Disney, Pixar and ABC collectibles, the Forum will feature items from the amazing world of Marvel, the newest addition to the Disney family, and Star Wars, in celebration of the reimagined attraction Star Tours: The Adventures Continue at both Disneyland and Walt Disney World Resort.
Following the successful and sold-out Destination D: Disneyland '55 event this past weekend, as well as the equally exciting (and sold out) D23's Great Disney Scavenger Hunt—which offered Disney's most competitive fans the chance to be a part of Disneyland's first-ever official scavenger hunt—D23 has announced two exciting new events coming soon to Walt Disney World in Orlando.
Destination D: Walt Disney World 40th Anniversary. Following the rave reviews of Destination D: Disneyland '55, D23 has announced Destination D: Walt Disney World 40th Anniversary to be held in spring 2011 (exact dates TBD). The event will celebrate the 40th anniversary of the Orlando resort, its history and heritage. Panels will include all-new presentations that echo the successful panels at Destination D: Disneyland '55, including "Walt Disney World: The Way We Were," hosted by Disney Legend Dave Smith, "Weird Disney" with Walt Disney Archives director Becky Cline, "From Quirky to Collectible: The Wonderful World of Walt Disney World Merchandise," "Walt Disney World Through the Eye of Television" and "Walt Disney World in Pop Culture," as well as a special evening event featuring musical memories from throughout the history of Walt Disney World. Other panels, featured speakers and details will be announced soon on the D23 Web site.
The Destination D events were created to celebrate the rich legacy of The Walt Disney Company and each event focuses on a different part of that legacy.
D23's Great Disney Scavenger Hunt: Walt Disney World.

The race is on… again! Following this past weekend's first Great Disney Scavenger Hunt at Disneyland with 2,000 people and 575 teams, D23 is inviting guests to the Walt Disney World Resort for a fun-filled, two-day hunt around the World. In spring 2011, for the first time in the 40-year history of Walt Disney World, guests will have the chance to scour all four theme parks to win incredible Disney prizes in this official Disney scavenger hunt. The cost will be $50 per team for D23 Members and $75 per team of non-members. Each team will consist of between 2-4 participants, and additional rules and registration information will be available soon at the D23 Web site.
Since launching in March 2009, D23 has hosted more than 50 member events, from special screenings, one-of-a-kind experiences and prestigious panels with Disney Legends to the hugely successful D23 Expo, "The Ultimate Fan Event," and the recent D23's Great Disney Scavenger Hunt which turned Disneyland into an open playing field that contestants scoured for answers to clues.
About D23
The name "D23" pays homage to the wonder and excitement that began in 1923 when Walt Disney opened his fledgling studio in Hollywood. D23 is the first official club for fans in Disney's 87-year history. D23 gives its members a greater connection to the entire world of Disney by placing them in the middle of the magic through its quarterly publication Disney twenty-three; a rich web site at www.D23.com, a collectibles line, The Walt Disney Archives Collection; and special events for D23 Members throughout the year.
About D23 Expo
The D23 Expo brings the entire world of Disney under one roof, providing Disney fans with unprecedented access to Disney films, television and theme parks as never before. Tickets for the D23 Expo 2011, August 19–21 are now on sale. For full details, visit: www.D23Expo.com.
About D23 Membership
Disney fans can become members of D23: The Official Disney Fan Club at www.disney.com/D23, select shops at the Disneyland® and Walt Disney World Resorts, and at www.DisneyStore.com/D23.