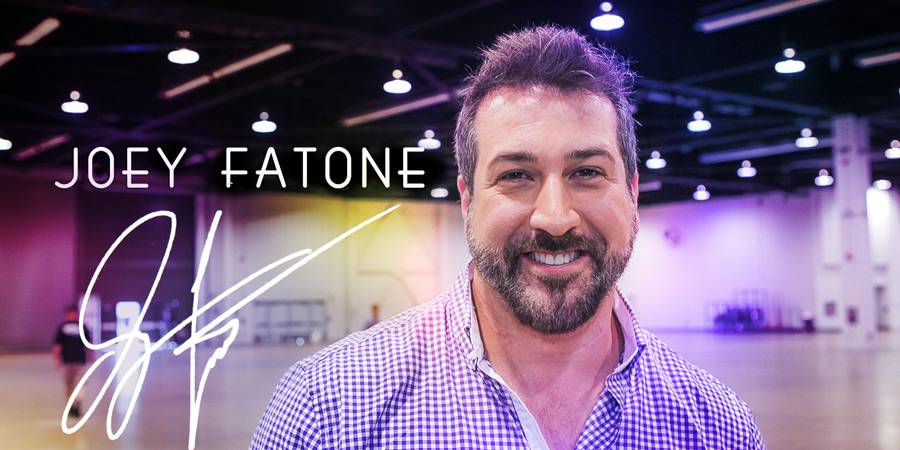 Brian Curran
D23 Expo 2013: Interview with Joey Fatone
Article
August 16, 2013
N'Sync star Joey Fatone was hanging out at the D23 Expo in Anaheim and EndorExpress had the opportunity to spend some time to talk about his new show "My Family Recipe Rocks" as well as talk about our love of all things Star Wars and Disney. You can catch his new episode cooking from the Star Wars Cookbook on the Live Well Network on 8/18 at 8:30 pm EST/PST.
EE: Joey Fatone! How are you enjoying the D23 Expo?
Joey: Oh, it's been a whirlwind of fun! Running around, shaking hands, kissing babies, one of those things.
EE: Here for the whole weekend?
Joey: No, just here today! Here today to promote My Family Recipe Rocks on the Live Well Network which is one of the ABC Networks, and just excited to be here. It's kind of cool, I've never been here and I just started hearing about D23. It's fairly new as far as conventions go.
EE: Can you tell us about your show?
Joey: Yeah, it's on the Live Well Network and basically we go to people's homes, their kitchens, and see these recipes that have been handed down generation after generation or maybe it's something they whipped up themselves. We go in there, they cook it for us and we put the recipe on the website so people can check it out and try it themselves. It's very cool.
EE: How many episodes have you made now?
Joey: We have shot… we're deep actually. The network is fairly new but we've done now almost forty episodes and wrapping up season 2 and heading into season 3. We have two more episodes before season 2 is wrapped.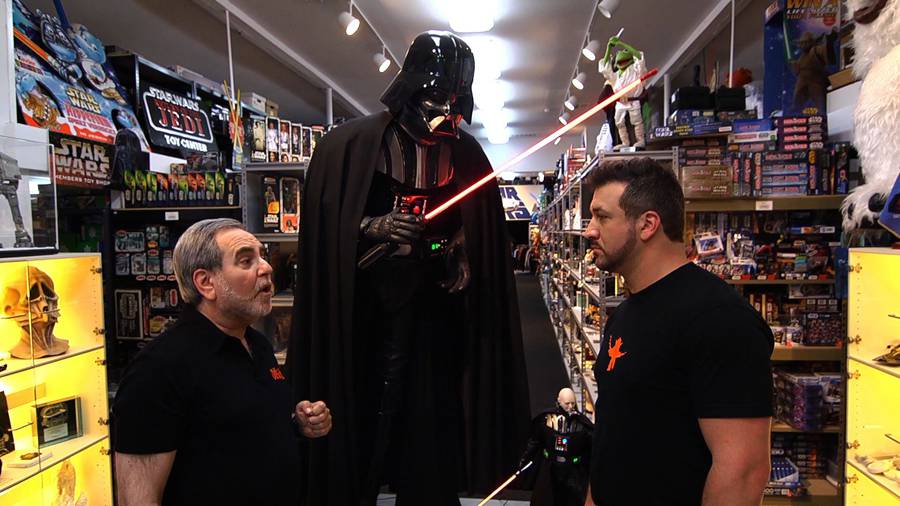 EE: We know recently you were up at the amazing Rancho Obi-Wan in Northern California…
Joey: Yes, I was!
EE: Tell us about that experience…
Joey: We actually aired it on Disney XD first and it will be airing on Live Well Network very soon but we went up to Rancho Obi-Wan which is… AWESOME. Steve Sansweet is the man. I've met him a few times at the big old Star Wars Convention out in Orlando where I lived. Now I moved out here to California but the cool thing about that was they asked me what I wanted to do with Star Wars. I said "let's get the Star Wars Cookbook and let's get Steve Sansweet to do it." Of course, I wanted to go see Rancho Obi-Wan though.
EE: Who wouldn't? It's geek out central!
Joey: Dude, it's crazy! I've been to the archives before at Lucasfilm which is one hundred percent props from the movies. Rancho Obi-Wan is some props, but then it's just anything and everything you've seen as a child until now. Every toy, he pretty much has. It's sick! It's overwhelming.
EE: It really is. We were there shortly after it opened and it's just nuts. So on the topic of toys, do you collect?
Joey: Yeah, I do! I collect a few, obviously the old-school ones and I collect Superman stuff as well. But I have a couple of rare Star Wars things, one from FAO Schwartz are these Star Wars rings. One's bronze with Chewbacca, gold is C-3PO and R2-D2 is silver. I have a Queen Amidala porcelain doll, just random stuff that you don't see all the time. So it's pretty cool.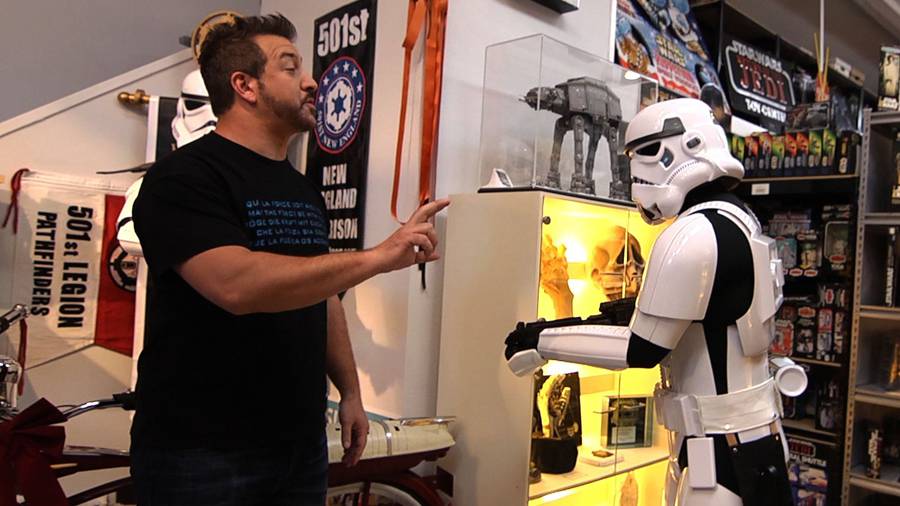 EE: You're certainly outspoken about being a Star Wars geek, would you consider yourself a Disney geek too?
Joey: Oh yeah! I actually worked for the company many years ago when I was really young. I was friends with Tigger and Pooh at Walt Disney World. For me, just growing up, living in New York and going to Disney World, and then moving there to work for the company and also being there all the time… I'm now giving that to my two daughters. Being at Disneyland and being at Disney World, and we've also been to the one in Paris as well… I guess I could say we're pretty big on the Disney. I'm a little geek about it. There's a few questions I probably know the answer to. [laughs]
EE: Quick question time. Favorite ride?
Joey: Favorite ride… that's a tough one. Of course the Rock'n'Roller Coaster is always dope. I'm kind of upset that the Mr. Toad Wild Ride is not in Orlando anymore but it's still in California which is great… I mean, it's tough.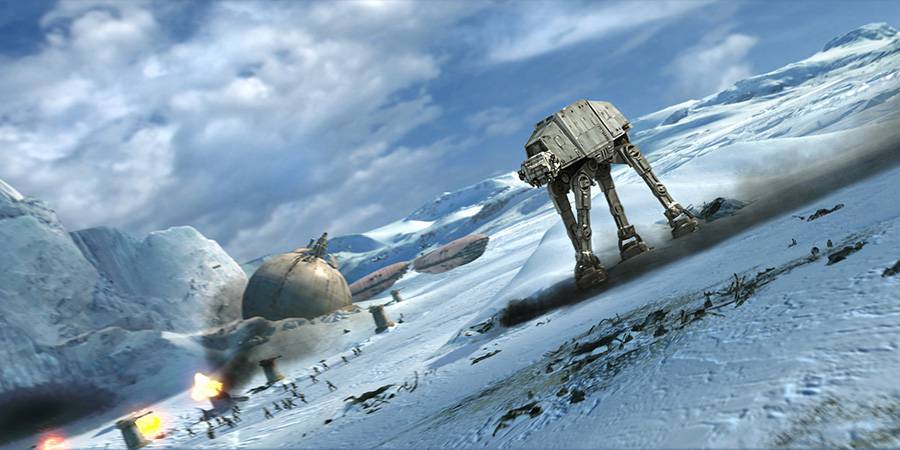 EE: Have you been on the new Star Tours?
Joey: Of course! My favorite sequence is Hoth..
EE: Everyone loves Hoth! Original Trilogy for the win.
Joey: Yup!
EE: You had a moment in Attack of the Clones…
Joey: And it never made it to the actual film. But it was still fun to get to do it. Going to ILM, dressing up in Jedi robes, George [Lucas] is there directing us which is cool. He could say "just stand there" and I'd be "great, he directed us!"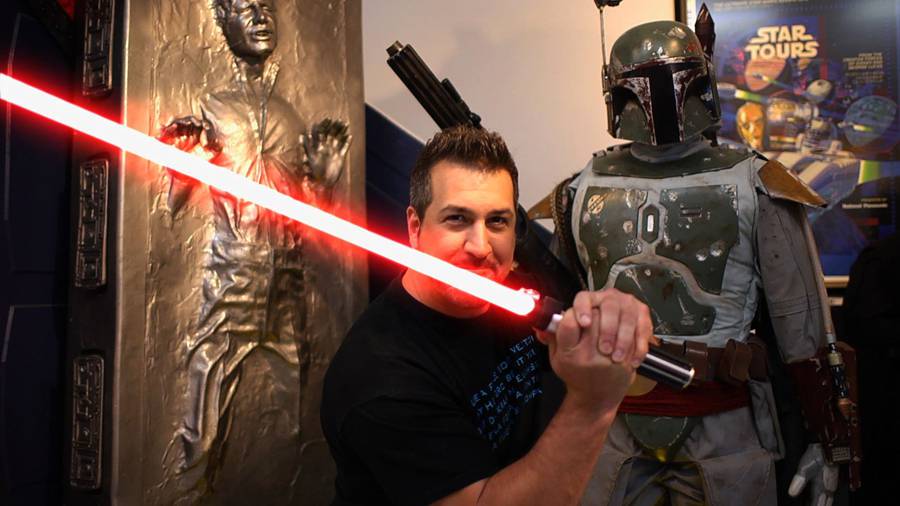 EE: We still need to get a Joey Fatone action figure….
Joey: Exactly! Jedi action figure! [laughs]
EE: What was it like meeting George for the first time?
Joey: It was awesome. He actually came to one of our concerts. He brought his daughter while he was editing the sound for Episode 1 I believe and it was just cool.
EE: That's pretty funny. Did you thank his daughter maybe?
Joey: [laughs] Yeah, it was like "come back stage!" and I was just in awe. It's just amazing.
EE: How do you feel about Disney buying Lucasfilm? It's kind of both worlds together..
Joey: Yeah it is. It'll be interesting to see. Hopefully they be true to it or amp it up, who knows. For me, I've always had an open mind about that kind of stuff. I'm a Superman fan as well so you see the movies… Superman Returns wasn't the greatest, but you appreciate it. Man of Steel was great. I loved what they did with it. I still love the original ones but I also like the new one. You gotta have an open mind with this kind of thing.
EE: What's next for Joey Fatone ?
Joey: Just spending time with the family and doing My Family Recipe Rocks. It's been great. Been really taking it easy. Things have been really flexible right now so I've been chillin' and it's great.
EE: How's the band doing?
Joey: Doing great. Just saw JC for his birthday actually!
EE: Thanks, Joey, great talking with ya!
Joey: Absolutely!
D23 Expo Photography by David Yeh and Brian Curran
Rancho Obi-Wan Photography courtesy of Live Well Network.
Special thanks to Christina Lev, Edd Adamko & Chellise Morey.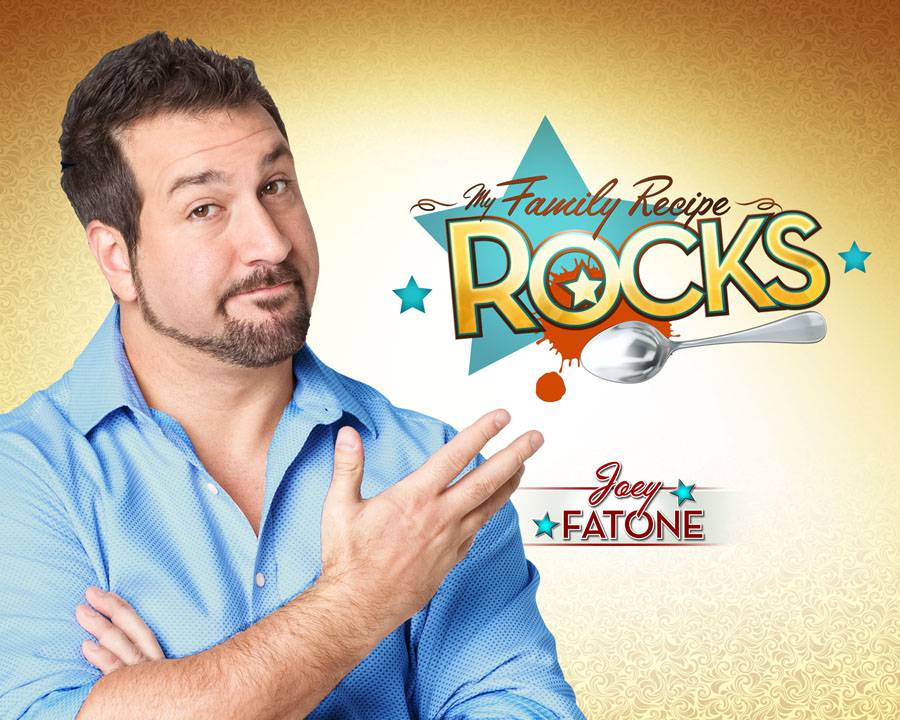 Watch the episode online: