Kris Van de Sande
Star War Rebels Highlights
April 26, 2015
Anaheim, Calif. – The excitement and energy of Day three of Star Wars Celebration Anaheim belonged solely to Star Wars Rebels; with a panel in the morning and Season 2 premiere in the early evening. Attendance for both events were huge for the Disney XD animated series entering its sophomore year, with the premiere hitting capacity hours before show time.
The panel in the morning included Executive Producers Simon Kinberg and Dave Filoni, along with cast members Taylor Gray (Ezra), Tiya Sircar (Sabine), Steve Blum (Zeb), Vanessa Marshall (Hera), and Freddie Prinze Jr (Kanan), moderated by Obi-Wan Kenobi himself, James Arnold Taylor. With show runner Dave Filoni, it's often difficult to get new information as he definitely prefers a spoiler-free experience, leading to comedic results on stage. Tiya Sircar may or may not have let out a spoiler when discussing her character's background but was quick to cover it up.
The panelists all opened up about how big of a Star Wars fan they were before Rebels and where they were now, with all of them becoming huge fans and Dave Filoni, agreeing with just about all of them.
When it came to the Q&A, a fan was quick to point out that she left her kids because of her love for Freddie Prinze Jr, but it was worth it as she got a hug and an autograph from the Rebels star. It was the youngest fans that had the best questions, much to Dave Filoni's chagrin. One of the youngest fans in attendance asked who voices the little droid Chopper and even that was held very close to the chest. Dave Filoni held strong and only whispered the answer into her ear, leaving the rest of the 5,000 fans in the dark.
It was great fun to hear from the voices behind the characters, learning that Vanessa and Freddie were the two biggest Star Wars fans while Taylor gets some of the most flak for knowing the least. The biggest treat of course was seeing the trailer for Season 2, something even the cast members have yet to see, and it was an incredible experience to witness. Vanessa Marshall was short of breath following the trailer and Tiya Sircar was visibly blown away. Of course we needed to see the trailer one more time! See the trailer below:
The end of season 1 revealed that Ahsoka Tano, Jedi apprentice to Anakin was still alive, and the trailer 2 confirmed that she will have a presence in Season 2. But the biggest reveal for season 2 was Captain Rex, a secret that Dee Bradley Baker struggled to keep silent until now. With that reveal out of the bag, Dee Bradley Baker and Ashley Eckstein came on stage with a salute and a hug. Ashley confirmed that seeing Dee in the recording studio once again brought tears as it has been quite some time since recording together last.
Immediately following the panel was a short press conference with the cast and Executive Producers. Here we learned that James Earl Jones involvement with the voicing of Darth Vader, with many of the cast asking why they couldn't be a part of the recording sessions.
Another journalist asked if it was a conscious decision for everyone in the main crew to be given a biblical name, which Freddie Prinze Jr quipped, "Is Chopper Old Testament or New?". After the laughter subsided, it was revealed that the names were chosen because of what they mean and represent, but it wasn't on purpose that ALL were biblical.
Later in the evening was the premiere of Star Wars Rebels season 2. The first two episodes were shown, and they feature Darth Vader quite prominently, something many Star Wars fans including myself have been dying to see for decades. Everyone from the earlier panel were present for the Red Carpet with the exception of Freddie Prinze Jr, but R2-D2 and Chopper were on hand to fill in for him.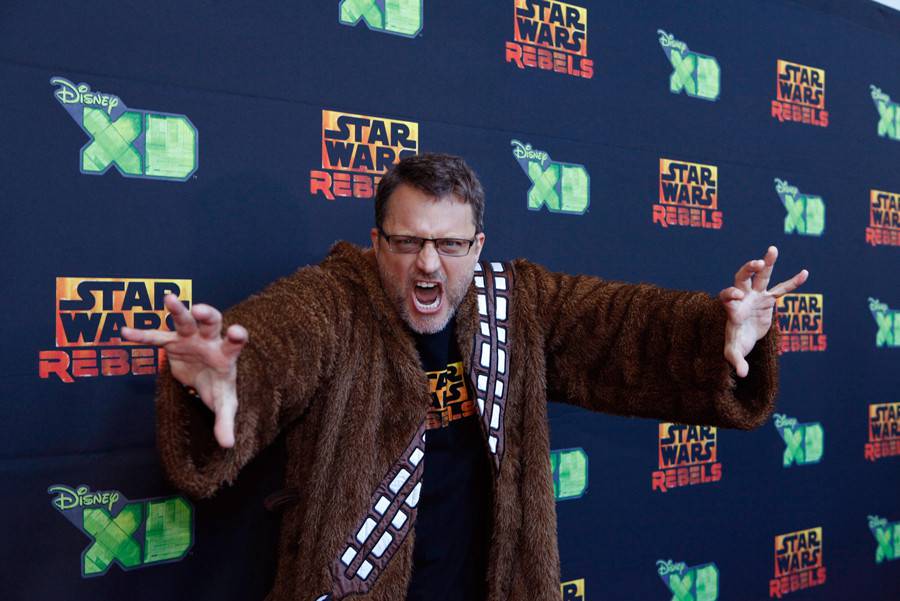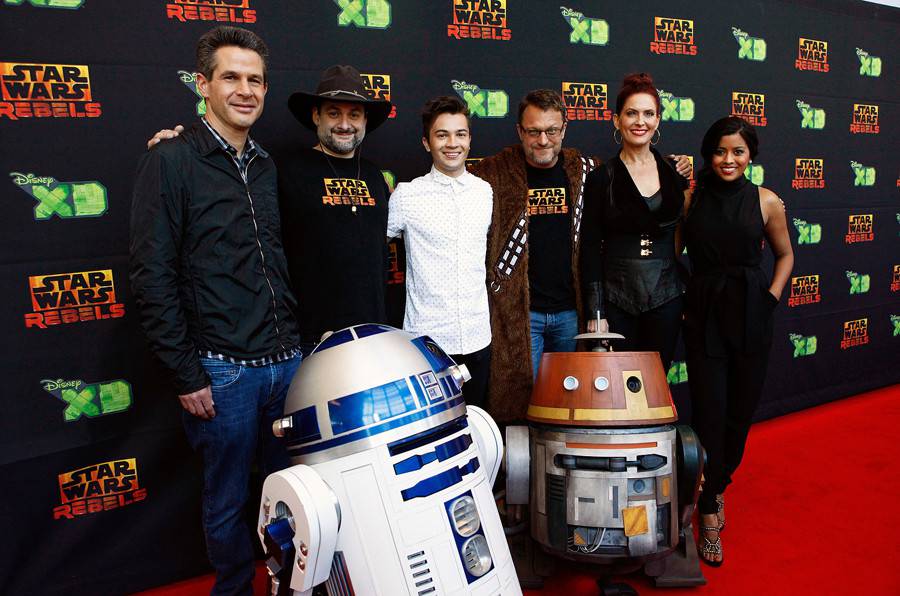 The highly anticipated "Star Wars Rebels" season two is set to premiere on SATURDAY, JUNE 20 (9:00 p.m., ET/PT) on Disney XD. The season will kick-off with a special one-hour movie event "Star Wars Rebels: The Siege of Lothal." Following the one-hour movie event, the season will continue to rollout new episodes in the fall.
Additionally, Disney XD will be celebrating "May the 4th Be With You," the fan-proclaimed Star Wars holiday, beginning FRIDAY, MAY 1 through MONDAY, MAY 4. The force-filled programming weekend will include the following:
"Star Wars Rebels: The Ultimate Guide," a half-hour special recapping the entire first season of "Star Wars Rebels" will debut Monday, May 4 (8:00 p.m., ET/PT)

Marathons of "Star Wars Rebels" season one and "LEGO Star Wars: The New Yoda Chronicles."

Sneak peek at "LEGO Star Wars: Droid Tales," an all-new series of event specials that will premiere on Disney XD this summer.

Star Wars-inspired episodes of "Phineas and Ferb," "Kickin' It" and "Lab Rats."
Photography by David Yeh