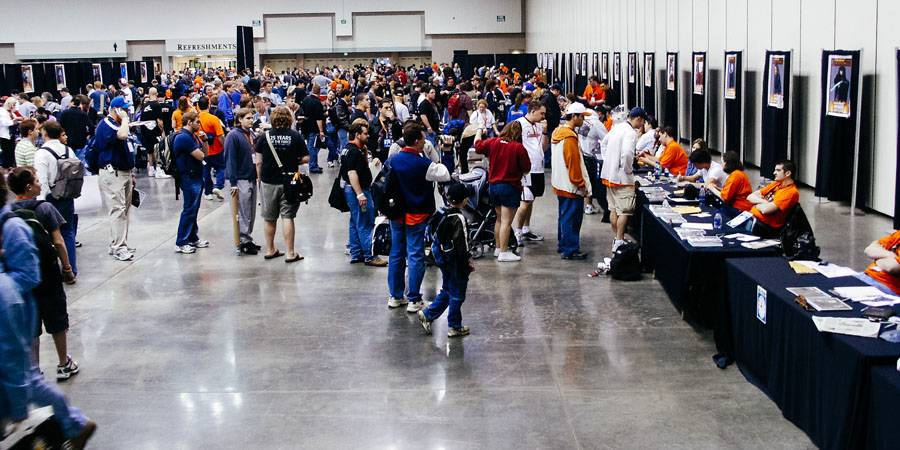 Kris Van de Sande
Star Wars Celebration III
Article
August 27, 2009
THE Star Wars convention of the century, or something like that… and we were there! Our report!
Thanks to Philip Wise from Rebelscum.com, I had the opportunity to visit Celebration 3. We were promised it would be the biggest Star Wars Convention ever, and it did not disappoint! We promised a live coverage from SWST.net, but, because, what happens at C3, Stays at C3, there will be no report. What? Ok, I'll do one. Anyway, due to technical problems, our site was down the day after I left. But after I got back, I settled down again. In the lead up to the climactic chapter of the Star Wars saga, Revenge Of The Sith, I am writing this wrap-up report.
But before I begin my travel journey, first some notes of explanation. If you are not familiar with the concept of a convention or so, Celebration 3 is the third in line of official conventions by Lucasfilm in honour of the release of a new Star Wars film. Previous editions included Star Wars Celebration in Denver Colorado (April 30th – May 2nd, 1999 ) and Celebration 2 in Indianapolis, Indiana (May 3-5, 2002). If you are still unfamiliar with the idea of a convention, it is a gathering of fans of a certain genre of movie, in this case, Star Wars.
Oh, one more thing. There are some pictures in the post, but not that many, as my camera batteries died during the convention, and I couldn't find any new ones unfortunately.
So, on with the show!
If you know the classic by Godley & Creme, "An Englishman in New York", my story was not so very different… except it was a Belgian guy in Indianapolis. Ok, it was a little bit different, heck, it could even be the Sting song of the same title. But well, anyhow.
The trip
It all began early Wednesday morning, when I woke up, I got dressed, and we left for Zaventem, the airport close to our capital Brussels. Good thing we left many hours before the flight, as we were stuck in traffic jam for hours! It was not long before I grabbed my notebook, and began writing down ideas that were spooking trough my head. When the car finally stopped, it was time to get all the luggage out, say goodbye, and check in. After going trough a normal identity check, I was able to buy some tax free stuff. Afterward, I moved to the gates, and passed another security checkpoint (this time with X-Ray and metal detectors). When I finally found the gate, I had to pass through another line of security. The most dreaded one of all, US Security. When I passed that one, I met a fellow member of Teekay-421! Smithy saw me, and we shaked hands. He also was flying to Indy for C3, but with Delta Airlines. After a long wait, the boarding for the AA flight to Chicago O'Hare began.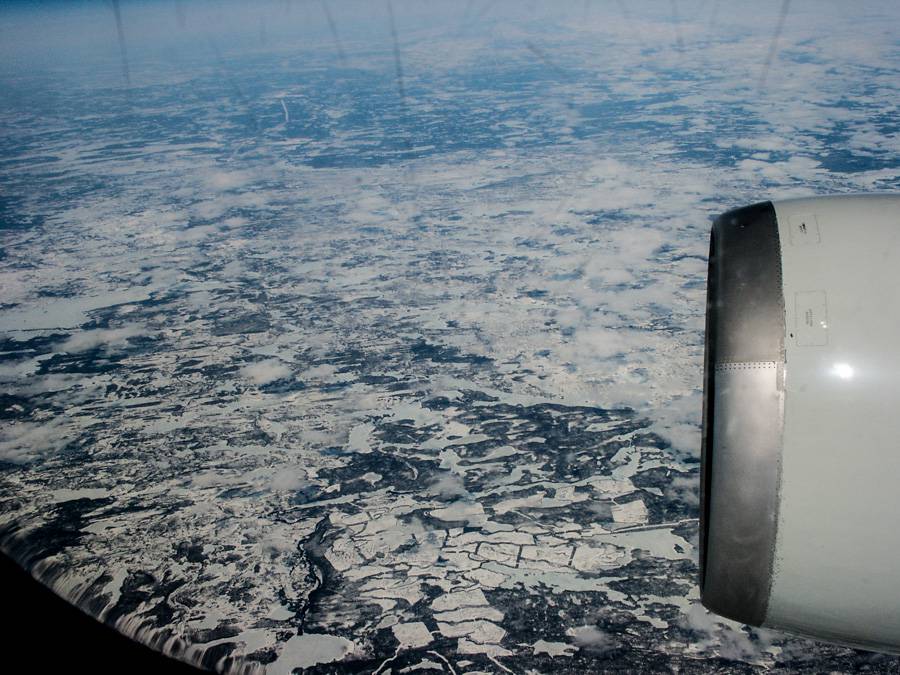 9 Hours later, the flight was circling above Chicago. When the 3 things I really knew about Chicago (The "windy city", Married With Children & The Blues Brothers) spooked trough my head, we were cleared for landing, and we soon made contact with the American soil. When we get out of the airplane, guess what? More security! I soon began to dislike the TSA, but then again, who doesn't? When I was in Chicago O'Hare (oh boy, I soon began to dislike that airport too), I was stuck. My flight was canceled, and no replacement flights were scheduled for the following day. At the end of that day, 6 hours later, I used all my cuteness ;) (or so I think, it might also be the fact that I was young guy, all alone in a foreign country, with no real luggage on hand, and so on), and bargained a way onto an empty seat for a flyer, and so made the trip to Indy. At the airport all Star Wars fans clung together, and we had a lot of fun!
When I finally arrived at Indianapolis, we took a taxi to the hotel (where it was raining REALLY hard, while still being awfully warm.) I was in the Hotel lobby, and I saw some actors sitting which I had some earlier contacts with through e-mail. They recognized me and met some new actors too. All of them were wonderful people, and very down to earth.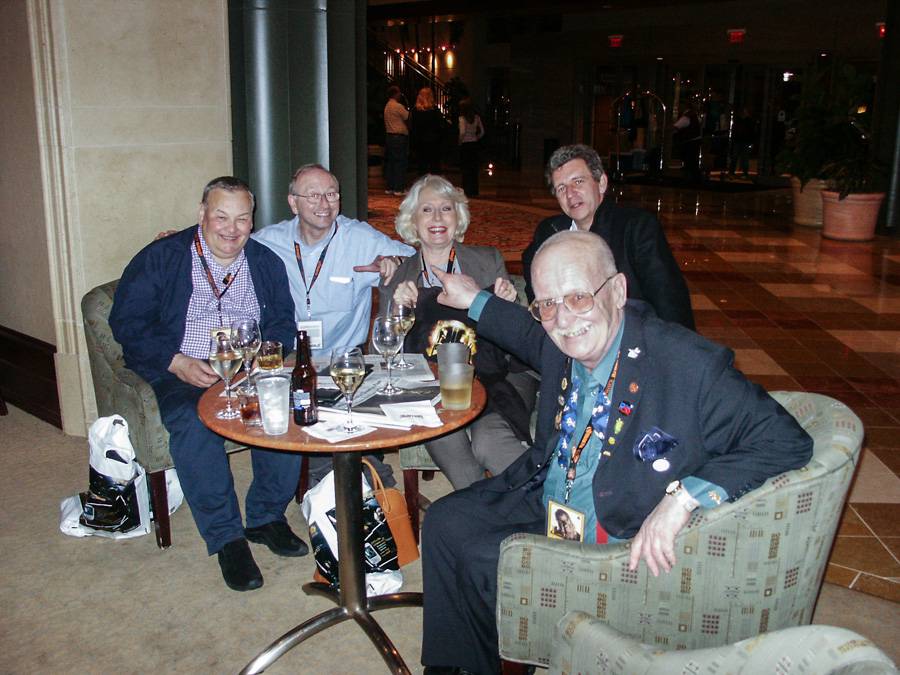 I also bumped into Nalini Krishan, and some minutes later into the rest of the Rebelscum Crew. Finally, all was settled! We went out for some dinner and a soda, my first meal in USA territory. Well, did my eyes open, with the soda's being as huge as hell, and being refilled! Yikes. This might be silly for you American guys, but this was my first time to the USA, and I'm still getting used to it. Visiting the USA is like walking into a movie! Everything you know from TV and movies seems to really be there! Like the scenery, the signs, the steam coming from the streets, cop cars, everything! A very surreal but wonderful experience.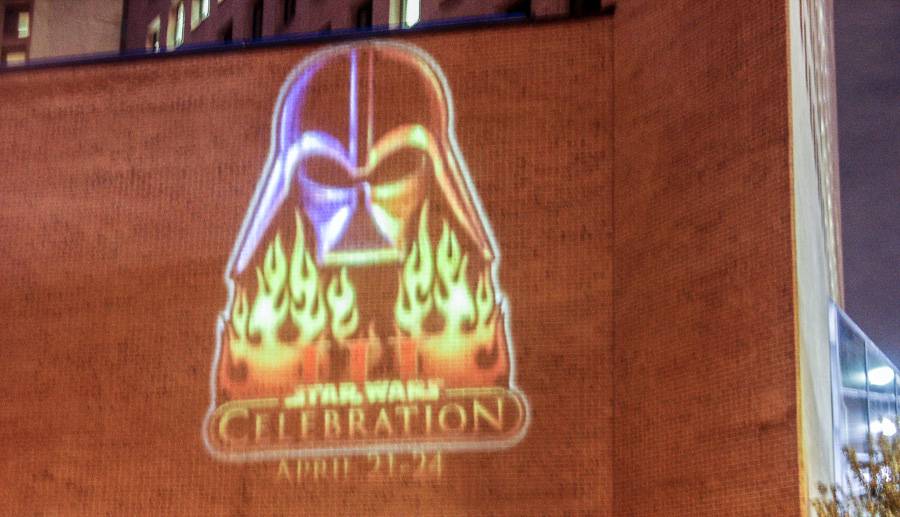 But back to your scheduled report! After the dinner, I realized I'd been awake for more than 24 hours, and I felt it in every bone of my body. I went to my hotel room, and without any problems, I fell asleep.
Day 1 – Thursday April 21 2005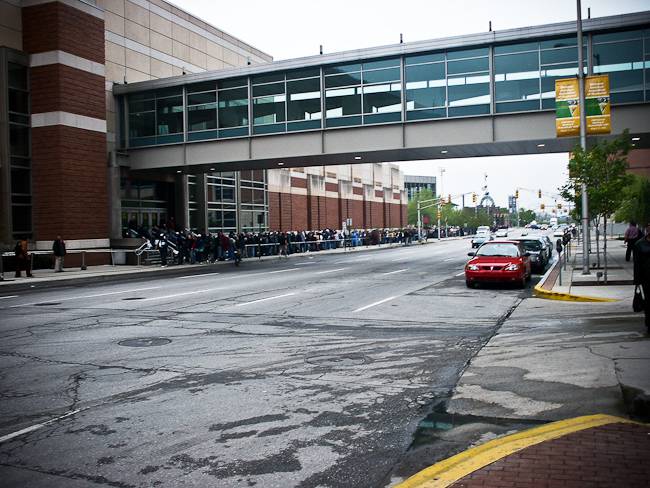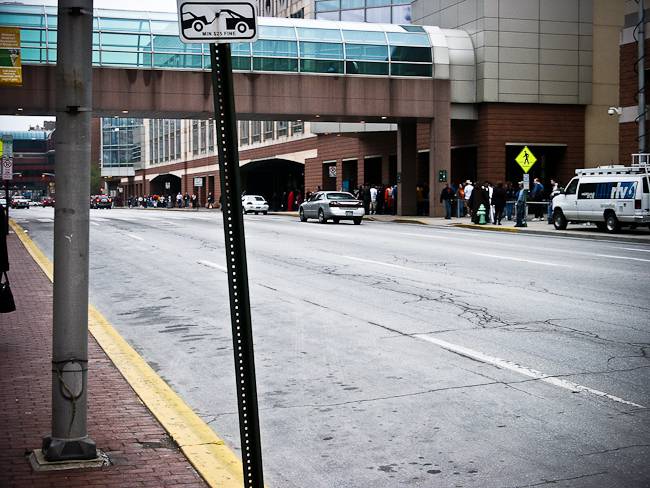 The next morning was a real madness, like any of the following 4 days. We got my badge, or at least, attempted, as all Exhibitor badges for OfficialPix were given out, I had to settle for a Volunteer badge, not that gave me any problems since, in combination with my Rebelscum press badge, it got me into everywhere. After a visit to the Rebelscum / TFN HQ, I was given some of the new 'Scum crew shirts (a bowling shirt, similar to the ones the Hasbro team had!), which I wore with pride. I soon had my first shift and met another great actor: Barrie Holland, the British actor that somehow is implanted in everyone's mind. He was an extra in over 100 movies, including Return Of The Jedi, where he uttered the now-famous-words: "You Rebel Scum".
Time to cover the first event: The 501st March.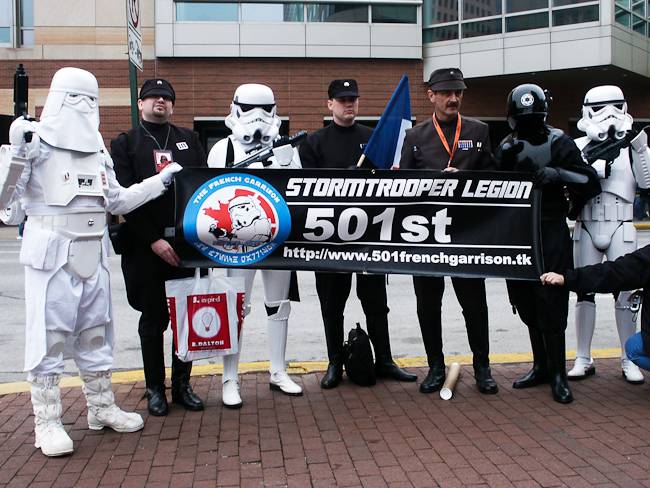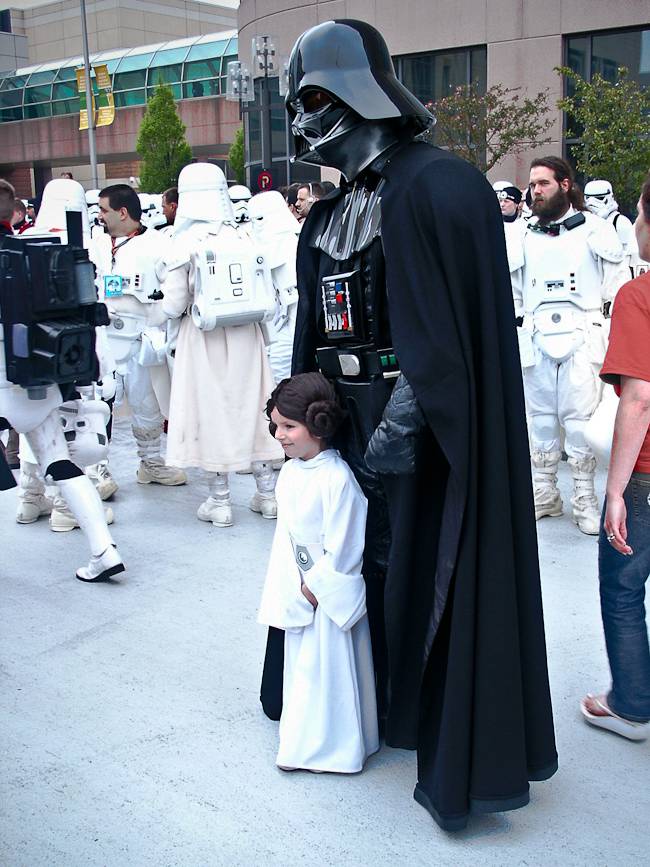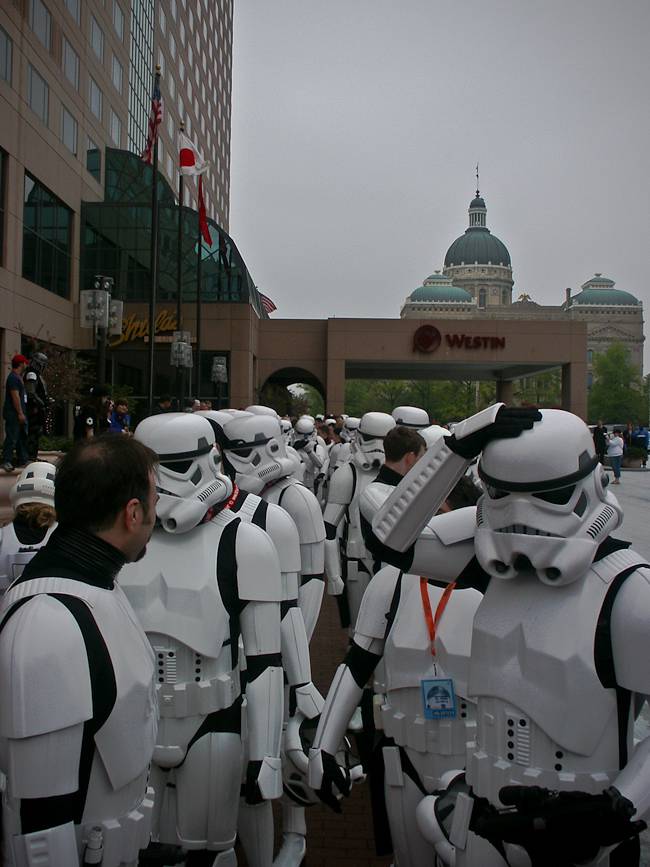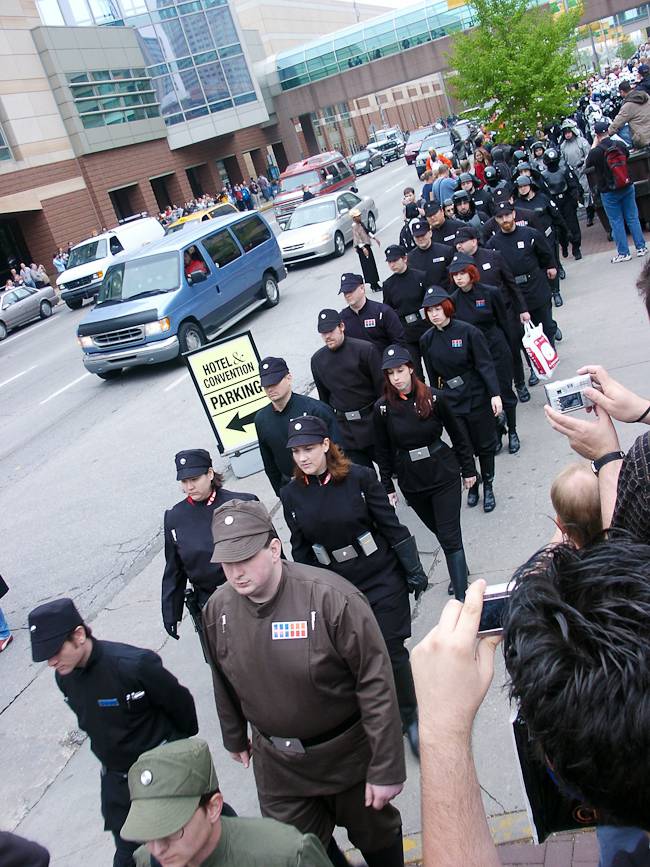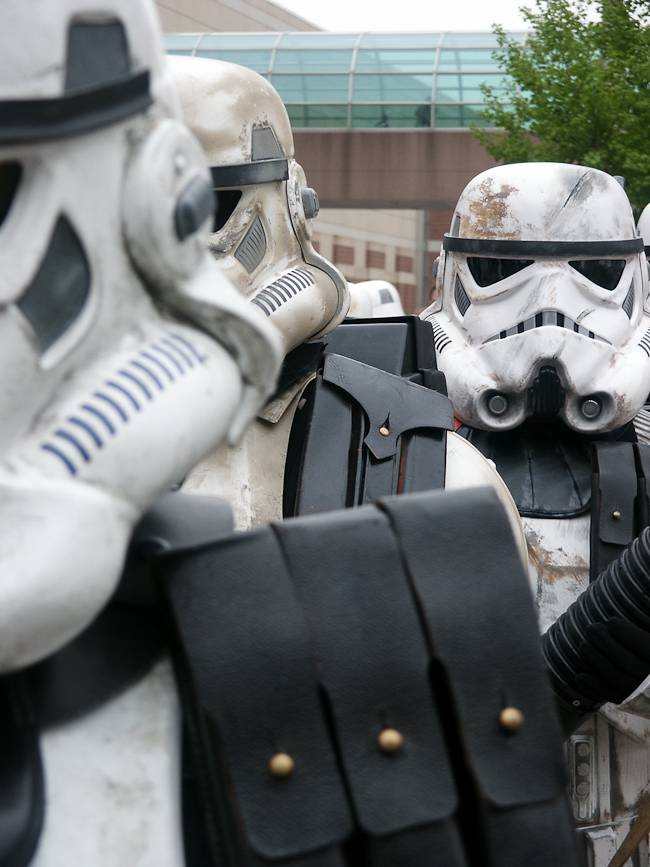 4 hours later, I had the chance to explore the entire convention, including some chat up's with actors I've met before. That evening were the Opening ceremonies, that started with an Imperial invasion of Lord Vader and his troops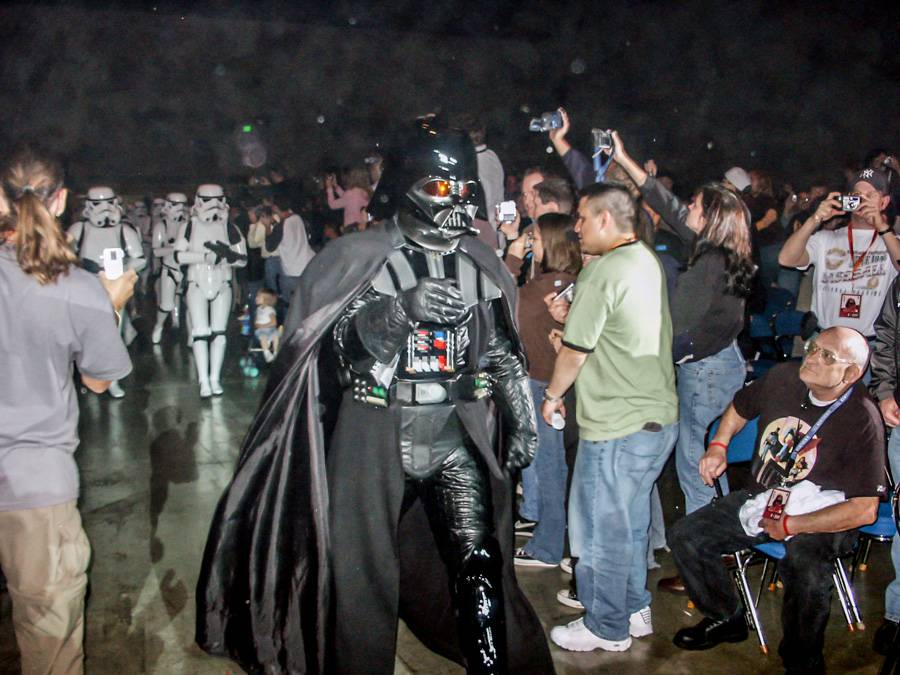 One of the troops turned out to be Steve Sansweet himself! Unfortunately, he really couldn't see a thing in that helmet, and hurt his leg, but that couldn't stop him, as he kept giving the complete presentation, that included nearly every actor there, on stage, showing exclusive footage, lightsaber duels.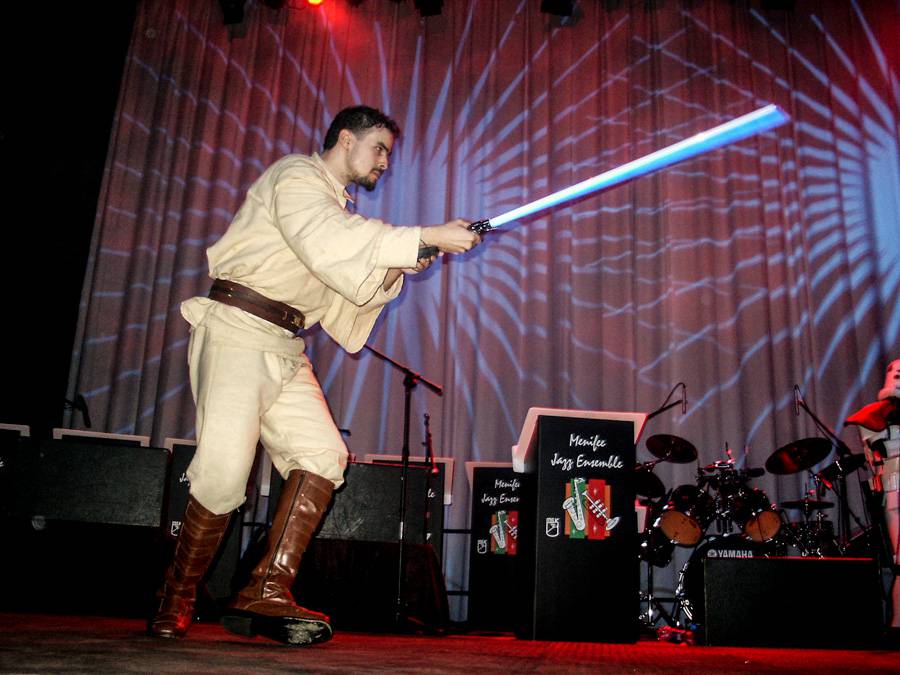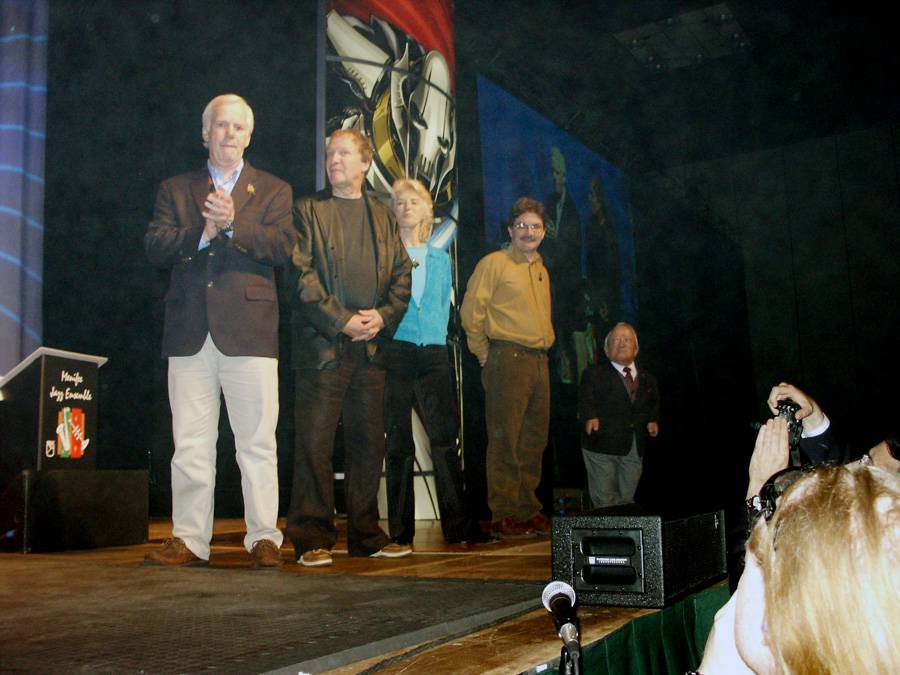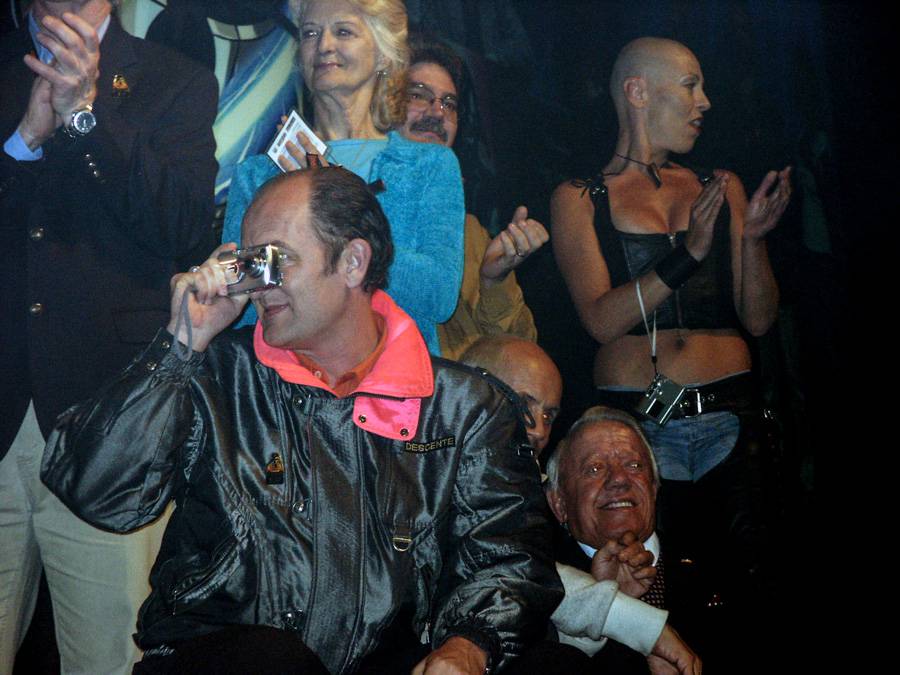 One of my top moments was when Jay Laga'aia came onto the stage, and said the following words. "This one goes out to all the people out there who share one vision: Star Wars. It is part of our lives. I have been a fan since I was 13, and I saved up bottle money to see the '77 [film]. And I have been a fan ever since. I am tickled pink to be actually part of this family, and I'm glad to see I have so many fans with me this evening. This one goes to you." Backed by the Menifee Jazz Ensemble, Laga'aia began to sing. " A long, long time ago, in a Galaxy far away… Naboo was under an attack." It was of course "The Saga Begins," the "American Pie" parody by the great Weird Al Yankovic.
That evening I walked to my room, and watched a bit of American television, where someone was throwing basketballs from the roof. Nothing special, and I fell asleep during it.
Day 2 – Friday April 22 2005
When I woke up, it was 7 am, wow, never happened to me before that I was that awake, at that hour. In my free time, I met Alex Newborn, our site researcher, which was the first time I've met a SWST.net crew member in person. The meeting was brief, but cool, and was captured for eternity with a picture. That evening was the Master Replicas exclusive Collectors Society party, with actors, giveaways, free food, and cool presentations.
That evening also was the special 501st/Fan Force Party party. Again with actors, and a lot of people that normally are hidden under the blank expression of the stormtrooper helmet. I popped into the party with an LFL Licensing friend. Quite a cool party!
Day 3 – Saturday April 23 2005
"I'd like a pony" – binkmeisterRick in Indy's Steak 'n Shake.
Never more have words this truthful been spoken than when Bink, one of the scoundrels of Indygear's Club Obi Wan forum– but one with a golden heart– gave us a glimpse of his longtime youth dreams when the waitress asked us for our order in the Indianapolis Steak 'n Shake. Ahem, I would have given quite some money to know what she must have thought when she saw a group of around 7 people dressed as Indiana Jones (and 1 Samuel L. Indy) sitting at her table. The core members of the group: Me, Bink, Agent 5, IndyBlues, Holly (IndianaTexasGirl), and Indiana. Probably it would have been something like "oh great, more geeks", but that's not the point. Also, why is it so unacceptable for persons to order Mayonnaise as a dressing for french fries? It went something like this:
Kris: "I'll have the french fries, and salad with mayonnaise"
Waitress: "Mayonnaise? No ranch or anything?"
Kris: "Just mayonnaise"
Waitress: "Sure?"
Kris: "All I want is mayonnaise!!!"
Waitress: "Positive?"
Kris: "Yes!!!!"
After 3 confirmations of my order, she finally left. Good thing I was assured that not everyone saw Pulp Fiction as much as we did. Later in the day, ITG taught me how to use a whip, which gave some very nice results (read: A security guard saying "ho there, easy Indy", and explaining to other people I was Indy Jones.) When we smuggled Bink into the convention hall, we ran into Kenny, the Elvis Trooper (or The Indiana Elvis), and went into the back area of the fan hall, for some whip cracking. Agent 5 rolled out his 10 foot Dave Morgan whip, and gave such a loud crack, that the entire hall at once were silent, and moments later, many flashes went off, and the camera's were pointed in our way. Even security showed up… but they smiled and just looked at us, doing our thing. Such great moments.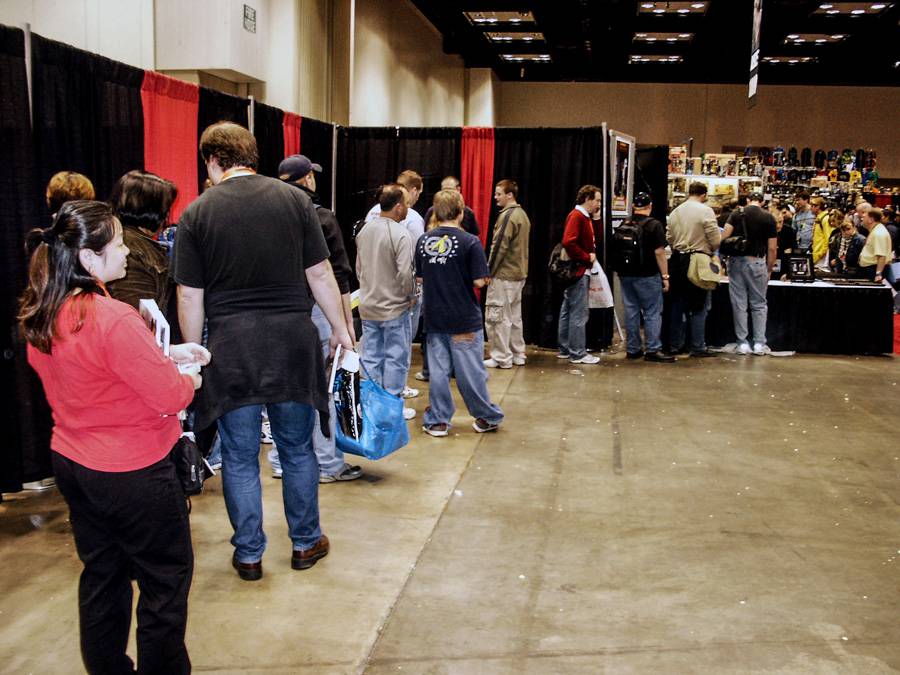 Later that evening also was the Celebration at Celebration III, a party, with a live band, and lots of fans, costumes, and more!
Day 4 – Sunday April 24 2005
When you see these huge events, everything turns into this huge motion-blurred chain of events, that lead just to some items that come up in my mind while recreating the events in my head. All I can remember from Sunday, are two things. I discovered the areas of the convention I never went to. Too bad, as multiple cool things happened there, like the George Lucas presentations which I unfortunately missed (He did, after all, Announce Star Tours 2). I did manage to see the Revenge Of The Sith footage and the ILM Demo Reel. Great stuff. Last moments on the convention floor, I was looking around and enjoying the first calmness of the event.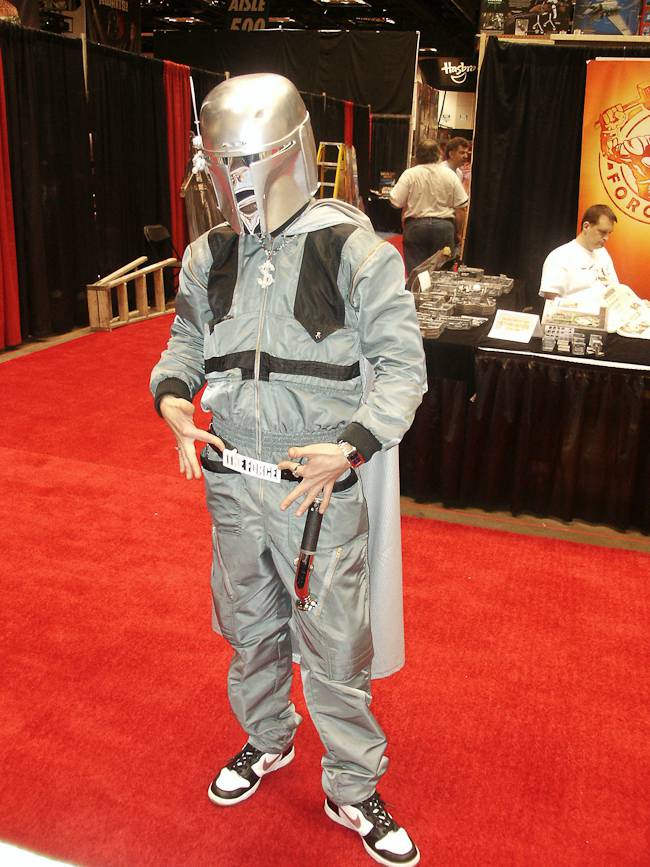 An announcement was made that the Exhibitor hall would be closed for general public in some minutes. Some cheers already sounded. But when the closing announcements were made, the entire hall erupted in applause and cheers. After helping to break down the stand, I went to the Fan Hall, where I got to see NiubNiub, who I've met a couple of times before. He's a talented diorama builder and a great person. That evening, there was a small party with everyone in the hotel lobby, where we celebrated the success of C3. Later on, I went to the nearby cinema complex and walked into Sin City. I bought a ticket, and it was already playing, you can't do that here. Weird. Anyhow, I missed like the first 10 minutes, and like.. the last 10 minutes, as I fell asleep to my big shame, but counting the time difference, it was like seeing a movie at 6 AM in the morning. Not recommendable then, but I loved what I saw. Another surreal experience.
Departure – Monday April 25 2005
That morning I woke up, packed my luggage and got some breakfast. It was mostly waiting for my flight and saying goodbye to actors, fellow crew members, and friends. I've got some autographs in Visual Dictionary Books, and Michael Sheard gave me a wonderful book, telling me that I will like it. It's a great and interesting book, given by a great actor, who will be sorely missed.
Epilogue
If I could, I would have taken much more pictures of the convention, the USA, and just everything there, but I forgot my battery charger works on 220V, and the local voltage is just 110. A shame and I should have picked up a local recharger, but well yeah, it's ok. Being in the USA was a wonderful experience, that I sure want to experience again. Hopefully at C4. While rumours of the next celebration hit already, and possible locations for C4 would include Vegas, Nevada, we can only say: "bring it on, it's gonna be explosive!" (Get it? C4, explosive? yeah, we are tired of it already too, so nevermind). But we will see what happens. I hope to see you at C4, wherever it will be (I hope London).
Kris Van de Sande
If you enjoyed the report, I can direct you to the following addresses:
Rebelscum.com Coverage
This site did an excellent coverage. Some of my input can be found there too. Be sure to check them out!
TheForce.net
Same as above, I also contributed to this great coverage.
---
Editor's Note: Star Wars Celebration IV will fill the L.A. Convention Center from Thursday, May 24 to Monday, May 28, 2007. [StarWars.com]