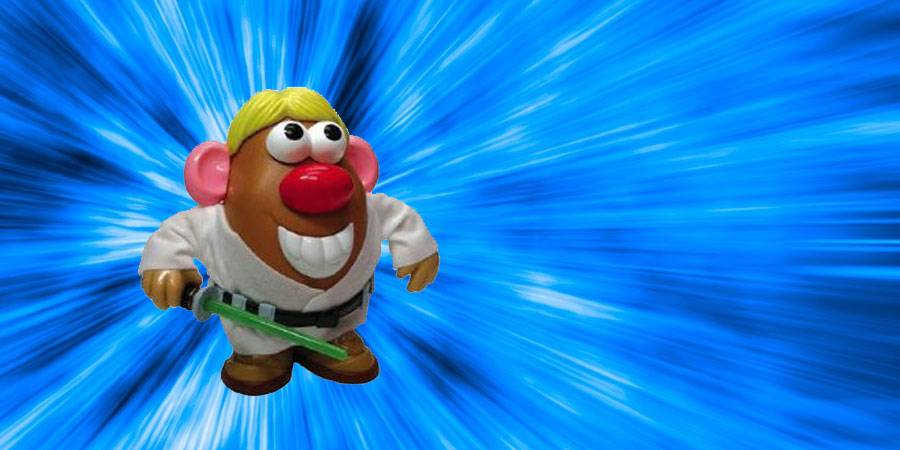 Kris Van de Sande
CIV: Disney Theme Park Exclusives Panel
May 27, 2007
On the thirtieth anniversary of Star Wars, May 25th 2007, Disney Merchandising's Brad Schoeneberg and Cody Reynolds hosted a panel on the history and future of Disney/Star Wars products at Celebration IV in Los Angeles.
Slides were shown of several past offerings, including the Hasbro line of theme park exclusive Star Tours figures, the Mickey/Yoda two-pack, the Disney Star Wars Racers toy cars, the Star Tours Collector Packs, and the latex Yoda doll.
But the real items of interest were the slides of toys soon to be released!
For the preschool set, there will be several new additions to the Star Wars/Mr. Potato Head line, including Spuda Fett, Yam Solo, Luke Frywalker, Darth Mash, and Princess Tater. This slide got a VERY positive response from those attending.
Disney theme parks have had a very successful partnership with Hasbro and the Build Your Own Potato Head shops. Hasbro's crossover with the Star Wars brand– namely Darth Tater, Spudtrooper, and Artoo Potatoo– has been popular with all age groups. So these next five characters will doubtless become hot sellers. (Hot + potato, get it?)
For girls, there will be a new line of dress-up dolls for Princess Leia and Queen Amidala.
(We're not sure where that cloak at lower left for Leia is supposed to be from. Perhaps a hand-me-down from her mother's travel cloak, seen at the upper right of the pic for Amidala?)
Note that Leia will come with a Wicket W. Warrick companion, and Amidala will come with an Artoo-Detoo. I also like the little-framed sweetheart photo accessories of Han Solo and Anakin Skywalker.
For toddlers, there will be this squeeze set of iconic masked characters from the Star Wars saga.
But perhaps the most exciting news are the Disney Characters AS Star Wars characters action figures! We got a glimpse of this in the Jedi Mickey two-pack with Yoda, but now they're taking it to a whole new level with individually carded crossover figures. Series 1 will consist of Stitch as the Emperor, Goofy as Darth Vader (looking very similar to a custom made by our own Alex Newborn), Minnie Mouse as Leia, Mickey as Luke Skywalker, and the irrepressible Donald Duck as Han Solo. The figures were shown as packaged prototypes.
Some of the figures were also shown loose.
In Series 2, the Disney characters will pull double duty as other Star Wars personalities, often switching sides from heroes to villains, or vice versa. The ever-versatile Mickey Mouse will portray his own father when he becomes action figures of both Luke AND Anakin Skywalker. (But then, if he can costar in a movie with himself as the Prince AND the Pauper, he can do anything.)
[We're not sure how Mickey-as-Anakin turns to the Dark Side and becomes Goofy-as-Darth-Vader, but why drive yourself crazy with logic?]
Speaking of Goofy, the audience in attendance went nuts at the perfect casting of Goofy as… who else? Jar Jar Binks!
And Stitch will become Yoda in addition to the Emperor. Is it the ears, do you think?
But why stop at Disney characters? How about some MUPPET crossover figures? This next sketch has our entire staff drooling.
From left to right, that's Beaker as See-Threepio, Fozzie Bear as Chewbacca (Chew-wokka?), Miss Piggy as Princess Leia (Princess Loina?), Kermit the Frog as Luke Skywalker (Skyhopper?), Gonzo the Great as evil fiend Dearth Nadir– from the Mark Hamill episode of the Muppet Show– and Rizzo the Rat as Yoda.
You've got to love the Spaceballs-esque touch of Princess Piggy having a hair dryer for a raygun.
(Our staff contributor Alex Newborn had this to say about the Dearth Nadir figure: "A couple of years back, I exchanged emails with the president of Palisades Toys, the company producing a line of wonderful Muppet Show action figures at the time. I specifically asked if we'd ever see a Dearth Nadir or Piggy-as-Leia action figure, and he said they had pursued it, but there were too many licenseholders involved for them to cut a deal. He recommended that if I really wanted a Dearth Nadir figure, I should customize one for myself. Which I did." So perhaps it is not surprising that it took the Disney corporation to get everyone in agreement to produce a toy of this character.)
Following the slide presentation, there was a Q&A session. I asked if they will do more Star Tours figures, and they replied, "We have not ruled that out."
Someone else asked if Star Wars Weekends would ever come to Anaheim. "It's being worked on," they said, and the California audience broke into thunderous applause.
They also said that the upcoming Cantina Band Figures are exclusive to Star Wars Weekends at Walt Disney World Resort in Orlando Florida. They will not be sold at Disneyland in Anaheim CA.
Other upcoming items include a Mickey lightsaber toy, complete with a Hidden Mickey activation stud as well as Disney/Star Wars-themed "Dueling" Decks of playing cards.
Other than new products, they said we'll also be seeing some older items reintroduced in new packaging. In particular, they said the StarSpeeder 3000 toy would be changing box designs "soon", but in fact I had already seen both versions on the shelves at Star Trader at Disneyland and The World of Disney Store in Downtown Disney!