Kris Van de Sande
2009 Fall Toys
August 2, 2009
The Disney Theme Parks again have several Star Wars Exclusive Toys coming out this fall for us. Here is the look ahead.

First up the popular Star Wars / Mr. Potato Head line. Developed in partnership with Hasbro, the new series features:
Chipbacca
Mashter Yoda
C3-PotatO
Each character is packed individually and target retail is $12.95
A new item in the popular Disney / Star Wars Racer Collection.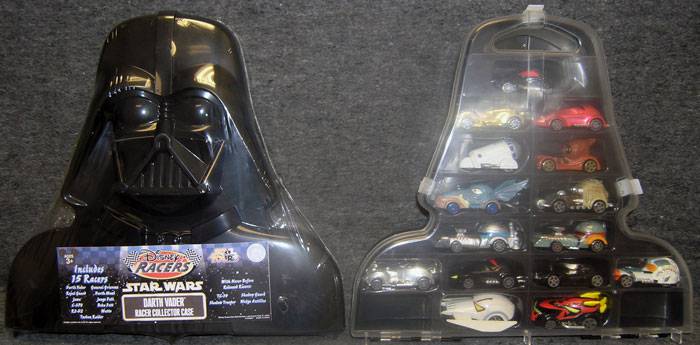 The Vader Racer Case will come pre-packed with 15 of the die-cast vehicles, and four of the Racers will be exclusively available in this case. The case contains the following characters: Darth Vader, Royal Guard, Jawa, C-3PO, R2-D2, Tusken Raider, General Grievous, Darth Maul, Jango Fett, Boba Fett, Watto, TC-14 (exclusive), Shadow Trooper (exclusive), Shadow Guard (exclusive), Wedge Antilles(exclusive).
The case with 15 die-cast Racers will retail for $49.95

Disney / Star Wars Collector Packs return with Star Wars pack #2 (Park Series #9). Star Wars was first introduced to the series in 2005. This new pack follows the same mix of characters & vehicles from the Star Wars Saga, Disney universe, and Star Tours attraction. Unique to this pack is the Disney Star Tours Cast Member and Teek.
There are 18 characters in this series that include: AT-AT, Tuscan Raider, Red Imperial Guard, Darth Vader, Ep.2 Clone Trooper, Teek (from Ewok movies), Greedo, Admiral Ackbar, Vader Advance Tie-Fighter, Jawa, Jango Fett, Star Destroyer, Death Star, Goofy as Vader, Stitch as Emperor, Donald as Darth Maul, Star Tours Cast Member (orange costume from attraction), DL-X2 Droid (from attraction).
Each pack comes randomly assorted with 3 characters and retails for $5.95 per pack
Disney Star Wars Hot Buttons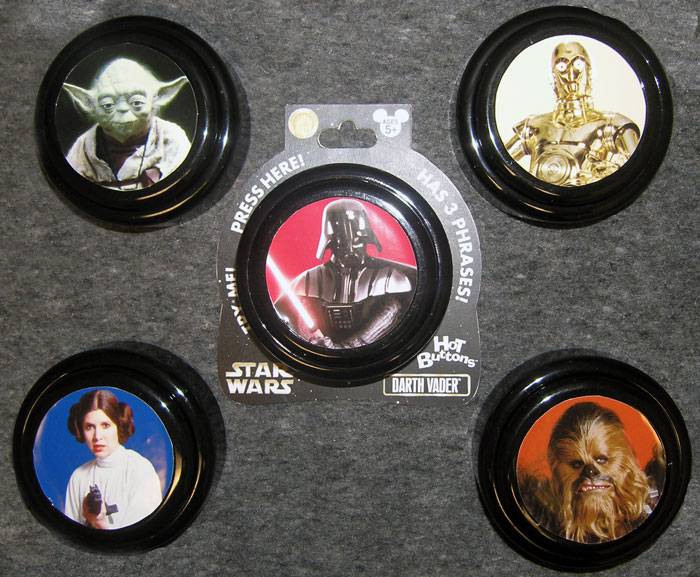 Each button comes programmed with 3 classic Star Wars character sayings. There are 5 different characters in the assortment: Darth Vader, Yoda, Chewbacca, C3PO, and Princess Leia. Each button is sold separately for $4.95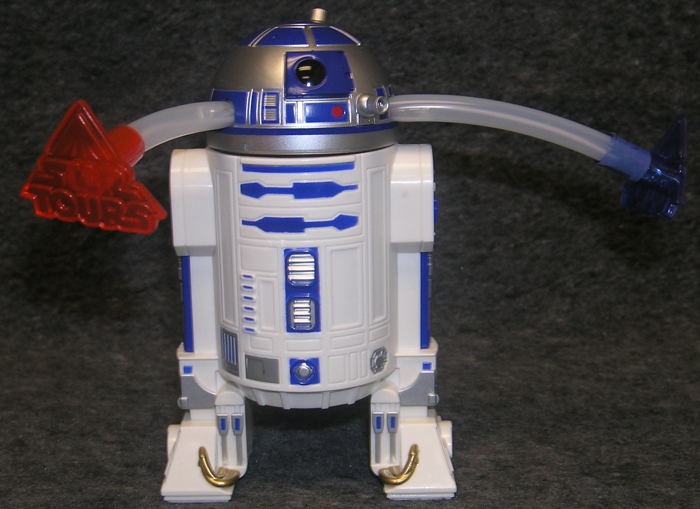 Nighttime was Walt Disney's favorite time of the day at Disneyland. The parks really come to life with lights, including light parades, water shows, and fireworks. Now R2-D2 is part of the nighttime spectacle with this light chaser. He is complete with spinning lights and authentic Artoo sounds as his dome spins.
Retail price is approximately $15
These items will be available in October at Walt Disney World, Florida and Disneyland Resort, California.