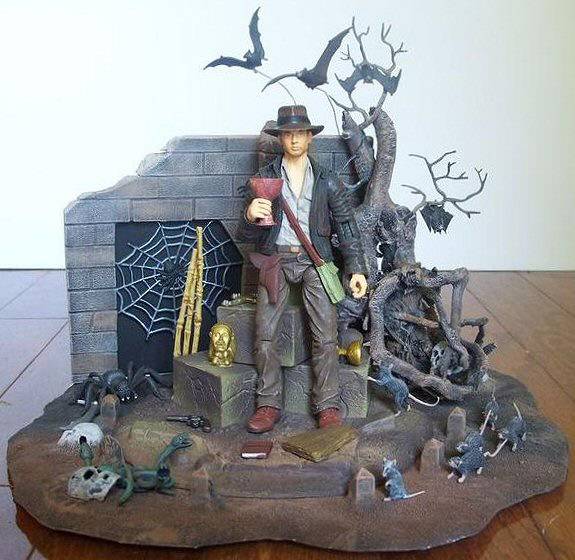 Brian Curran
7″ Indy dio
September 30, 2009
Back in September, my pal John was working with some neat horror model kit customizing expansion sets. I loved the little snakes, skulls, rats, and bats. It all looked very Indiana Jones, but they were just too big for the 3-3/4″ Hasbro action figures.
A day later, I remembered my 7″ Disney-exclusive Indy, and gave John a quick call. He and another modeler (also named John) coughed up an extra couple of the kit-customizing sets, free of charge. Great guys. A couple of days later, having finally cut the Indy off the card, this is what I had turned it all into.
Some of the extra Indy props were pack-in relics from the Hasbro figures. The scale's a bit off in places, but it's still fun. The tree is a real root from my front yard, while the expanded floor and wall are made from foamcore, 'foamies', spackle, and paint.
I was asked about the simple pose, and this is what I wrote in a customizing forum last year:
"Well, much the same way that the 'wand chooses the wizard', in this case the toys chose the pose. As I moved things around and tried different combinations, a specific moment in time began to flesh itself out.
He's eluded the dangers (all the various creepy crawlies); he's cast aside his weapons (sword and Webley on the ground, whip not depicted because it won't coil or lay flat); he's completed his research (Grail diary and Grail tablet at his feet); he's placed the Cross of Coronado higher on the stones behind him than the Fertility Idol, so he's begun to appreciate personal accomplishments more than financial ones; and lastly, he has 'chosen wisely' as indicated by the true Grail in his hand while the false Grail is dropped behind him.
And as for the pose, that's specifically chosen because he is about to drink a toast "to your very good health." [Pity we can't say the same for that one rat that's sniffing around the false Grail…]"
AN