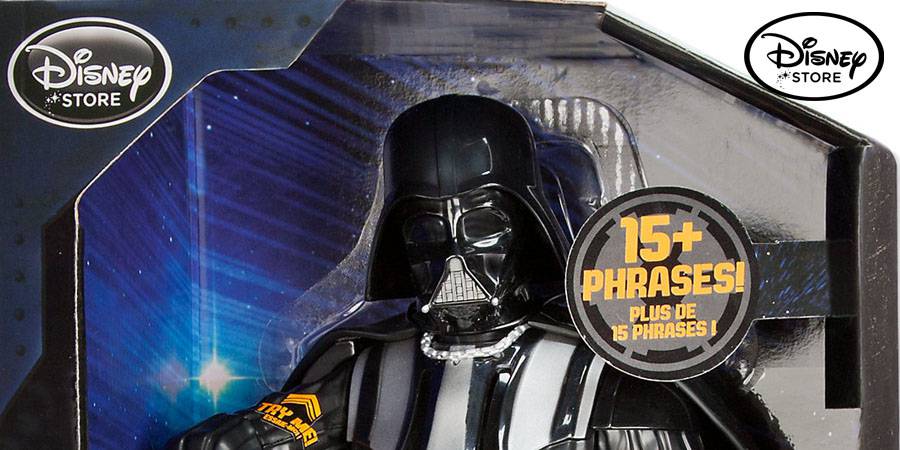 Brian Curran
Star Wars Comes to Disney Stores
April 23, 2014
Star Wars fans, the galaxy far, far away is coming to a Disney Store very, very soon – that is if it hasn't already! Visitors to the Disney Stores may already seen the Star Wars section pop up featuring a wide assortment of apparel, pins, and Hasbro action figures. But that was just the beginning!
You can already find lightsabers ($44.95), voice changers ($14.95), Star Wars Journals ($19.95) and iPhone cases ($16.95) at the Disney Store, as well as some brand new exclusive plush toys. The Jawa and R2-D2 plush toys come in the 8″ mini size at $9.95 while the larger Chewbacca and Bantha are $19.95.
Beginning May 4th, (Star Wars Day), guests to Disney Stores will also be able to find Talking Star Wars Action Figures that feature over 15 phrases, lights and sounds, and more. Choose from fan favorites such as Luke Skywalker, Han Solo, Darth Vader and Stormtrooper. Priced at $29.95, these should be of the larger variety. We'll have more info as we get them.
In addition, on May 4th, the first 100 customers will receive an limited edition Star Wars Pin! Will it be a pin from their already existing assortment for sale? Only one way to find out!
Stay tuned, and May the Fourth Be With You!
To do some early Star Wars shopping with the Disney Store online, visit their web page here: http://www.disneystore.com/star-wars/mn/1023301/