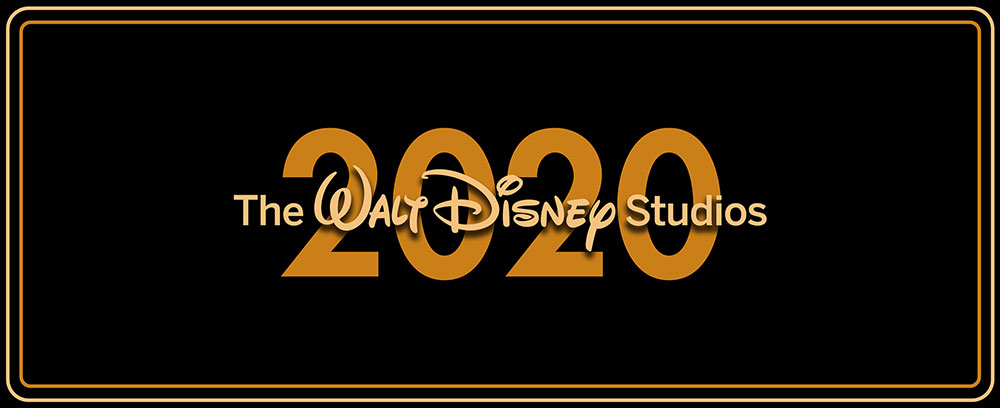 David Yeh
Walt Disney Studios in 2020
January 16, 2020
We're already fifteen days into 2020 and the Walt Disney Studios has already kicked it off with the help of newly acquired Twentieth Century Fox. Here are nineteen feature films across the entire Disney umbrella released this year, including two from Pixar, an animated feature from Walt DisneyAnimation Studios, a handful of musicals, and Phase 4 of the Marvel Cinematic Universe.

1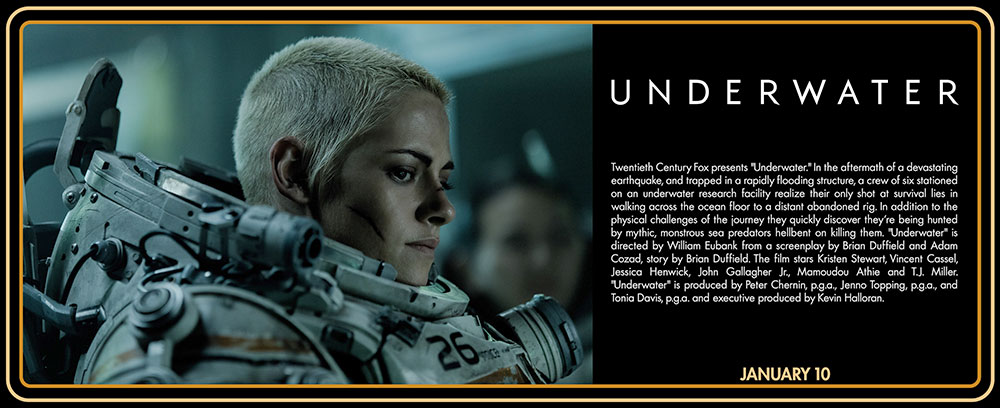 Twentieth Century Fox presents "Underwater." In the aftermath of a devastating earthquake, and trapped in a rapidly flooding structure, a crew of six stationed on an underwater research facility realize their only shot at survival lies in walking across the ocean floor to a distant abandoned rig. In addition to the physical challenges of the journey they quickly discover they're being hunted by mythic, monstrous sea predators hellbent on killing them.


2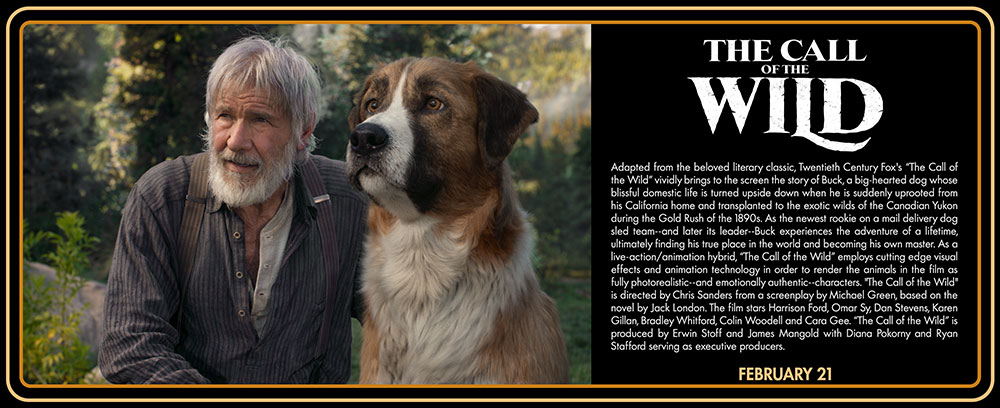 Adapted from the beloved literary classic, Twentieth Century Fox's "The Call of the Wild" vividly brings to the screen the story of Buck, a big-hearted dog whose blissful domestic life is turned upside down when he is suddenly uprooted from his California home and translated to the exotic wilds of the Canadian Yukon during the Gold Rush of the 1890s. As the newest rookie on a mail delivery dog sled team–and later its leader–Buck experiences the adventure of a lifetime, ultimately finding his true place in the world and becoming his own master. As a live-action/animation hybrid, "The Call of the Wild" employs cutting edge visual effects and animation technology in order to render the animals in the film as fully photorealistic–and emotionally authentic–characters.


3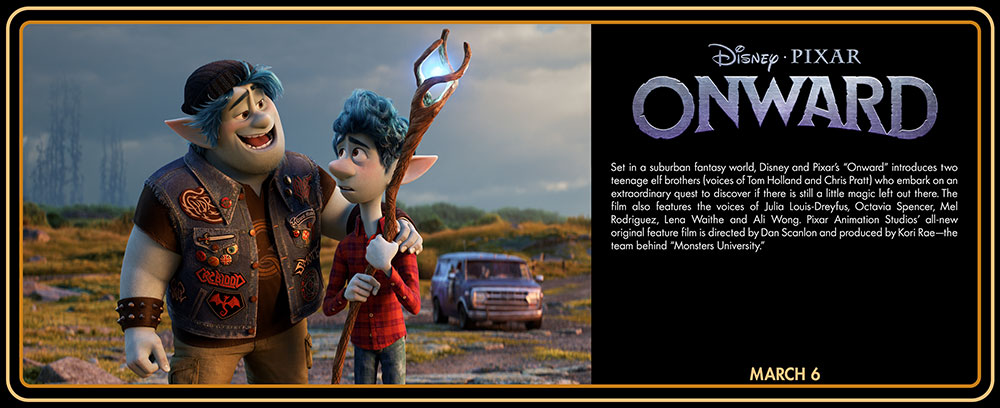 Set in a suburban fantasy world, Disney and Pixar's "Onward" introduces two teenage elf brothers (voices of Tom Holland and Chris Pratt) who embark on an extraordinary quest to discover if there is still a little magic left out there.


4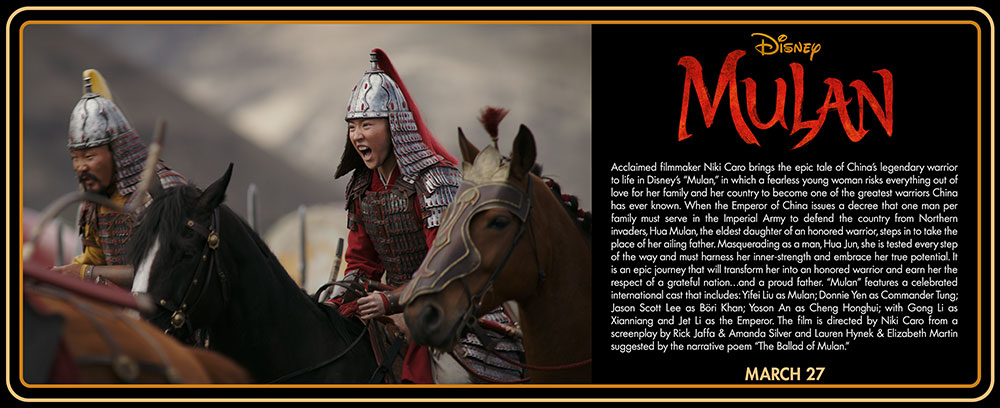 Acclaimed filmmaker Niki Caro brings the epic tale of China's legendary warrior to life in Disney's "Mulan", in which a fearless young woman risks everything out of love for her family and her country to become one of the greatest warriors China has ever known. When the Emperor of China issues a decree that one man per family must serve in the Imperial Army to defend the country from Northern invaders, Hua Mulan, the eldest daughter of an honored warrior, steps in to take the place of her ailing father. Masquerading as a man, Hua Jun, she is tested every step of the way and must harness her inner-strength and embrace her true potential. It is an epic journey that will transform her into an honored warrior and earn her the respect of a grateful nation…and a proud father.


5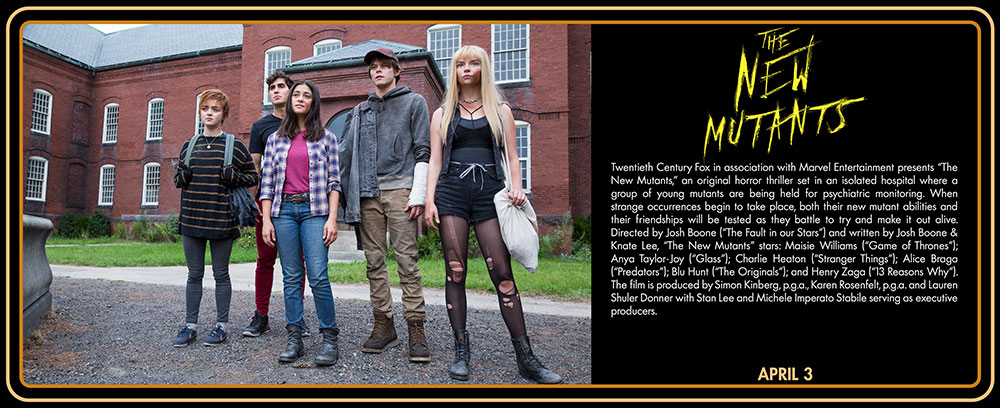 Twentieth Century Fox in association with Marvel Entertainment presents "The New Mutants," an original horror thriller set in an isolated hospital where a group of young mutants are being held for psychiatric monitoring. When strange occurrences begin to take place, both their new mutant abilities and their friendships will be tested as they battle to try and make it out alive.


6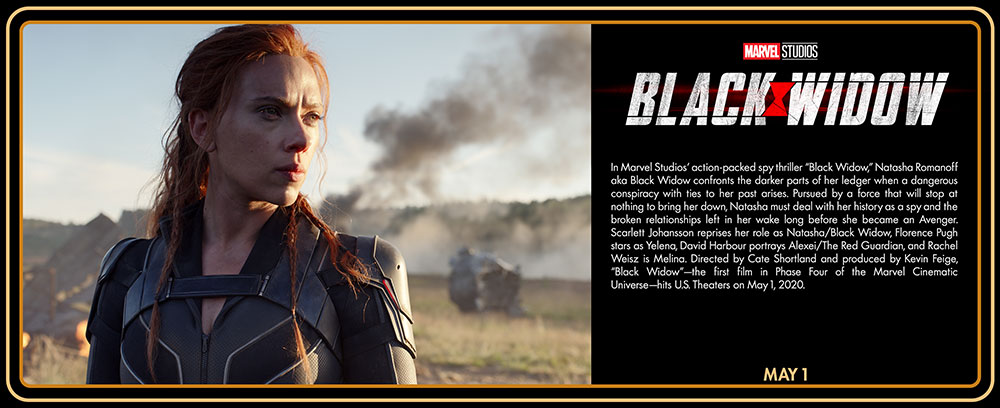 In Marvel Studios' action-packed spy thriller "Black Widow," Natasha Romanoff aka Black Widow confronts the darker parts of her ledger when a dangerous conspiracy with ties to her past arises. Pursued by a force that will stop at nothing to bring her down, Natasha must deal with her history as a spy and the broken relationships left in her wake long before she became an Avenger.


7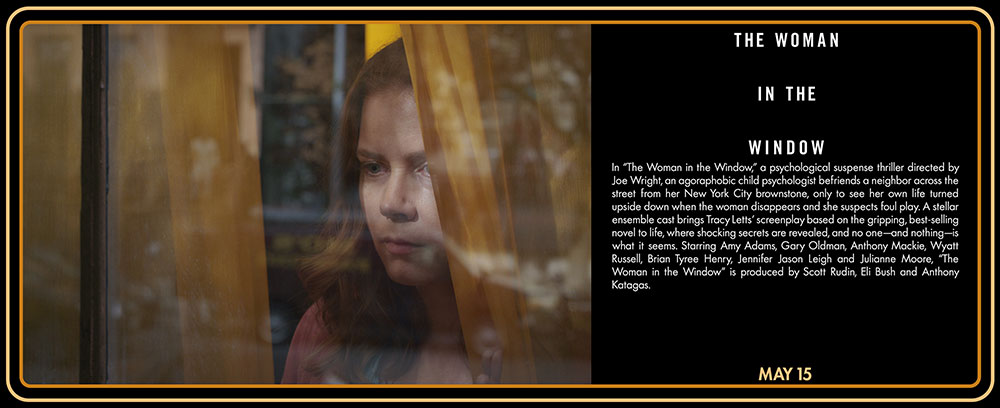 In "The Woman in the Window", a psychological suspense thriller directed by Joe Wright, an agoraphobic child psychologist befriends a neighbor across the street from her New York City brownstone, only to see her own life turned upside down when the woman disappears and she suspects foul play. A stellar ensemble cast brings Tracy Letts' screenplay based on the gripping, best-selling novel to life, where shocking secrets are revealed, and no one – and nothing – is what it seems.


8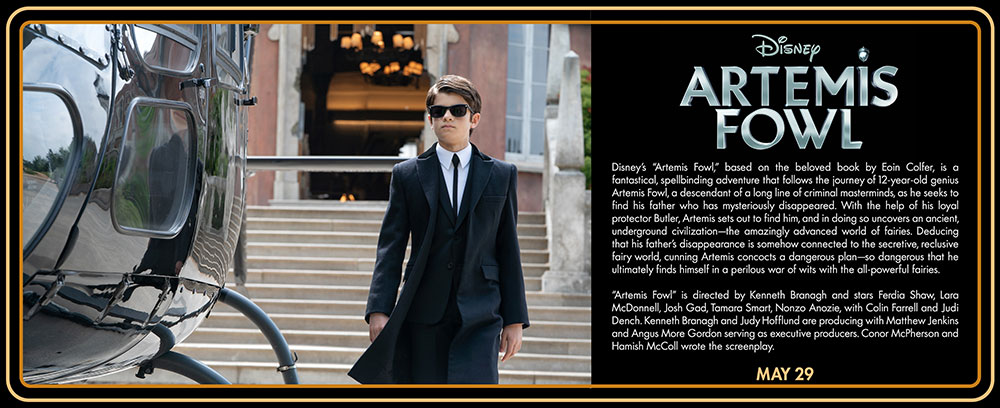 Disney's "Artemis Fowl," based on the beloved book by Eoin Colfer, is a fantastical, spellbinding adventure that follows the journey of a 12-year-old genius Artemis Fowl, a descendant of a long line of criminal masterminds, as he seeks to find his father who has mysteriously disappeared. With the help of his loyal protector Butler, Artemis sets out to find him, and in doing so uncovers an ancient, underground civilization – the amazingly advanced world of fairies. Deducing that his father's disappearance is somehow connected to the secretive, reclusive fairy world, cunning Artemis concocts a dangerous plan – so dangerous that he ultimately finds himself in a perilous war of wits with the all-powerful fairies.


9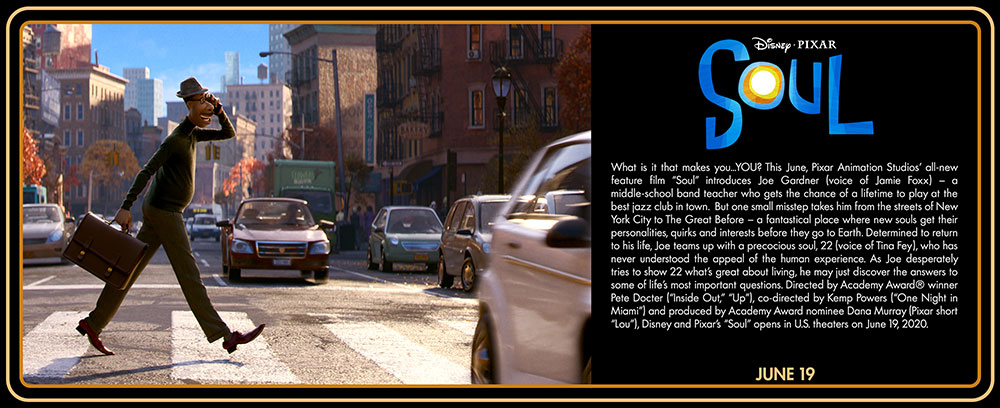 What is it that makes you…YOU? This June, Pixar Animation Studios' all-new feature film "Soul" introduces Joe Gardner (voice of Jamie Foxx) – a middle-school band teacher who gets the chance of a lifetime to play at the best jazz club in town. But one small misstep takes him from the streets of New York City to The Great Before – a fantastical place where new souls get their personalities, quirks and interests before they go to Earth. Determined to return to his life, Joe teams up with a precocious soul, 22 (voice of Tina Fey), who has never understood the appeal of the human experience. As Joe desperately tries to show 22 what's great about living, he may just discover the answers to some of life's most important questions.


10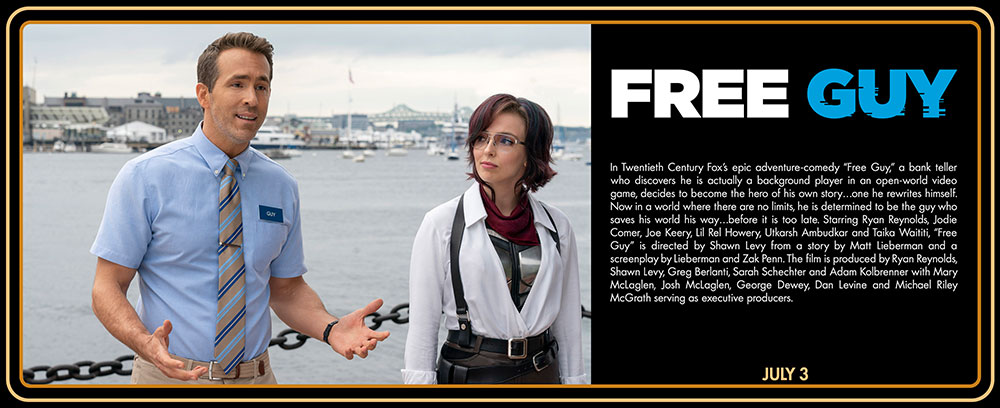 In Twentieth Century Fox's epic adventure-comedy "Free Guy", a bank teller who discovers he is actually a background player in an open-world video game, decides to become the hero of his own story… one he rewrites himself. Now in a world where there are no limits, he is determined to be the guy who saves his world his way… before it is too late.


11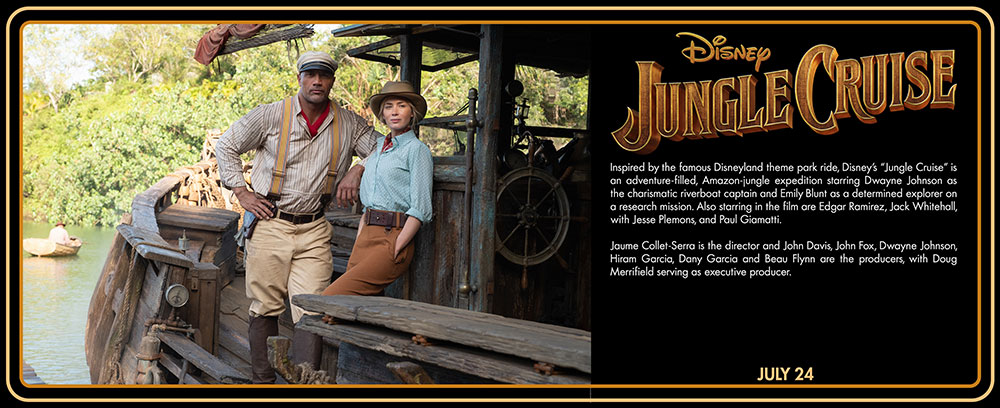 Inspired by the famous Disneyland theme park ride, Disney's "Jungle Cruise" is an adventure-filled, Amazon-jungle expedition starring Dwayne Johnson as the charismatic riverboat captain and Emily Blunt as a determined explorer on a research mission.


12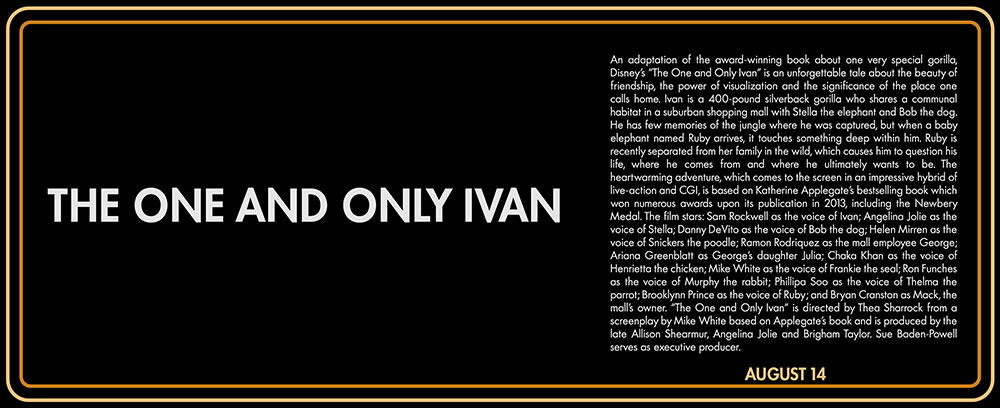 An adaptation of the award-winning book about one very special gorilla, Disney's "The One and Only Ivan" is an unforgettable tale about the beauty of friendship, the power of visualization and the significance of the place one calls home. Ivan is a 400-pound silverback gorilla who shares a communal habitat in a suburban shopping mall with Stella the elephant and Bob the dog. He has few memories of the jungle where he was captured, but when a baby elephant named Ruby arrives, it touches something deep within him. Ruby is recently separated from her family in the wild, which causes him to question his life, where he comes from and where he ultimately wants to be. The heartwarming adventure, which comes to the screen in an impressive hybrid of live-action and CGI, is based on Katherine Applegate's bestselling book which won numerous awards upon its publication in 2013, including the Newbery Medal.


13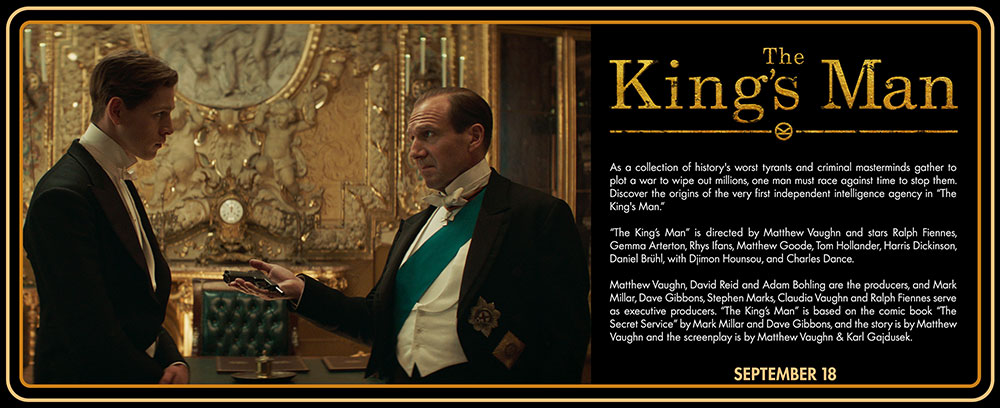 As a collection of history's worst tyrants and criminal masterminds gather to plot a war to wipe out millions, one man must race against time to stop them. Discover the origins of the very first independent intelligence agency in "The King's Man."


14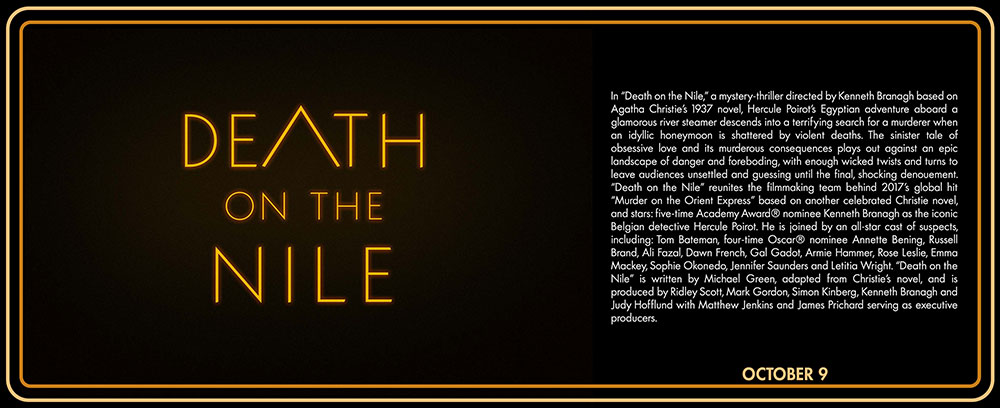 In "Death on the Nile", a mystery-thriller directed by Kenneth Branagh based on Agatha Christie's 1937 novel, Hercule Poirot's Egyptian adventure aboard a glamorous river steamer descents into a terrifying search for a murderer when an idyllic honeymoon is shattered by violent deaths. The sinister tale of obsessive love and its murderous consequences plays out against an epic landscape of danger and foreboding, with enough wicked twists and turns to leave audiences unsettled and guessing until the final, shocking denouement.


15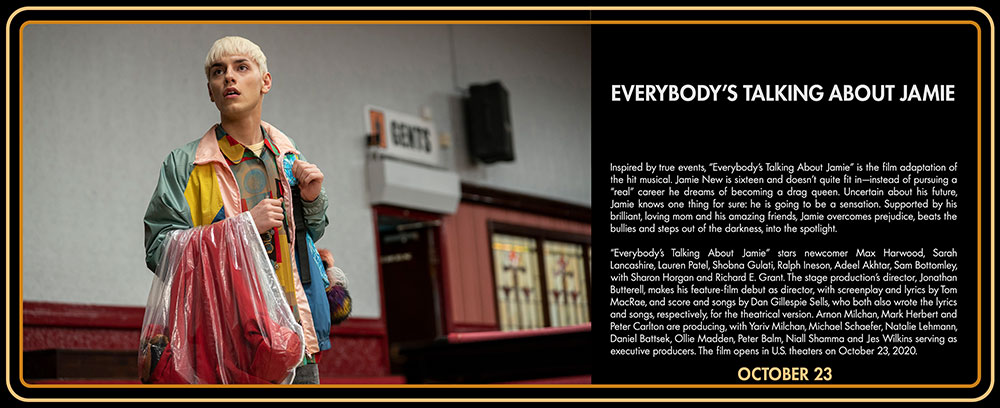 Inspired by true events, "Everybody's talking About Jamie" is the film adaptation of the hit musical. Jamie New is sixteen and doesn't quite fit in – instead of pursuing a "real" career he dreams of becoming a drag queen. Uncertain about his future, Jamie knows one thing for sure: he is going to be a sensation. Supported by his brilliant, loving mom and his amazing friends, Jamie overcomes prejudice, beats the bullies and steps out of the darkness, into the spotlight.


16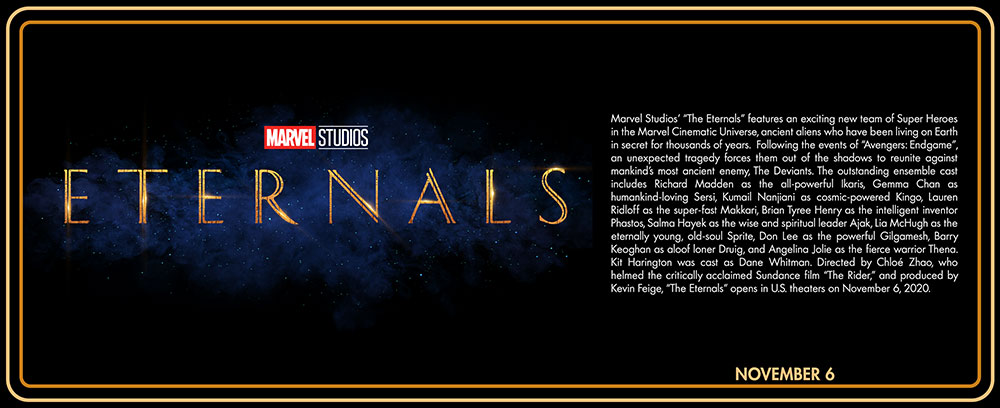 Marvel Studios' "The Eternals" features an exciting new team of Super Heroes in the Marvel Cinematic Universe, ancient aliens who have been living on Earth in secret for thousands of years. Following the events of "Avengers: Endgame", an unexpected tragedy forces them out of the shadows to reunite against mankind's most ancient enemy, The Deviants.


17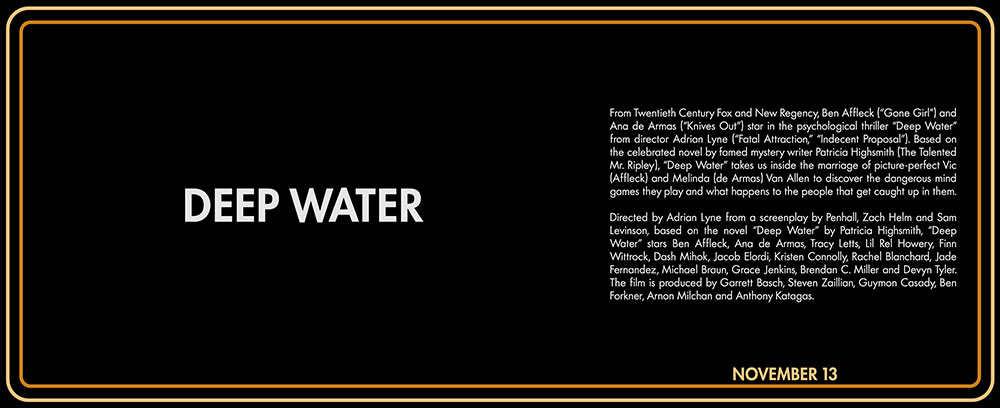 From Twentieth Century Fox and New Regency, Ben Affleck ("Gone Girl") and Ana de Armas ("Knives Out") star in the psychological thriller "Deep Water" from director Adrian Lyne ("Fatal Attraction," "Indecent Proposal"). Based on the celebrated novel by famed mystery writer Patricia Highsmith (The Talented Mr. Ripley), "Deep Water" takes us inside the marriage of picture-perfect Vic (Affleck) and Melinda (de Arnas) Van Allen to discover the dangerous mind games they play and what happens to the people that get caught up in them.


18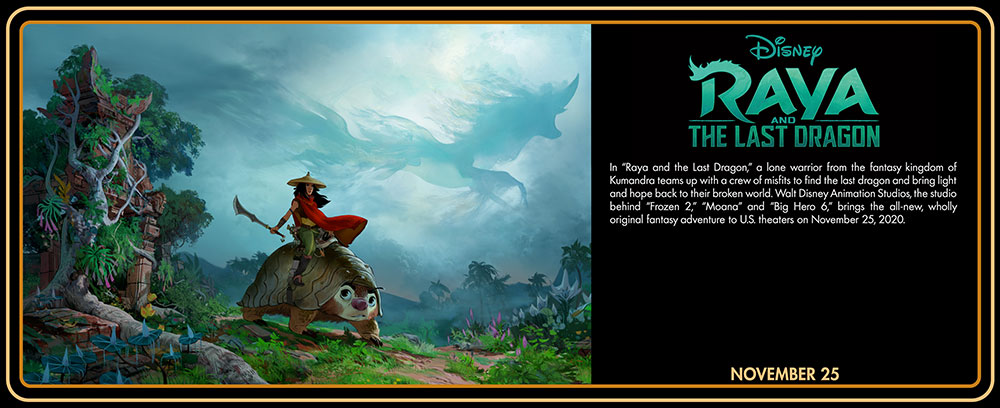 In "Raya and the Last Dragon," a lone warrior from the fantasy kingdom of Kumandra teams up with a crew of misfits to find the last dragon and bring light and hope back to their broken world.


19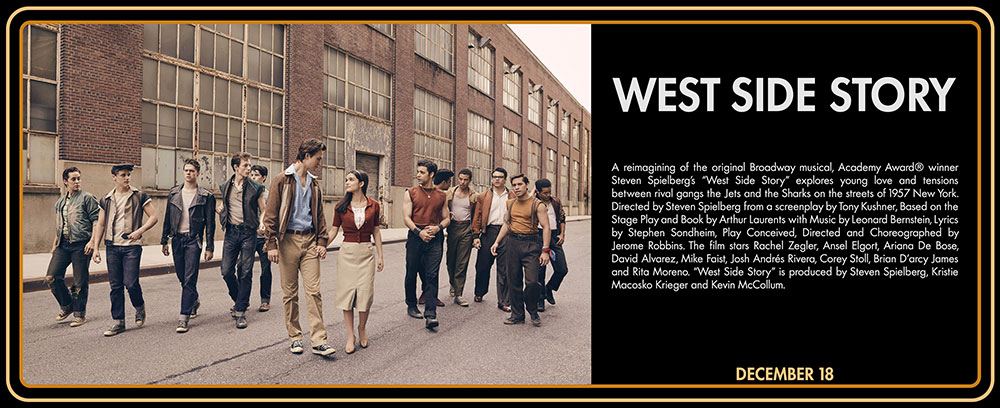 A reimagining of the original Broadway musical, Academy Award winner Steven Spielberg's "West Side Story" explores young love and tensions between rival gangs The Jets and the Sharks on the streets of 1957 New York.