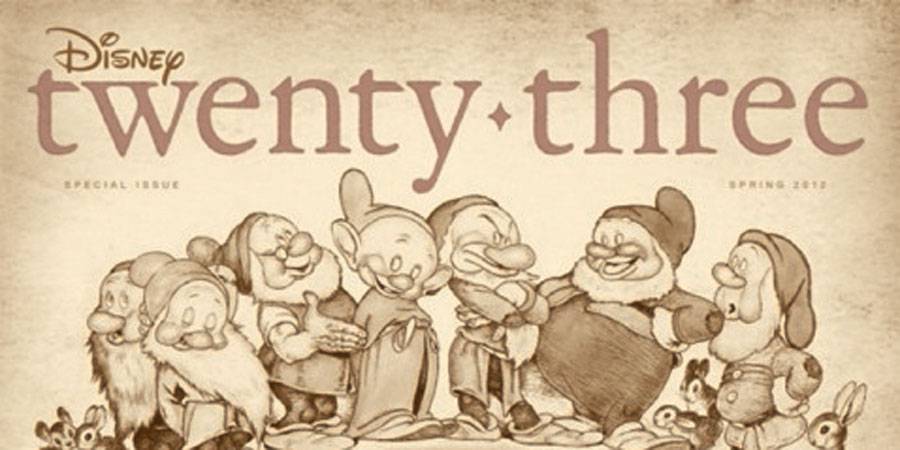 Kris Van de Sande
D23 – Spring Issue of Disney Twenty-Three Magazine
January 28, 2012
D23 has sent us highlights of the spring 2012 issue of Disney Twenty-Three Magazine and details of new additions to the growing list of discounts offered to D23 Members.
Press Release:
DISNEY TWENTY-THREE MAGAZINE PAYS TRIBUTE TO
75 YEARS OF DISNEY FEATURE ANIMATED FILMS
D23: The Official Disney Fan Club Shares Rare Images, Exclusive Interviews and Captivating Articles Celebrating 52 Unforgettable Movies
BURBANK, Calif. – January 26, 2012 – D23 devotes its entire Spring issue of Disney twenty-three magazine to the remarkable legacy and influence of Disney animated films. From Snow White and the Seven Dwarfs to the animated classics of tomorrow, the official Disney fan club takes readers on a fantastic journey from the drawing board to the silver screen.
Available nationwide on February 14, this special issue of Disney twenty-three magazine is an extraordinary treasure trove of fascinating stories, insights and details of Disney animation's heritage. From pre-production to music composition, every facet of making classic Disney animated features is explored—including the transcriptions from Walt's story meetings with his animation team as they developed such classics as Fantasia, Pinocchio and Cinderella.
Plus, especially for Gold-level members of D23: The Official Disney Fan Club, this all-new issue also features an inventive, breathtaking cover that incorporates a removable replica animation cel from Snow White.
"It's often been said that animation is the heart and soul of Disney, so we knew we needed to do something truly spectacular with our magazine in this milestone year," said Steven Clark, head of D23. "Whether you're interested in the first Golden Age of Disney animation or you're looking forward to the next beloved classic, there's something in this issue for every Disney fan."
Fittingly, the magazine's first story examines the legacy of Walt Disney himself and the vision he set forth even before Snow White and the Seven Dwarfs hit the screen. FiIm historian and Academy-Award® winner John Canemaker looks at how Disney animated films have continuously raised the bar for three quarters of a century, since audiences were first enchanted by the "fairest of them all." Also included in the Spring issue are:
The Six Older Men: A revealing look at the rarely seen talented artists and illustrators who helped train Disney's legendary "Nine Old Men";
Ralph's Wrecking Crew: An early glimpse at the process of producing Wreck-It Ralph, the next feature film from Walt Disney Animation Studios;
Ballyhoo and Buzz: A colorful look at some of Disney's off-the-wall stunts for marketing new movies before the advent of broadcast and digital media;
Striking the Right Chords: An exploration of the memorable music written for animated features, with insight from film historian Leonard Maltin;
Still Soaring: A touching interview with talented artist Tyrus Wong, now 101 years old, who helped create the extraordinary look of Bambi;
A Work of Art: An introduction to Disney's Animation Research Library, home to 65 million individual pieces of original animation art.
There's even more to discover—including spectacular photography and artwork—in the Spring issue of Disney twenty-three, which will be delivered directly to all Gold-level D23 Members beginning in early February with the limited-edition Snow White reproduction cel as their collectible gift.
Disney twenty-three magazine is available at retail locations across the country for $15.95, and can also be purchased online at DisneyStore.com and throughout the Disneyland® and Walt Disney World® Resorts. Gold-level members of D23: The Official Disney Fan Club are treated to each issue delivered directly to their mailbox, accompanied by a special collectible gift.
D23: The Official Disney Fan Club celebrates the remarkable past, present and future of Disney, taking its name from 1923, the year Walt Disney founded his world-famous company. D23 brings its members a host of exclusive benefits, including a bi-weekly e-mail newsletter; an array of discounts and special offers; free gifts throughout the year; and exclusive, member-only special events.
Disney fans can join the world's only Official Disney Fan Club by visiting www.Disney.com/D23, or at select shops at the Disneyland® Resort, the Walt Disney World® Resort and www.DisneyStore.com/D23.
D23 ADDS EVEN MORE SPECIAL DISCOUNTS AND
EXCLUSIVE OFFERS TO ITS LINEUP OF NEW MEMBER BENEFITS
From Disney Artwork to Hotel Rooms, Movie Tickets to Science Centers, Dining and More, Members Have More Than Two Dozen Ways to Save
BURBANK, Calif. – January 24, 2012 – From Broadway to Hollywood, from the Big Easy to the Aloha State, D23: The Official Disney Fan Club has added a bevy of new benefits and special discounts to bring new ways for its members to save when shopping, traveling, dining, entertaining… even decorating their homes.
From Disney collectibles to accommodations near the Disneyland Resort, D23's most recently added special discounts include:
From Thomas Kinkade, the Painter of Light™, 20% off a D23 Member's entire order at ThomasKinkade.com, including art from the Disney Dreams Collection
A 10% discount off of services at Niki Bryan Spas, meaning D23 Members can save at all spa locations at Disney Parks in the United States
Special D23 rates at the famed El Capitan Theatre in Hollywood, including its upcoming presentation of Disney's classic Lady and the Tramp
D23 Member discounts at House of Blues locations at both the Disneyland Resort and Walt Disney World Resort
$5 discount off any adult, child or senior ticket to the Johnson Space Center in Houston, an official NASA Visitor Center
20% off any single admission ticket to the famed Miami Science Museum
From Howard Johnson Anaheim, just across the street from Disneyland Resort, 15% off an entire stay
At LittleMissMatched, D23 Members receive 15% off all Disney merchandise online and in-store, including Downtown Disney locations at Disneyland and Walt Disney World
For fashion-conscious Disney fans, 10% off of purchases made at the Apricot Lane Boutique at Downtown Disney Anaheim
$23 off purchases of $149 or more in-store or online at collectibles boutique Charming Shoppe in Orange County, Calif.
Savings of 20% from Fantagraphics Books, which publishes hardcover versions of classic Mickey Mouse and Donald Duck comics
In addition to these special discounts, Disney Vacation Club® — Disney's innovative approach to vacation ownership since 1991 — is celebrating the opening of Aulani, Disney Vacation Club Villas in Ko Olina, Hawai'i, with a special limited-time offer. Starting February 1, 2012, D23 Members have an exclusive opportunity to receive a vintage work of custom-matted art from Walt Disney's 1937 animated short "Hawaiian Holiday" by simply learning more about the magic of Disney Vacation Club membership by phone.*
The newest D23 Member discounts and offers are in addition to ongoing special deals, a full list of which can be found online at http://d23.disney.go.com/special-offers-and-discounts-by-experience/. Continuing D23 Member offers also include:
Special pricing on the ever-popular Mary Poppins on Broadway, with orchestra-seat pricing starting at just $67 for D23 Members
Two ways to save on admission to the renowned Madame Tussauds in Hollywood, just across the street from the El Capitan Theatre; save $5 per ticket by or buy one adult ticket and get a child's ticket for free
A 10% discount on purchases at Two Scoops Ice Cream Parlor in Ko Olina, just down the street from Disney's Aulani resort
From and to virtually any airport in the country, 10% off all services offered by SuperShuttle, including its ExecuCar private sedan service
A 15% savings on all video game catalog titles and select hardware from game publisher THQ
A savings of 10% at all Ralph Brennan restaurants in New Orleans and Metairie, La., including Red Fish Grill, Ralphs on the Park and Café NOMA, as well as Ralph Brennan's Jazz Kitchen at Downtown Disney Anaheim
20% off all purchases made online at the ABC Store
A savings of 20% on purchases made at Brookstone.com
This is just a sample of available the D23 Member discounts and offers–with more coming throughout 2012, saving members literally hundreds of dollars a year.
For Disney fans everywhere, becoming a D23 Member as simple as visiting www.Disney.com/D23 and selecting from a Gold or Silver D23 Membership. Gold D23 Membership ($74.99 a year) offers a one-year subscription (four issues) to the glossy, award-winning Disney twenty-three magazine, plus four special, collectible gifts — unique surprises that accompany every issue of Disney twenty-three.
All new and renewing D23 Members, including Silver D23 Members ($34.99 a year), also receive a member-exclusive gift from the Walt Disney Archives Collection, and specially priced admission to the bi-annual D23 Expo, the largest Disney fan event in the world.
D23 Members can take advantage of the Official Disney Fan Club's ever-increasing member benefits and offers, have full access to the D23 website (www.Disney.com/D23), and receive exclusive invitations to special, member-only events including private tours of The Walt Disney Studios and the Walt Disney Archives; D23-exclusive celebrations at Walt Disney World and Disneyland Resorts; and movie screenings of classic Disney films.
* THIS PROMOTIONAL MATERIAL IS BEING USED FOR THE PURPOSE OF SOLICITING SALES OF TIMESHARE INTERESTS. Exclusive merchandise – no retail value. DVC-GIFT-31-A.