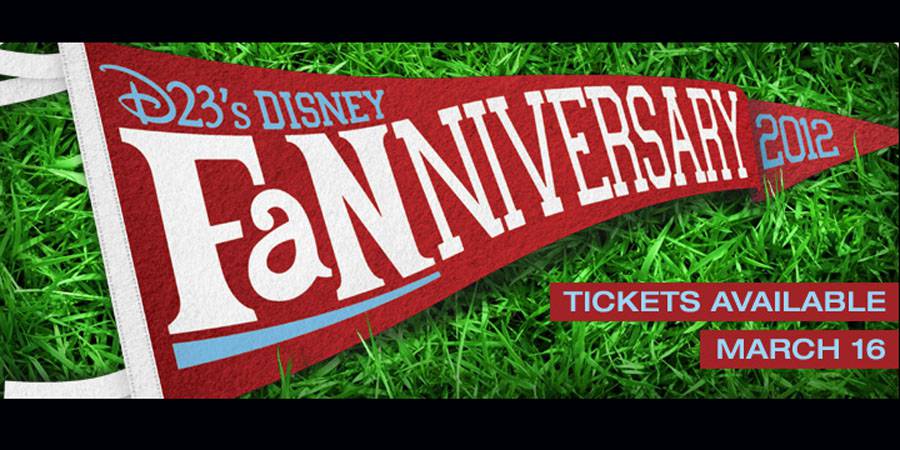 Kris Van de Sande
D23's first-ever "Fanniversary" celebrations
March 3, 2012
A KALEIDOSCOPE OF MAGICAL MEMORIES TRAVELS
TO SIX CITIES AROUND THE U.S. THIS SPRING IN
D23'S DISNEY FANNIVERSARY CELEBRATION
Never-Before-Seen and Rarely Shown Film Clips, Photos and Art Combine with Cherished Disney Creations in First-Ever FANNIVERSARY Show
BURBANK, Calif. – March 1, 2012 – From EPCOT Center to Oswald the Lucky Rabbit, from Pirates of the Caribbean to Pete's Dragon, more than 40 unforgettable Disney creations come together as never before when D23: The Official Disney Fan Club brings D23's DISNEY FANNIVERSARY CELEBRATION to six cities across the U.S. in April, May and June.
FANNIVERSARY is a fun-filled showcase of magical milestones celebrating Disney anniversaries in 2012. Produced and hosted by D23 and the Walt Disney Archives, the nearly two-hour show is an engaging blend of video, archival footage and never-before-seen artwork for Disney fans of all ages.
The kick-off of the FANNIVERSARY celebration will be at the Walt Disney Studios in Burbank, California, on April 27, then travel to San Francisco, Boston, New York City, Orlando and Chicago.
All FANNIVERSARY events are open to the public. Tickets are $18 for members of D23 and will be available Friday, March 16, at D23's website – Disney.com/D23. Remaining tickets will be available to the general public for $25 beginning Friday, March 30.
The touring schedule is as follows:
April 27 – The Walt Disney Studios, Burbank
April 28 – Walt Disney Family Museum, San Francisco
May 20 – Museum of Fine Arts, Boston
May 22 – Cherry Lane Theatre, New York City
June 23 – Disney's Hollywood Studios, Walt Disney World Resort
June 24 – Museum of Contemporary Art, Chicago
"Fanniversary is a incredible opportunity to celebrate more than 40 beloved Disney anniversaries with our fans across the country. From the fairest of them all—Snow White—to Star Tours, which continues to take guests to a galaxy far, far away," said Steven Clark, head of D23: The Official Disney Fan Club.
D23'S DISNEY FANNIVERSARY CELEBRATION explores unforgettable movies, cartoons, theme-park attractions and other Disney creations that celebrate anniversaries in 2012, including:
Snow White and the Seven Dwarfs, Disney's first-ever, full-length animated film which premiered in 1937
The 1987 launch of Star Tours
EPCOT Center's grand opening on October 1, 1982
The opening of Pirates of the Caribbean in 1967
Memorable Mickey Mouse cartoons released in 1937, including "Clock Cleaners," "Hawaiian Holiday," "Lonesome Ghosts" and "Magician Mickey"
The 1927 debut of Oswald the Lucky Rabbit, who Walt Disney created before Mickey Mouse
Goofy's first-ever on-screen appearance, in 1932's "Mickey's Revue"
The seminal science-fiction film TRON, released in 1982
Unforgettable movies like Aladdin (1992), Pete's Dragon (1977), The Jungle Book (1967) and Bambi (1942)
The 1972 premiere of the Main Street Electrical Parade and 1992 debut of Disneyland's Fantasmic!
More details about the full program for the D23 FANNIVERSARY celebrations can be found online at www.disney.com/D23.
D23: The Official Disney Fan Club celebrates the remarkable past, present and future of Disney, taking its name from 1923, the year Walt Disney founded his world-famous company. D23 brings its members a host of exclusive benefits, including a bi-weekly email newsletter; an array of discounts and special offers; free gifts throughout the year; as well as exclusive events created especially for its members.
Disney fans can join the world's only Official Disney Fan Club by visiting www.Disney.com/D23, or at select shops at the Disneyland® Resort, the Walt Disney World® Resort and www.DisneyStore.com/D23. To keep up with all the latest D23 news and events, follow "DisneyD23" on Twitter, YouTube and Facebook.
Image © Disney