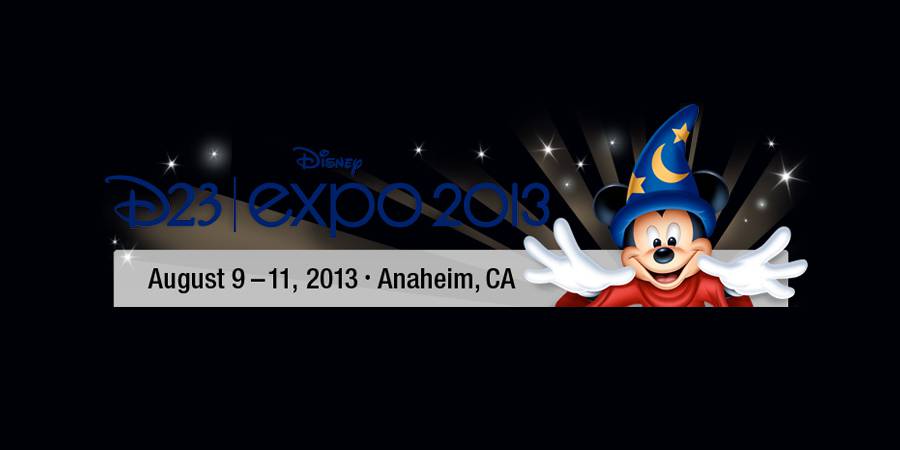 Kris Van de Sande
TICKETS FOR D23 EXPO 2013: GO ON SALE THURSDAY, AUGUST 9, 2012
August 9, 2012
Tickets for the 2013 D23 Expo go on sale today (August 9,2012). Continue on for information on how to purchase tickets. Also to look back at what the 2011 Expo had to offer and what additions are being made to the 2013 D23 Expo.
Press Release:
TICKETS FOR D23 EXPO 2013: THE ULTIMATE DISNEY FAN EVENT,
GO ON SALE THURSDAY, AUGUST 9, 2012
Discounted 2013 Tickets Available for a Limited Time
D23 Members Enjoy Additional Savings and Members-Only Benefits
BURBANK, Calif. – July 26, 2012 – On Thursday, Aug. 9, at 10 a.m. PT, D23: The Official Disney Fan Club will begin selling tickets for the next D23 Expo, which will open one year later and run from Aug. 9-11, 2013, at the Anaheim Convention Center. The largest Disney fan event in the world, the D23 Expo celebrates the entire world of Disney entertainment and brings together all parts of The Walt Disney Company under one roof, including The Walt Disney Studios; Walt Disney Parks and Resorts; Disney Consumer Products; Media Networks (including ABC, ABC Family, Disney Channel, and Radio Disney) and Disney Interactive. D23 Expo 2013 marks the third Expo held in Anaheim, following Expos in 2009 and 2011.
More than 40,000 Disney fans from around the world gathered at the Anaheim Convention Center in 2011 for the second D23 Expo: The Ultimate Disney Fan Event. In anticipation of even bigger attendance, D23 Expo 2013 will feature: an overflow theater for the D23 Arena, which will accommodate more than 2,000 guests for live streaming of the popular Arena presentations; nearly double the size of presentation venue Stage 23 (formerly 1,000 seats); and an expanded show floor, to include Halls A, B, C and D, as well as a larger Collectors' Forum to provide even more magical experiences for guests.
As in previous Expos, D23 Expo 2013 will showcase all of the latest stars in the Disney universe. In 2011, celebrity appearances included Robert Downey Jr., Chris Hemsworth, Scarlett Johansson, Jeremy Renner, Jennifer Garner, Dick Van Dyke, Willem Dafoe, Kermit the Frog, Miss Piggy, Jason Segel, Marty Sklar, Alice Davis, Michael Giacchino, Tony Baxter, Tom Bergeron, Regis Philbin, Jodi Benson, Lea Salonga, Linda Larkin, Paige O'Hara, Anika Noni Rose, David Arquette, Sarah Silverman, Jack McBrayer, Kelly Macdonald, Kevin McKidd, Taylor Kitsch, Wilmer Valderrama, Melissa Joan Hart, Sean Astin, Chelsea Kane, and Kyle Massey, along with Disney executives and creative talent. They came together to bring special presentations, announcements, and performances to Disney fans throughout the three-day extravaganza.
D23 Expo 2013 will also feature the Disney Legends Awards–a stirring biennial event that pays tribute to the talented men and women who have made indelible contributions to the Disney legacy; an all-new Fan Art Contest themed to the upcoming 50th anniversary of Mary Poppins; the 12,000 square-foot Treasures of the Walt Disney Archives exhibit featuring costumes, props, and set pieces from Disney's rich history; plus amazing live events, celebrity appearances, panels and presentations, sneak peeks, and unique experiences that celebrate the past, present, and future of Disney.
Tickets for D23 Expo 2013 will be available at a discounted price for a limited time. From August 9–December 31, 2012, tickets will be $47 for a one-day adult admission and $37 for children 3-12. Tickets for members of D23: The Official Disney Fan Club will be $40 for a one-day adult admission and $32 for children. Multi-day money-saving tickets are also available for both D23 Members and the general public, and D23 Members can save as much as $204 off the price of admission, based on the purchase of four three-day tickets at the D23 Member rate. For more information on tickets and the ticket pricing structure for members and general admission, visit www.D23Expo.com.
In addition to these special advance-purchase savings, D23 Members can also buy D23 Expo VIP Sorcerer Packages, extremely limited tickets that are only available to members. These packages offer incredible, exclusive opportunities.
The SORCERER PACKAGE includes:
Three-day admission ticket
Reserved seating at all presentations in the D23 Arena and Stage 23
Commemorative Sorcerer credential
Pre-Expo tour of the Treasures of the Walt Disney Archives exhibit
Exclusive shopping time in the D23 Expo Dream Store and the Treasure Trove the day before the Expo is open to guests
Exclusive tour of the D23 Expo show floor the day before the Expo is open to the public
Private welcome reception
Special entrance to the Expo each morning
Hardbound Treasures of the Walt Disney Archives catalog
Hardbound Disney Legends ceremony commemorative program
A voucher for an appointment with an on-site massage therapist
Exclusive D23 Expo 2013 tote bag filled with gifts
"Fond Farewell" reception on final day of Expo
In addition, Sorcerer-level members have access to the Sorcerer Member Lounge
Sorcerer Package tickets will be available exclusively to both Gold- and Silver- level D23 Members at $1,500 per ticket. Members will also have the option to purchase up to two Sorcerer tickets. Additional details and benefit are highlighted at www.D23Expo.com.
D23 Members receive early admission to the Expo show floor, and D23 will once again give a special thanks to D23 Charter Members, providing them special access to the Expo's Charter Member Lounge.
Visit www.D23Expo.com to relive some of the extraordinary experiences from the first two Expo events and get a peek at what's to come in 2013.
About D23
D23: The Official Disney Fan Club celebrates the remarkable past, present and future of Disney, taking its name from 1923, the year Walt Disney founded his world-famous company. D23 unlocks the magic of Disney with a host of exclusive benefits, including a quarterly publication, Disney twenty-three; a rich website at www.D23.com; a weekly e-mail newsletter; an array of discounts and special offers; free gifts throughout the year; as well as exclusive events created especially for its members.
Gold-level D23 memberships are $74.99, and Silver-level memberships – which provide all benefits with the exception of a Disney twenty-three subscription – are just $34.99 a year. All discounts and special promotions are available to both Gold- and Silver-level D23 Members.
Disney fans can join the world's only Official Disney Fan Club by visiting www.D23.com, or at select shops at the Disneyland® Resort, the Walt Disney World® Resort and www.DisneyStore.com/D23. To keep up with all the latest D23 news and events, follow "DisneyD23" on Twitter, YouTube and Facebook.