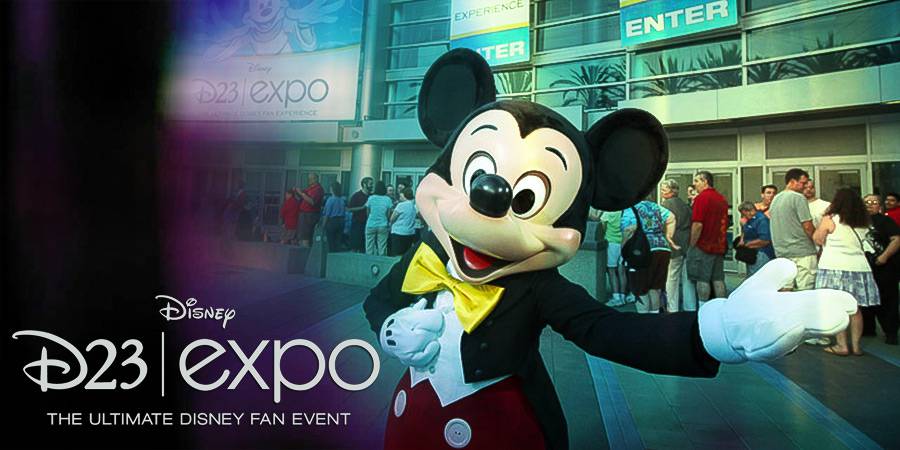 Kris Van de Sande
D23 Expo App Now Available
July 25, 2013
The D23 Expo App is now available. The application includes Expo schedules, photos, trivia, talent bios and much more. ABC Television will have talent, screenings and Q&A's from the hit show Once Upon A Time & more! Harrods' Disney Princess dresses will make their U.S. debut at the D23 Expo.
Press Release:
D23 Expo App Now Available
The Interactive Application Includes Schedule, Talent Bios, Trivia, Breaking News, and Much More About The UltimateDisney Fan Event
Burbank, Calif. – July 24, 2013: Guests attending the D23 Expo: The Ultimate Disney Fan Event are now able to download the free D23 Expo app from the iTunes and Google Play stores. This multi-layered application will serve as a useful tool for those guests attending the event, which takes place at theAnaheim Convention Center August 9–11, 2013. Included in the app:
The most up-to-date schedules for all Expo presentations
Sneak peeks at merchandise and collectibles that will be available for purchase exclusively at the event
The ability to push alerts of the latest Expo news including announcements and notifications when panels, presentations, and events are booked up
Map of the show floor
Answers to frequently asked questions
Loads of Disney trivia
Bios of all talent who will be attending the Expo
Additional fun features such as a D23 Photo Booth, a scavenger hunt, and more!
THE ABC TELEVISION NETWORK PRESENTS EXCLUSIVE SCREENINGS AND Q&As
WITH THE CREATIVE FORCES BEHIND TV'S EXCITING NEW FALL SHOWS
AT D23 EXPO 2013
Creators panel with Edward Kitsis and Adam Horowitz who will talk about their hit ABC series Once Upon A Time as well as their new series,Once Upon A Time In Wonderland, on August 10
Guests Can Board Captain Hook's Jolly Roger on the D23 Expo Show Floor
BURBANK, Calif. – July 24, 2013 – Be among the first to watch ABC's most anticipated new fall series and animated specials and have a chance to learn the secrets behind how they were made. Fans will have those opportunities at the D23 Expo: The Ultimate Disney Fan Event, where all the worlds of Disney come together, August 9 – 11, at the Anaheim Convention Center.
Executive Producers Edward Kitsis and Adam Horowitz will be featured at a panel titled "ABC's Once Upon A Time: Behind The Fairytale" on Saturday, August 10 at 1:00 p.m. at Stage 23. Eddy and Adam will talk about exciting developments for season three of their hit series Once Upon A Time as well as their new fall series, Once Upon A Time In Wonderland, which takes place in the Victorian England of Alice and the strange new land that exists on the other side of the rabbit hole. The Q&A with the executive producers will be moderated by D23's Jeffrey Epstein.
Guests on the D23 Expo show floor are invited to come aboard the Jolly Rogerfor a swashbuckling good time with some of your favorite fairytale characters from ABC's hit series Once Upon A Time. Explore the famous pirate ship and feast your eyes on original props from the set. You will also find Snow White, Prince Charming, the Evil Queen, Captain Hook, and Emma Swan (and Emma's red leather jacket). Every pirate who boards the ship gets to visit the Evil Queen's vault. And a surprise awaits when you unlock a box from Regina's wall of hearts. No pirate will leave empty handed! Don't let this exciting adventure sail by without you!
In addition, as previously announced, guests will be able to get an up-close-and-personal look at some of the elaborate costumes from Once Upon A Timeinside the Treasures of the Walt Disney Archives exhibit located on the second floor of the Convention Center.
HARRODS' DISNEY PRINCESS DRESSES MAKE THEIR U.S.DEBUT
AT THE D23 EXPO IN TREASURES OF THE WALT DISNEY ARCHIVES
Plus, New Panels on "The Lost Chords" and Mary Poppins Announced
BURBANK, Calif. – July 22, 2013 – A stunning display of exclusive gowns inspired by Disney's iconic Princesses will make their U.S. debut at the D23 Expo inside the Treasures of the Walt Disney Archives exhibit. These handcrafted designs by world-leading designers will be available for viewing each day of the event, August 9–11 at the Anaheim Convention Center. Included are works inspired by the individual stories of the Disney Princesses by Ralph & Russo (Tiana), Versace (Cinderella), Elie Saab (Aurora), Marchesa (Ariel), Escada (Jasmine), Missoni (Mulan), Roberto Cavalli (Pocahontas), Jenny Packham (Rapunzel), Valentino (Belle), and Oscar de la Renta (Snow White). The stunning dresses were first showcased in an ultra-glamorous set of window displays at Harrods, the luxury store in Knightsbridge,London, during the 2012 holiday season.
In addition, D23: The Official Disney Fan Club is announcing two additional presentations. As we near the award-winning film's 50th anniversary, Disney Legend and Walt Disney Archives Chief Archivist Emeritus Dave Smith will host "Behind the Scenes of Walt Disney's Mary Poppins." Guests will learn the complete story of how Walt Disney first discovered the book, worked on the script with author P.L. Travers, brought in the Sherman Brothers to write a memorable score, selected an unforgettable cast, oversaw actual filming, and celebrated at a gala Hollywoodpremiere.
During "Secrets of 'The Lost Chords,'" Grammy® Award-winning producer and resident Disney Music historian, Randy Thornton will reveal some of the secrets behind Disney's "lost" songs written for classic Disney films by legendary Disney composers (such as the Sherman Brothers) that were essentially lost for decades—until now. Plus, as a special part of this exclusive D23 event, guests will be among the very first to hear songs currently in production from a significant upcoming "Lost Chords" release.
Disney Artist and Historian Stacia Martin will present "Sounds Delightful: An Illustrated Audio Adventure," which will take guests on an entertaining trip across the decades via vintage Disney Vinyl Recordings from her extensive personal collection. Forgotten favorites from the family turntable of yesteryear will be heard along with rare promotional and production tracks… including never-before-heard musical moments from Walt Disney's own "journey down the Yellow Brick Road."
For presentation times, dates, and locations (subject to change), please visitD23Expo.com.
Tickets for the D23 Expo are $57 for a one-day adult admission and $47 for children 3–12. Tickets for members of D23: The Official Disney Fan Club are $50 for a one-day adult admission and $42 for children. Multi-day money-saving tickets are also available for both D23 Members and the general public, and D23 Members can save as much as $84 off the price of admission, based on the purchase of four three-day tickets at the D23 Member rate. For more information on tickets and the ticket pricing structure for members and general admission, visit D23Expo.com.
About D23 Expo 2013
The D23 Expo—The Ultimate Disney Fan Event—brings the entire world of Disney under one roof, providing attendees with unprecedented access to Disney films, television, and theme parks. For the latest D23 Expo 2013 news, visitD23Expo.com. To be part of the D23 Expo conversation, make sure to follow @DisneyD23 and tag your tweets with #D23Expo.
About D23
The name "D23" pays homage to the exciting journey that began in 1923 when Walt Disney opened his fledgling studio in Hollywood. D23 is the first official club for fans in Disney's nearly 90-year history. D23 gives its members a greater connection to the entire world of Disney by placing them in the middle of the magic through its quarterly publication Disney twenty-three; a rich website at D23.com with members-only content; and member-exclusive discounts and special events for D23 Members throughout the year, highlighted by the D23 Expo in Anaheim, California, August 9–11, 2013.
Fans can join D23 at Gold, Silver, and Free Membership levels at D23.com and atwww.DisneyStore.com/D23. To keep up with all the latest D23 news and events, follow us @DisneyD23 on Twitter, Facebook, Pinterest, and YouTube.