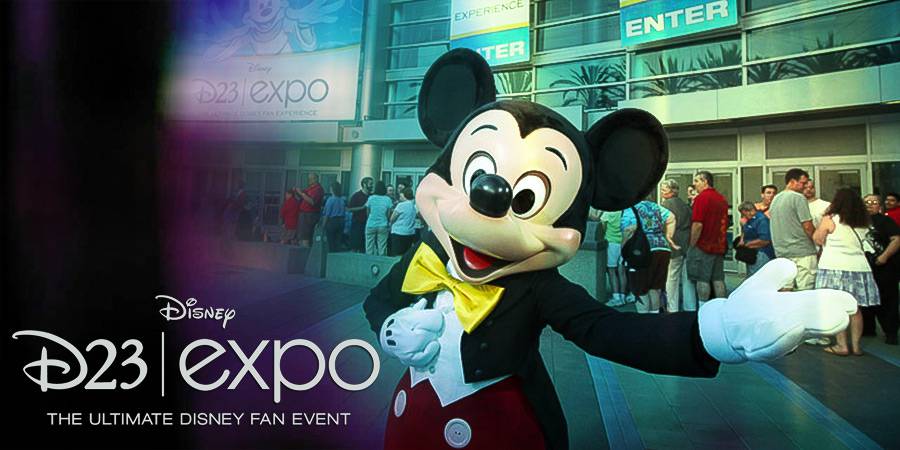 Kris Van de Sande
Disney Interactive invites fans to play at D23 Expo
July 12, 2013
"Disney Interactive is inviting fans to experience the latest digital offerings from Disney at the D23 Expo, August 9–11, giving fans hands-on experiences, first-look presentations, and exclusive D23 Expo giveaways. With an unprecedented lineup of upcoming games and products, including Disney Infinity, Fantasia: Music Evolved and more."
Press Release:
DISNEY INTERACTIVE INVITES FANS TO PLAY, DISCOVER, AND EXPLORE THE FUTURE OF INTERACTIVE STORYTELLING AT DISNEY'S D23 EXPO, AUGUST 9–11, 2013
Division to offer sneak peek at un-announced projects, including Arena presentation with exclusive performances, reveals and D23 Disney Infinity giveaway
BURBANK, Calif. – July 12, 2013 – Disney Interactive is inviting fans to experience the latest digital offerings from Disney at the D23 Expo, August 9–11, giving fans hands-on experiences, first-look presentations, and exclusive D23 Expo giveaways.With an unprecedented lineup of upcoming games and products, including Disney Infinity, Fantasia: Music Evolved and more, Disney Interactive is turning up the excitement with its largest D23 Expo presence ever including a show floor pavilion, daily presentations, and the D23 Expo Arena.
Arena Presentation: On Sunday, August 11, fans won't want to miss "To Infinity and Beyond: Disney Interactive Takes the Stage," Disney Interactive's first ever D23 Expo Arena Presentation. Kicking off at noon, Disney Interactive Co-Presidents, Jimmy Pitaro and John Pleasants, host an inside look at the division's upcoming slate of games, apps, and online shows including:
The world premiere of Blank: A Vinylmation Love Story, the highly anticipatedupcoming web series based on the Vinylmation franchise.
An Expo-exclusive demo of the just-announced video game Fantasia: Music Evolved, complete with a live performance from the Disney Chamber Ensemble.
Disney Infinity will pull out all the stops with several surprises fans won't want to miss, including un-announced character reveals, brand new game features and an exclusivegiveaway of a never-before-seen Disney Infinity figure for every fan in the audience!
Pavilion Experience: Located in Hall B, the Disney Interactive pavilion lets Guests step into the world of interactive storytelling through hands-on experiences with the latest games and products from Disney Interactive. Gamers, fans and families will have the opportunity to discover Disney Interactive's upcoming digital innovations bringing them closer to the characters and stories they love on the platforms and devices they use every day.
Just days before Disney Infinity arrives in stores, attendees will be among the first to experience the new gaming platform that lets fans play in the worlds of their favorite Disney and DisneyŸPixar films.
Fans can assume the role of the Sorcerer's Apprentice in the upcoming game Fantasia: Music Evolved and transform classic and contemporary music through motion-controlled movement like never before.
Guests can join the "D23 Expo Story Scavenger Hunt" by using Disney's new personal storytelling app, Story, to share their favorite memories and moments from this year's expo to win great prizes throughout the weekend.
Attendees will have the chance to demo an un-announced premium tablet experience which gives Guests unprecedented access to Disney's rich heritage.
Catch exclusive trailers and sneak peeks from the latest online shows like Blank: A Vinylmation Love Story, apps, and games at the Disney Interactive Main Stage.
With exclusive collectible giveaways, still-to-be-announced panels and presentations, and first looks at the Fall's hottest digital products, Guests won't want to miss the surprises Disney Interactive has up its sleeve. Visit www.D23Expo.comand DisneyInteractive.tumblr.com for more updates leading up to the D23 Expo 2013.
About Disney Interactive
Disney Interactive is one of the world's largest creators of high-quality interactive entertainment across all current and emerging digital media platforms. Products and content released and operated by Disney Interactive include blockbuster mobile and console games, online virtual worlds, and No. 1-ranked web destinations Disney.com and the Moms and Family network of websites.
About D23 Expo 2013
The D23 Expo—The Ultimate Disney Fan Event—brings the entire world of Disney under one roof, providing attendees with unprecedented access to Disney films, television, and theme parks. For the latest D23 Expo 2013 news, visitwww.D23Expo.com. To be part of the D23 Expo conversation, make sure to follow @DisneyD23 and tag your tweets with #D23Expo.
About D23
The name "D23" pays homage to the exciting journey that began in 1923 when Walt Disney opened his fledgling studio in Hollywood. D23 is the first official club for fans in Disney's nearly 90-year history. D23 gives its members a greater connection to the entire world of Disney by placing them in the middle of the magic through its quarterly publication Disney twenty-three; a rich website with members-only content at D23.com; and member-exclusive discounts and special events for D23 Members throughout the year, highlighted by the D23 Expo in Anaheim, California, August 9–11, 2013.
Fans can join D23 for free at www.D23.com and at www.DisneyStore.com/D23. To keep up with all the latest D23 news and events, follow us @DisneyD23 on Twitter, Facebook, Pinterest, and YouTube.