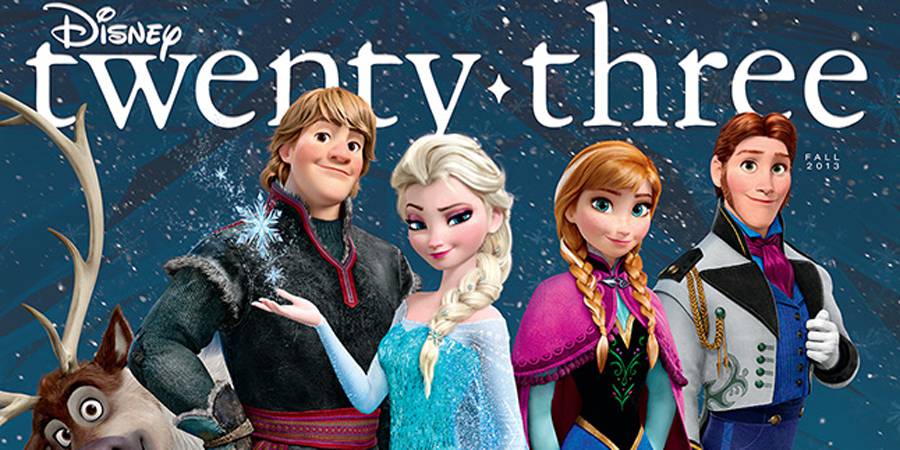 Brian Curran
Disney Twenty-Three's Fall Issue Breaks the Ice with Disney's Frozen
July 19, 2013
Some highlights from Disney Twenty-Three's fall issue include interviews with the voice actors and filmmakers of Disney's 53rd animated feature Frozen. Rarely seen Photos from Walt Disney's personal camera and a look inside Marty Sklar's home, Roger Rabbits 25th anniversary and America's Mouseketeer sweetheart Annette Funicello is remembered in "Forever Annette".
Press Release:
DISNEY TWENTY-THREE'S FALL ISSUE BREAKS THE ICE
WITH DISNEY'S COOLEST ANIMATED FILM EVER—FROZEN
DELIVERED EXCLUSIVELY TO D23 GOLD MEMBERS, AUGUST 2013
Rarely Seen Photos from Walt Disney's Personal Camera and a Look Inside Marty Sklar's Home
BURBANK, Calif. – July 19, 2013 – Disney twenty-three—the flagship magazine of D23: The Official Disney Fan Club—ushers in winter early, celebrating Disney's new animated film Frozen. The cover story features exclusive interviews with the film's cool voice actors Kristen Bell and Idina Menzel, as well as a visit with the filmmakers as they bring Frozen's wintery wonderland to life in Disney's 53rd animated feature, coming to theaters this November.
Walt Disney lives on in "Every Picture Tells a Story," an article showcasing newly discovered photos Walt shot with his personal camera. The photos provide a unique opportunity for fans to see Disney's world through Walt's eyes. D23 Members will also get a special treat as former International Ambassador for Walt Disney Imagineering and Disney Legend Marty Sklar welcomes readers inside his home to discuss the fascinating new book about his career shaping timeless Disney icons: Dream It! Do It!: My Half-Century Creating Disney's Magic Kingdoms.
Disney twenty-three's Fall issue also offers a look at Disney parks around the world. Readers journey across the Pacific Ocean to Tokyo Disneyland to celebrate its joyful 30th anniversary in "Happiness in the Park," and head to Hong Kong Disneyland's Mystic Manor to explore one of Walt Disney Imagineering's most multifaceted and exhilarating attractions yet.
Also included in the Fall issue of Disney twenty-three:
America's Mouseketeer sweetheart Annette Funicello is remembered in "Forever Annette"
A glimpse at Mickey's latest cartoon escapades
On its 25th anniversary, we take look at how the instant Disney classic, Who Framed Roger Rabbit, spectacularly combined animation and realism
PHOTOfiles: See the picture often referred to as the "best photo ever taken" of Walt
"D Society": Tailgate at the Monsters University world premiere; see Jerry Bruckheimer accept his star on the Hollywood Walk of Fame; and head to Burbank to tour the Disney Studio Lot with D23 Members
The Disney magic continues at www.D23.com, which will feature unique and member-exclusive stories that amplify the contents of D23's glossy magazine. D23 Web Extras, online August 9, will complement the Fall issue of Disney twenty-three:
Interviews with Dane Cook and Teri Hatcher, the voices of Dusty Crophopper and Dottie in the upcoming animated feature Disney's Planes
An expanded photo gallery of the gorgeous artwork from Frozen
A video interview with Disney Legend Marty Sklar, taken when D23 visited his home
Also in the Fall issue, members will receive one of two exclusive magnets designed by artist Kevin Kidney. These high-spirited, retro-style magnets pay homage to the Haunted Mansion's Hatbox Ghost and Tinker Bell, during this trick-or-treat time of year.
Disney twenty-three, which is delivered directly to fans' doorsteps, is offered exclusively to D23 Gold Members as a benefit of their membership.
About D23
The name "D23" pays homage to the exciting journey that began in 1923 when Walt Disney opened his fledgling studio in Hollywood. D23 is the first official club for fans in Disney's nearly 90-year history. D23 gives its members a greater connection to the entire world of Disney by placing them in the middle of the magic through its quarterly publication Disney twenty-three; a rich website at D23.com with members-only content; member-exclusive discounts and special events for D23 Members throughout the year, highlighted by the D23 Expo in Anaheim, California, August 9–11, 2013.
Fans can join D23 at Gold, Silver and Free Membership levels at D23.com and at www.DisneyStore.com/D23. To keep up with all the latest D23 news and events, follow us @DisneyD23 on Twitter, Facebook, Pinterest, and YouTube.