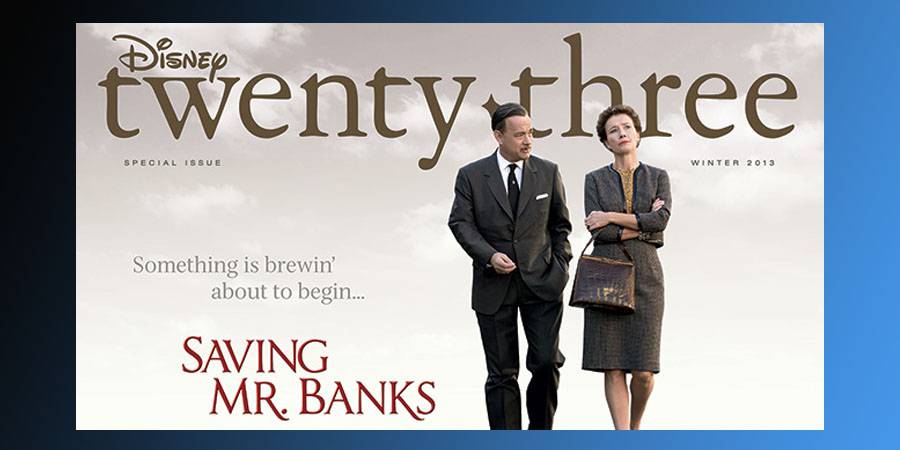 Brian Curran
Mary Poppins takes flight in the winter issue of Disney Twenty-Three
November 4, 2013
"Mary Poppins takes flight in the winter issue of Disney Twenty-Three. Exclusive interviews with Saving Mr. Banks stars Tom Hanks and Emma Thompson highlight a special issue dedicated to the world's most famous nanny.
Plus, D23.com online exclusives include video of the 1964 Mary Poppins premiere, galleries of the film's matte paintings, and an interactive map of the Walt Disney Studios featuring locations used in Saving Mr. Banks."
Press Release:
BURBANK, Calif. – November 4, 2013 – To celebrate the release of Saving Mr. Banks and the upcoming 50th anniversary of Mary Poppins, D23: The Official Disney Fan Club has dedicated the entire winter issue of its flagship magazine, Disney twenty-three, to our beloved nanny. The publication, available exclusively to Gold Members of D23, includes exclusive interviews with Saving Mr. Banks stars Tom Hanks, Emma Thompson, and Bradley Whitford, as well as director John Lee Hancock. It takes readers behind the scenes of the making of this spectacular new film, which opens this Christmas and looks at the creation of Disney's Mary Poppinsand the sometimes combative but respectful relationship between the character's creator, P.L. Travers (Thompson), and Walt Disney (Hanks).
Disney twenty-three's Winter issue also offers a look inside the fascinating life of P.L. Travers, with a personal reminiscence by her friend, author Brian Sibley, whom she once told, "I don't feel for a moment that I invented her. I feel visited by her." And original film composer Richard M. Sherman, visual consultant Tony Walton, and choreographers Marc Beaux and Dee Dee Wood offer exclusive insight into the creation of the 1964 Disney classic, which will officially celebrate its 50th anniversary next August.
Also included in the Winter issue of Disney twenty-three:
· A first-person account of the creation of the stage musicalMary Poppins from Disney Theatrical Productions president Thomas Schumacher
· "Elements of Fun," looking at 50 years of unique "Mary merchandise"
· An in-depth look at the film's groundbreaking special effects
· A walk down the red carpet for the Mary Poppins premiere at Grauman's Chinese Theatre
All D23 Members are invited to visit www.D23.com, where the fan club is kicking off its year-long celebration of Mary Poppins' 50th anniversary with a unique video reconstruction of the Mary Poppinsworld premiere, containing five minutes of never-before-released material. Although the original telecast of the event appears to have been lost forever, this 22-minute segment includes audio from the premiere's two separate interview locations, combined with all the surviving color film and black-and-white newsreel footage—re-creating the excitement and glamour of this stellar premiere at Grauman's Chinese Theatre on August 27, 1964.
Other features planned for D23.com's online celebration include:
· Extensive Mary Poppins galleries, including a look at the film's breathtaking matte paintings.
· An interactive map of the Walt Disney Studios with photo locations from Saving Mr. Banks
· Rarely heard audio files from the making of Mary Poppins
· An in-depth Mary Poppins production timeline
· A look at the sodium screen/traveling matte process, which gave the film its unique visual look
· An exclusive interview with Mary Poppins visual consultant Tony Walton
Also in the Winter issue, D23 Gold Members will receive a reproduction of the ticket mailed to invitees for the Mary Poppins premiere at Grauman's Chinese Theatre.
Disney twenty-three, which is delivered directly to fans' doorsteps, is offered exclusively to D23 Gold Members as a benefit of their membership.
About D23
The name "D23" pays homage to the exciting journey that began in 1923 when Walt Disney opened his fledgling studio in Hollywood. D23 is the first official club for fans in Disney's nearly 90-year history. D23 gives its members a greater connection to the entire world of Disney by placing them in the middle of the magic through its quarterly publicationDisney twenty-three; a rich website at D23.com with members-only content; member-exclusive discounts and special events for D23 Members throughout the year.
Fans can join D23 at Gold, Silver, and Free Membership levels atD23.com and at www.DisneyStore.com/D23. To keep up with all the latest D23 news and events, follow us @DisneyD23 on Twitter, Facebook, Pinterest, and YouTube.