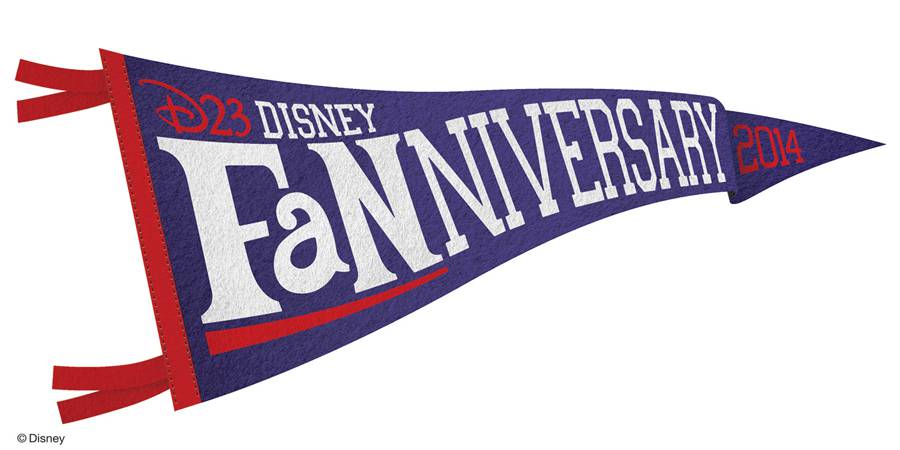 Brian Curran
2014 D23 Disney Fanniversary Celebration
May 7, 2014
Press Release:
D23 HITS THE ROAD, BRINGING BELOVED MEMORIES TO LIFE WITH THE DISNEY FANNIVERSARY CELEBRATION
Rarely Seen Film Clips, Photos, and Art Highlight the Roadshow Event, Which Will Tour the U.S. this Fall.
BURBANK, Calif. – May 7, 2014 – For the third year in a row, D23: The Official Disney Fan Club will hit the road with D23 Disney Fanniversary Celebration presented by Walt Disney Records The Legacy Collection. The live event will visit 11 cities across the U.S. to commemorate dozens of magical Disney milestones celebrating landmark anniversaries this year.
Hosted by Disney archivists and the D23 Team, Fanniversary 2014 will revisit beloved theme park attractions, animated and live-action films, characters, TV series, and more than 90 years of Disney history including Donald Duck, the 1964–65 New York World's Fair, Sleeping Beauty, Haunted Mansion, Disney's Hollywood Studios,The Little Mermaid, and many more. The event, which runs approximately 105 minutes, will also feature the never-before-heard track "Evil Evil" from Walt Disney Records The Legacy Collection Sleeping Beauty and a demo recording from Walt Disney Records The Legacy Collection The Little Mermaid. Fanniversary events will be open to the public, with special admission prices for D23 Members.
In addition, following each show, two rare items from the Walt Disney Archives will be on display for guests to see and photograph: a hat worn by Julie Andrews in Mary Poppins and a "Duckster" award. Created in 1952, this bronze-colored award in the image of Donald Duck honored those who made significant contributions to Disney over the years. Both Walt Disney and Donald Duck himself were among the recipients of this unique prize.
D23 Gold and Silver Members will have the first opportunity to purchase tickets onMay 21 for $23 each. Tickets will be available to D23 Free Members on June 11 for $33 each, and remaining tickets will go on sale to the general public on July 9 for $40 each. Tickets will be available at D23.com/Events. The touring schedule is as follows:
· August 9: Burbank, Calif.
· August 10: San Diego
· August 16 & 17: San Francisco
· September 6: Chicago
· September 13: Seattle
· September 20: Atlanta
· September 21: Philadelphia
· September 26: Washington, D.C.
· September 28: New York City
· October 4: Boston
· October 25: Orlando
For times and locations, please visit D23.com.
Fanniversaries that guests can look forward to celebrating at each stop include:
Donald Duck (80th anniversary)
Disneyland TV show (60)
Sleeping Beauty (55)
Darby O'Gill and the Little People (55)
Disneyland's Monorail, Matterhorn Bobsleds and Submarine Voyage (50)
Disney's contributions to the 1964–65 New York World's Fair (50)
Mary Poppins (50)
Haunted Mansion (45)
The Love Bug (45)
Big Thunder Mountain Railroad (35)
Disney-MGM Studios Theme Park (now Disney's Hollywood Studios) (25)
Splash Mountain (25)
The Little Mermaid (25)
Pleasure Island (25)
The Lion King (20)
The Twilight Zone Tower of Terror™ (20)
…and many more!
More details about D23 Disney Fanniversary Celebration presented byWalt Disney Records The Legacy Collection can be found atD23.com/Events.
About D23
The name "D23" pays homage to the exciting journey that began in 1923 when Walt Disney opened his fledgling studio in Hollywood. D23 is the first official club for fans in Disney's 90-plus-year history. D23 gives its members a greater connection to the entire world of Disney by placing them in the middle of the magic through its quarterly publication, Disney twenty-three; a rich website atD23.com with members-only content; member-exclusive discounts and special events for D23 Members throughout the year.
Fans can join D23 at Gold, Silver, and Free Membership levels atD23.com and at www.DisneyStore.com/D23. To keep up with all the latest D23 news and events, follow us @DisneyD23 on Twitter, Facebook, Pinterest, and YouTube.
About Walt Disney Records The Legacy Collection
Walt Disney Records' newly created line of collectible CDs, Walt Disney Records The Legacy Collection, will celebrate 12 anniversaries of Disney's most cherished and classic properties that have been enchanting audiences for generations. To honor these musical landmarks, The Legacy Collection will feature the beloved original soundtracks, plus valuable documentary content that tells the story behind the music. Each album will feature newly created artwork inspired by the original properties from Lorelay Bove, a visual development artist at Walt Disney Animation Studios. The first release in the series is The Lion King, a two-disc set with previously unreleased score by Oscar-winning composer Hans Zimmer, available on June 24. D23 Members will be able to purchase an exclusive set of the discs with commemorative lithographs. Pre-order is available at