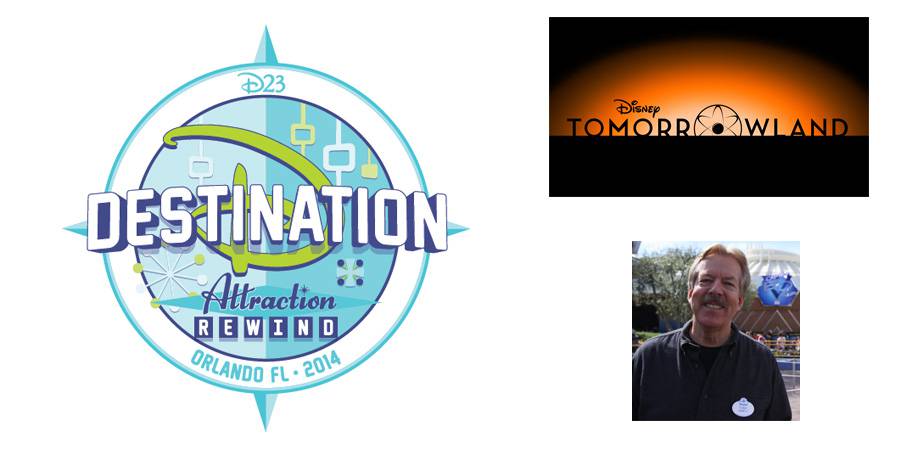 Brian Curran
Tony Baxter and Tomorrowland Preview at D23 Destination D
September 10, 2014
D23 Destination D: Attraction Rewind has added Disney Legend Tony Baxter and a sneak peek at the upcoming film Tomorrowland to the event being held at the Walt Disney World Resort November 22-23. Continue reading for more details on the event.
BURBANK, Calif. – September 4, 2014 – D23: The Official Disney Fan Club has unveiled more of the experiences in store for members at what is sure to be the can't-miss Disney event of the year—D23 Destination D: Attraction Rewind presented by H2O Plus. Taking place November 22 and 23 at Walt Disney World Resort, the event will bring Disney Legends, archivists, Imagineers, and luminaries together to celebrate fan-favorite attractions of years past, including Adventure Thru Inner Space, If You Had Wings, and 20,000 Leagues Under the Sea, with rarely seen concept art and images, vintage video clips, and hours of revealing stories. In addition, there will be a full day of presentations showcasing Disney's contributions to the 1964–65 New York World's Fair.
Tomorrowland supervising art director Ramsey Avery (Star Trek Into Darkness, Minority Report) will give members a behind-the-scenes sneak peek at the making of the upcoming release from Walt Disney Pictures.Avery will detail how the production team reconstructed elements of the World's Fair for the upcoming film, which stars George Clooney. "I had a great experience working on Tomorrowland and recreating some of the very iconic environments from the 1964 World's Fair, especially it's a small world, and am excited to share some of that behind-the-scenes process with Disney fans," says Avery.
During the panel "Rediscovering Discovery Bay," Disney Legend Tony Baxter will take guests on an in-depth tour of the never-built themed expansion for Disneyland through rarely seen concept artwork and models that he worked on during his time at Walt Disney Imagineering. Discovery Bay, as an early press release stated, was intended to "bring to life a time and place that climaxed an age of discovery and expansion."
Additional panels have just been announced.* More information may be found at D23.com/Events.
SATURDAY, NOVEMBER 22
Disney Goes to the World's Fair: Historian Bill Cotter looks at Disney's massive influence on the 1964–65 New York World's Fair.
A World's Fair of Disney Legends: Marty Sklar, Alice Davis, and Bob Gurr discuss their contributions to the Fair.
Great Moments with Mr. Lincoln: Historian Michael Kelley and Disney Legend Bob Matheison take a behind-the-scenes look at the groundbreaking attraction.
Ford's Magic Skyway: Bill Cotter and Disney Legends Bob Gurr and Bill Sullivan reveal some of the secrets behind one of the Fair's most innovative attractions.
Carousel of Progress: Disney Legend Marty Sklar and Imagineer Gary Landrum talk about the creation of this one-of-a-kind show.
it's a small world: Disney Legend Alice Davis discusses working on the beloved attraction with her husband Marc and artist Mary Blair.
Lost on the Way to the World's Fair: Walt Disney Archives Director Becky Cline reveals some of the proposed creations that didn't make it to New York.
A Sneak Peek at Disney's Tomorrowland(see above).
SUNDAY, NOVEMBER 23
Widen Your World: Tony Baxter, Imagineer Jason Grandt, and Disney Legend Charlie Ridgway revisit popular attractions from the early years of Walt Disney World.
Disneyland: Fond Memories of the Past: Becky Cline and historian Stacia Martin journey through some of Disneyland's most beloved attractions of yesteryear.
Retro Rewind References: Imagineers Wyatt Winter and Jason Grandt reveal some of the hidden references to past attractions in today's theme park creations.
Rediscovering Discovery Bay: (see above).
An Evolution of Make Believe Made Real: Imagineers Dave Minichiello and Pam Rawlins detail the creation of the Seven Dwarfs Mine Trainand explore its roots, which began in 1937.
That Was Entertainment!: Disney Legend Ron Logan lifts the curtain on some of the most fondly remembered events and entertainment from Disneyland and Walt Disney World.
Plus, Mickey's of Glendale, the famed Walt Disney Imagineering store, is setting up a pop-up shop, which will open Friday, November 21 and run through the weekend, offering a selection of exclusive Imagineering merchandise as well as limited-edition pins, T-shirts, and collectibles themed to the event. Mickey's of Glendale will also carry an exclusive collection of items themed to Pleasure Island, including pins, pin sets, T-shirts, and glassware.
In addition to more than a dozen panels and presentations, the weekend will include:
A special weeklong exhibit designed by the Walt Disney Archives in honor of the event.
Pleasure Island: Rewind presented by Twinings of London,a closing-night celebration themed around the former Downtown Disney nightlife district.
The weekend event will take place in the convention center at Disney's Contemporary Resort. Tickets are currently available to all D23 Members, and D23 Gold and Silver Members receive special ticket pricing. All guests will receive a gift created just for the event.
More details about the program and tickets for D23 DESTINATION D: ATTRACTION REWIND presented by H2O Plus, as well as a special offer just for members of D23, can be found at D23.com/Events.
* Events, panel order, and talent are subject to change.
About D23
The name "D23" pays homage to the exciting journey that began in 1923 when Walt Disney opened his fledgling studio in Hollywood. D23 is the first official club for fans in Disney's 90-plus-year history. D23 gives its members a greater connection to the entire world of Disney by placing them in the middle of the magic through its quarterly publication, Disney twenty-three; a rich website at D23.com with members-only content; member-exclusive discounts, and special events for D23 Members throughout the year.
Fans can join D23 at Gold, Silver, and Free Membership levels at D23.com and atDisneyStore.com/D23. To keep up with all the latest D23 news and events, follow DisneyD23 on Twitter, Facebook, Pinterest, Instagram, and YouTube.
About Tomorrowland
From Disney comes two-time Oscar® winner Brad Bird's Tomorrowland, a riveting mystery adventure starring Academy Award® winner George Clooney. Bound by a shared destiny, former boy-genius Frank (Clooney), jaded by disillusionment, and Casey (Britt Robertson), a bright, optimistic teen bursting with scientific curiosity, embark on a danger-filled mission to unearth the secrets of an enigmatic place somewhere in time and space known only as Tomorrowland. What they must do there changes the world—and them—forever. Featuring a screenplay by Lost writer and co-creator Damon Lindelof and Brad Bird, from a story by Lindelof, Bird, and Jeff Jensen, Tomorrowland promises to take audiences on a thrill ride of nonstop adventures through new dimensions that have only been dreamed of. The film also stars Hugh Laurie as brilliant scientist David Nix, Raffey Cassidy, Tim McGraw, Judy Greer, Kathryn Hahn, Keegan-Michael Key, and Thomas Robinson. Tomorrowland is produced by Damon Lindelof, Brad Bird, and Jeffrey Chernov and directed by Brad Bird, with John Walker, Brigham Taylor, Jeff Jensen, and Bernard Bellew serving as executive producers. Tomorrowland opens in U.S. theaters on May 22, 2015.
About H2O Plus, LLC
H2O Plus, LLC is a leading developer, manufacturer, and marketer of prestige, marine-based skincare products for the face and body. Its parent company, Pola Orbis, is the fourth-leading beauty care company in Japan. Celebrating its 25th anniversary this year, H2O Plus continues to develop innovative products based on their heritage of water-based formulas powered by exclusive marine blends and state-of-the-art technology. H2O Plus has a large and expanding global presence in more than 9,000 points of distribution, worldwide. For more information on H2O Plus, please visit www.h2oplus.com
Tony Baxter photo by David Yeh
Other images and logos © Disney