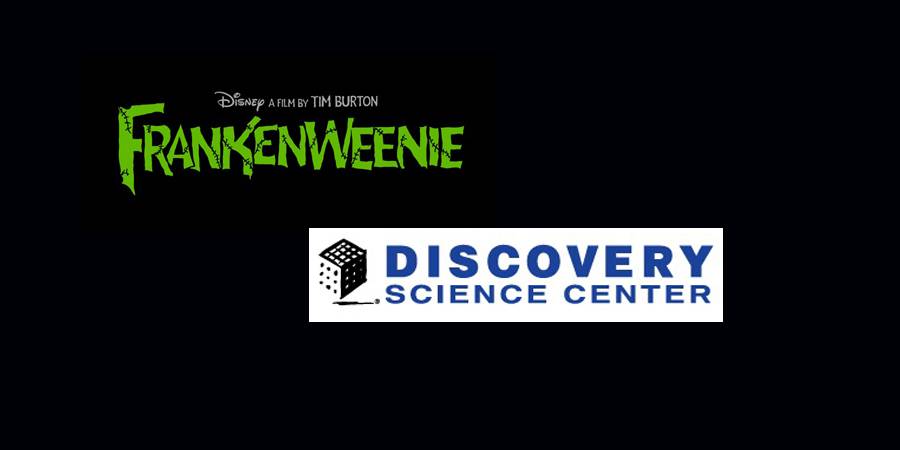 Kris Van de Sande
Discovery Science Center and El Capitan Theatre to Host "Frankenweenie" Science Fair
July 31, 2012
The Discovery Science Center and the El Capitan Theatre are teaming up to Host "Frankenweenie" Science Fair. Continue reading for the contest rules, dates and prizes!
Press Release:
Discovery Science Center and El Capitan Theatre Partner to Host "Frankenweenie" Science Fair: Sparking an Interest in Science
The Adventure Comes to Life October 5, 2012!
SANTA ANA, CA – July 31, 2012 – Calling all aspiring scientists! It's time to put on your lab coat and let your imagination go wild. Discovery Science Center (DSC) is proud to partner with the famous El Capitan Theatre in Hollywood to host a Frankenweenie Science Fair in conjunction with the October 5th release of the movie Frankenweenie by acclaimed director Tim Burton.
In Tim Burton's Frankenweenie young Victor conducts a science experiment to bring his beloved dog Sparky back to life, only to face unintended, sometimes monstrous, consequences. Participating students will conduct and submit their own inventive science experiment! This unique science fair will gather the best and brightest students to compete for three grand prizes.
The first 50 participating students will receive a ticket to see Frankenweenie at the historic El Capitan Theatre, and a pair of tickets to visit Discovery Science Center. The exciting first round of judging to determine the finalists will happen the week of September 10, 2012, and then finalists will be judged by VIP judges the week of September 27. Of all participating students, six finalists will be selected to have their projects on display at El Capitan Theatre from October 5 to November 1, 2012. In addition, the six finalists will each receive Disneyland tickets for them and three guests for reaching this distinguished level. The Science Fair competition concludes at the El Capitan Theatre on October 5th when three Grand Prize winners will accept their awards at a special ceremony, on the El Capitan stage prior to the showing of Frankenweenie. Grand Prize winners will receive all prizes listed previously plus a behind-the-scenes tour of Walt Disney Studios.
Interested participants must be entering the 2012-2013 school year as a 5th – 12th grade student. All projects must present an experimentally based research design; illustrating scientific methodology or a demonstration/exhibition of a science or engineering concept based on themes from the movie Frankenweenie. To become inspired, please visit www.disney.go.com/FRANKENWEENIE
For more information and registration, please visit www.discoverycube.org/frankenweenie.
ABOUT THE MOVIE:
From creative genius Tim Burton ("Alice in Wonderland," The Nightmare Before Christmas") comes "Frankenweenie," a heartwarming tale about a boy and his dog. After unexpectedly losing his beloved dog Sparky, young Victor harnesses the power of science to bring his best friend back to life—with just a few minor adjustments. He tries to hide his home-sewn creation, but when Sparky gets out, Victor's fellow students, teachers and the entire town all learn that getting a new "leash on life" can be monstrous.
A stop-motion animated film, "Frankenweenie" was filmed in black and white and rendered in 3D. The talented voice cast includes: Catherine O'Hara, Martin Short, Martin Landau, Charlie Tahan, Atticus Shaffer, Robert Capron, Conchata Ferrell and Winona Ryder.
Presented by Disney, "Frankenweenie" is directed by Tim Burton, produced by Tim Burton and Allison Abbate, from a screenplay by John August, based on an original idea by Tim Burton. "Frankenweenie" releases in U.S. theaters on October 5, 2012.
About El Capitan Theatre
Step into Hollywood's glittering past at the legendary El Capitan Theatre, which made its debut on May 3, 1926 as Hollywood's first home of Spoken Drama. This grand theatre has been restored to its original elegance of Spanish Colonial exterior and boasts a colorful and lavish East Indian interior designed by renowned San Francisco architect G. Albert Lansburgh. In 1941, Orsen Welles' Academy Award® winning CITIZEN KANE made its World Premiere at the El Capitan. As an exclusive first run theatre for Walt Disney Studios, today the El Capitan Theatre sets a new standard for World Premieres, live stage shows, Disney attractions, and other special events that have helped restore showmanship to Hollywood Boulevard. For more information, visit www.elcapitantickets.com or call 1-800-DISNEY6
About Walt Disney Studios
For more than 85 years, The Walt Disney Studios has been the foundation on which The Walt Disney Company was built. Today, the Studio brings quality movies, music and stage plays to consumers throughout the world. Feature films are released under the following banners: Disney, including Walt Disney Animation Studios and Pixar Animation Studios; Disneynature; Marvel Studios; and Touchstone Pictures, the banner under which live‐action films from DreamWorks Studios are distributed. The Disney Music Group encompasses the Walt Disney Records and Hollywood Records labels, as well as Disney Music Publishing. The Disney Theatrical Group produces and licenses live events, including Disney on Broadway, Disney On Ice and Disney Live!
About Discovery Science Center
Imaginations run wild with over 120 hands-on exhibits at Discovery Science Center (DSC), Orange County's leading destination for hands-on science entertainment. Take the Eco Challenge and become a green superhero, feel the power of a real rocket engine launch and explore the inner workings of a two-story tall dinosaur! Plus, the Science Center's signature events don't just foster science education, but also provide entertainment for the whole family. From our annual Bubblefest and Rocket Launch to blockbuster traveling exhibits such as Star Wars™: Where Science Meets Imagination, there is always something new to experience. DSC is a non-profit organization dedicated to educating young minds, assisting teachers and increasing public understanding of science, math and technology through interactive exhibits and programs. It is a community-wide resource where families come together to learn and have fun and school districts can use as an educational resource. For further information, visit www.discoverycube.org or call (714) 542-2823.