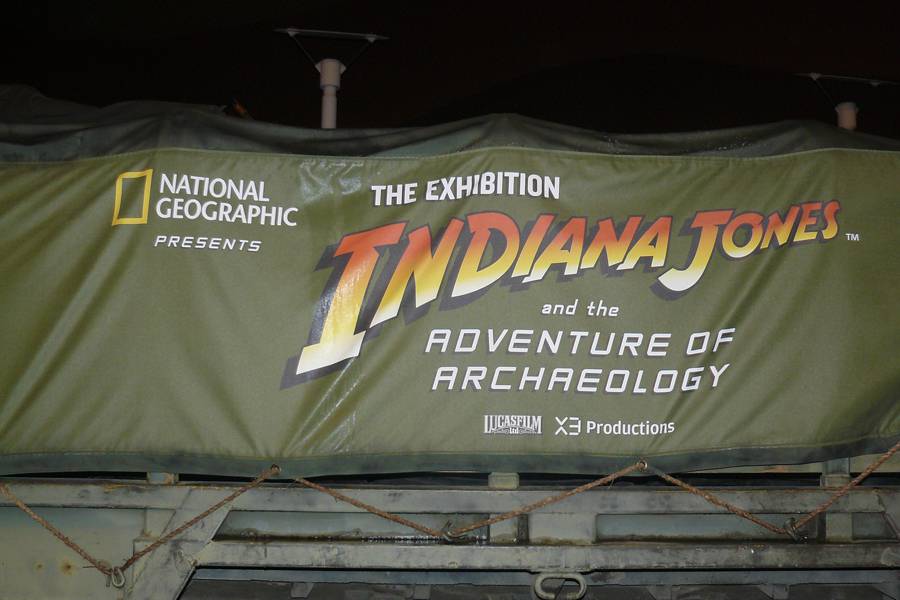 Kris Van de Sande
Adventure of Archaeology at the Discovery Science Center
October 19, 2012
Last Thursday I took the kids to the world premiere opening of Indiana Jones and the Adventure of Archaeology at the Discovery Science Center in Santa Ana, California.
For the event, the museum had setup an outdoor nightclub called Club Obi Wan complete with live big band music and costumed actors. The Discovery Science Center's president, Joe Adams welcomed us to the world premiere opening. Many thanks were given to National Geographic, Lucasfilm Ltd and X3 Productions for bringing this exhibit to Santa Ana. The Discovery Science Center was the first stop for this traveling exhibit.
The exhibit opened with a bang as Indiana Jones appeared on the museum's roof battling a bad guy that wanted the artifacts for himself. We then got to tour the exhibit.
The tour is self-guided with an audio player that talks about the movie props, artifacts and what a real archaeologist does. Harrison Ford recorded an introduction for the exhibit. The exhibit is split up into four sections each devoted to one of the Indiana Jones movies. Movie costumes and props are on display. Mixed in where museum artifacts from the same areas the movies where based. We saw pottery from Peru mixed in with the Kingdom of the Crystal Skull props. The alien crystal skull was present as well as the full life size crystal alien sitting on his throne. The Ark of the Covenant and the Shankara stones were on display as well as both holy grails and the Knight's shield and armor. Costumes included Indy's jacket and hat, Marion's bar fight outfit, Willie Scott's sacrificial dress and Mola Ram's headdress and others. Mutt's motorcycle was on display too.
The tours ended in a room were kids could dig in the sand for artifacts. Kids could bounce lasers off mirrors in order to pinpoint the Ark's resting place. There were even pulley supported chairs that kids could hoist themselves up and down on. There was even a bed of nails! As all good exhibits should, the tour ended in the gift shop.
This new exhibit is based more on movie props and artifacts than having interactive learning centers like the recent Star Wars exhibit had. Beyond the small kids play area, the audio players were used to find clues hidden on the walls. The more clues you found, the more virtual artifacts you uncovered. There was a gallery were everyone could show off their virtual artifacts projected on the walls. It was a fun game to play with the kids as it made them really look at the things on display and learn from them.
The new exhibit is now open thru April 21, 2013.