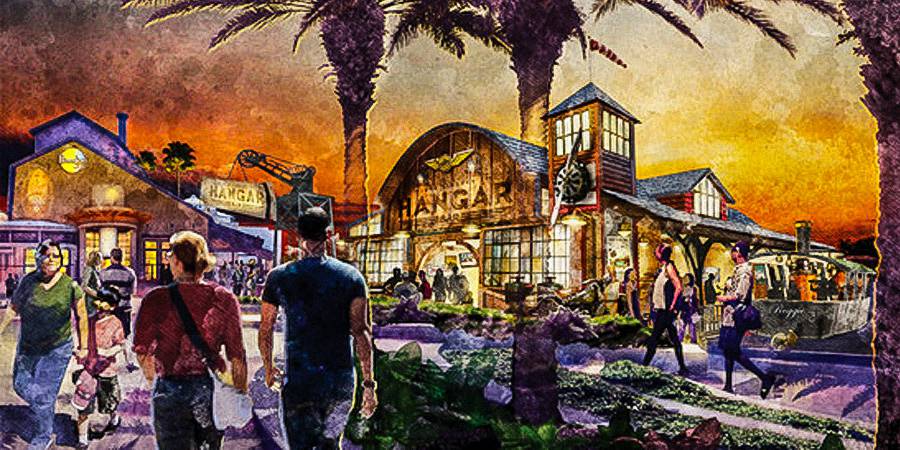 Kris Van de Sande
Jock Lindsey's Hangar Bar Coming to WDW
May 13, 2015
Announced in the Disney Parks Blog, Walt Disney World's Downtown Disney along Lake Buena Vista will be JOCK LINDSEY'S HANGAR BAY, a new food & beverage location themed to the pilot in Raiders of the Lost Ark. The new location will seat 150 guests and will feature cocktails and small plates.
Darcy Clark from the Disney Parks Blog elaborates:
"And just what is that story? Ardent fans of the "Indiana Jones" films may recognize Jock Lindsey as Indy's frequent pilot; he's also the owner of a pet snake named Reggie – an important detail, trust me on this! In the main room, guests will discover an expansive bar, aviation decor filling the room, vintage travel posters covering the walls and correspondence between Jock, Indy and their fellow adventurers on display. Guests can eat, drink and be merry outside as well, in Jocks' old steamboat, now in permanent dry dock and aptly named "Reggie;" and in nearby seating on the adjacent deck."
Sounds like fun doesn't it? Jock Lindsey's Hangar Bar opens this fall and we can't wait to try it out! And for all you fans of the mugs from Trader Sam's, this location will also feature special mugs for certain drinks. We'll post more news as we find out!
To read the original post: Visit Disney Parks Blog
Images © Disney