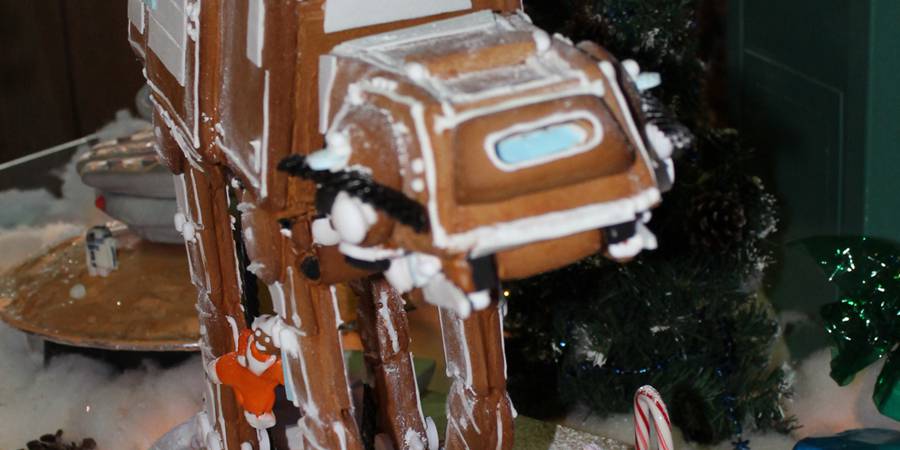 Kris Van de Sande
DISCOVERY SCIENCE CENTER HOSTS 6TH ANNUAL SCIENCE OF GINGERBREAD EXHIBIT AND COMPETITION
December 4, 2011
DISCOVERY SCIENCE CENTER HOSTS 6TH ANNUAL SCIENCE OF GINGERBREAD EXHIBIT AND COMPETITION – NOVEMBER 25 TO JANUARY 1, 2012
Today we have a Press Release from the Discovery Science Center and several photos from the recent Star Wars exhibit courtesy of Randy Jennings from TheArnoldfans.com.
Press Release:
DISCOVERY SCIENCE CENTER HOSTS 6TH ANNUAL SCIENCE OF GINGERBREAD EXHIBIT AND COMPETITION – NOVEMBER 25 TO JANUARY 1, 2012
SANTA ANA, CA – Inside the kitchen, much more is going on than pouring and mixing – it's science at work. Discovery Science Center's (DSC) holiday festival has tons of festive activities designed to bring families together this holiday season. Daily activities include hands-on kitchen science fun, recipe science, and the award-winning Gingerbread Competition entries. On the weekends, take your photo with Santa, decorate holiday cookies, or create a cookie car and compete in our Gingerbread Derby.
What's that smell wafting gingerly through the air? It can only be one thing – delightfully decorated Gingerbread creations! From November 25 through January 1, 2012, over one hundred artisan Gingerbread creations will be on display at DSC for the Science of Gingerbread competition.
Categories for this year's Gingerbread competition include:
Best Star Wars™ Theme
Most Festive
Best by an Organization
Best Youth under 5
Best Youth Group
Best by a Classroom
Best by a DSC Member
Gingerbread Competition entries are due by Monday, December 5, 2012. Prizes will be awarded to the winning creation in each category on December 7th.
Along with the Gingerbread Competition, special holiday activities will be taking place on December 3-4th, 10-11th, and December 17 – January 1, 2012.* Schedule is as follows:
Visit Santa and take your photo with him – 11:00 a.m. to 3:00 p.m.
Decorate holiday cookies and eat them too! – 11:00 a.m., 1:00 p.m. and 3:00 p.m.
Create a cookie car and compete in our Gingerbread Derby – 12:00 p.m., 2:00 p.m. and 4:00 p.m.
Matter of Taste Stage Show – 11:30 a.m., 12:30 p.m., 2:30 p.m., 3:30 p.m. and 4:30 p.m.
*Activities, times and dates subject to change without notice.
ABOUT DISCOVERY SCIENCE CENTER
Imaginations run wild at Discovery Science Center in Santa Ana through more than 100 hands-on exhibits in themed areas throughout the Center. Race your family at sorting recyclables in Eco Challenge, stand under a real rocket engine in Boeing Rocket Lab and try your best slap shot against the Anaheim Duck's goalie in Science of Hockey! Traveling exhibits and annual events such as Bug Invasion and Bubblefest ensure that there is always something new to do. Discovery Science Center is a non-profit organization dedicated to educating young minds, assisting teachers and increasing public understanding of science, math and technology through interactive exhibits and programs.
Discovery Science Center opens daily at 10am. For further information, call us at (714) 542-CUBE or visit us online www.discoverycube.org. Get involved by finding DSC on Facebook at www.facebook.com/discoverycube and following DSC on Twitter at hashtag: @discoverycube.
###***###
Our friend Randy Jennings from TheArnoldFans.com recently visited the Discovery Science Center and was kind enough to send us some photos.