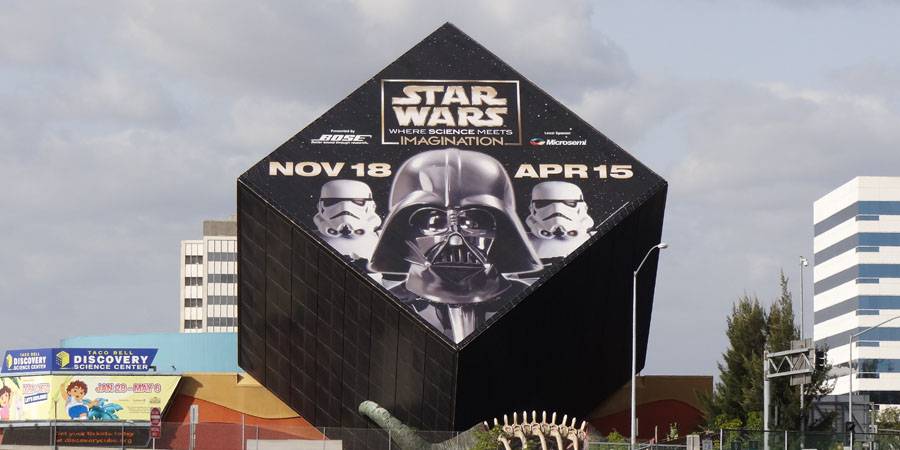 Kris Van de Sande
EndorExpress.net Tours The Discovery Science Center
March 6, 2012
Just a few exits down the freeway from the Disneyland Resort. The Discovery Science Center in Santa Ana, California is currently host to the exhibit Star Wars: Where Science Meets Imagination. This exhibit runs through April 15th.
When you exit the freeway you can not miss The Cube.
Posters and banners of familiar faces greet you in the parking lot.
While my goal for the visit was to view the Star Wars exhibit. My four year old son was with me and he had a blast running around the Dino Quest Adventure. (He also loved the Star Wars exhibit & the Dora and Diego area)
Dino Quest Field Office
T-Rex fossil
A Long Time Ago….
Millennium Falcon model
X-wing model
Close-up of X-wing model
Chewbacca
Padme costume from Attack of the Clones.
Luke's Landspeeder
Star Tours what are you doing here?
Wampa
Taun-taun
Stormtrooper costume & Clonetrooper model
Mace Windu costume, Yoda & Jedi Training remote
Galactic Imports shop
Yoda watching the store.
A New hope…

Star Wars Where Science Meets Imagination book

The Millennium Falcon Experience takes you on a tour of our galaxy and is narrated by Anthony Daniels.
We spent about two hours visiting the Cube and probably could have spent another hour exploring. The Center closed at 5pm. I will definitely take my son back to The Discovery Science Center on my next trip to Southern California. If you are in the area I would recommend you visit. Please enjoy more photographs in the gallery below.
For more information on the Discovery Science Center please visit http://www.discoverycube.org/
Special thanks to Dan Nasitka