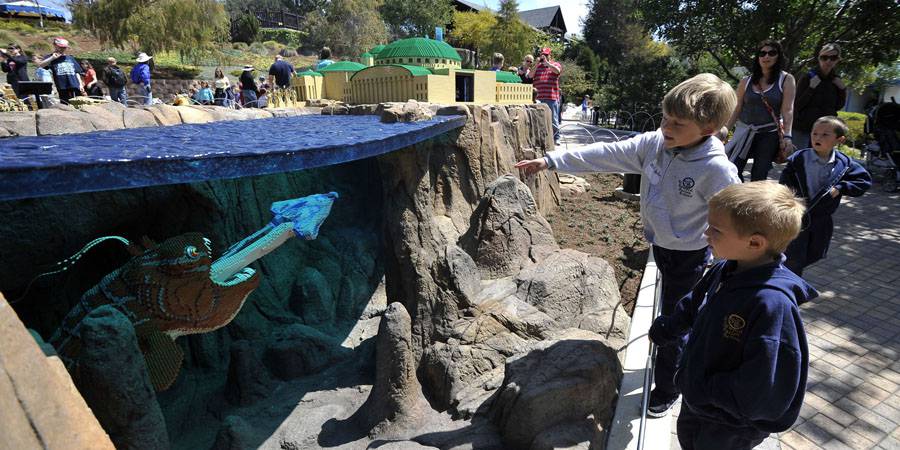 Kris Van de Sande
Legoland Invites Make-a-Wish Child to Cut Ceremonial Ribbon Opening New LEGO STAR WARS Gallery
March 30, 2012
LEGOLAND® California
Invites Make-a-Wish Child to Cut Ceremonial Ribbon Opening New
LEGO® STAR WARS™ Gallery
March 29, 2012 (Carlsbad, CA) – Seven-year-old Phillip Engdahl from Escondido used a lightsaber alongside LEGOLAND® California's General Manager Peter Ronchetti to cut the ribbon opening LEGO® Star Wars™ Gallery during an official ceremony today at the family theme park in Carlsbad. Engdahl was just one of 22 children from Make-A-Wish Foundation who were invited as special guests to be the first to see the new area which is a part of the expanded LEGO® Star Wars™ Miniland.
Stormtroopers, Han Solo, Yoda, Obi Wan Kenobi and other members of the 501st Legion of Stormtroopers and Rebel Legion were part of the ceremony which unveiled LEGO Star Wars Gallery featuring large-scale LEGO minifigures from each episode. Each LEGO model is 3-feet-tall and displayed on a podium for guests to get an up-close look. The 12 characters feature: Wicket, Princess Leia, R2-D2, Clone Captain Rex, Darth Vader, Han Solo, Luke Skywalker, Anakin Skywalker, Boba Fett, Chewbacca, Yoda and Darth Maul. Another LEGO Darth Maul model is being introduced honoring the release of Star Wars: Episode I The Phantom Menace in 3-D. He is life-sized, posed in a combat position grasping his double-bladed lightsaber and created out of more than 25,000 LEGO bricks.
"LEGO Star Wars Miniland proved so successful last year with our guests, we knew we had to expand it," said Ronchetti. "The LEGO Star Wars Gallery is just icing on the cake to the additional details that have been added to each of the seven scenes in LEGO Star Wars Miniland. Our Model Builders, Animators, Technicians and Maintenance Team have done an incredible job bringing the popular saga to life!"
LEGO Star Wars Miniland includes a scene from each of the six live-action Star Wars movies, as well as a scene from the animated series Star Wars: The Clone Wars™ all made out of more than 1.5 million LEGO bricks and built in 1:20 scale. New LEGO models in each scene include an amazing "underwater" scene featuring an opee sea killer as it pursues Obi-Wan Kenobi, Qui-Gon Jinn and Jar Jar Binks as they try to reach the city of Theed. Other new LEGO models include a Jawa sandcrawler on Tatooine; Rebels caught in a net trap set by Ewoks on Endor; and a new Crystal Tower standing more than 6-feet-tall on Christophsis.
The fun for guests continues this weekend with LEGO Star Wars Days! On March 31 and April 1, the park will feature out-of-this-world fun activities including a Droid Hunt with the 501st Legion, Star Wars Costume Contest, Jedi Trivia, eight-foot LEGO Yoda Build, Star Wars T-shirt Contest and more. For the first time, the LEGO® Star Wars experience is continuing through April 15 with additional Star Wars™ activities for guests to enjoy. For more information, visit www.LEGOLAND.com.
STAR WARS™ and related properties are trademarks and/or copyrights, in the United States and other countries, of Lucasfilm Ltd. and/or its affiliates. TM & © Lucasfilm Ltd. All rights reserved. All other trademarks and trade names are properties of their respective owners.
LEGOLAND® California is a 128-acre interactive family theme park dedicated to families with children between the ages of 2 and 12. With more than 60 rides, shows and attractions, LEGOLAND is geared towards family fun! There are four other LEGOLAND Parks in the world – LEGOLAND Billund in Denmark, LEGOLAND Deutschland near Günzburg, Germany, LEGOLAND Windsor outside of London and LEGOLAND Florida in Winter Haven. The LEGOLAND theme parks are a part of Merlin Entertainments Group, the second largest attractions operator in the world. Merlin Entertainments is the leading name in location based, branded, family entertainment and currently operates 87 attractions worldwide serving more than 46 million visitors. For the most current information, log on to www.LEGOLAND.com or call (760) 918-LEGO.
About Make-A-Wish San Diego: The mission of Make-A-Wish is to grant wishes of children with life-threatening medical conditions to enrich the human experience with hope, strength and joy. Since its inception in 1983, Make-A-Wish San Diego has granted more than 2,900 wishes to children in San Diego and Imperial Counties and aims to grant 195 wishes this year. For more information about Make-A-Wish, please call (858) 707-9474 or visit www.wishsandiego.org.