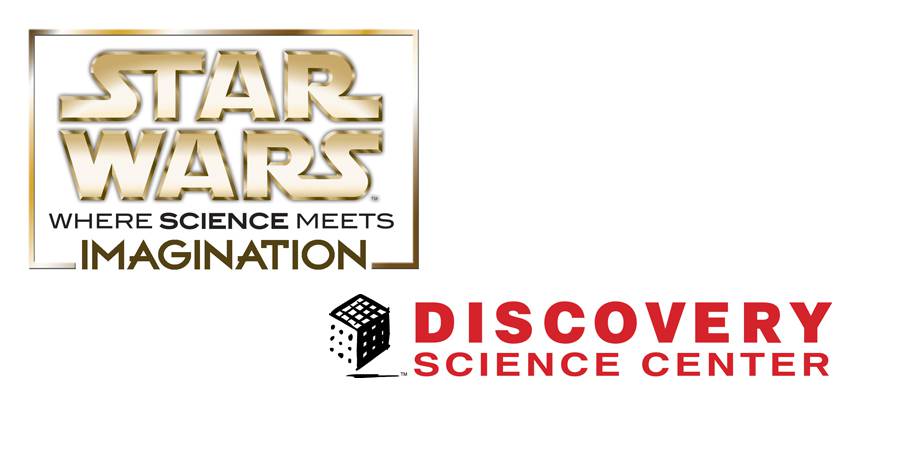 Kris Van de Sande
Star Wars: Where Science Meets Imagination to End on April 15!
April 5, 2012
DISCOVERY SCIENCE CENTER'S BLOCKBUSTER EXHIBIT
STAR WARS™: WHERE SCIENCE MEETS IMAGINATION TO END APRIL 15

SANTA ANA, CA – Time is running out on the largest and most successful traveling exhibit in Discovery Science Center (DSC) history. Star Wars: Where Science Meets Imagination, the blockbuster exhibit, is jumping to hyperspace and leaving this galaxy on April 15. Don't miss your last opportunity to view and explore the out-of-this-world technologies shown in all six Star Wars films, how they were generated, and the modern day work that may someday lead to real-life versions.
Since opening in November of 2011, the Science Center has hosted this unbelievable collection of real models, props, costumes, artifacts and hands-on science activities from the Star Wars saga. In fact, DSC expanded their own universe by creating three brand new exhibit viewing galleries. "Star Wars: Where Science Meets Imagination has far exceeded our wildest expectations," said Joe Adams, President of Discovery Science Center. "The exhibit has been nothing short of a game-changer for the Center."
On display for the last time in Southern California, this exhibit is not to be missed!
WHAT:
Star Wars: Where Science Meets Imagination
WHERE:
Discovery Science Center – 2500 North Main Street, Santa Ana
EXHIBIT DATES:
Now through April 15, 2012
*Due to high demand, tickets may sell out. Purchase your tickets ahead of time at www.discoverycube.org/starwars. For more information follow DSC on Twitter: @discoverycube or find us on Facebook: fb.com/discoverycube.

HOURS & ADMISSIONS
General admission to Discovery Science Center is $14.95 adults (15-59), $12.95 for seniors (60+), and $12.95 children (3-14). Star Wars: Where Science Meets Imagination tickets are $10 at the door, in addition to general admission to the Science Center. Advance ticket reservations are recommended. The Science Center is open daily at 10:00 a.m. For more information or to reserve tickets online, visit discoverycube.org or call 714-513-CUBE.
ABOUT DISCOVERY SCIENCE CENTER
Imaginations run wild through more than 100 hands-on exhibits at Discovery Science Center, Orange County's leading destination for hands-on science fun. Take the Eco Challenge and become a green superhero, feel the power of a real rocket engine "launch", explore the inner workings of a two-story tall dinosaur and try your best slap shot against the Anaheim Duck's goalie! Traveling exhibits and annual events such as Bug Invasion and Bubblefest throughout the year ensure that there is always something new to discover. Since 1998, Discovery Science Center has been a non-profit organization dedicated to educating young minds, assisting teachers and increasing public understanding of science, math and technology through interactive exhibits and programs. It is a community-wide resource where families come together to learn and have fun and school districts can use as an educational resource. Discovery Science Center welcomed its one-millionth visitor in 2003 and now hosts over 400,000 guests each year.
Open daily at 10:00 a.m. For further information, call us at (714) 542-CUBE or visit us online www.discoverycube.org.
Star Wars™: Where Science Meets Imagination, presented by Bose Corporation, was developed by the Museum of Science, Boston and Lucasfilm Ltd. Star Wars objects in this exhibition are on loan from the Archives of Lucasfilm Ltd.
The exhibition is made possible through the cooperation of Lucasfilm Ltd. Lucasfilm, STAR WARS and related properties are trademarks and/or copyrights, in the United States and other countries, of Lucasfilm Ltd. and/or its affiliates. TM & © Lucasfilm Ltd. All rights reserved. All other trademarks and trade names are properties of their respective owners.
This material is based upon work supported by a grant from the National Science Foundation under Grant No. 0307875. Any opinions, findings, and conclusions or recommendations expressed in this material are those of the author(s) and do not necessarily reflect the views of the National Science Foundation.