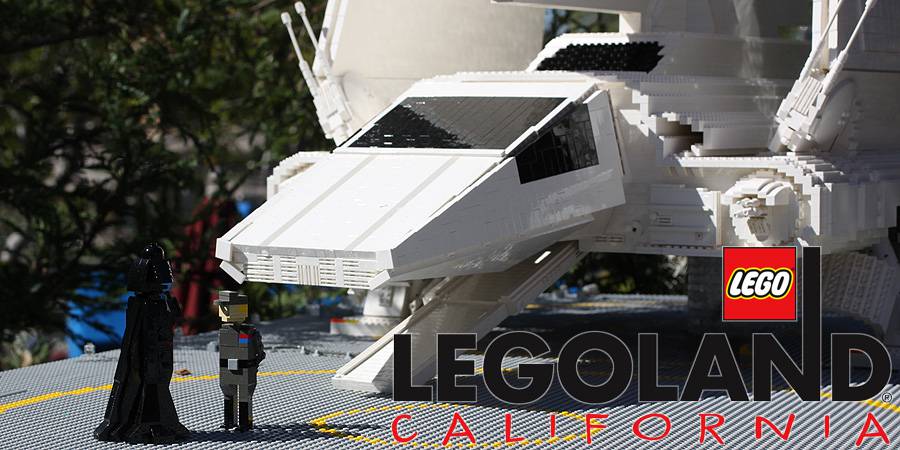 Brian Curran
Large Lego Star Wars addition planned for Legoland California
January 17, 2013
During a brief presentation today, General Manager Peter Ronchetti talked about the upcoming plans for Legoland California. There will be a new 4D movie based on the new Chima series and toys. Also the new Legoland Hotel will open April 5th. But what was really interesting is the small tease he gave about a BIG LEGO Star Wars addition to the park! An announcement will be coming in June, so let the speculation begin! Will it be a new ride? Will Legoland beat Disney to the punch with a full land?
Press Release:
LEGOLAND® California Resort Builds with Largest Expansion in Resort's History
CARLSBAD, Calif. (Jan. 17, 2013) – Standing in front of North America's first LEGO® themed Hotel, LEGOLAND® California Resort's General Manager Peter Ronchetti announced new additions coming to the Resort, a national Junior Concierge search and the Resort's employment growth with new jobs to come when LEGOLAND® Hotel opens April 5.
"It's hard to believe we were standing here a little more than a year ago – in this exact spot which was formerly a parking lot – announcing the start of construction for our new Hotel," said Ronchetti. "With new additions each year, LEGOLAND California Resort is a multi-day destination and proves all the more the great need for this multi-million dollar hotel now almost completely built behind me! With the new Hotel comes new jobs and in fact, our HR team is currently filling 250 positions for our LEGOLAND Hotel. Not only has LEGOLAND California Resort grown tremendously since we opened in 1999, but we have truly heightened the economy in the area providing now up to 1,610 Model Citizens (employees) averaging 5% growth annually since 2004. That means our employment numbers have increased 62% in the last eight years!"
More than 40 additional employees work at an off-site Model Shop, LEGOLAND Studios Carlsbad, which produces models for Merlin Entertainments Group attractions around the globe. The hiring continues at LEGOLAND Water Park as lifeguards are needed for the upcoming season and the search is on for a new Master Model Builder to join the team of current Model Builders who build, design and maintain the more than 22,000 LEGO models in the Park created from more than 57 million LEGO bricks.
One recent hire was introduced for the first time at today's press conference: General Manager of LEGOLAND Hotel, Frank Idris. "LEGOLAND Hotel is built for children and is geared to maximize the family experience. With more than 3,500 LEGO models and interactive areas found throughout, LEGOLAND Hotel is a great compliment and extension to the experience that guests enjoy when they visit the family theme park, water park and aquarium," said Idris. "I look forward to seeing you all again for our official opening on April 5th and hope that you will become regular guests of LEGOLAND Hotel." Idris, who has worked in the hotel operation business for more than 20 years, most recently as the Director of Hotel Operations as the JW Marriott Las Vegas Resort and Spa, also thanked Merlin Entertainments for the honor of working for such a well-respected organization.
Following the introduction of Idris, the emcee concierge "magically" transformed into a child concierge who announced a national Junior Concierge contest which launches today. The national search is aimed at children ages 8 – 12 who have a passion for LEGO, love theme parks and, most of all, are adventurous and fun. Six winners will be selected and will each receive a free weekend at LEGOLAND California Resort with their family which includes a stay at LEGOLAND Hotel, two day Resort Hopper tickets and LEGO products. During their first visit, the team of winning Junior Concierges will be put through full job training, including a detailed orientation of the Hotel and all of LEGOLAND Resort so they can share their knowledge with young guests and advise them on everything cool from a child's perspective. Throughout the year, each winner will have the opportunity to serve as Junior Concierge for a day at LEGOLAND Hotel. Applications will be accepted online only. For details, visit www.LEGOLAND.com/JuniorConcierge. Winners will be announced on February 28.
2012 marked an exciting year for Merlin Entertainments Group across the globe. Merlin now operates 94 attractions, seven hotels/two holiday villages in 21 countries across four continents. Merlin currently has seventeen attractions in the USA including LEGOLAND California Resort with its theme park, Water Park, SEA LIFE Aquarium and upcoming LEGOLAND Hotel. Further including Madame Tussauds in New York City, Washington DC, Las Vegas and Hollywood; LEGOLAND Discovery Centers in Chicago, Dallas/Fort Worth, Kansas City and Atlanta; and SEA LIFE Aquariums in Phoenix, Kansas City, Dallas/Fort Worth and the Mall of America in Minneapolis. "This underlines not only the company's position as the world's biggest global aquarium operator but Merlin's strategy to further develop in North America in the coming years," said Ronchetti.
While 2012 brought the wettest ride around with Pirate Reef, expansion to LEGO® Star Wars™ Miniland Model Display and Claws interactive exhibit plus further conservation and wildlife awareness efforts to SEA LIFE™ Aquarium at LEGOLAND California Resort, Ronchetti claimed that 2013 promises to be the most exciting year yet.
"A heroic new attraction is arriving to LEGOLAND California as LEGO Legends of Chima is brought to life in an exclusive 4D movie experience" said Ronchetti. The new 12 minute animated 4-D film, complete with high-impact special effects, is designed to immerse audiences in the fantastical LEGO world of Chima where tribes of animal warriors compete in epic battles for "CHI" – a mystical energy source of limitless power and destruction. LEGOLAND California will launch "LEGO Legends of Chima" on March 7 and for the first time, LEGOLAND Resorts and Discovery Centers across the globe will all introduce this exciting new product line from LEGO, bringing to life its key characters in a fast-paced adventure throughout 2013. "And LEGO Star Wars fans rejoice!" Continued Ronchetti, "we'll be gaining another exciting addition in June with more details to come but it will definitely enhance our guest experience."
Media and VIP guests attending today's press conference were given an exclusive hard hat tour of LEGOLAND Hotel under construction which included the reception/lobby area, interactive Castle Play area, a look inside one of the completed Kingdom "mock" rooms, a peek inside Bricks Family Restaurant and a stroll through a suite on the second floor showing an ocean view.
For information on LEGOLAND California Resort visit www.LEGOLAND.com. To make reservations or for more information regarding LEGOLAND Hotel, visit www.LEGOLANDHotel.com or call 877-LEGOLAND (534-6526).
STAR WARS™ and related properties are trademarks and/or copyrights, in the United States and other countries, of Lucasfilm Ltd. and/or its affiliates. TM & © Lucasfilm Ltd. All rights reserved. All other trademarks and trade names are properties of their respective owners.
LEGOLAND® California Resort includes LEGOLAND California, SEA LIFE™ Aquarium, LEGOLAND Water Park and LEGOLAND Hotel opening April 5 all geared for families with children between the ages of 2 and 12. At LEGOLAND California, you'll find more than 60 rides, shows and attractions including LEGO Star Wars™ Miniland Model Display, Pirate Reef and LEGO Legends of Chima 4-D movie coming in March, 2013. SEA LIFE incorporates LEGO® models into a child's voyage to the depths of the ocean and features play zones, fun facts and quiz trails and the interactive Claws exhibit. For more information, visit www.LEGOLAND.com or call (760) 918-LEGO (5346).
MERLIN ENTERTAINMENTS is the leading name in location-based, family entertainment, and has seen the most successful and dynamic growth of any company in the sector over the last five years. Europe's Number 1 and the world's second-largest visitor attraction operator, Merlin now operates 94 attractions, seven hotels/two holiday villages in 21 countries and across four continents. The company aims to deliver memorable and rewarding experiences to its 46 million visitors worldwide, through its iconic global and local brands, and the commitment and passion of its managers and more than 20,000 employees. Among Merlin's attractions are – SEA LIFE, Madame Tussauds, LEGOLAND, The EDF Energy London Eye, Dungeons, Gardaland, LEGOLAND Discovery Centers, Alton Towers Resort, Warwick Castle, THORPE PARK, Chessington World of Adventures Resort, Blackpool Tower, Heide Park, WILD LIFE Sydney, Sydney Tower Eye and SKYWALK, Siam Ocean World and Busan Aquarium. All brands which are distinctive, challenging and innovative – and which have great potential for growth in the future. Visit www.merlinentertainments.biz for more information.
Merlin currently has seventeen attractions in the USA including LEGOLAND Florida theme park with its new Water Park; LEGOLAND California theme park with its exciting Water Park, and SEA LIFE Aquarium and LEGOLAND Hotel opening April 5; Madame Tussauds attractions in New York City, Washington DC, Las Vegas and Hollywood; LEGOLAND Discovery Centers in Chicago, Illinois; Dallas/Fort Worth, Texas; Kansas City, Missouri; and Atlanta, Georgia; and SEA LIFE aquariums in Phoenix, Arizona; Kansas City, Missouri; Dallas/Fort Worth, Texas; the Mall of America in Minneapolis, underlining the company's position as the world's biggest global aquarium operator.