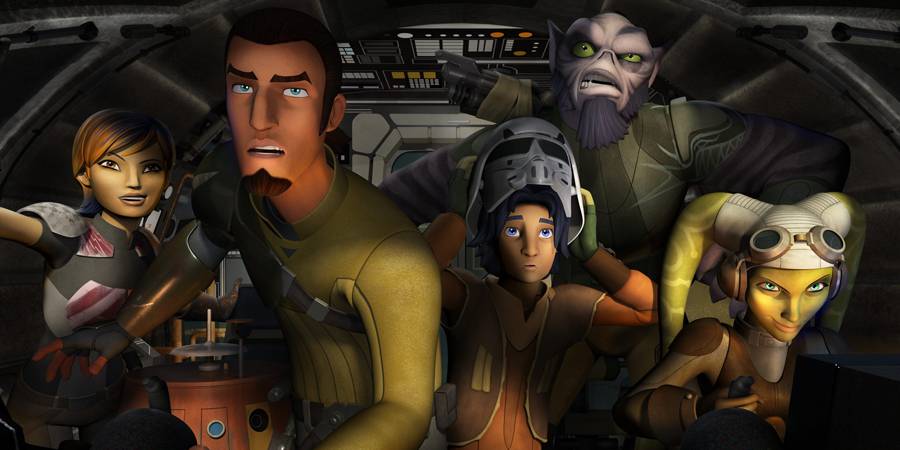 Brian Curran
STAR WARS REBELS Season Two Announced
October 2, 2014
On the eve of the premiere of Star Wars Rebels: Spark of Rebellion, Disney and Lucasfilm have announced that Disney XD has ordered a second season of the show!
Remember to watch "Star Wars Rebels: Spark of Rebellion," (tomorrow) October 3rd (9:00 p.m., ET/PT) on Disney Channel in the U.S.!
Press Release:
THE FORCE IS STRONG FOR LUCASFILM'S ANIMATED TRIUMPH,
"STAR WARS REBELS,"
DISNEY XD ORDERS SECOND SEASON AHEAD OF TELEVISION PREMIERE
One day ahead of a highly-anticipated television premiere, Disney Channels Worldwide President and Chief Creative Officer Gary Marsh announced plans to produce a second season of the animated series "Star Wars Rebels" from Lucasfilm.
Marsh said, "The global expectations for this series could not have been any higher. And I am proud to say that the team at Lucasfilm has delivered something that has surpassed even that incredibly high bar – artistically and thematically."
"Star Wars Rebels" has received acclaim from critics and fans alike since its advance debut screening at San Diego Comic-Con in July, followed by special previews this week on WATCH Disney XD and other digital platforms. "Star Wars Rebels" will be introduced via a television movie, "Star Wars Rebels: Spark of Rebellion," premiering FRIDAY, OCTOBER 3 (9:00 p.m., ET/PT) on Disney Channel in the U.S. and MONDAY, OCTOBER 6 (8:00 p.m., ET/PT) on Disney XD in the U.S. It ushers in the series beginning MONDAY, OCTOBER 13 (9:00 p.m., ET/PT) on Disney XD in the U.S. The series will air in 34 languages across 163 countries in over 400 million households.
"We all love making 'Rebels,' so we couldn't be happier that it's moving into a second season," says Lucasfilm VP of Creative Development, Kiri Hart. "Our fantastic creative team is dreaming up new stories for the crew of the Ghost that will expand their experience of the galaxy and deepen their heroes' journeys. The fan response to the show has been amazing, humbling and inspiring. We're looking forward to the adventure ahead."
The creative team behind the second season of "Star Wars Rebels" includes Executive Producers Simon Kinberg and Dave Filoni, and Co-Executive Producer and Supervising Writer Henry Gilroy.
"Star Wars Rebels" continues the epic story-telling tradition that has captivated generations of "Star Wars" fans since 1977. Its story is set in the era between the film's prequel trilogy and original trilogy and is in a unique position to bridge the two both aesthetically and generationally. Honoring the past while moving boldly into the future, it features fantastic icons from "Star Wars" while introducing a new generation to the far corners of the galaxy, one full of exotic new creatures and characters.
"…scads of action, beautiful animation and fidelity to the original's spirit." – Variety
"…a rich color palette…reminiscent of the work of Hayao Miyazaki, the Japanese animé master." – The New York Times
"Rebels' does a great job of capturing a true 'adventure' feel." –IGN
"I've seen the premiere of the show and can attest completely to the vibe hearkening back to the original film. It somehow takes the coolest elements you'd expect from the dark time, with Jedi on the run and a truly evil Imperial presence, and matches it with the comedic tone of adventure of the original Star Wars film." –Huffington Post
Disney Channels Worldwide
In the Disney Channels Worldwide portfolio, there are 42 Disney Channels and 30 Disney XD channels, in 34 languages, reaching hundreds of millions of viewers around the globe. Disney Channels Worldwide is part of the Disney/ABC Television Group.
About Lucasfilm Ltd.
Lucasfilm Ltd., a wholly owned subsidiary of The Walt Disney Company, is a global leader in film, television and digital entertainment production. In addition to its motion-picture and television production, the company's activities include visual effects and audio post-production, cutting-edge digital animation, interactive entertainment software, and the management of the global merchandising activities for its entertainment properties including the legendary STAR WARS and INDIANA JONES franchises. Lucasfilm Ltd. is headquartered in northern California.
Lucasfilm, the Lucasfilm logo, STAR WARS and related properties are trademarks and/or copyrights, in the United States and other countries, of Lucasfilm Ltd. and/or its affiliates. © & TM Lucasfilm Ltd.
Follow @DisneyChannelPR and @StarWars for the latest news on #StarWarsRebels, and check out StarWars.com for more news on the series.
Twitter: twitter.com/DisneyChannelPR
Instagram: http://instagram.com/disneychannelpr
A video from the "Star Wars Rebels: Spark of Rebellion" premiere: