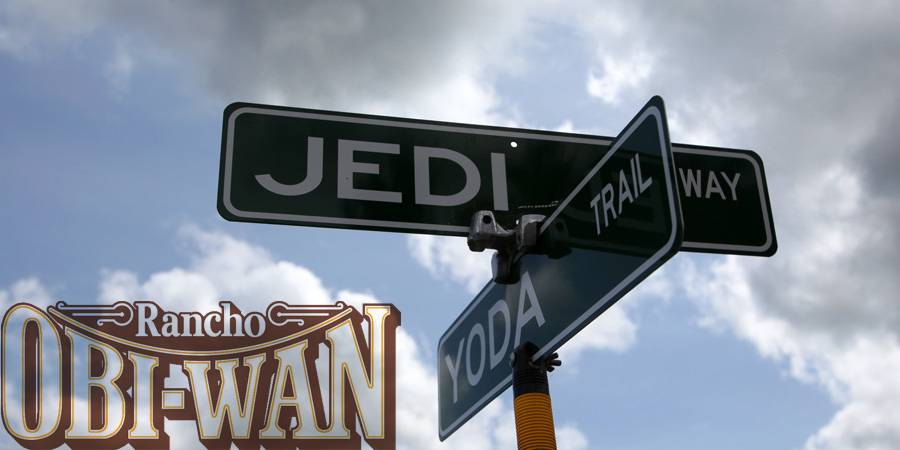 David Yeh
Rancho Obi-Wan Launches First Book for Celebration Anaheim Exhibit
March 1, 2015
Catch up on the latest news from our friends at Rancho Obi-Wan! A Rancho Obi-Wan book that will be available for pick-up at Star Wars Celebration Anaheim! and a sneak peek at the 2015 Rancho Obi-Wan membership kit…
Rancho Obi-Wan's 900-square-foot exhibit at Celebration Anaheim April 16-19 will focus on how Star Wars fans through the years have made their own tremendous contributions to that far-away galaxy, and in commemoration the nonprofit museum will make available a limited print-run book, "Inspired by the Force: Star Wars Fan Artifacts & Art."
The full-color, hardcover 72-page book will act as an exhibit guide, containing photos and stories of scores of the items on display. Written and photographed by Steve Sansweet and Anne Neumann, with design and layout by Stan Stice, the book is intended to be the first volume in a series, "The Treasures of Rancho Obi-Wan." It also includes a 4-page centerspread foldout that has hundreds of photos of visitors to Rancho and to our exhibits at past Celebration events.
The new book, with an initial printing of just 1,000 copies, is one of several surprises that Rancho will reveal in the weeks leading up to what many believe will be the largest and most exciting Star Wars fan event ever.
The Rancho Obi-Wan Experience exhibit will feature fan objects and art starting in the late 1970s through today, from an airbrushed van tire cover and hand-tooled leather backgammon board to a Chewbacca tissue box cover and bird house, from amazing art mash-ups based on a print by Goya and a painting by Picasso to bizarre limited edition figurines made by urban artists.
The book will cost $25 and pre-orders for pick-up at Celebration will begin in March on RanchoObiWan.org.
Both Steve Sansweet, chairman and CEO of Rancho Obi-Wan, and Anne Neumann, vice president and general manager, will be available at posted hours to sign the new book at no charge.
The Rancho Obi-Wan 2015 Membership Kit is in its final stages of production and will start shipping shortly to new members and current members as they renew. This year's patch and membership card art are based on a painting by the talented Daniel Bergren, which was done expressly for Rancho Obi-Wan for a fundraising auction.
In addition to the patch and hand-signed membership card, the kit contains a letter from Rancho chairman Steve Sansweet and the second in a series of costume designer John Mollo's historic sketches that led to the final costume worn by Alec Guinness in Star Wars.
The Mollo sketch in this year's kits is dated January 8, 1976, just a short time after Mollo had been hired. As the description on the back of the collectible card notes, the artist had changed the costume's look from that of a more military-style outfit to a full length kimono-style robe with sash. The Japanese word for a kimono sash isobi. Mollo won an Academy Award for his work on the film.
In addition to the 2015 patch, as has become tradition Rancho will offer an exclusive Celebration Anaheim patch for sale to members only. The patch is based on a beautiful black and white pencil sketch of Obi-Wan by gifted artist Keven Reinke, also done specifically for a Rancho fundraiser. Both patches were designed by Curt Hanks. The Celebration patch will be included in the price of new membership kits purchased and personalized at Star Wars Celebration Anaheim April 16-19 at the Rancho Obi-Wan booth. They also will be available for sale to existing members. The Celebration patches are limited and will not be remade.
Become a member Today and receive the 2015 Membership kit as thank you gift for your donation. Renewing members will also receive the special silver pin. In addition to being able to order the Celebration exclusive patch (pre-order begins in March), members will be able to enter the Rancho Obi-Wan Experience booth through a special "lightspeed" entrance.