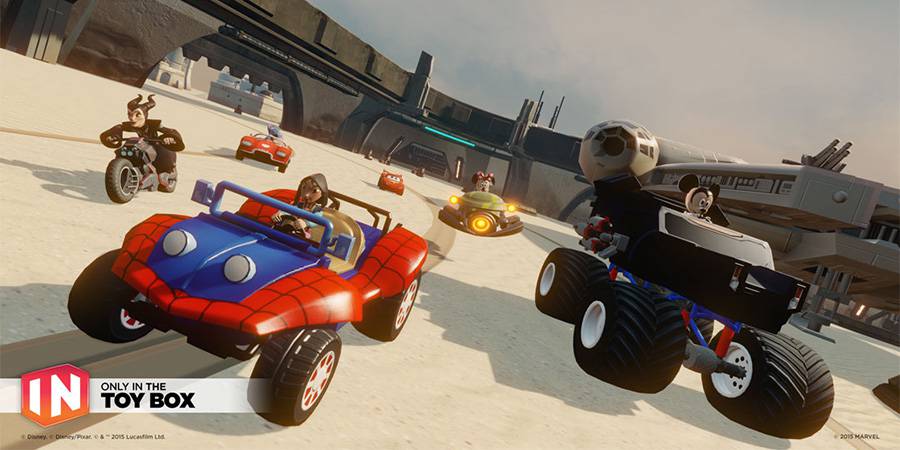 Brian Curran
Disney Infinity 3.0 Toy Box Speedway Review
Article
Review
October 13, 2015
Disney Interactive today has launched its new expansion pack for Disney Infinity 3.0, the Toy Box Speedway. Toy Box Speedway offers players an action packed go-kart experience usable with all Disney Infinity characters. Disney Infinity has always offered the ability to drive in various challenges and races since 1.0 but until now, there wasn't a dedicated way to race against your friends or the computer. With Toy Box Speedway, you can now do just that, racing through levels themed to Disney animated films, Marvel, and Star Wars. The Toy Box Speedway Expansion Pack retails for about $19.99.
There are nine unique tracks in Speedway where you can race one at a time or in a 3-track Grand Prix mode. You can also do battle mode where weapons can be used on the courses and also time trials.
The nine-tracks are:
Sugar Rush Raceway (Wreck-It Ralph)
Arendelle Racing Rink (Frozen)
Dunes of Tatooine (Star Wars)
San Fransokyo Circuit (Big Hero 6)
Gravity Falls Mystery Tour (Gravity Falls)
Road to Knowhere (Guardians of the Galaxy)
Agrabah Raceway (Aladdin)
Halloween Town Highway (Nightmare Before Christmas)
Monsters Mayhem (Monsters, Inc)
While this expansion pack won't replace Mario Kart as best go-kart racing game, it's certainly a fun add-on to Disney Infinity. The tracks themselves take some time to get used to and there's so many short cuts that repeat playing is necessary to discover them all as well as find the hidden coins to get more cars for the game. It's especially challenging since even the computer knows all the short cuts and will take full advantage of them leaving you in the dust.
While I do wish there were a few more tracks as there are so many Disney properties that would make amazing race courses (Atlantis anyone?), it is a $20 expansion after all and who doesn't want to race on Mad Tea Cups? I certainly wouldn't mind it if Disney Interactive attempted their own full on dedicated racing game down the line.
Disney Infinity 3.0 Toy Box Speedway Expansion Pack is now available.