David Yeh
Behind the Attraction Returns for 2nd Season
October 4, 2023
The fan-favorite docuseries on Disney+ covering popular Disney Attractions around the world is back for a 2nd season on November 1st. While Star Tours was covered in the first season, the next promises to go behind the scenes of Indiana Jones Adventure and more. Take a look at the trailer below:


Here's a look at what's to come in Behind the Attraction season 2:



Pirates of the Caribbean
It's a pirate's life for everybody aboard Pirates of the Caribbean! Walt Disney loved adventure stories, especially ones that featured swashbuckling pirates. That inspiration led to one of the most beloved attractions in Disney history. Initially conceived as a wax museum, technological advances convinced Walt that a more sophisticated attraction could be created using state-of-the-art Audio-Animatronics figures. The classic version in Anaheim proved so successful it spawned a hit movie franchise and iterations in Disney parks around the world, including the cutting edge reimagining at Shanghai Disneyland.


Big Thunder Mountain Railroad
Step aboard the wildest ride in the wilderness! Based on a concept by Disney Legend Marc Davis, Imagineer Tony Baxter reimagined this mountainous thrill ride that is sure to float your goat! Inspired by the American West, this attraction has spread around the world. The version at Disneyland Paris is on an island and is connected to Phantom Manor, while the ones at Walt Disney World Resort and Disneyland Park are inverted versions of each other on opposite coasts. Hong Kong Disneyland Park even boasts a sister attraction – Big Grizzly Mountain Runaway Mine Cars. Big Thunder Mountain Railroad has it all – runaway trains, mining town Rainbow Ridge, disturbed spirits, and spinning possums! Rumor has it there's even a secret goat trick…


Indiana Jones Adventure
Crack the whip and join Indiana Jones on the adventure of a lifetime – just beware of the snakes! Following the success of Star Tours, Michael Eisner and Frank Wells thought it was time to have George Lucas bring another cinematic hero to the Disney parks. With action sequences in every Indiana Jones movie that seemed like blueprints for exciting attractions, the choice was obvious. Indy is everywhere in the parks, from a live action stunt show, to Disney's first inversion roller coaster at Disneyland Paris, to the thrilling Indiana Jones Adventure at Disneyland Park that proved so popular another one was built at Tokyo DisneySea. These attractions are so good, they belong in a museum!


EPCOT
Where can you both glimpse the future and travel the world without leaving Florida? At the Experimental Prototype Community Of Tomorrow, where the impossible becomes possible! When it opened in 1982 at Walt Disney World Resort, EPCOT was the biggest Disney park yet. At its heart stands the astounding architectural achievement that is Spaceship Earth. Arrayed around the lagoon, World Showcase features pavilions that celebrate nations from around the world. Some even host attractions, like Norway's Frozen Ever After and France's Remy's Ratatouille Adventure, as well as Guardians of the Galaxy: Cosmic Rewind in the World Discovery neighborhood. As long as there is imagination left in the world, EPCOT will never be complete.


The Food
Churros, DOLE Whip, turkey legs, and more… Discover the stories behind these tasty treats! Walt knew food was crucial to the park going experience. From walk-around snacks to themed dining experiences like the piratical Blue Bayou Restaurant, there's something for everyone. Learn how the churro debuted at a Disneyland teen nightclub, how the Central Bakery makes all of Disneyland's sweets, and what goes on at the secretive Flavor Lab at Walt Disney World. What's the Flavor Lab? That would be telling! Globally, explore how Disneyland Paris puts their twist on Walt's favorites, Hong Kong Disneyland Resort creates character-shaped dim sum, and Tokyo Disneyland reimagines popcorn, to name a few. Food keeps the story going beyond the attractions!


Nighttime Spectaculars
The magic continues after dark with Disney Parks' nighttime spectaculars. What began as a fireworks show in the skies above Disneyland Park has evolved, over the years, into a wide array of shows at Disney parks around the globe. Thanks to technological innovations like projection mapping, mist screens, and even drones, they have become more spectacular with every passing year. Longstanding Disney favorites like the "Main Street Electrical Parade," "Fantasmic!," and "World of Color" have been joined by newer dazzlers like "Momentous" at Hong Kong Disneyland Park and "ILLUMINATE!" at Shanghai Disneyland. Come for the attractions, stay for the shows!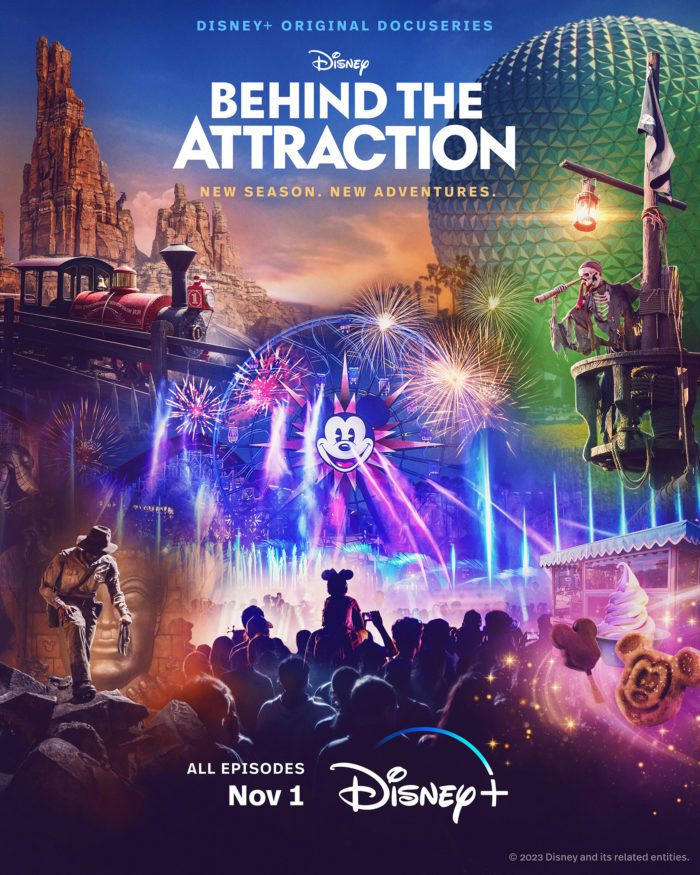 The series hails from Dwayne Johnson & Dany Garcia's Seven Bucks Productions and The Nacelle Company, and is narrated by Paget Brewster ("Criminal Minds"). Brian Volk-Weiss directs the series and serves as Executive Producer, along with Dwayne Johnson, Dany Garcia, Hiram Garcia, Brian Gewirtz and Frankie Chiapperino from Seven Bucks Productions, and Ian Roumain, Benjamin J. Frost, and Cisco Henson from The Nacelle Company.