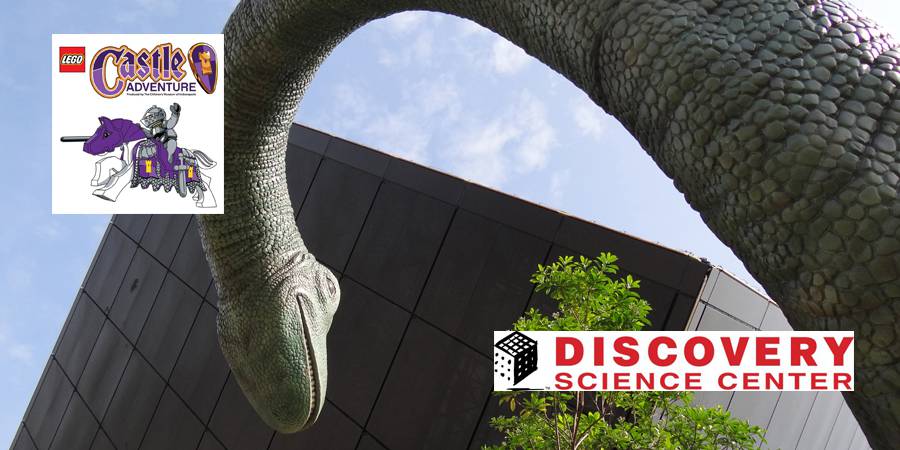 Brian Curran
LEGO Castle Adventure Opening at Discovery Science Center
May 2, 2013
Lego and The Discovery Science Center are teaming up for a new interactive exhibit. LEGO Castle Adventure opens May 25, 2013 at Taco Bell Discovery Science Center. We have posted the press release with all the details of The Discovery Cube's latest addition.
Press Release:
LEGO® Castle Adventure Opening at Discovery Science Center
LEGO Systems inspired Multimedia Museum Exhibition Opens in Orange County May 25, 2013
SANTA ANA, Calif. (May 2, 2013) – Hear ye, hear ye, calling builders of all ages! LEGO® Castle Adventure opens May 25, 2013 at Taco Bell Discovery Science Center (DSC). In LEGO Castle Adventure, children are transported to a LEGO® kingdom where they too can become master castle builders, using one of the greatest materials of all time – LEGO bricks!
"LEGO Castle Adventure gives DSC visitors the opportunity to test their planning and constructing skills," said Joe Adams, president of Discovery Science Center. "This unique exhibit created by The Children's Museum of Indianapolis and LEGO Systems, Inc. is another great opportunity for children and families to learn through play with one of the most-loved toys of all time."
Visitors to LEGO Castle Adventure will be immersed in castle life through experiences designed specifically for children and families. Enter the LEGO kingdom's royal castle to sit in their majesties' thrones and view the royal family's portrait – made out of LEGO bricks – and LEGO suit of armor. View the king's secret treasure room filled with LEGO jewels.
Even the youngest of builders will enjoy putting together their own LEGO castle creation. LEGO models of real-world castles Blarney, Arundel, and Neuschwanstein offer insights about how castles were planned and built. Age-appropriate build areas for Apprentice Builders (toddlers), Journeymen Builders (ages 3-6), and Master Builders (ages 7 and older) allow children to use their newfound knowledge to create their own unique structures.
After visiting the throne room, visitors can tour the castle grounds and learn about day-to-day castle life. Children and families are able to dress up as princes, princesses, knights or dragons; build a LEGO brick topiary; or climb a lookout tower. Children are invited to don suspender-style horses to play in a safe "jousting field" with foam-rubber lances and soft targets set up on the field. And, of course, no trip to a castle would be complete without meeting the resident LEGO dragon, but don't worry, she doesn't bite!
Once visitors have learned what it takes to plan and construct a proper home for the king and queen, they can test out the castle's defenses with what else…a catapult. Using a 3-D computer program and real-world catapult, one can virtually build and test the castle walls and learn through trial and error the most durable way to build the castle's defenses.
LEGO® Castle Adventure is open through September 15, 2013. LEGO® Castle Adventure is produced by The Children's Museum of Indianapolis in cooperation with LEGO Systems, Inc. LEGO and the LEGO logo are trademarks of the LEGO group. ©2012 The LEGO group. All rights Reserved.
About Discovery Science Center
For 25 years, Discovery Science Center (DSC) has been a non-profit organization dedicated to educating young minds, assisting educators teach science and increasing public understanding of science, technology, engineering and math through interactive exhibits and programs. With one of the largest education outreach programs in the county and an unparalleled approach at creating immersive, game-based exhibits, DSC is revolutionizing how educational content is delivered. Throughout the year, guests can take the Eco Challenge and become a green superhero or feel the power of a simulated rocket engine launch. Traveling exhibits and annual events such as Spooky Science and Bubblefest throughout the year ensure that there is always something new to discover. DSC owns and operates the Taco Bell Discovery Science Center based in Santa Ana, CA and will be opening a second facility in Los Angeles in 2014. For more information, call (714) 542-CUBE or visit www.discoverycube.org.
About The Children's Museum of Indianapolis
The Children's Museum of Indianapolis is a non-profit institution committed to creating extraordinary family learning experiences that have the power to transform the lives of children and families. The 472,900 square-foot facility houses 11 major galleries. Visitors can explore the physical and natural sciences, history, world cultures, the arts, see how dinosaurs lived 65 million years ago in Dinosphere: Now You're in Their World®, experience Dale Chihuly's Fireworks of Glass and examine children's impact in shaping history in The Power of Children: Making a Difference. The Children's Museum, situated on 20 acres of land in Indianapolis, presents hundreds of programs and activities each year. For more information about The Children's Museum visit www.childrensmuseum.org.
About LEGO Systems, Inc.
The LEGO Group (www.LEGO.com) is a privately held, family-owned company, based in Billund, Denmark. Founded 1932, today it is one of the world's leading manufacturers of play materials for children. The company is committed to the development of children's creative and imaginative abilities through its products, which can be purchased in more than 130 countries.
MEDIA CONTACT: Dan Nasitka
dnasitka@discoverycube.org