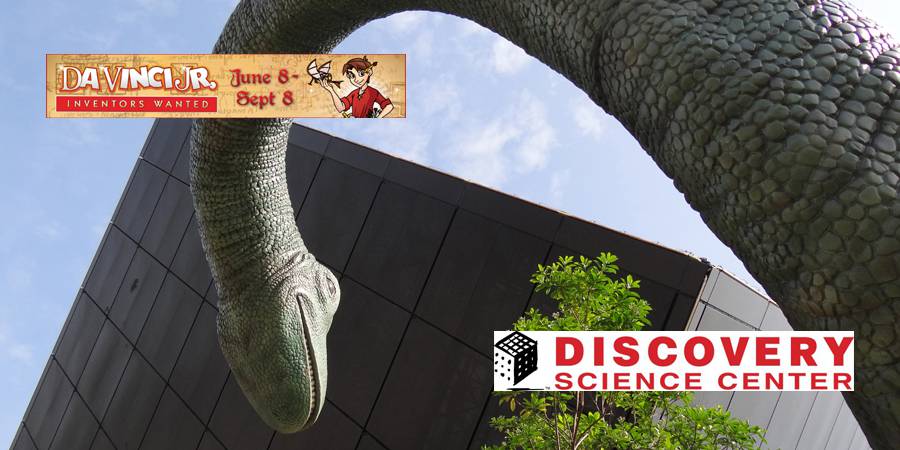 Brian Curran
Da Vinci – The Genius Exhibit Inspires Summer of Innovation
June 17, 2013
A update from the folks at The Discovery Science Center;
"The Taco Bell Discovery Science Center is calling all inventors and young innovators to participate in special summer programming and events themed around the current exhibition: Da Vinci – The Genius & Da Vinci Jr. The exhibit, which is on display through September 8, 2013."
Press Release:
Discovery Science Center Hosts "Inventor's Fair" Summer Programming
Da Vinci – The Genius & Da Vinci Jr. inspire a summer of innovation at the Cube
Santa Ana, Calif. – (June 13, 2013) – This summer, Taco Bell Discovery Science Center is calling all inventors and young innovators to participate in special programming and events themed around the current exhibition: Da Vinci – The Genius & Da Vinci Jr. The exhibit, which is on display throughSeptember 8, 2013, is the most complete and comprehensive traveling exhibition ever created on Leonardo da Vinci.
INVENTOR'S WEEK | June 29 – July 7
An entire week packed with activities for young learners, interactive learning stations, guest speakers and demonstrations designed to bring out the inventor in everyone. Also, guests will get to "tinker around" in the Inventors Workshop.
Daily Parachute Competition – Visitors can participate in a daily "Build Your Own Parachute" competition, where the top winner each day will receive an Annual Family Membership. Basic building supplies such as a plastic bag, tape, string and a weight will be provided, but guests are welcome to bring their own materials from home too. Parachute competition guidelines available online.
Meet the Makers (June 29-30) – A family-friendly festival highlighting innovation, creativity and invention in our own Orange County community. Makers consist of local crafters, inventors, engineers and tinkerers who will gather to share their unique creations and the stories behind them! From 3D printing, animatronics and laser light finger painting to mind-craft stations and a wind-tunnel, visitors will be inspired to embrace their do-it-themselves attitude.
TASTE OF ITALY: A Celebration of Leonardo da Vinci | July 27-28
Guests will be immersed in everything Italian as DSC celebrates the life of Leonardo da Vinci. Explore the world of Italian food as we present pasta and pizza cooking demonstrations, search for the best marinara sauce in Orange County, and showcase learning stations on the history of tomatoes and garlic – two of Italy's culinary staples.
HEALTH SCIENCE, MEDICINE AND THE HUMAN BODY: Health and Wellness Fair | August 3-4
Guests will gain new knowledge and tools through interactive activities and demonstrations to encourage a healthy lifestyle. Kids will even conquer the often daunting task of reading food and nutrition labels while engaging in a hands-on activity! Plus, visitors will find out all about the health-centric resources available in our community. Health and wellness screenings, parent development workshops, eye and hearing exams, and nutrition classes will be offered as well.
DA VINCI'S WORKSHOP | On-Going
Throughout the summer, inside Da Vinci's Workshop, kids will get to dive into a fully interactive exhibit showcasing history, art and science inventions from the great da Vinci himself. Special programming and themes will be presented from June through August. Themes include:
Engineer's Corner | June 15-16 & 22-23
Guests will learn about Leonardo da Vinci as an engineer. Hands-on learning stations will dive into the mechanics of his works such as the armored car, diving suit and parachute.
Colors, Mood & the Mona Lisa | July 13-14
Explore the "Mona Lisa" like never before as we dive into over 500 years of mystery and investigation. Plus, guests can discover their inner artist with hands-on activities related to this famous work of art.
Center of Gravity | July 27-28
Guests will gain knowledge and an understanding of how our bodies work, what the "golden ratio" is and how gravity plays a role in body control. A study into the mathematical secrets of the Vitruvian Man will complete the learning experience!
Transportation Challenge | August 10-11 & 17-18
Leonardo da Vinci drew designs for a self-moving cart over 400 years before the first self-propelled vehicle was invented. Guests will investigate some of da Vinci's sketches and designs and discover what a sophisticated inventor he really was, followed by designing their own glider.
Sounds of the Renaissance | August 24-25
Not only was da Vinci a great inventor, engineer and artist, he was also a musician. Guests visiting this weekend will get to discover the science behind sound, building instruments and experimenting with resonance, pitch and volume!
All summer activities, including Da Vinci – The Genius & Da Vinci Jr. are included in general admission to Discovery Science Center. Tickets can be bought at the science center or online atwww.discoverycube.org. Prices are as follows: adult ($15.95), senior ($12.95), and children 3-14 ($12.95). Discovery Science Center is open daily from 10 a.m. to 5 p.m.
About Discovery Science Center
For 25 years, Discovery Science Center (DSC) has been a non-profit organization dedicated to educating young minds, assisting educators teach science and increasing public understanding of science, technology, engineering and math through interactive exhibits and programs. With one of the largest education outreach programs in the county and an unparalleled approach at creating immersive, game-based exhibits, DSC is revolutionizing how educational content is delivered. Throughout the year, guests can take the Eco Challenge and become a green superhero or feel the power of a simulated rocket engine launch. Traveling exhibits and annual events such as Spooky Science and Bubblefestthroughout the year ensure that there is always something new to discover. DSC owns and operates the Taco Bell Discovery Science Center based in Santa Ana, CA and will be opening a second facility in Los Angeles in 2014. For more information, call (714) 542-CUBE or visit www.discoverycube.org.
# # #
CONTACT: Dan Nasitka
dnasitka@discoverycube.org