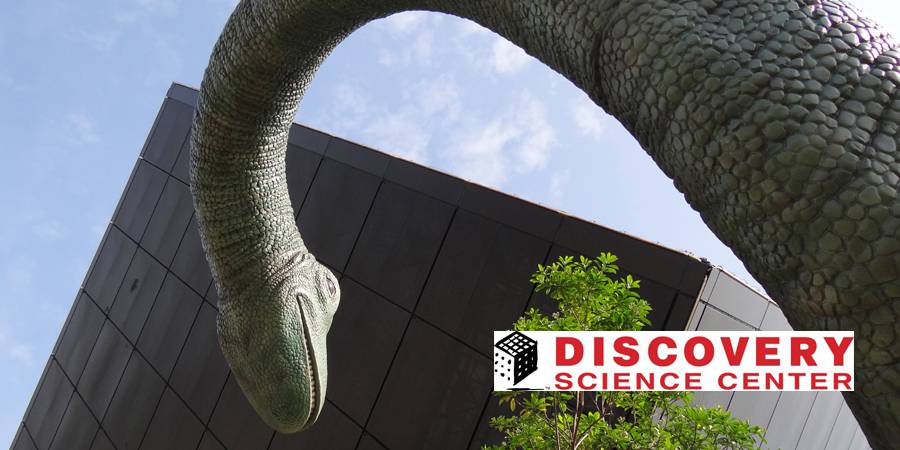 Brian Curran
DSC Pumpkin Launch Returns for 6th Annual Event
October 10, 2013
Join our friends at the Discovery Science Center for the 6th annual Pumpkin Launch on November 2, 2013. Visitors of all ages are invited to the free event from 10 a.m. to 2 p.m.; the event will take place rain or shine. Read on for more details.
Press Release:
DISCOVERY SCIENCE CENTER TEAMS UP WITH CAL STATE FULLERTON TO HOST 6TH ANNUAL PUMPKIN LAUNCH
Free pumpkin launch competition offers family-fun 'edutainment' with flying fruit, a medieval showcase and hands-on activities for kids
SANTA ANA, Calif. (October 10, 2013) – Discovery Science Center, in partnership with the California State University, Fullerton College of Engineering and Computer Science (CSUF), hosts the 6th annual Pumpkin Launch on November 2, 2013. Visitors of all ages are invited to the free event from 10 a.m. to 2 p.m.; the event will take place rain or shine.
This free event, sponsored locally by Time Warner Cable, ScholarShare and Orange County Produce, offers a variety of family-friendly activities for visitors to take part in. Engineering enthusiasts can watch various homemade trebuchets launch pumpkins through the air during the competition. For a more hands-on lesson on projectiles, children are invited to build their own mini catapults with popsicle sticks and launch marshmallows. Other activities include pop-rocket building and a whiffle ball catapult station. Plus, a medieval showcase will present costumes, weapons, weaving materials and other replicated artifacts from the medieval ages.
"The goal of Pumpkin Launch is multifaceted," states Joe Adams, president of Discovery Science Center. "It provides young people the opportunity to visit a university campus, interact with student engineers and consider an academic and lifelong career in a STEM related field, all while watching fruit fly through the air!"
This event is designed to give adolescents the opportunity to see what a college campus is like and to introduce them to academics in STEM (Science, Technology, Engineering, Math) related industries. Families not only get to enjoy time together, but they can learn about the science of flying pumpkins and other objects in a creative and interactive way.
"Launching a pumpkin and hitting a target is not a trivial engineering problem," said Raman M. Unnikrishnan, dean of the College of Engineering and Computer Science. "It requires a lot of analysis of the launch trajectory and the predicted the point of impaction," explained Unnikrishnan.
"Secondly, one has to design the equipment, such as a trebuchet, to launch the pumpkin, and then build the device. Design, implementation and, finally, the execution of a complex task are the fundamental elements of any engineering design project — and the Pumpkin Launch is no different."
Orange County Produce – a family business proudly practicing both conventional and certified organic farming – are the proud sponsors of the pumpkins used for the launching competition. Time Warner Cable is sponsoring the program as part of the company's Connect A Million Minds initiative, a five-year, $100 million commitment to inspire the next generation of problem solvers by connecting young people to the wonder of STEM.
Pumpkin Launch is a free event and is located on the campus of California State University, Fullerton. Registration is available online at www.discoverycube.org/pumpkinlaunch.
About California State University, Fullerton
A comprehensive, regional university with a global outlook, Cal State Fullerton enrolls more than 38,000 students and offers 109 degree programs in eight colleges. Accredited by the Western Association of Schools and Colleges, Cal State Fullerton is among the largest universities in the 23-campus California State University system. It is No. 1 in California and eighth in the nation for the number of bachelor's degrees awarded to Hispanics and eleventh nationally for the number of bachelor's degrees awarded to minority students. Learn more about the university on the CSUF website: www.fullerton.edu.
About Discovery Science Center
For 30 years, Discovery Science Center (DSC) has been a non-profit organization dedicated to educating young minds, assisting educators teach science and increasing public understanding of science, technology, engineering and math through interactive exhibits and programs. With one of the largest education outreach programs in the county and an unparalleled approach at creating immersive, game-based exhibits, DSC is revolutionizing how educational content is delivered. Throughout the year, guests can take the Eco Challenge and become a green superhero or feel the power of a simulated rocket engine launch. Traveling exhibits and annual events such as Spooky Science and Bubblefest throughout the year ensure that there is always something new to discover.
In 2012, DSC was named one of the ten "Most Trusted Brands" in Orange County and in 2013 was awarded the National Medal of Service from the Institute of Museum and Library Services. DSC owns and operates the Taco Bell Discovery Science Center based in Santa Ana, California and will be opening a second facility in Los Angeles in 2014. For more information, call (714) 542-CUBE or visit www.discoverycube.org.
CONTACT: Dan Nasitka | dnasitka@discoverycube.org