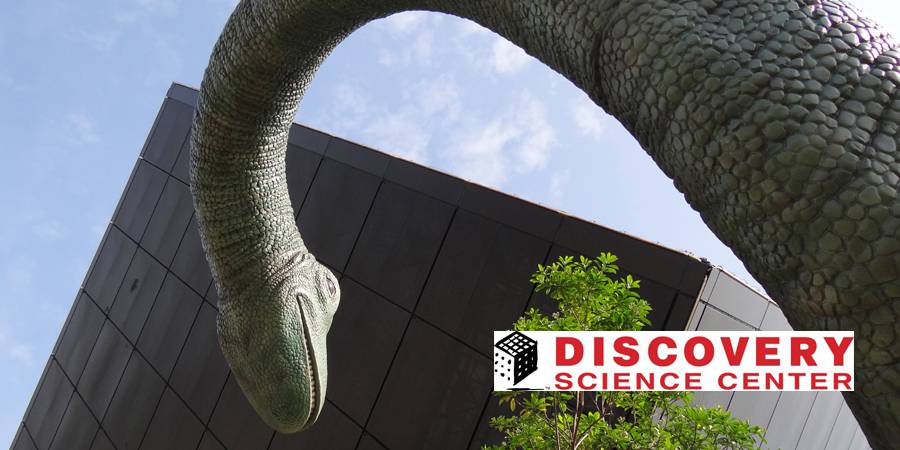 Brian Curran
Bubblefest XVIII POPs into Action at Discovery Cube
March 21, 2014
Bubblefest is returning to the Discovery Science Center. I had the chance to see Bubblefest with my family during a visit last year. My wife, five year old son and I really enjoyed it. If you are in the Orange County area between March 29 through April 20, 2014 I recommend stopping at the Discovery Cube for a visit.
Press Release:
Orange County's most popular spring break spectacular begins Saturday, March 29, 2014
SANTA ANA, Calif. – March 18, 2014 – Bubblefest XVIII, Discovery Science Center's popular spring break tradition, returns March 29 through April 20, 2014. Presented locally by ScholarShare, the three week festival will feature entertainment all ages will enjoy, including the Mega Bubblefest Laser Show, interactive science experiments, the always popular, Bobble Lagoon, an inflatable play zone and a variety of Orange County food trucks.
Inside the Mega Bubblefest Laser Show, guests will witness Bubble Scientist Deni Yang perform astounding artistry and stunts with bubbles, smoke, lasers, and a few volunteers from the audience. His repertoire of tricks include a bubble carousel, smoking bubbles, bubbles within bubbles, and more. Yang has been demonstrating bubble art with his family since childhood. Throughout his career, he has earned international acclaim and the Guinness World Record for producing the largest bubble ever, measuring over 170 feet.
"Bubblefest allows guests to get an up close look at the science in, around, and behind bubbles," says Joe Adams, president of Discovery Science Center. "The festival and Mega Bubblefest Laser Show, provide a fun, hands-on environment for kids and adults to learn about the fragile spheres we all know and love."
Hands-on exhibits and experiments demonstrate the science concepts behind the art of bubble making such as surface tension, elasticity, air pressure, and more. This year's offerings include: Bobble Spheres, Flow Formations, Bubble Wall, CO2 Chambers, Hexagon Bubbles, and an "Under 5" area.
To top off a day popping with science fun, guests will enjoy an Inflatable Play Zone and Orange County food trucks. Also, inside the Science Center, guests can experience our featured traveling exhibit, Animal Grossology. Fun games and displays spotlight disgusting animal behaviors that play an important role in the animal kingdom and the Earth! Get the scoop on why some animals are dookie lovers, vomit munchers, blood suckers, and slime makers.
Doors open to the public March 29th. Bubblefest XVIII is included in general admission to Discovery Science Center. The Mega Bubblefest Laser Show and Bobble Lagoon attraction are an additional $5 for members and $7 for non-members. Tickets can be bought online at www.discoverycube.org or at the Science Center. General admission prices are as follows: adult ($15.95), senior ($12.95), and children 3-14 ($12.95). During Bubblefest, Discovery Science Center will have extended hours from 9:00 a.m. to 6:00 p.m.
About Discovery Science Center
For over 25 years, Discovery Science Center (DSC) has been a non-profit organization that inspires and educates young minds through engaging science based programs and exhibits to create a meaningful impact on the communities they serve. With one of the largest education outreach programs in the county and an unparalleled approach at creating immersive, game-based exhibits, DSC is revolutionizing how educational content is delivered. In 2012, DSC was named one of the ten "Most Trusted Brands" in Orange County and in 2013 was awarded the National Medal of Service from the Institute of Museum and Library Services. DSC owns and operates the Taco Bell Discovery Science Center based in Santa Ana, California and will be opening a second facility in Los Angeles in 2014. For more information, call (714) 542-CUBE or visit www.discoverycube.org/.
About Deni Yang
Deni Yang has been combining entertainment, art and science performing in bubble shows for the most of his young life. Following in the footsteps of his parents Fan and Ana Yang, Deni has entertained audiences around the world with his marvelous stage performances. His first live appearance was at the age of four on RAI 1 Italian Television where he fascinated millions of viewers across Europe. It was the beginning of what would eventually bring Deni international acclaim at the Monte Carlo International Circus Festival (Monaco) in 1997, where he solidified his career as a bubble artist.
Deni has toured the globe with his spectacular stage show and has been featured at the National Museum of Science and Technology (Ottawa, Canada) and the Pacific Science Centre (Seattle, WA). He has also made numerous appearances on television shows around the world in Italy, Greece, France, and USA. Most recently Deni starred in the "White Bubble Show" in Seoul, Korea. For more information on Deni, visit https://gazillionbubbleshow.com