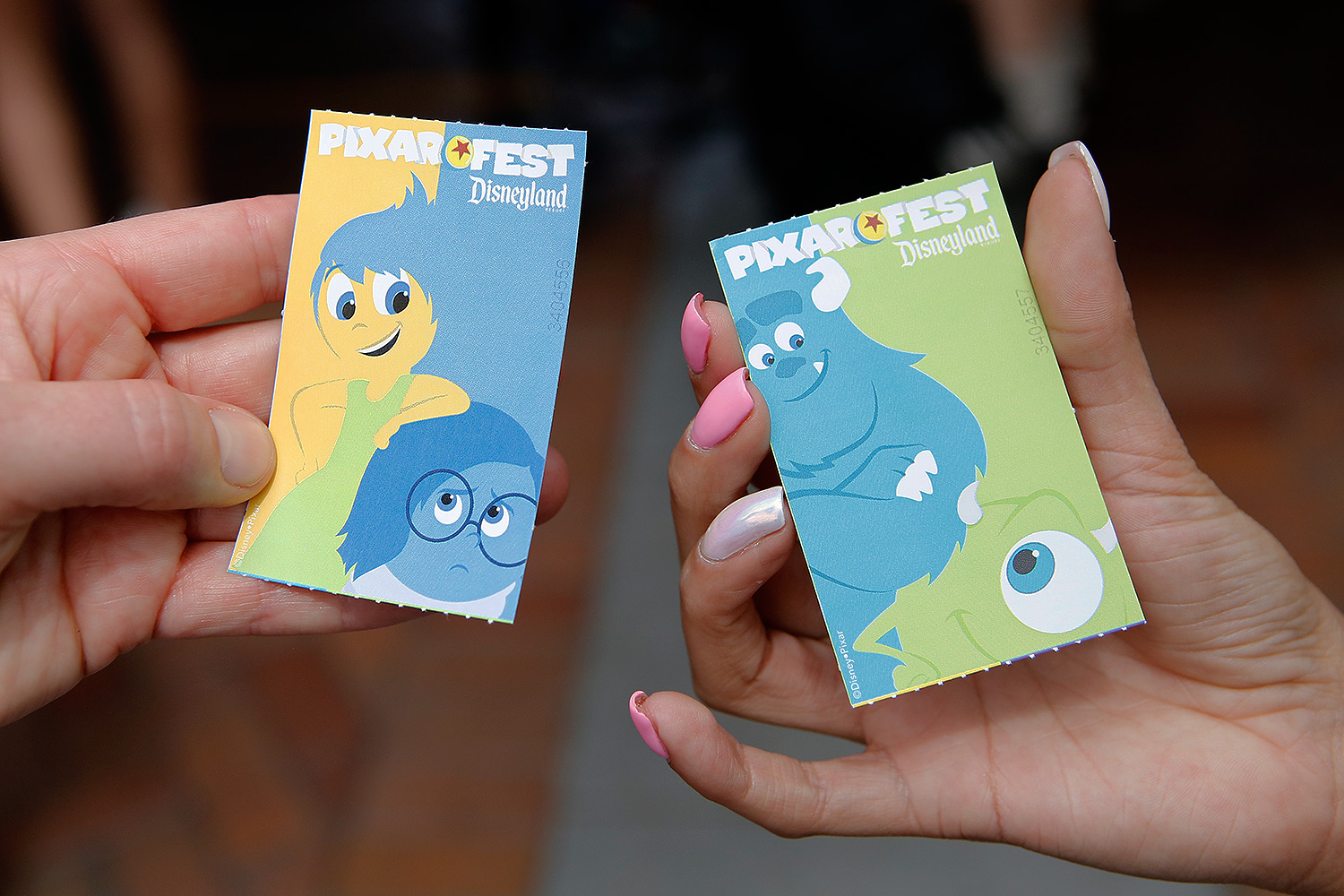 David Yeh
A Look at Disneyland's Pixar Fest Phase One
April 19, 2018
Hey Howdy Hey, everyone! The Disneyland Resort is about a week into celebrating Pixar Fest, a brand new celebration that puts the focus on Pixar Animation Studios, its films, its music, and its characters; and we wanted to show you what's going on! To preface, we're calling this "Phase One" since while the festivities have officially begun, there's a lot more coming into the resort throughout the summer, so we'll have another update when that happens. And while Pixar Fest concludes on September 3rd, there will be plenty to to enjoy, including a completely renovated Pixar Pier coming this June.
Let's start with the Downtown Disney District. With banners flying high and music of the Pixar films filling the air waves, you'll find many of the Pixar Characters represented in the gardens throughout this outdoor area.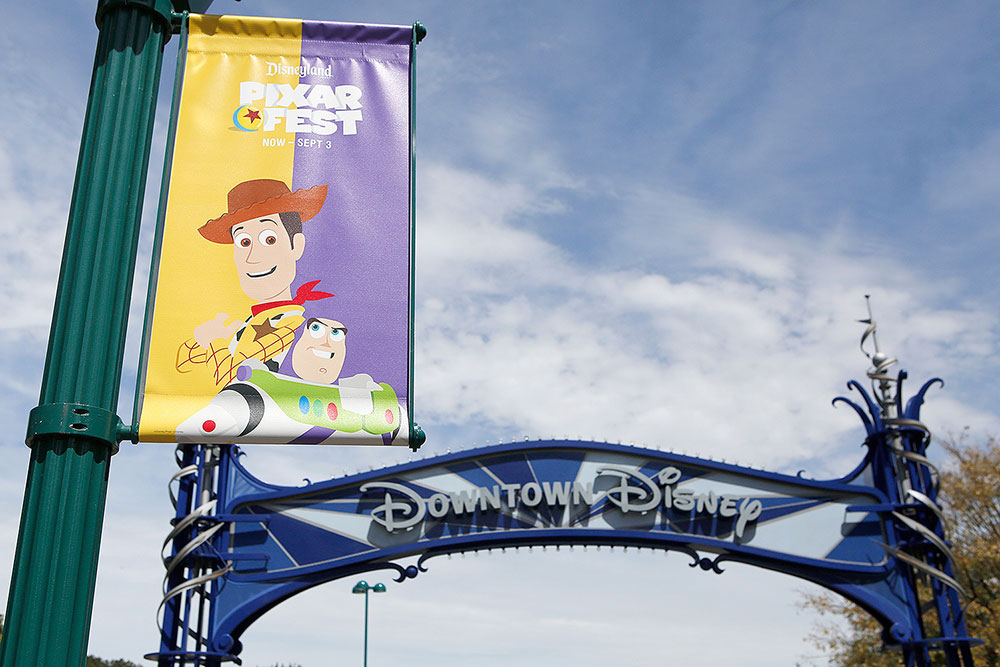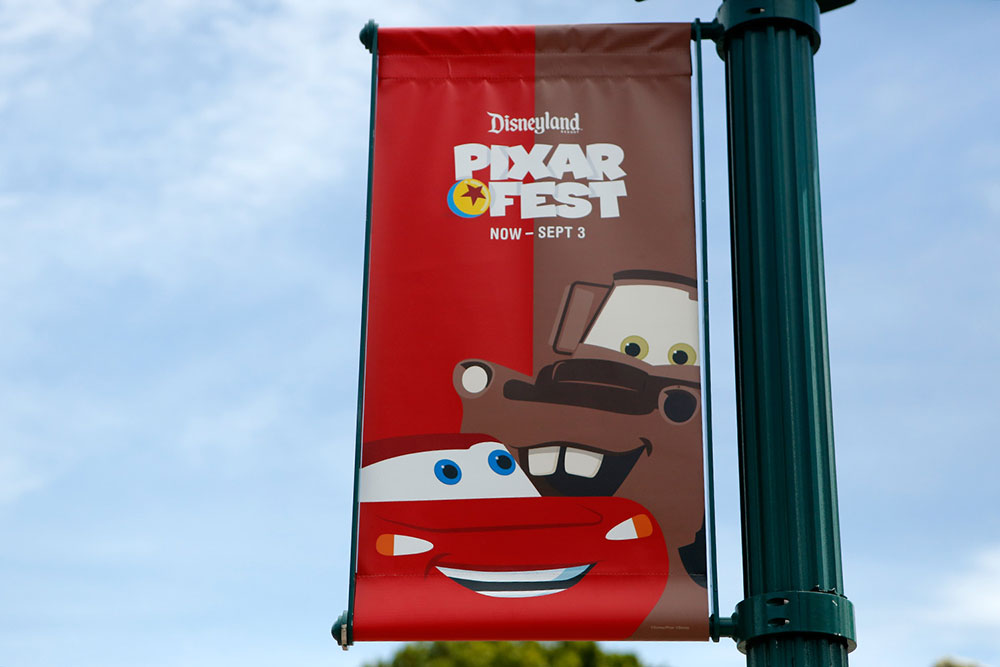 Finding Nemo or Finding Dory? Let's go with both.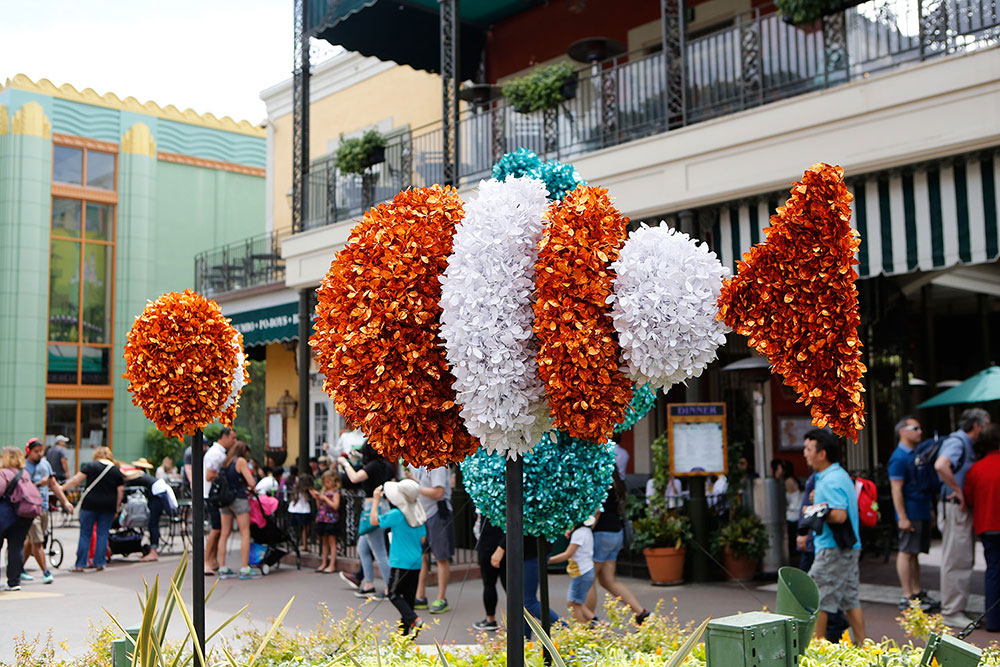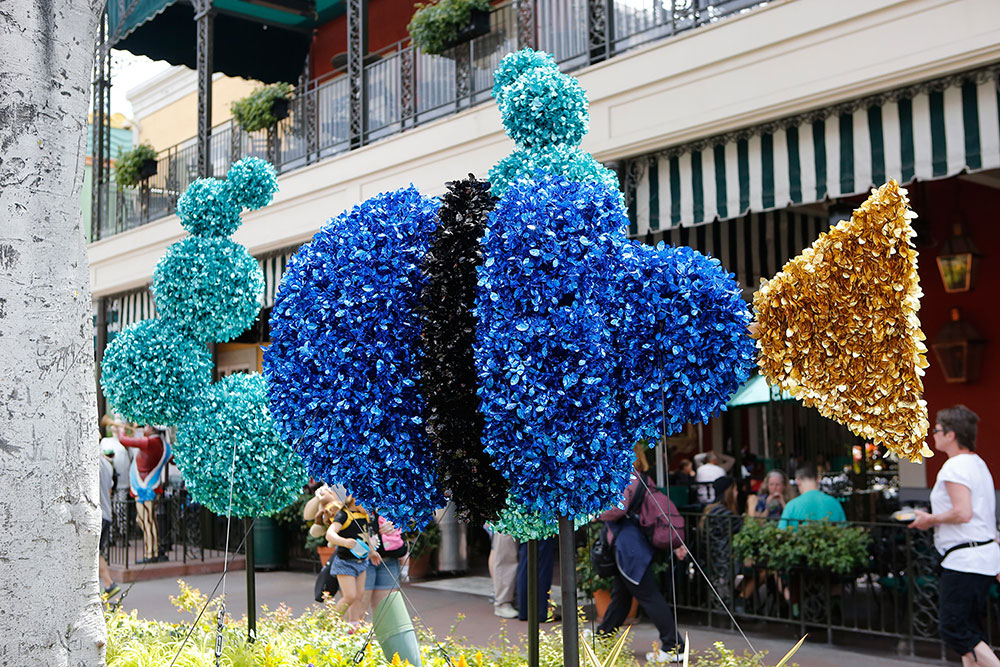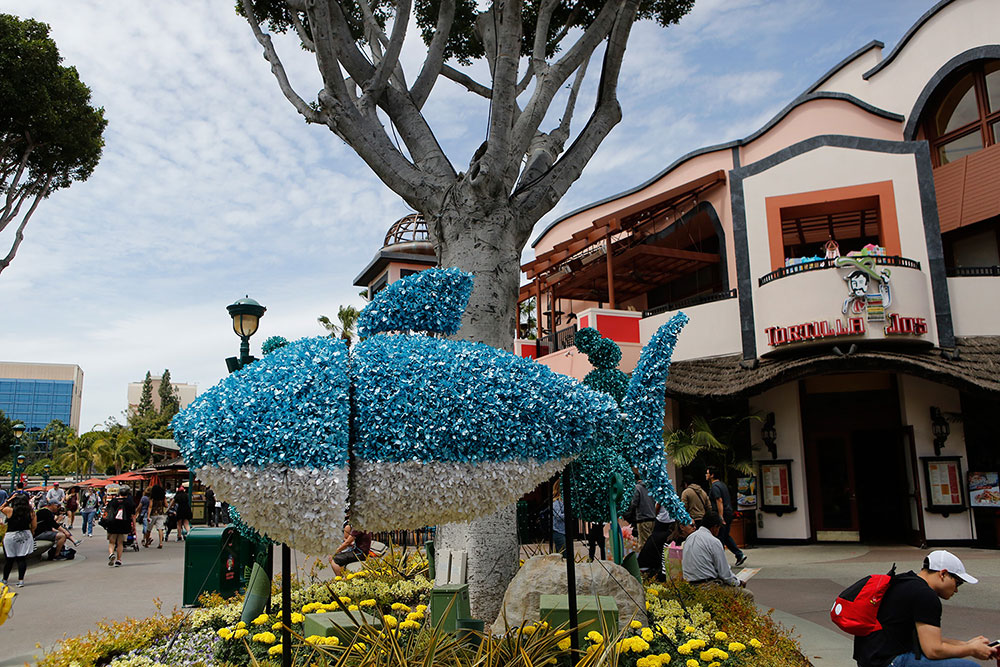 The entire Incredibles gang is here, including Frozone and Edna Mode…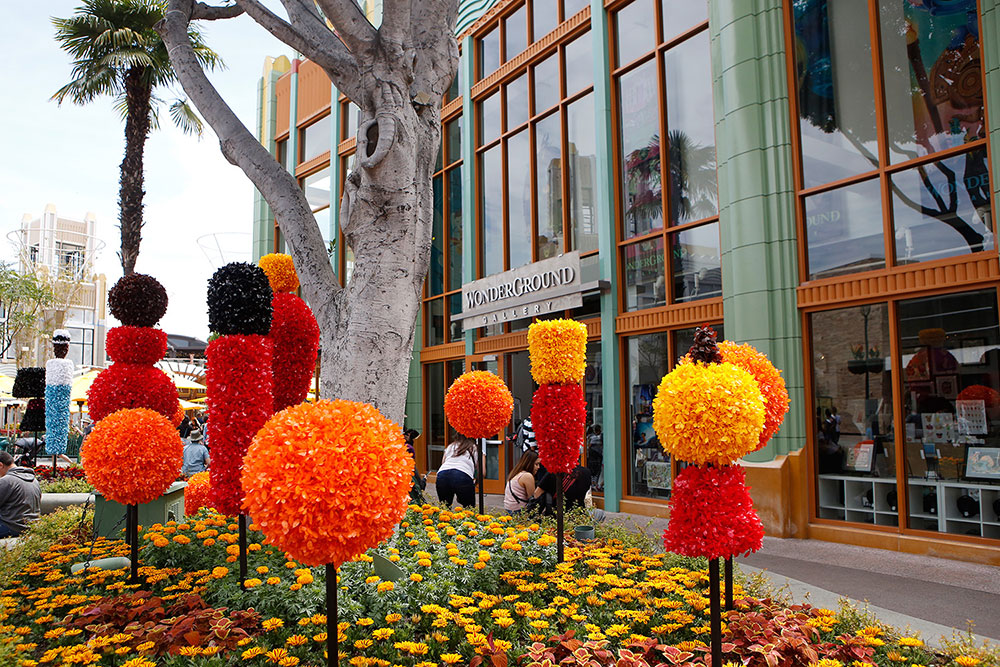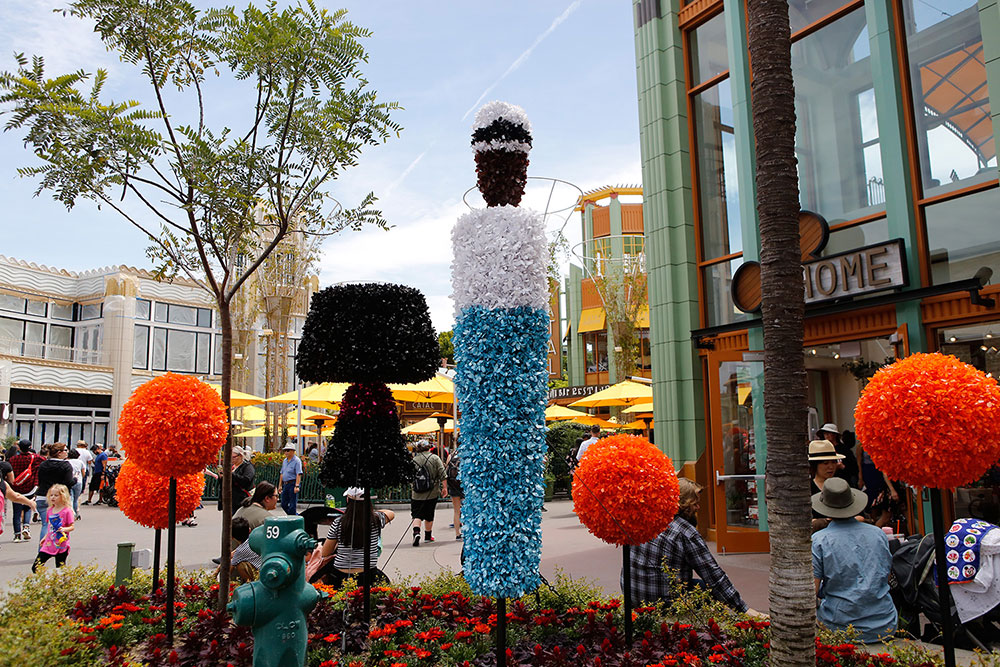 Toy Story, as represented by Woody's Roundup and Buzz Lightyear…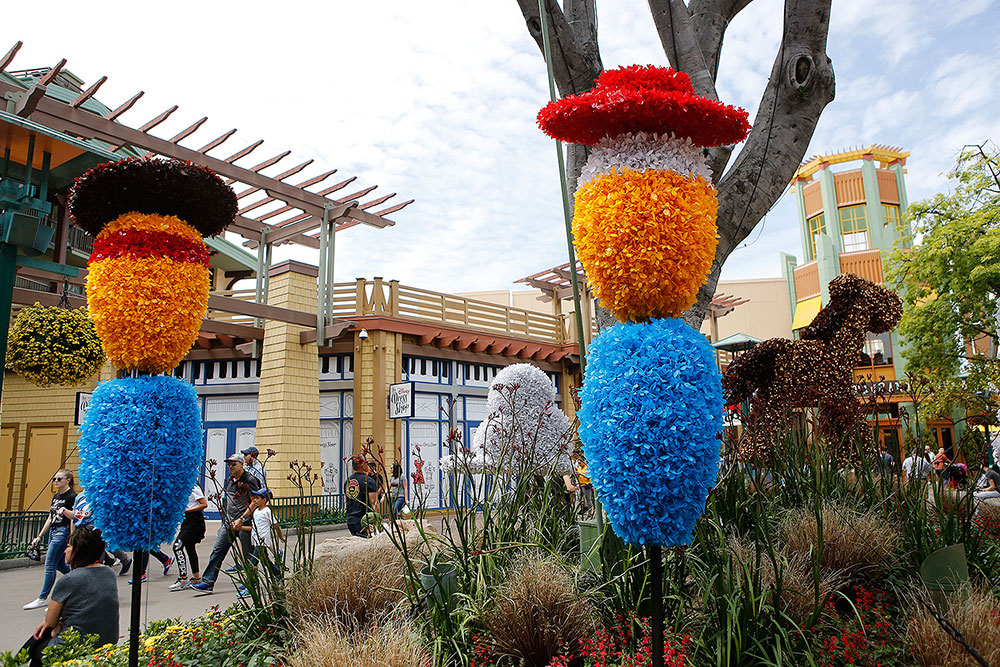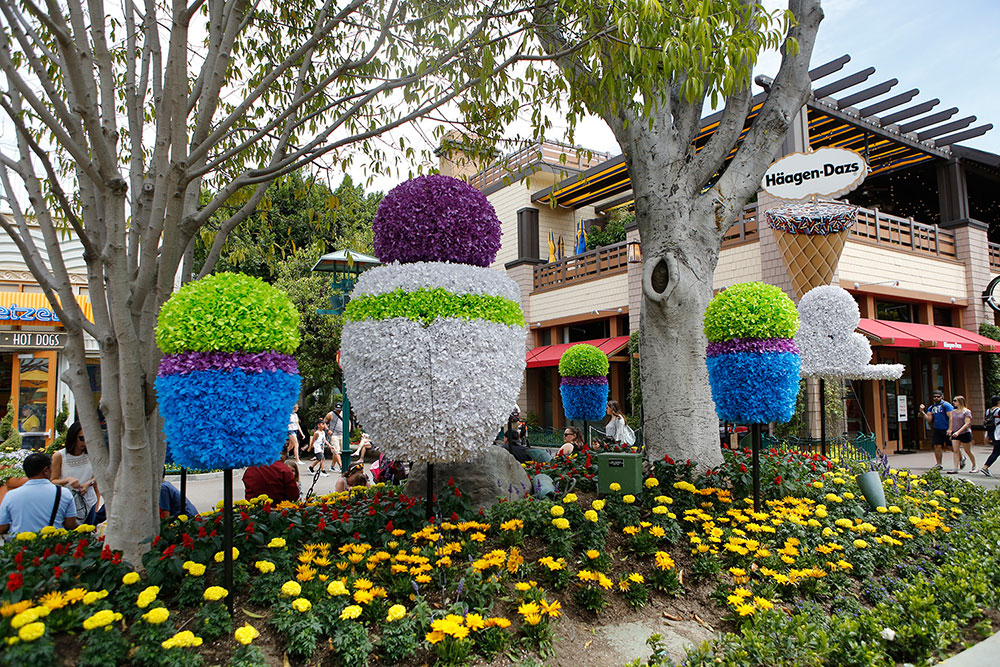 The Disneyland Monorail is even getting in on the action with artwork from Pixar decorating the sides. Monorail Orange is decked out with The Incredibles and Monorail Blue in Finding Nemo/Dory. Monorail Red is said to be making a colorful statement at some point as well.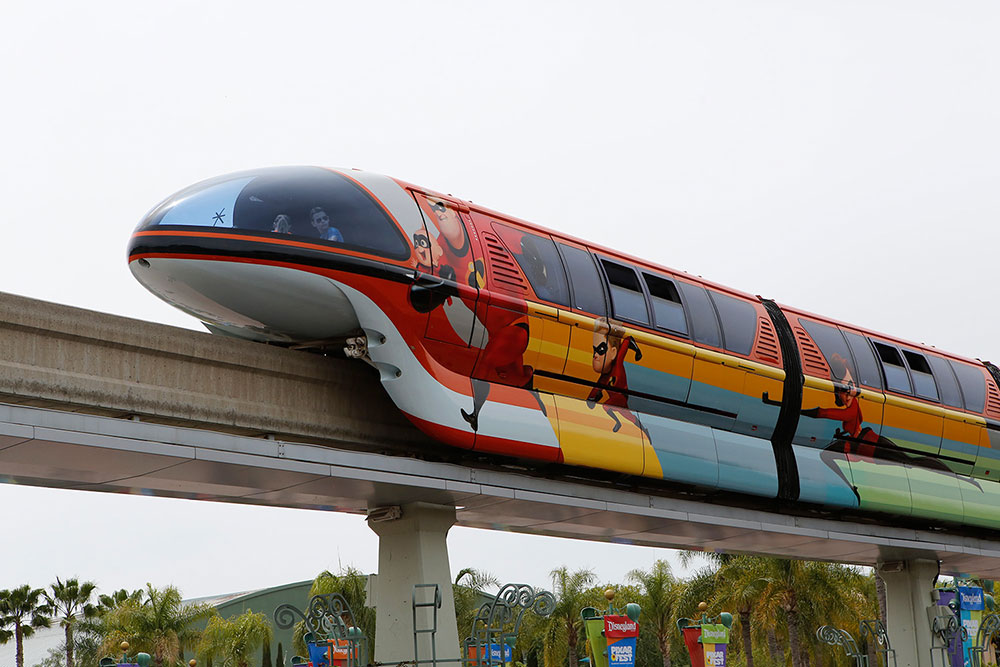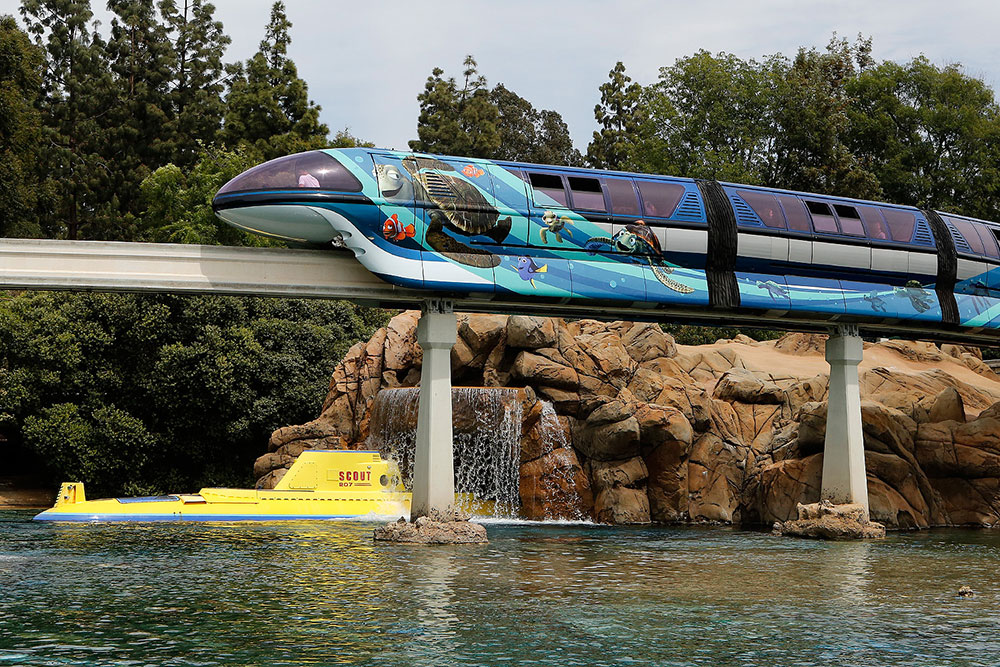 Speaking of Disneyland… someone remind Sadness that we're at The Happiest Place on Earth!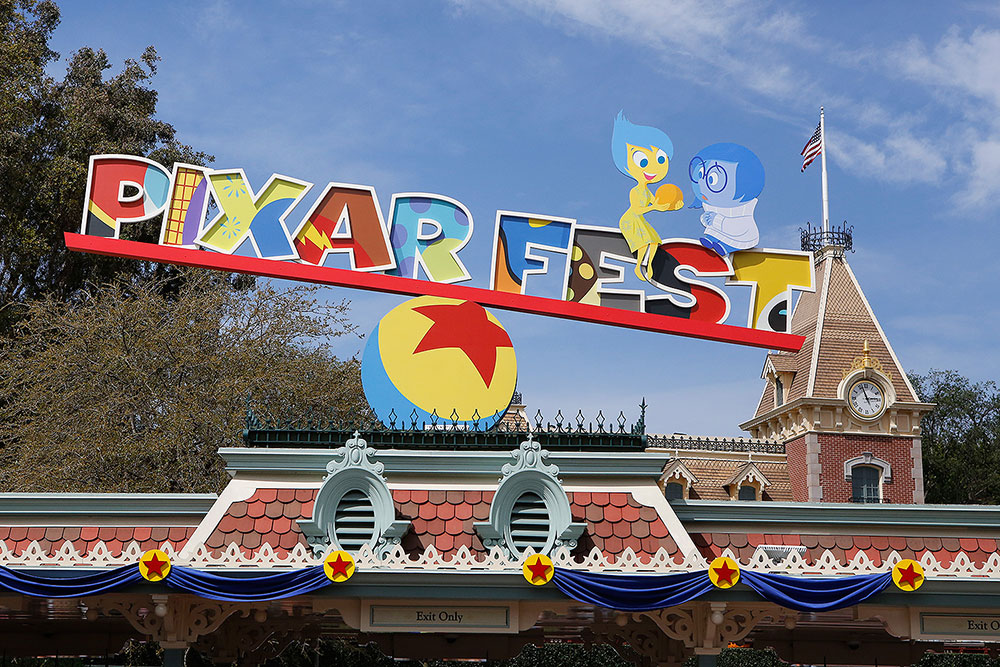 All of Main Street, USA is decorated with the colors of the Pixar Ball..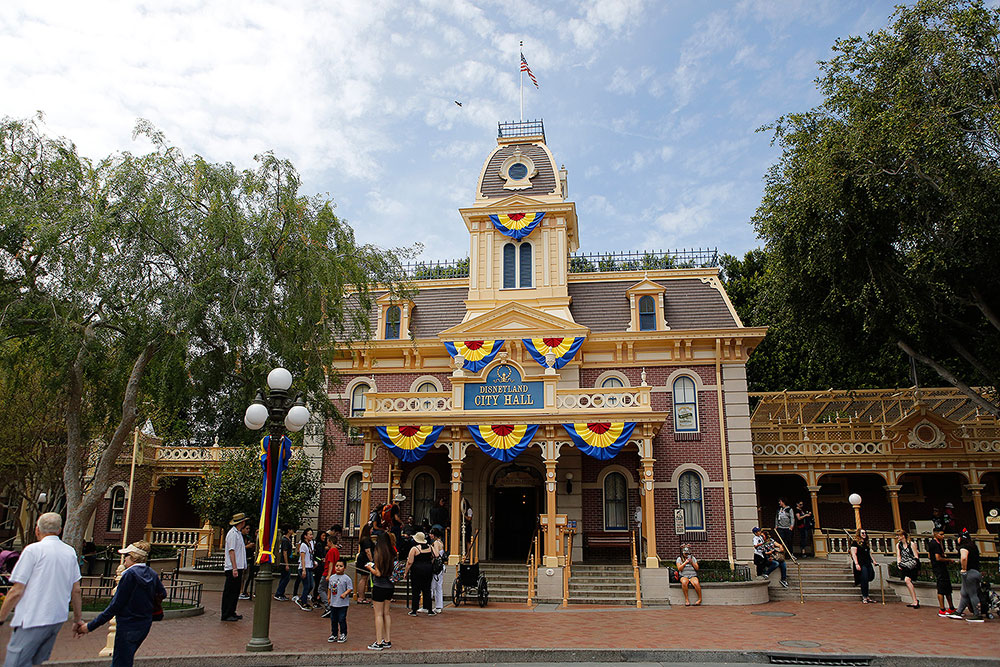 Merchandise and Food is the name of the game and we'll have more to share in the coming months. Popcorn Buckets featuring Sulley and Drink Sippers with Mike Wazowski are especially popular with guests.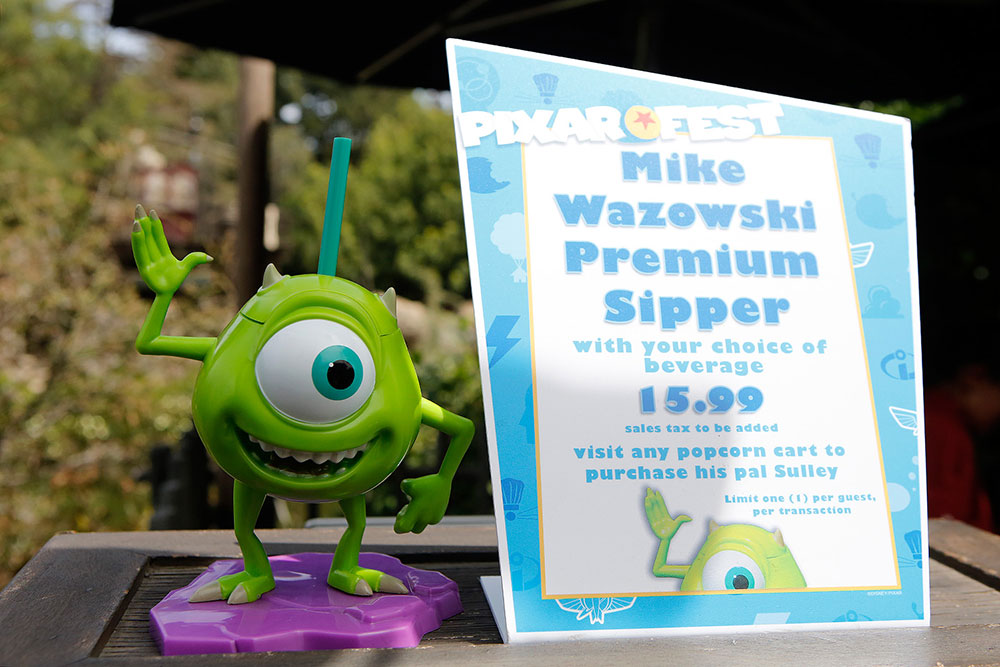 For Annual Passholders, "Camp Shirts" filled with Pixar characters can be yours for $110.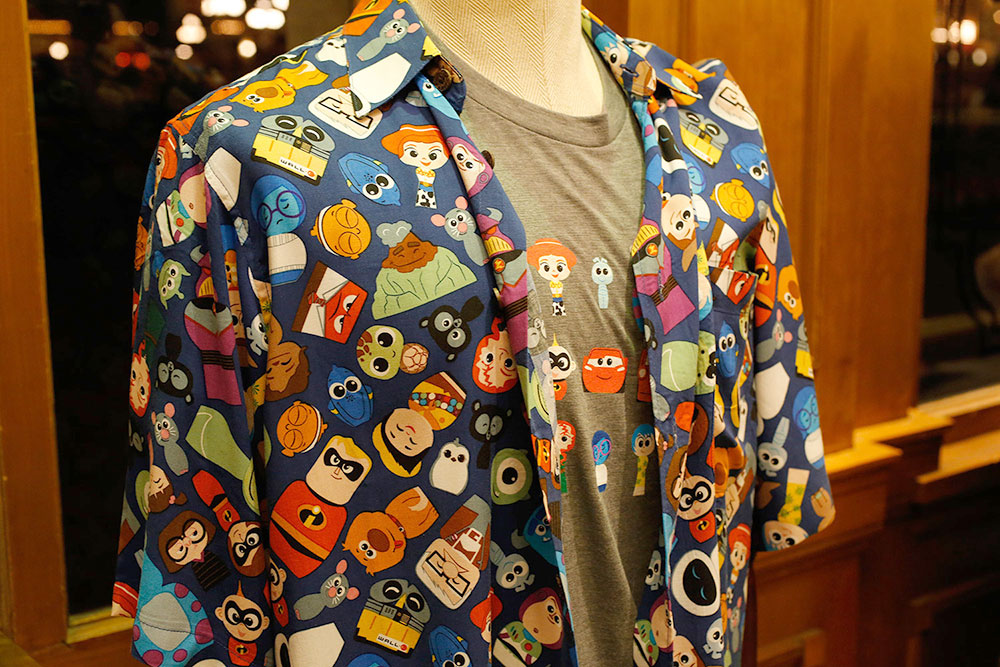 In Tomorrowland, the Aliens have taken over! Much like the Beauty and the Beast themed relaunch of the Fantasyland Village Haus Restaurant, Redd Rockett's Pizza Port went through a similar change into "ALIEN PIZZA PLANET – "A BETTER PLACE!". Let's all be honest, we've always wanted a real life Pizza Planet complete with arcades and a robot at the door. While this isn't exactly that, it's a cute temporary layover that can hopefully become something more permanent when done right.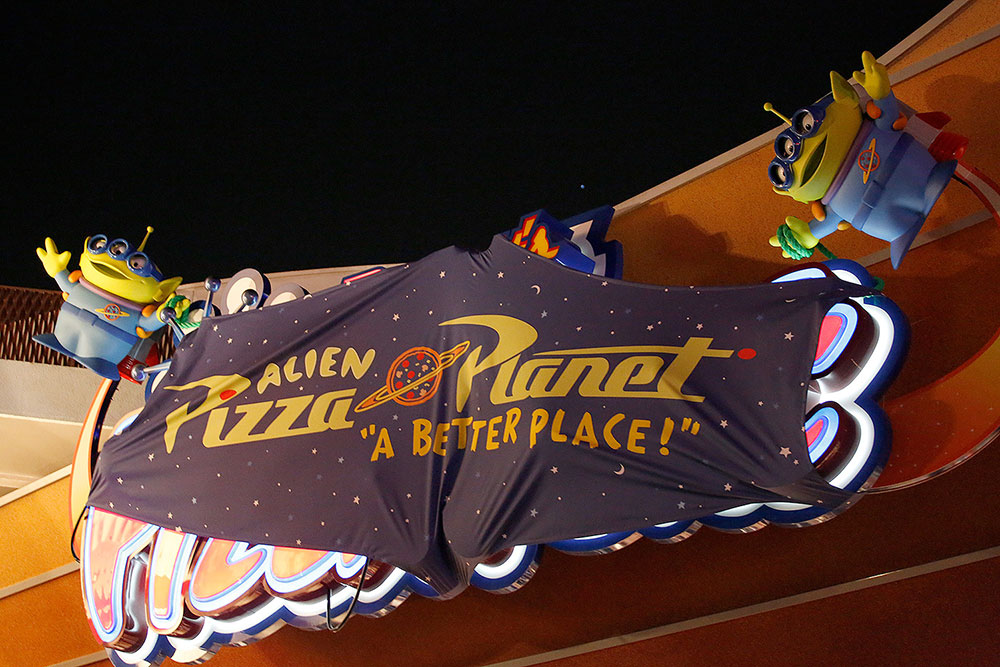 "YOU ARE CLEARED TO ENTER!" It didn't actually speak but hopefully it does and maybe I missed it.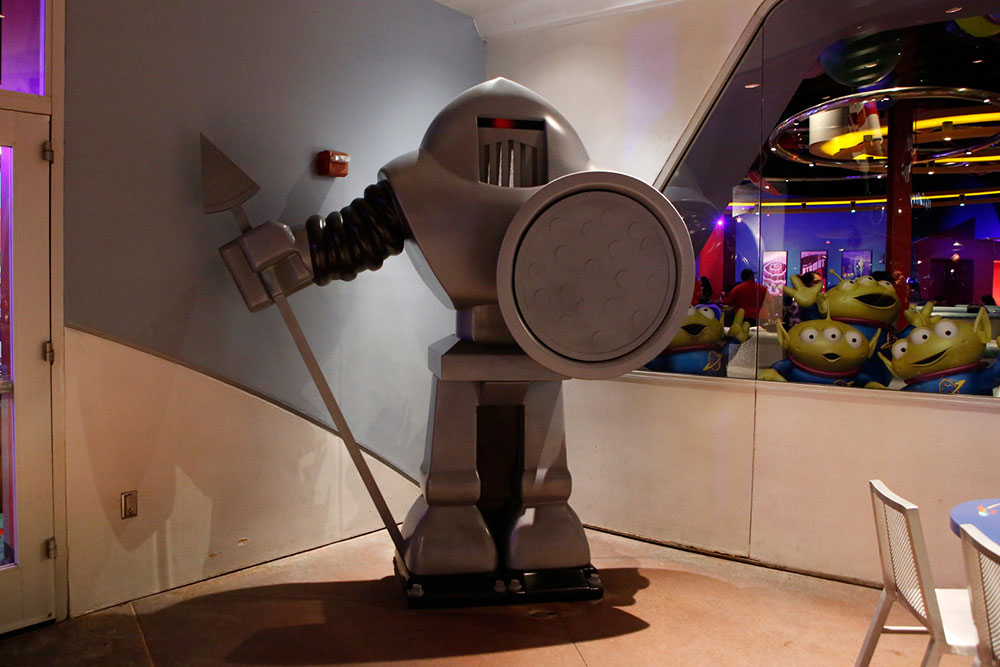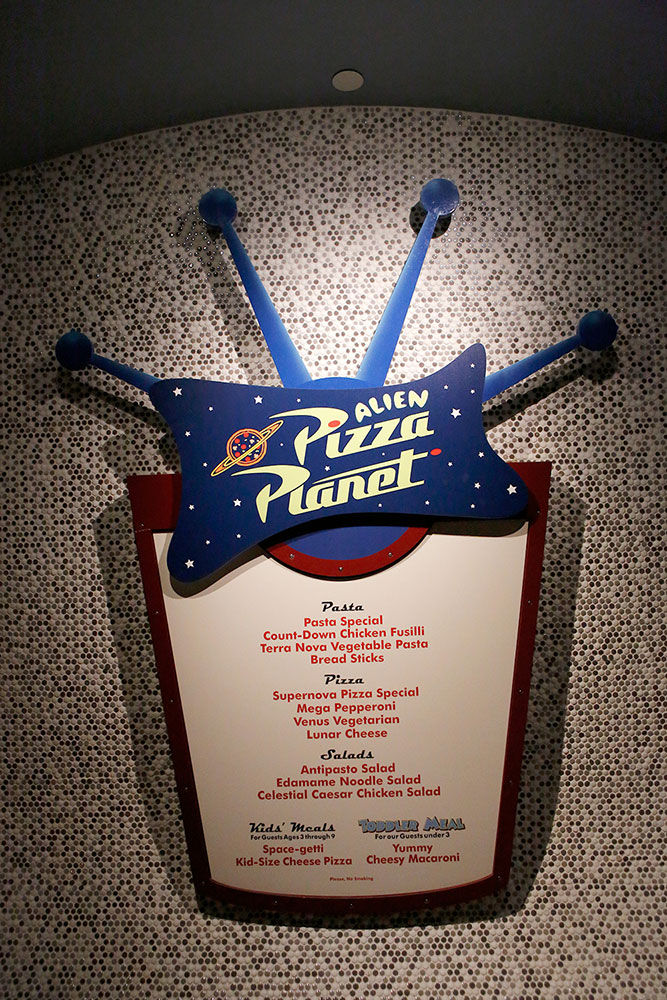 The Little Green Men are hanging out high up above, but no indication that there's a Claw that's rescuing them… as they're already where they want to be: Alien Pizza Planet – A Better Place!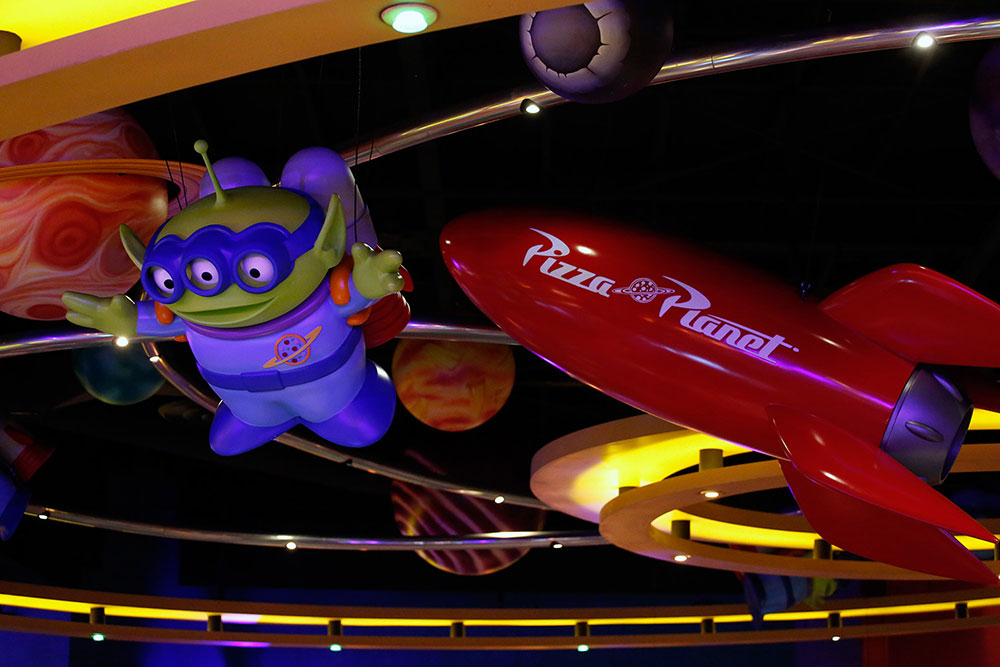 We often forget that the aliens are just a prize of the Pizza Planet chain, so why not have them exploring the galaxy with some… pizzaz? The Marinara Way is the galaxy according to Pizza Planet and posters for the planets can be seen throughout the restaurant.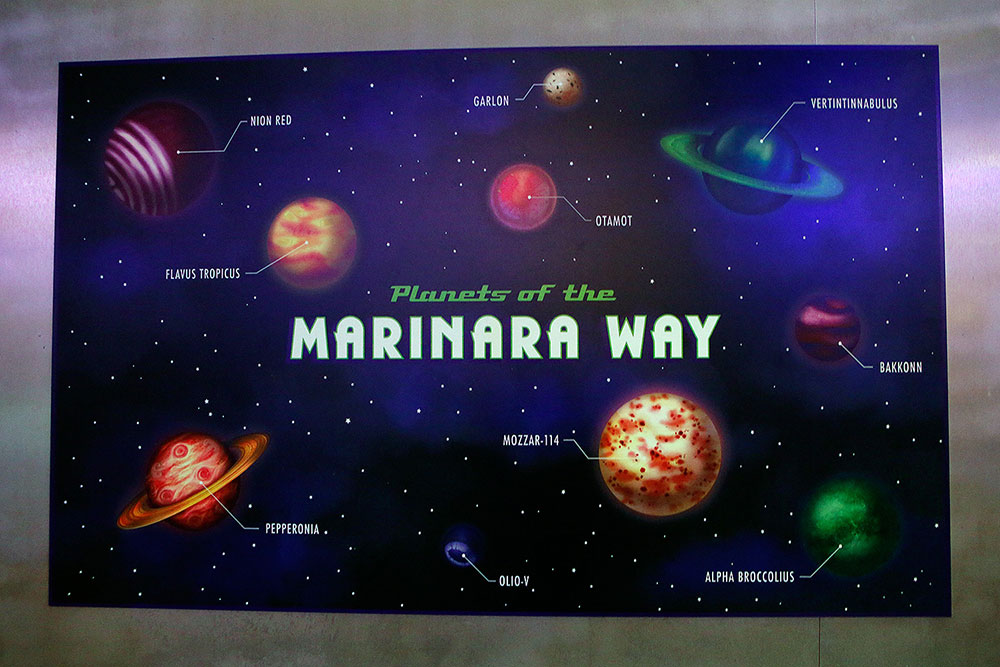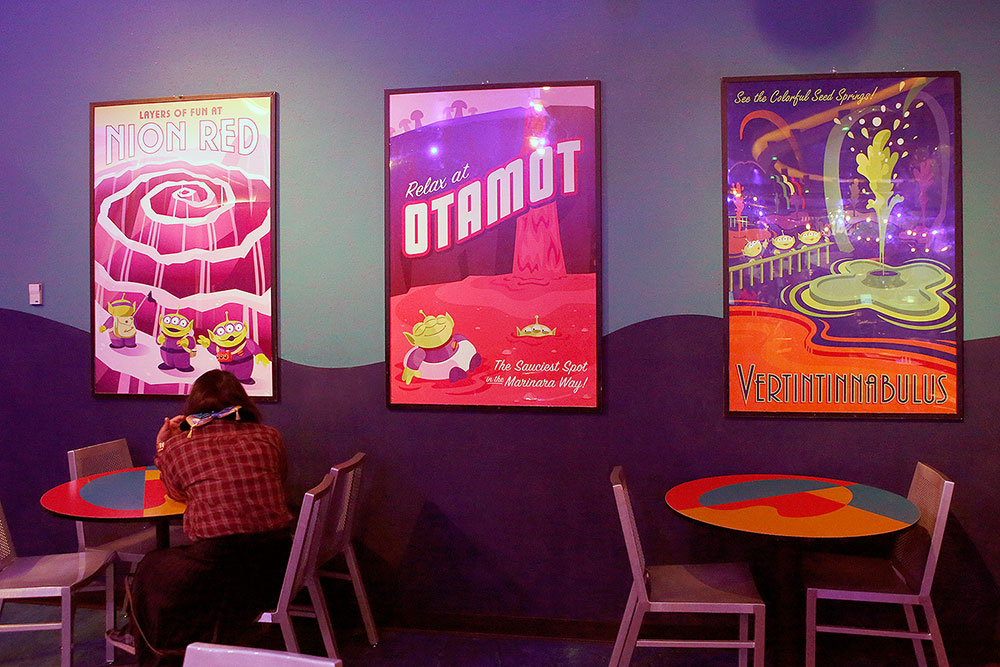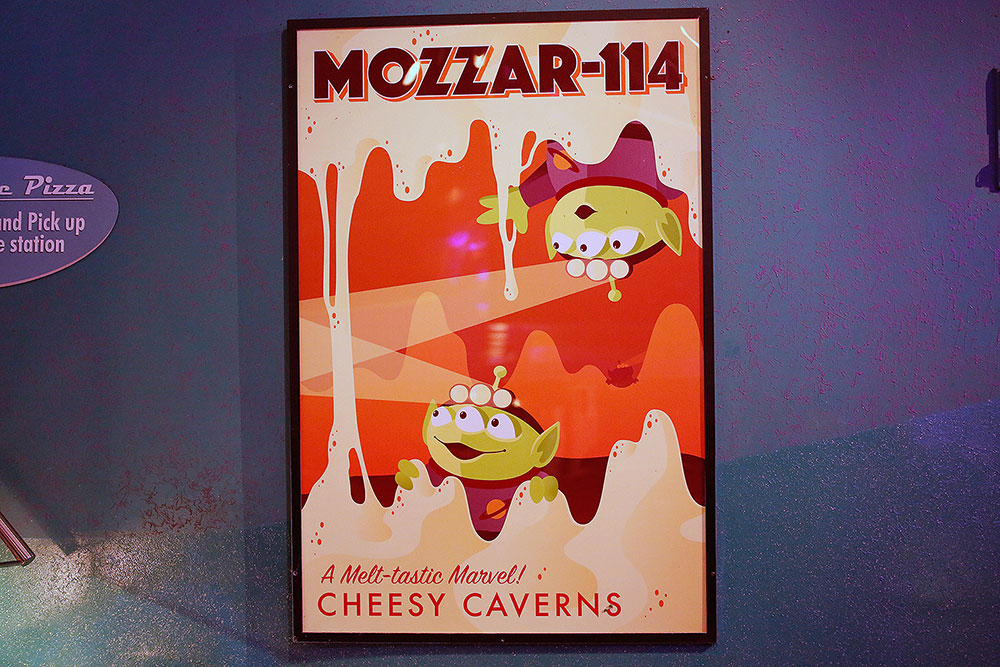 I do like seeing these aliens on the windows. It's a nice touch.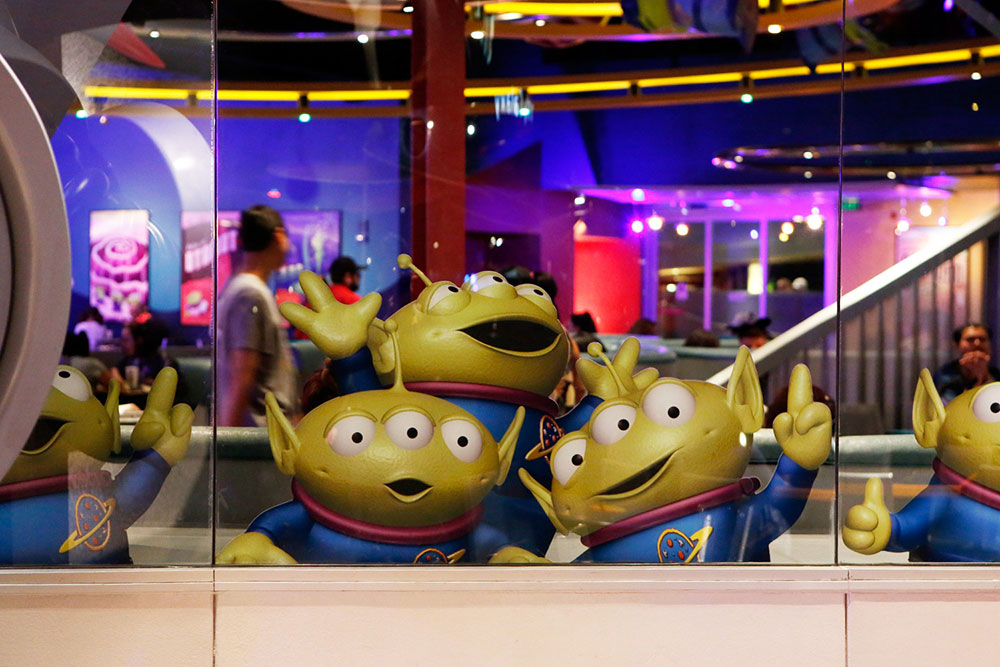 Two forms of entertainment can be found at the original Disneyland Park celebrating Pixar Fest. The first is a return of the PIXAR PLAY PARADE, now showing at Disneyland instead of Disney California Adventure. A few floats and characters have been refreshed to make things more interesting. The second is the nightly "TOGETHER FOREVER" Fireworks Spectacular, an all-new show showcasing the music and characters of Pixar Animation Studios.
What's new for the Pixar Play Parade? Luxo Jr opens it up…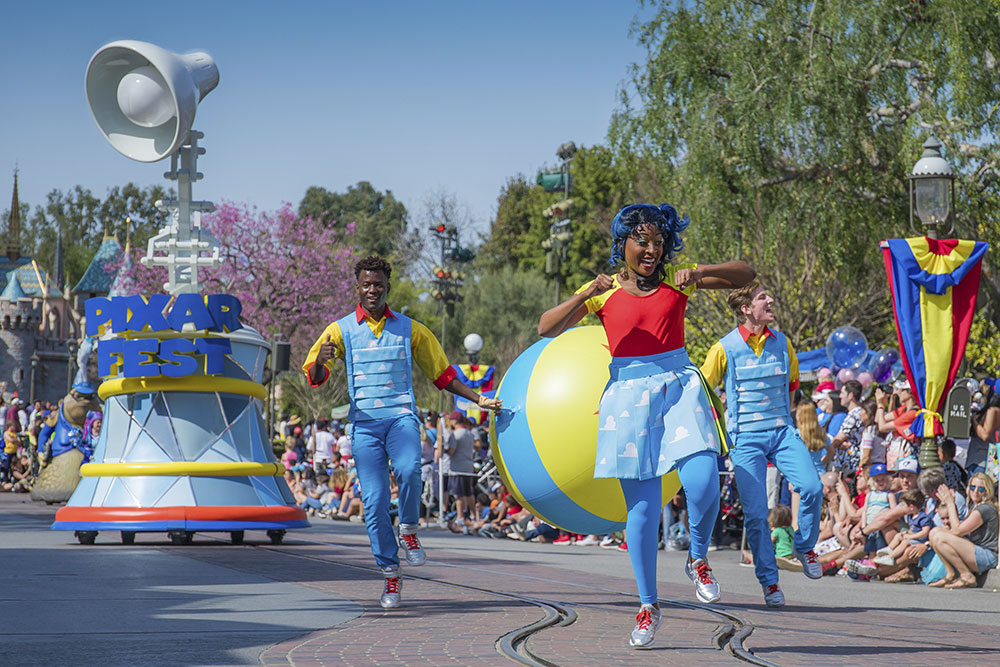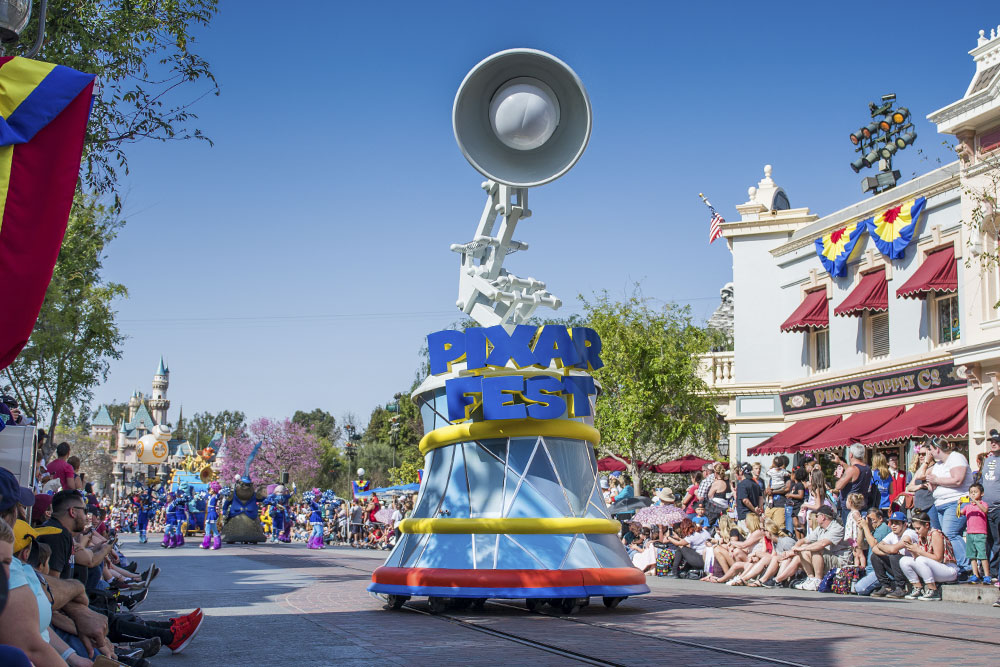 Inside Out, which had a pre-parade float back in the day now has a new float in the main parade. We wish Bing Bong was an actual walk-around character but he makes for a fun float!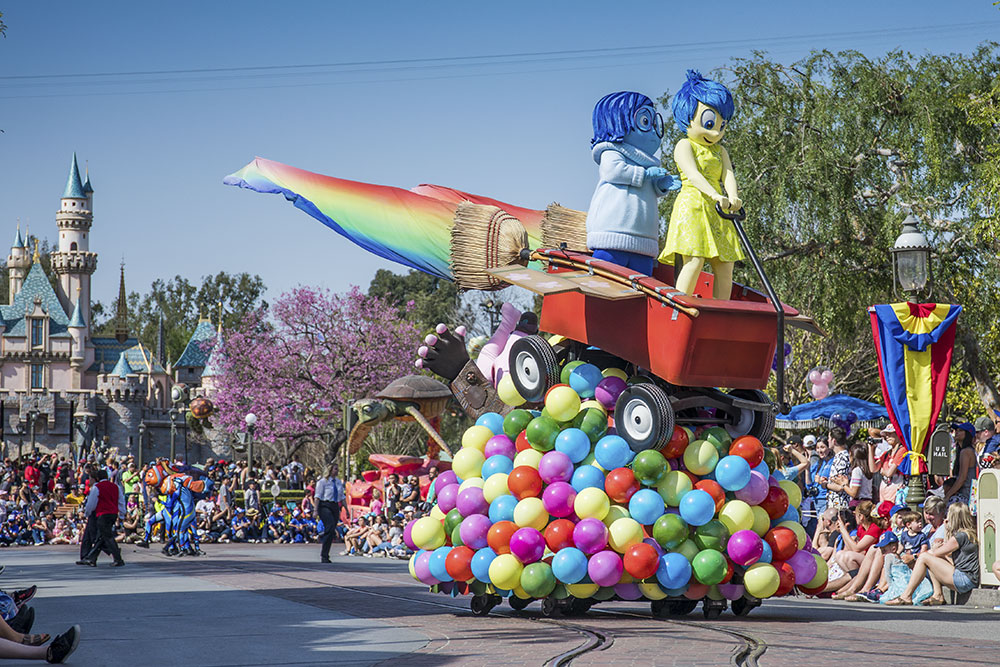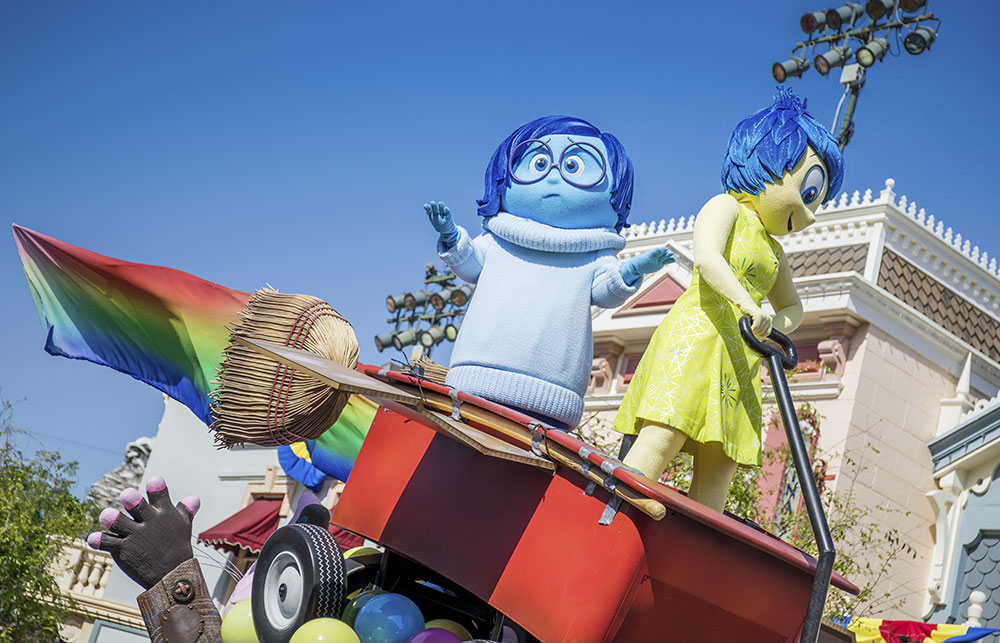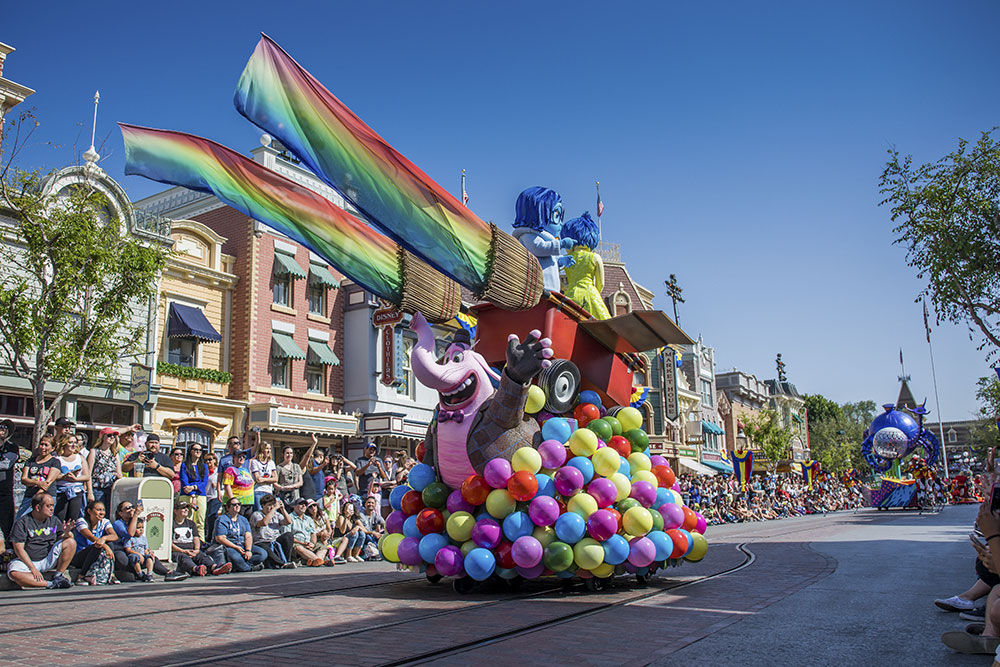 Another update is UP. Now we have a puppet of Russell riding on a walk-around Kevin. The float with Carl Fredrickson and Dug also feature Kevin's little babies.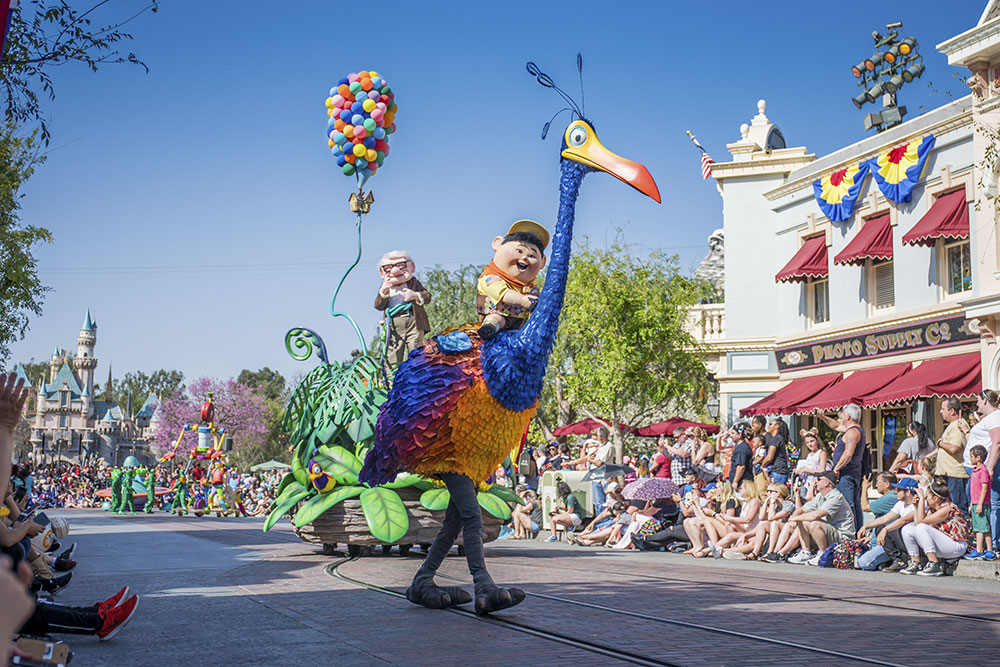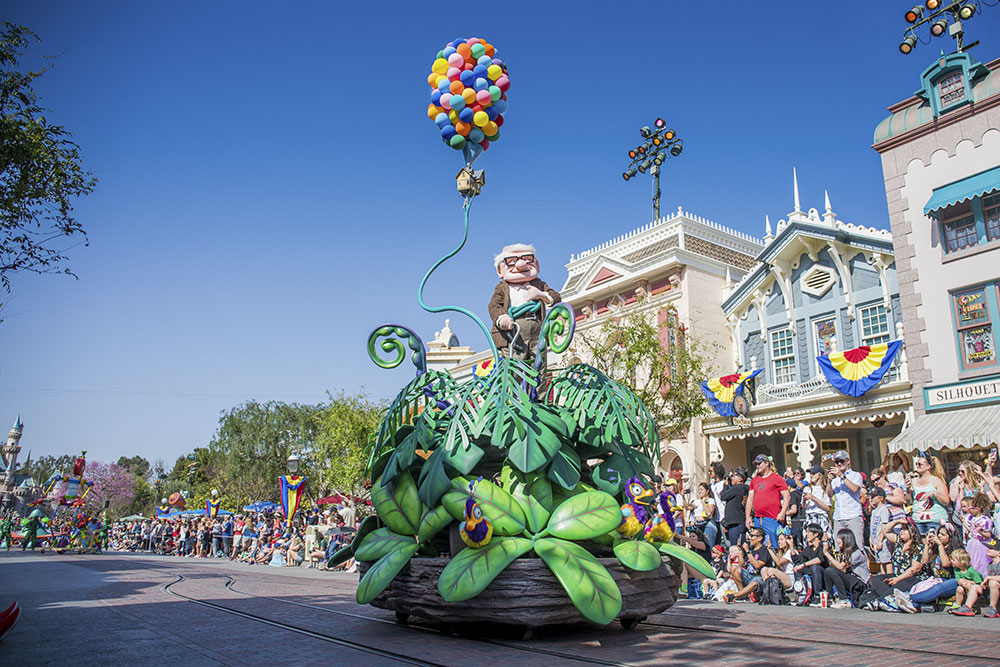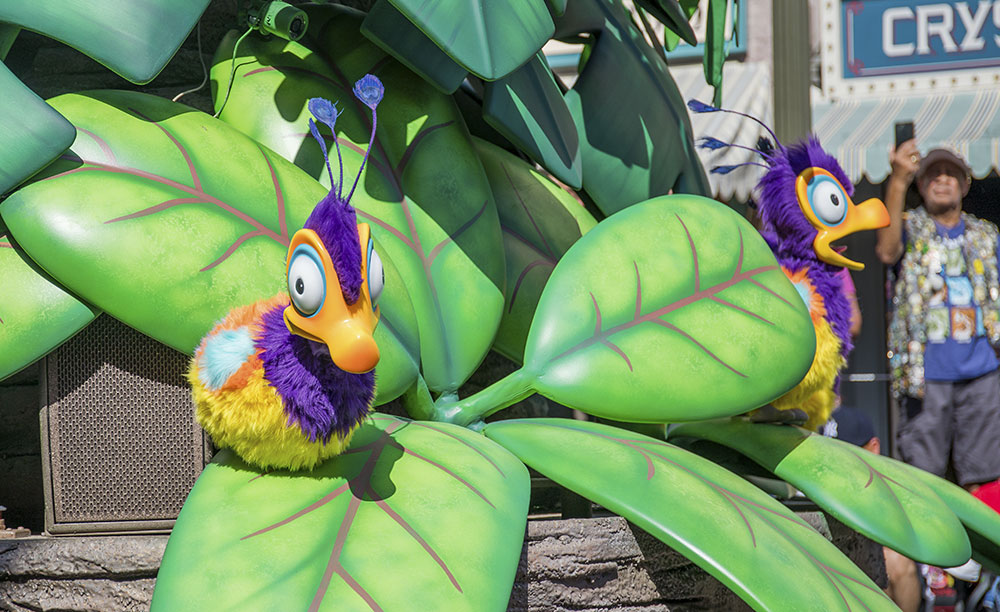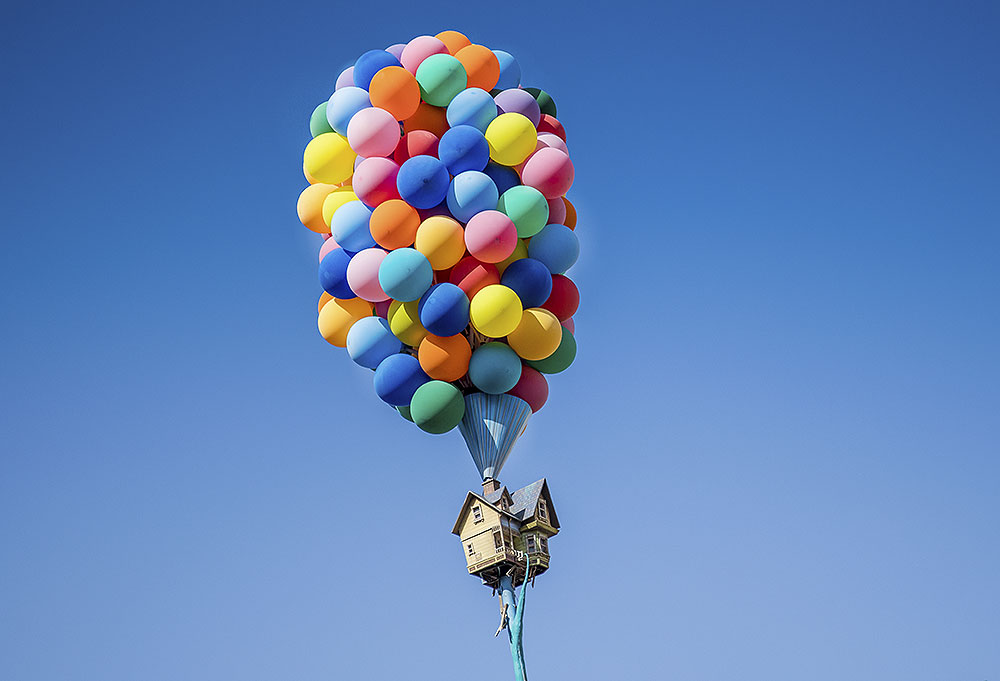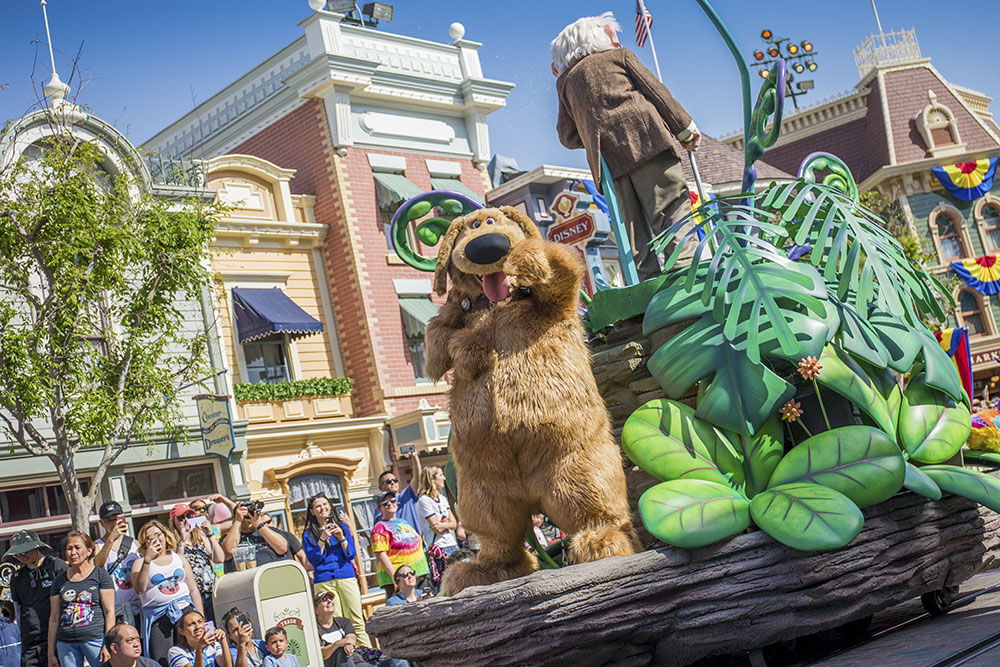 In Together Forever, projection technology brings the films to life in a fun way that requires repeat viewings to fully experience it all. So far, we've only seen it from Sleeping Beauty Castle and it's quite a treat. The route where we've seen TinkerBell fly so many times before has now been updated with our favorite space ranger, Buzz Lightyear. But also Carl Fredrickson's house from UP, which you've seen in the new parade, has gotten upgraded. Next time we'll be sure to experience "Together Forever" from Main Street, USA, as projection mapping technology surrounds guests throughout the show.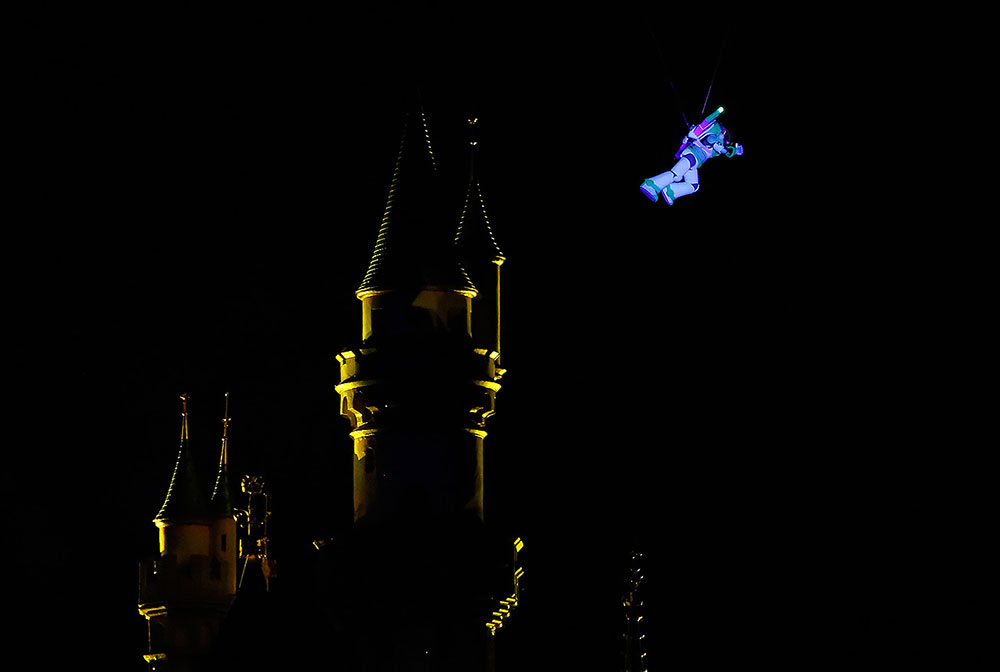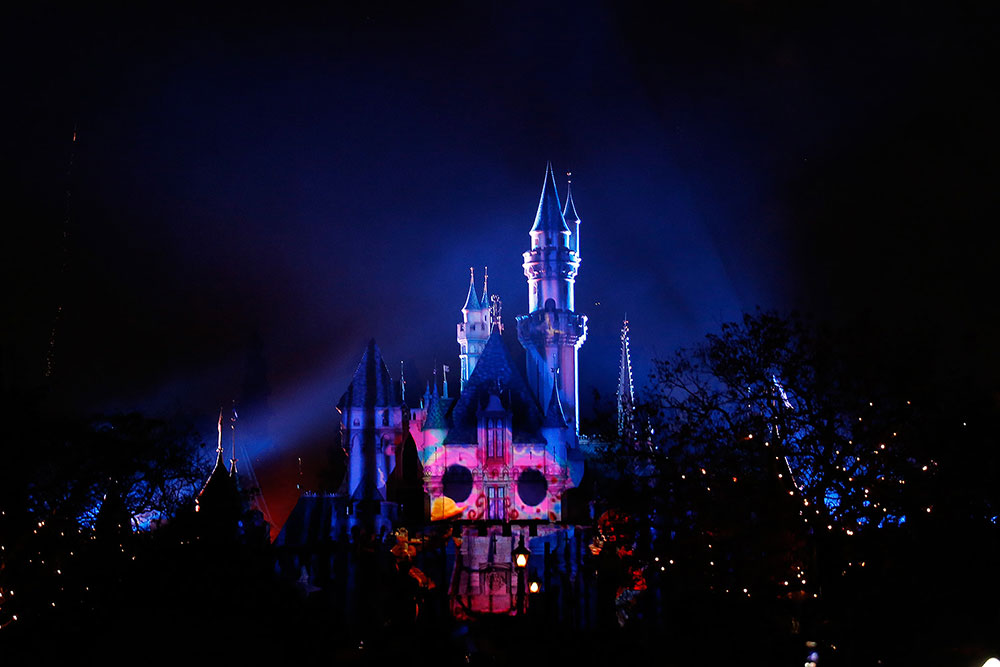 Meanwhile at Disney California Adventure…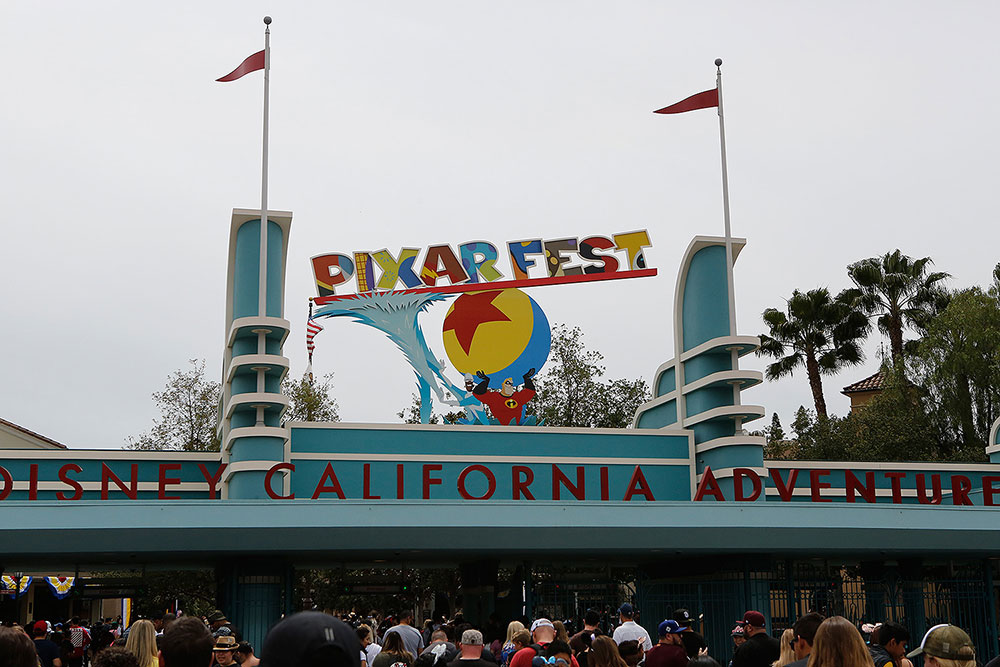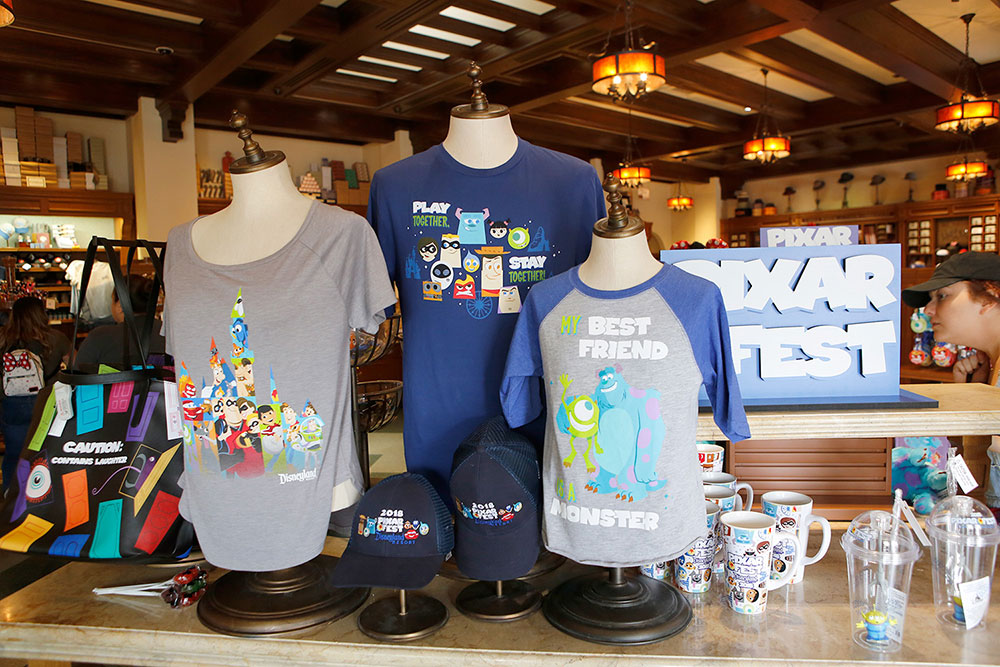 In Hollywood Land, you already have the Monsters, INC. – Mike and Sulley to the Rescue! attraction but in the Sunset Showcase Theater, you can now watch three Pixar Shorts during the Pixar Shorts Film Festival. Currently it is: For the Birds, LAVA, and Piper. I imagine they'll be changed out throughout the summer so definitely go frequently as they're worth seeing on the big screen again, and in 3D.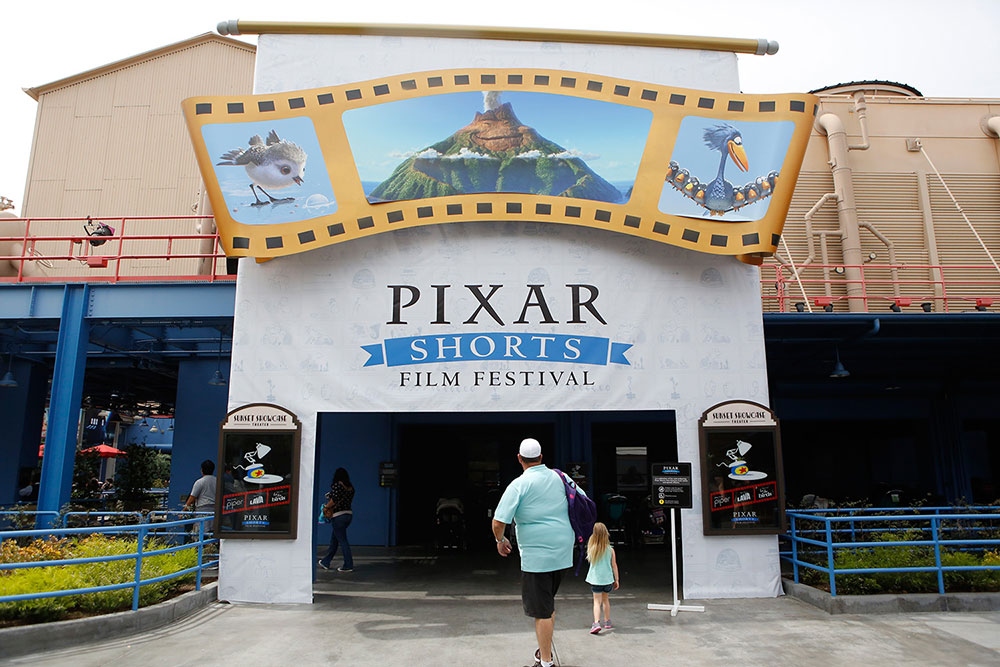 In the lobby you'll find a display showcasing concept art, thumbnails, and maquettes from the Shorts.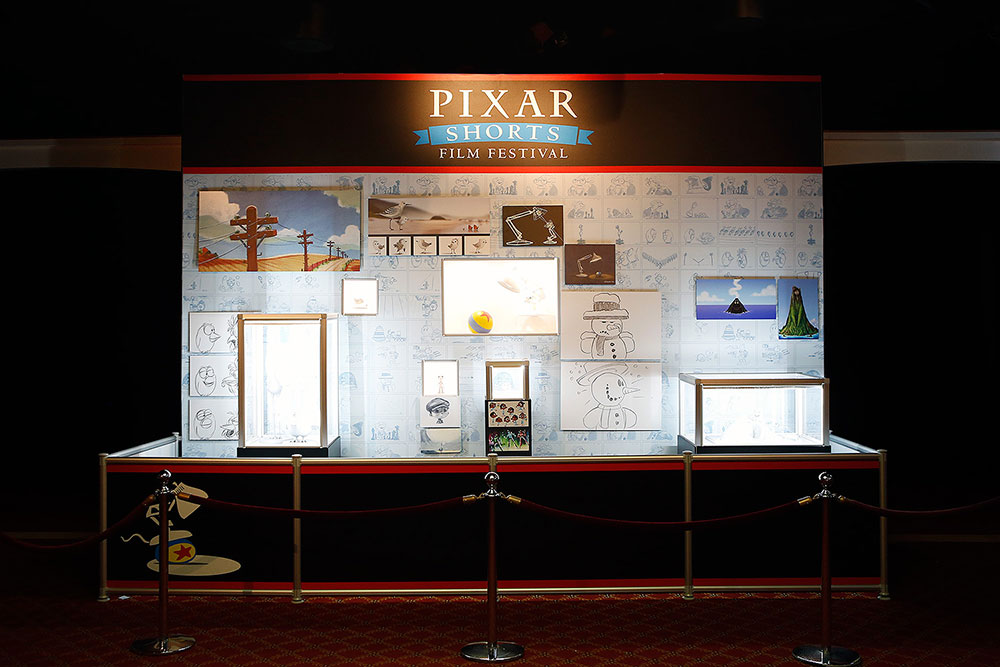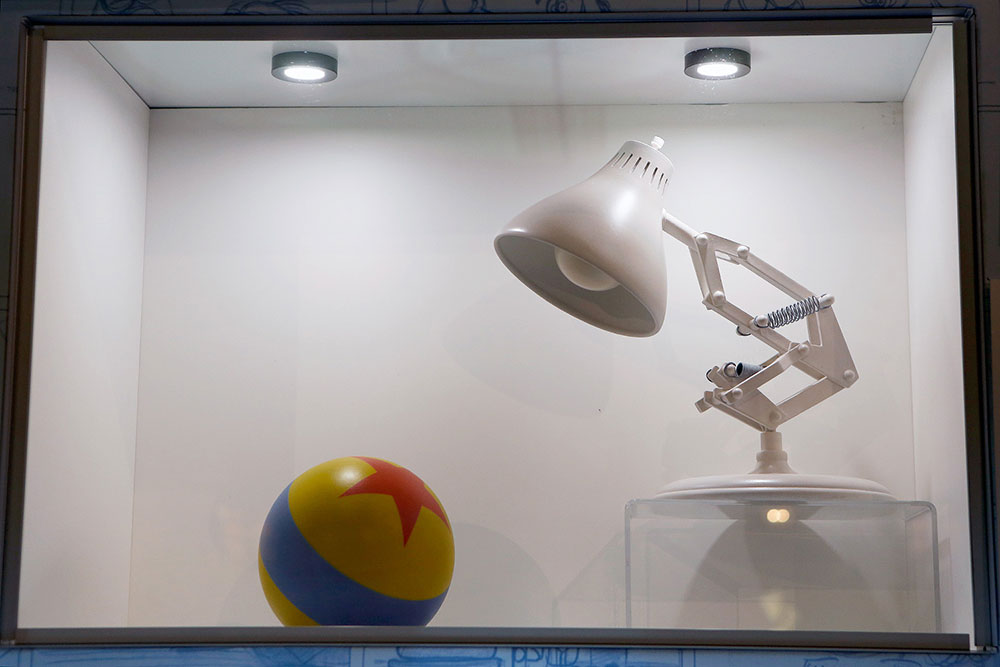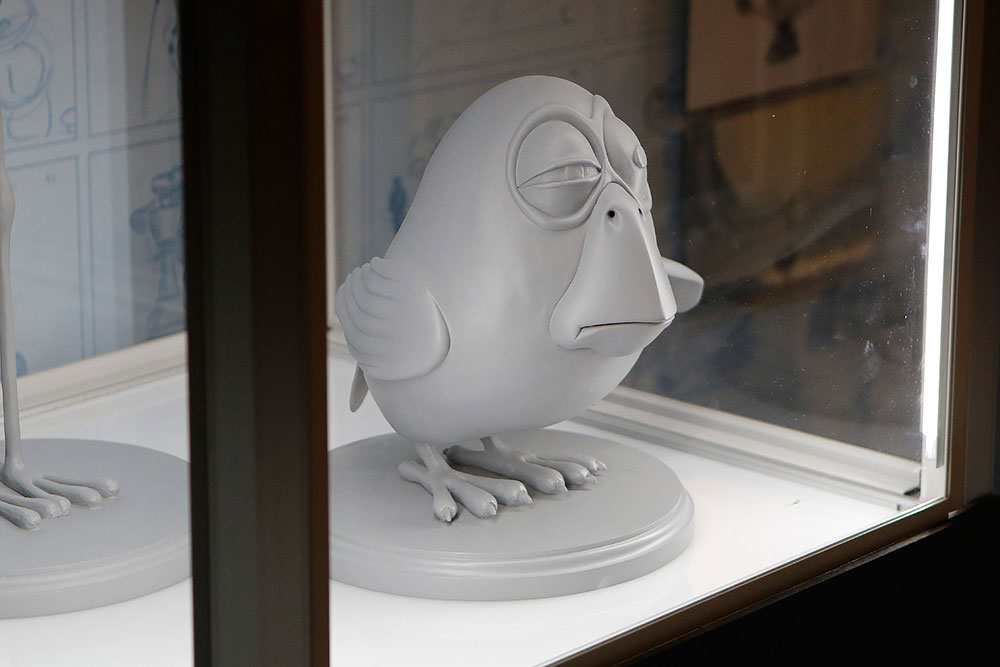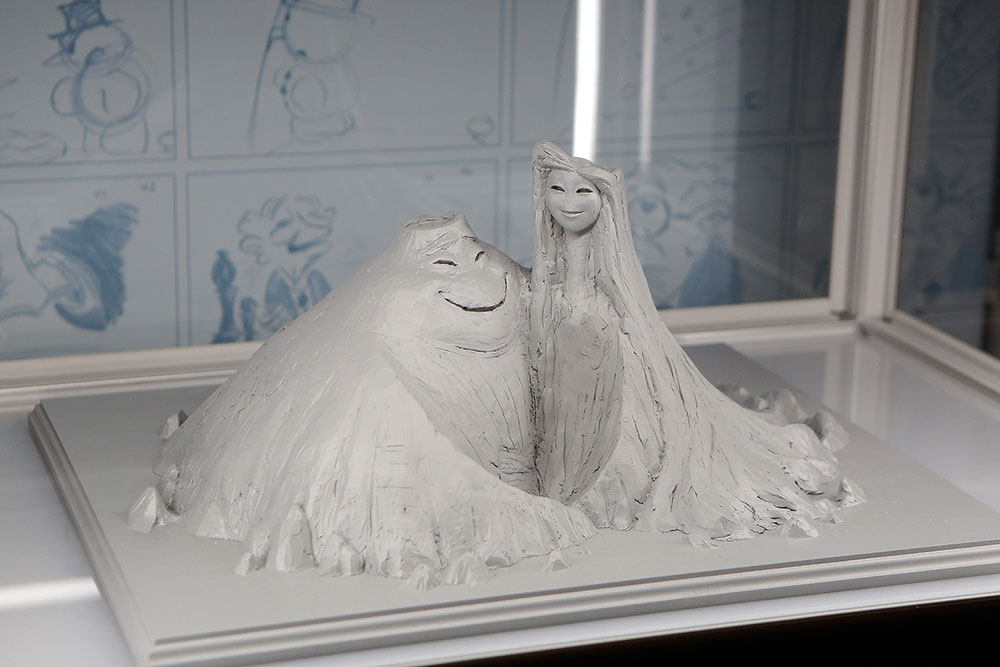 Not a part of Pixar Fest but next door to HollywoodLand is A Bug's Land, which you might want to visit sooner than later as it was last reported that the land will close this summer to build A Marvel's Land (not the real name). The land was added to Disney California Adventure in 2002.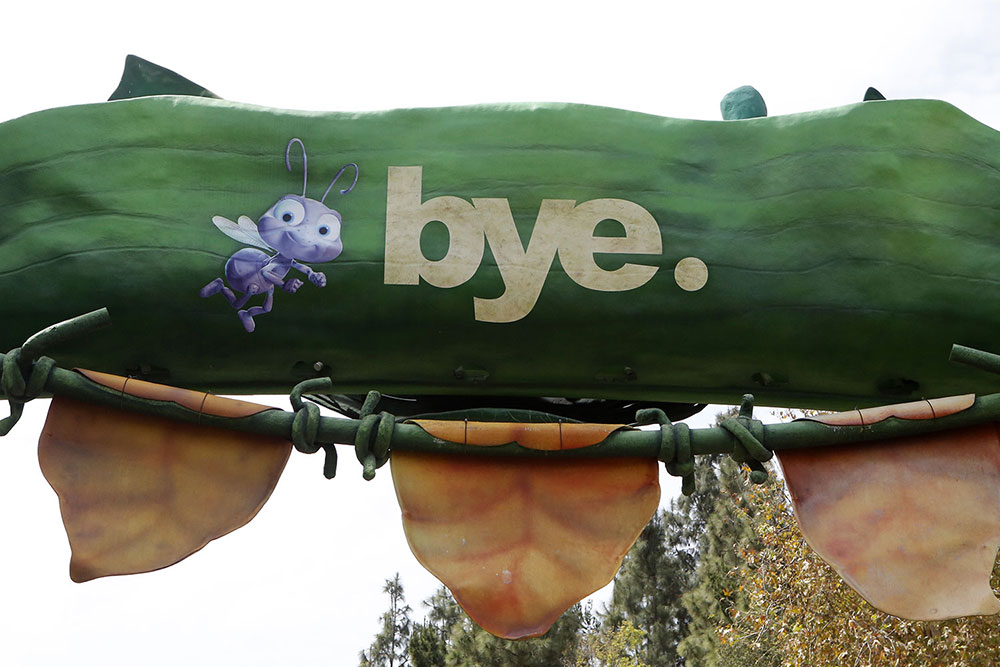 Over in CARS LAND, are my favorite new photo opportunities… it's Woody and Buzz as CARS! They're here for the PIXCAR Film Festival, naturally.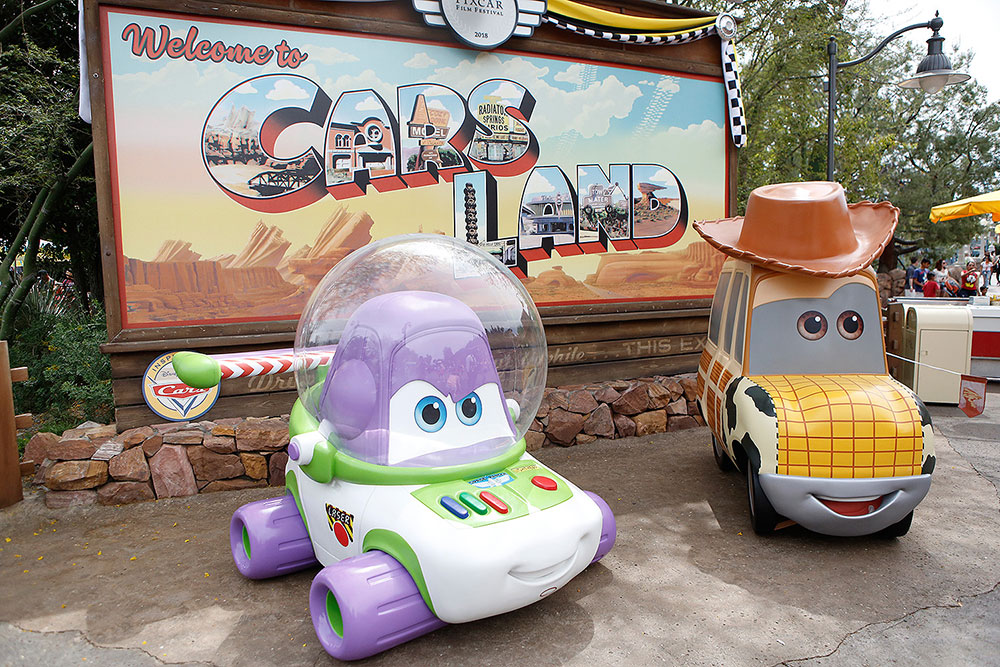 Other films at the PIXCAR Film Festival: Toy Car Story, Monster Trucks, INC., Fueling Nemo, and The IncrediCars. This was a fun little touch.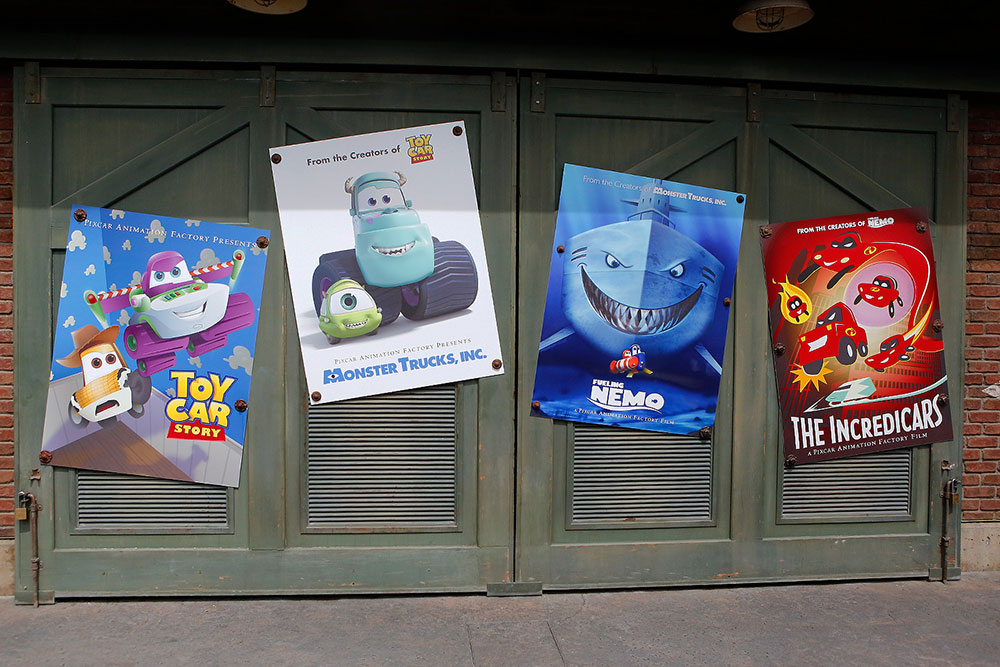 Meeting your favorite Pixar Pals just got easier! In Paradise Gardens, the entire area has been rethemed into PixarPals, where you can enjoy some music, meet and greet with some characters, and dine on some food.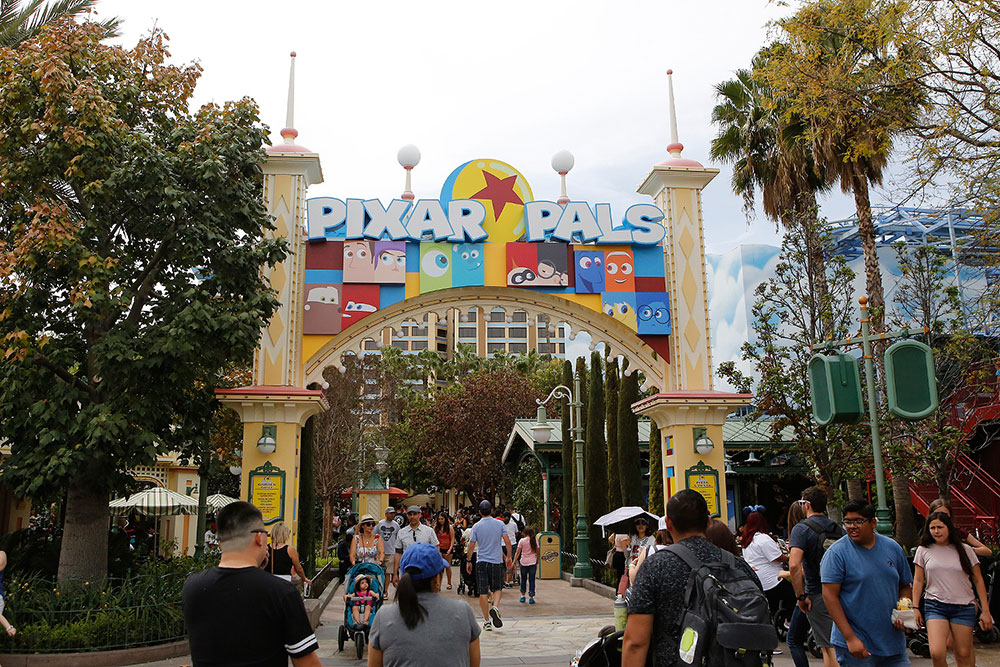 Miguel, Dante, and Hector from Pixar's Coco statues have been brought out again for photos.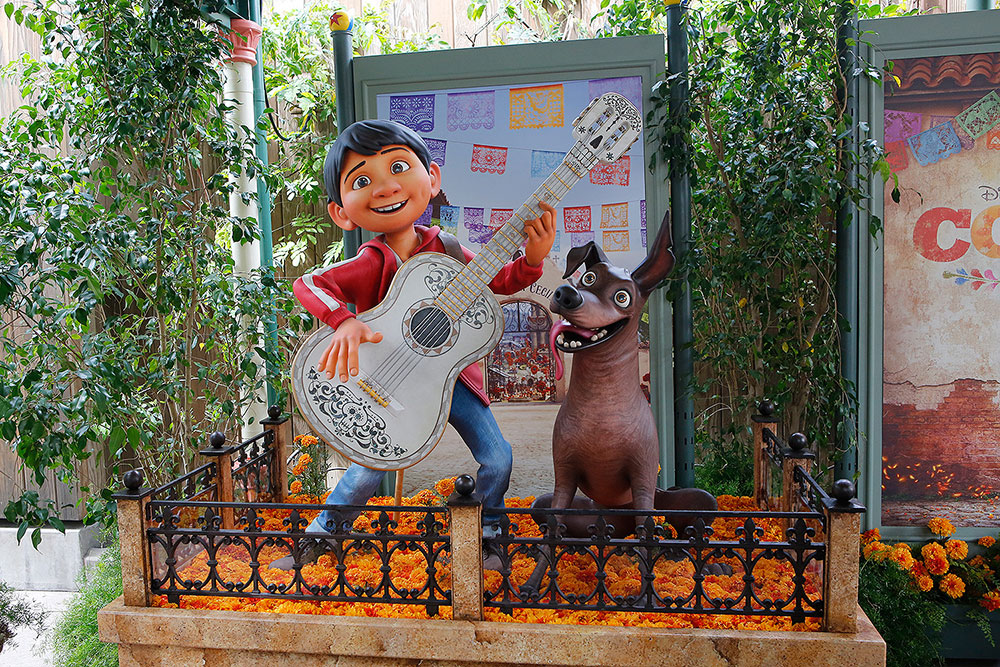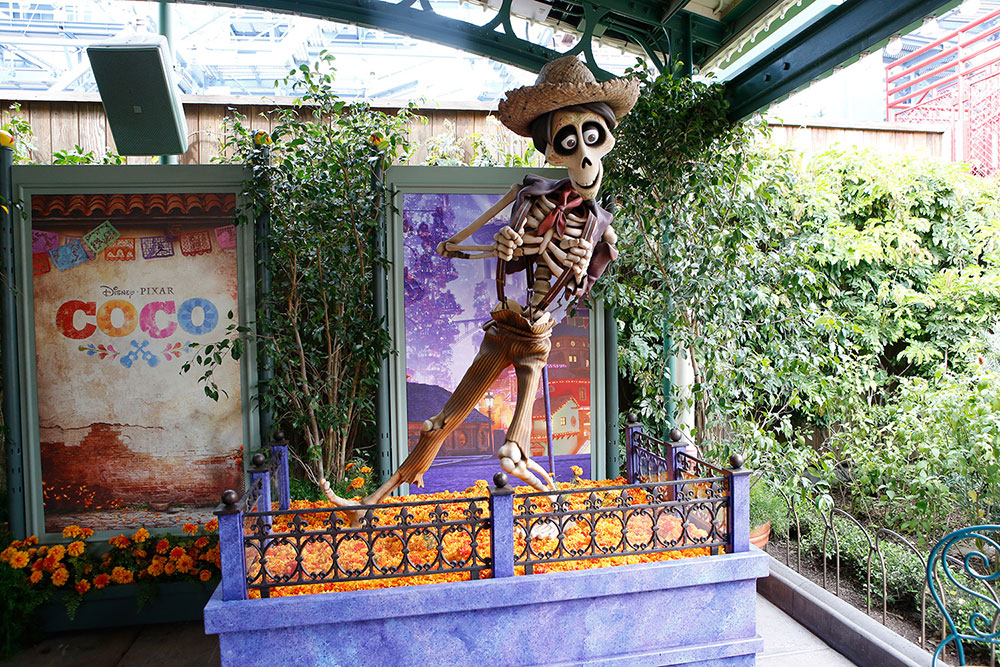 A new character greet set-up is in the gazebo (that used to be P.T. Flea's by the way)… We spotted Mr and Mrs. Incredibles as well as Mike and Sulley, but don't be surprised if you also see Flik and Atta from A Bug's Life and the characters from UP too.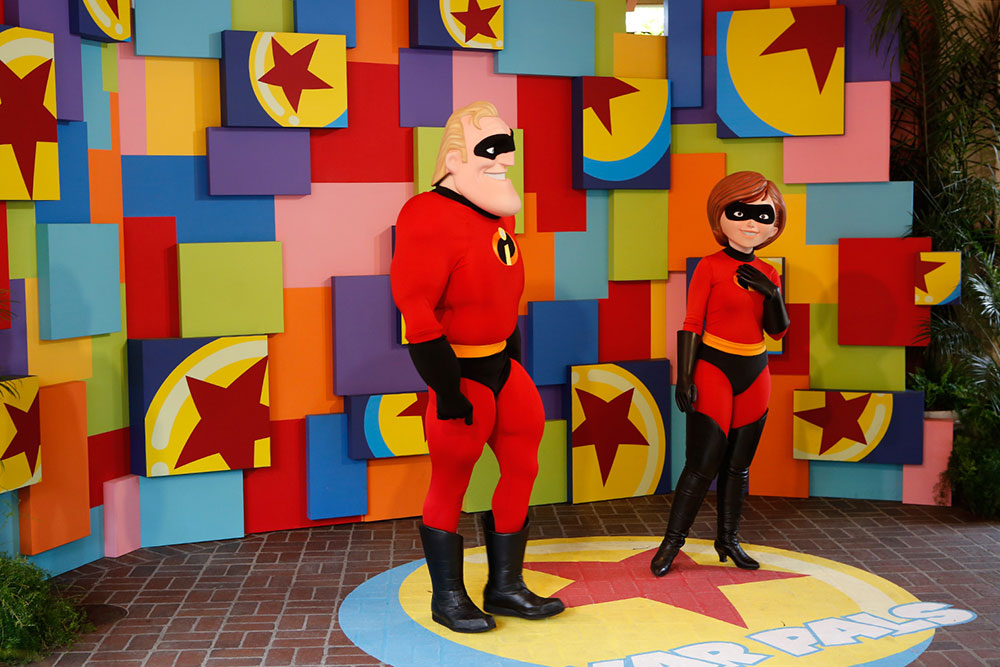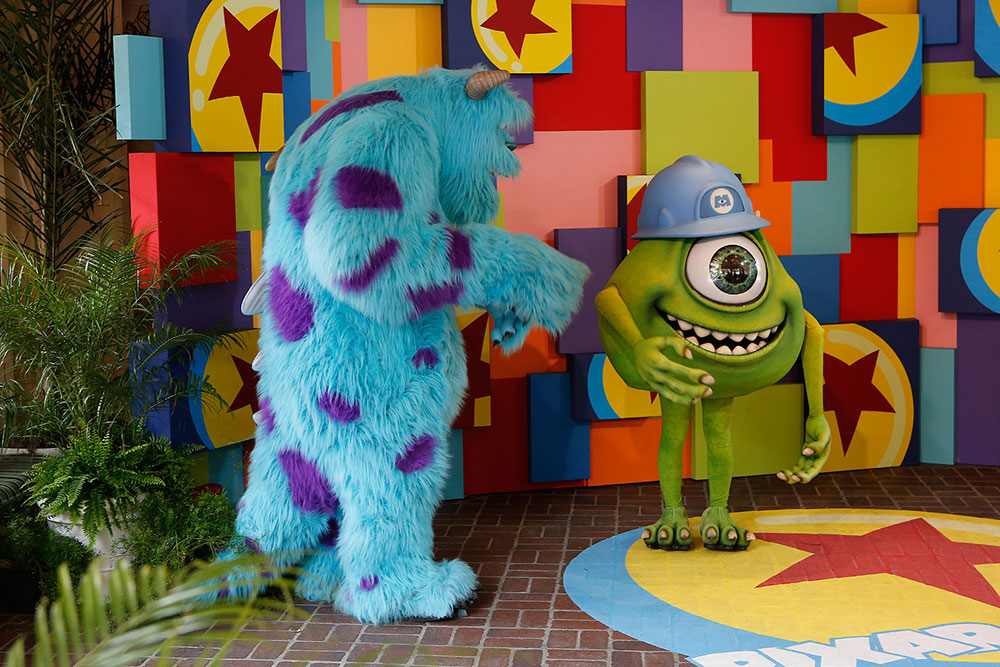 The highlight for me of course is the COCO Jaritta (mug) available at Paradise Garden Grill for $13.99 and comes with a drink of your choice. It was made available during the release of Coco but quickly sold out, so we're glad it's back!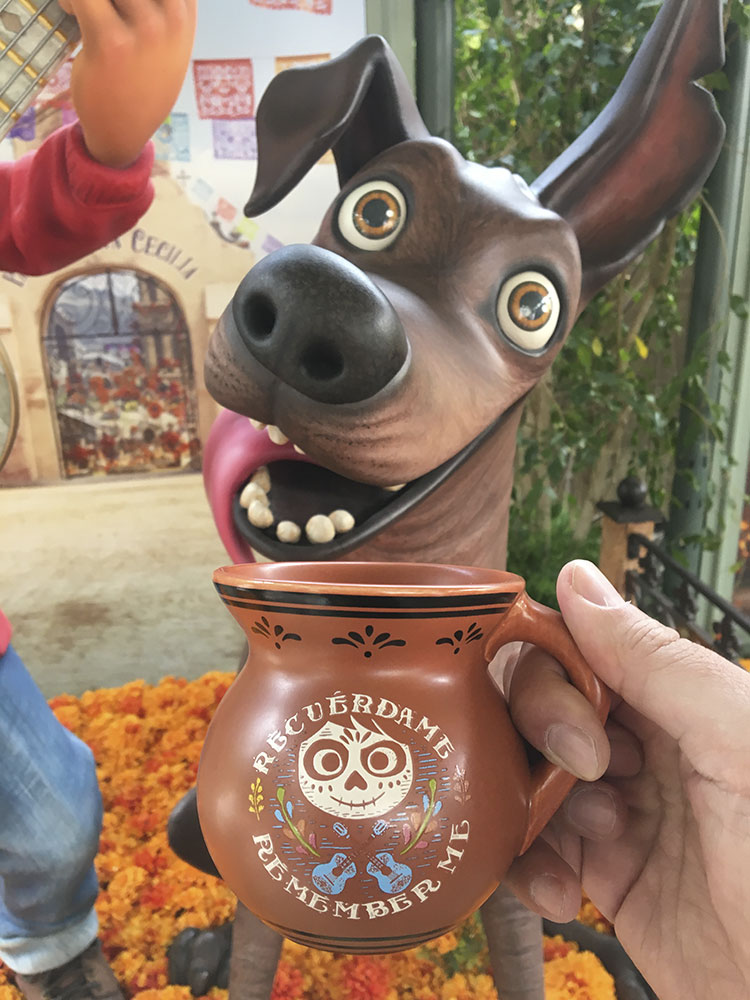 Paint the Night Electrical Parade returns! Gone, though, is the Frozen Float but in its place this June will be a new float featuring The Incredibles. So while the parade isn't yet complete, it's still a spectacle all ages will enjoy.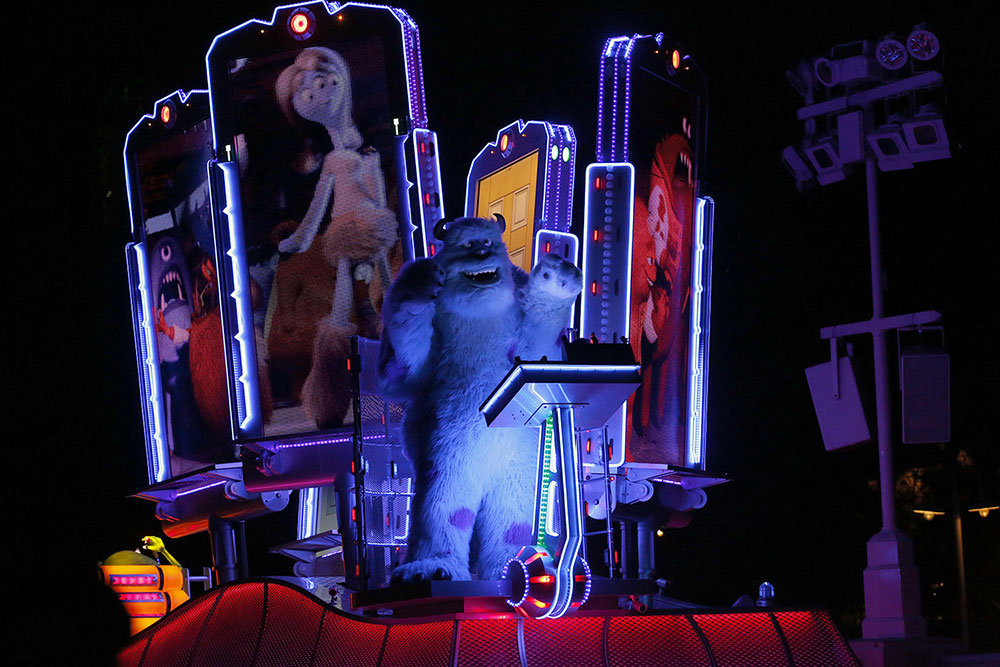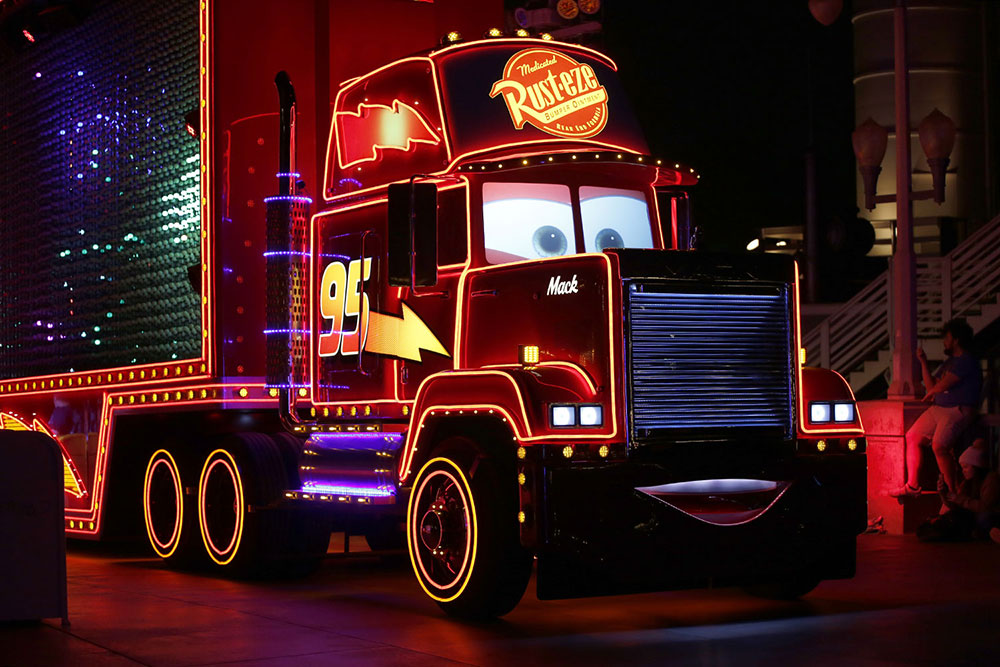 Phase 2 will be here before you know it. Here's Pixar Pier as it looks today…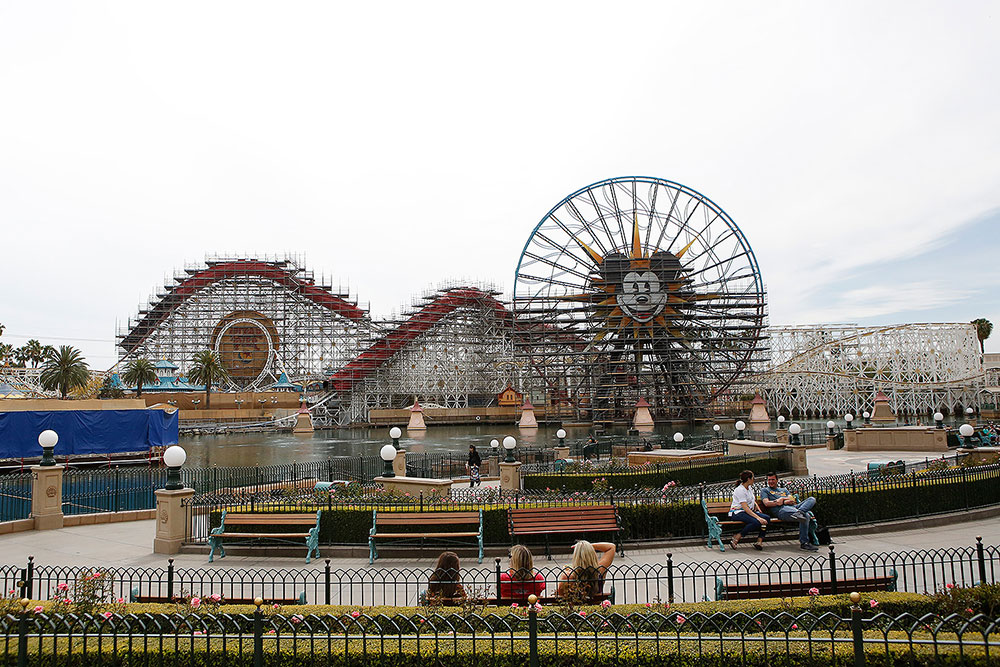 But before we end Phase 1, a visit to the Blue Sky Cellar gives us more insight on what to expect in Phase 2.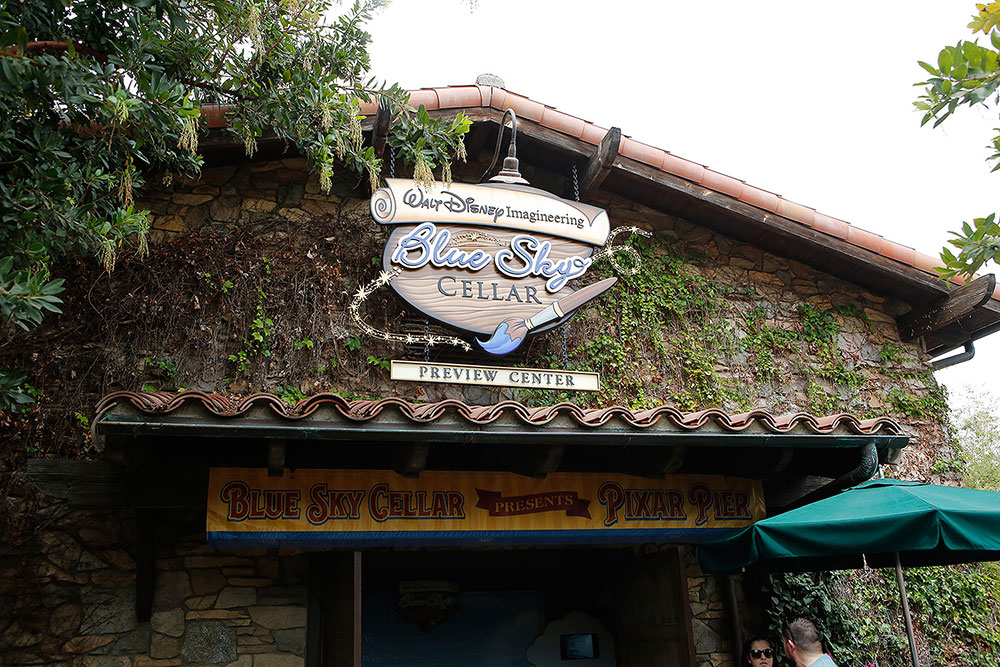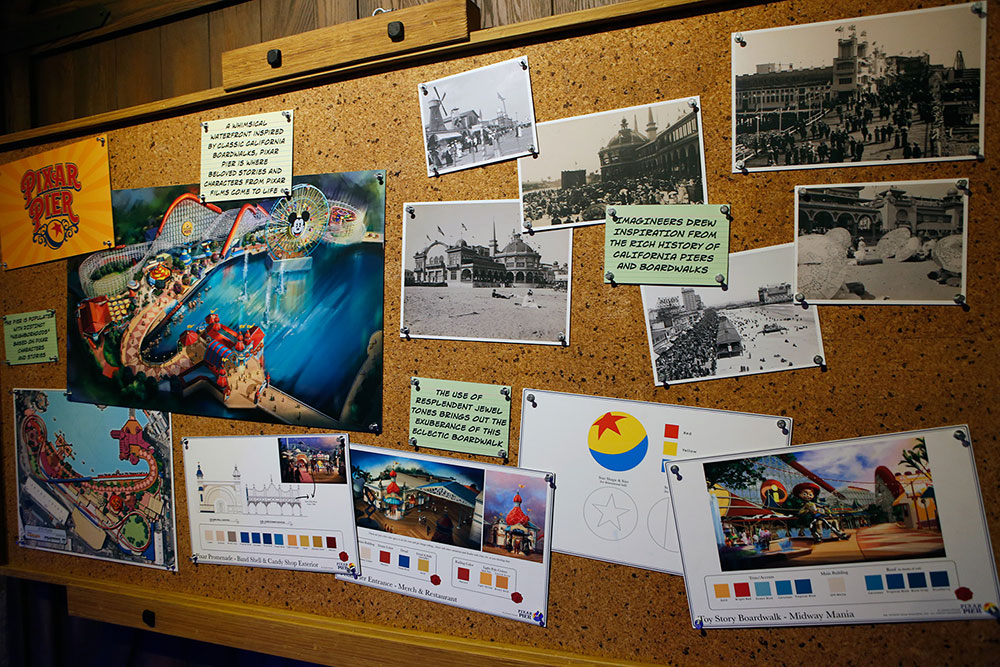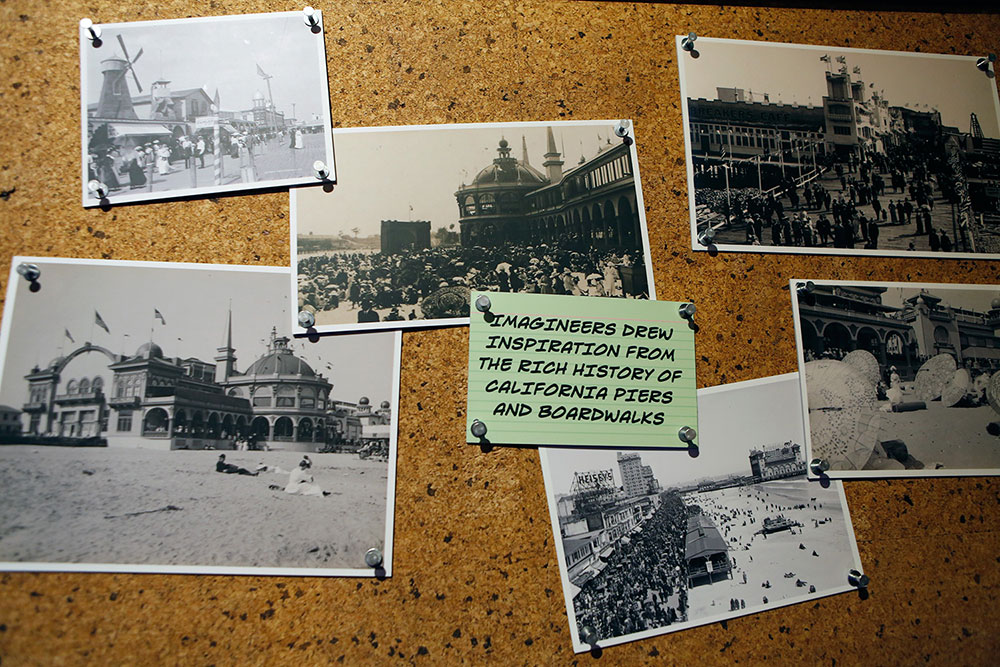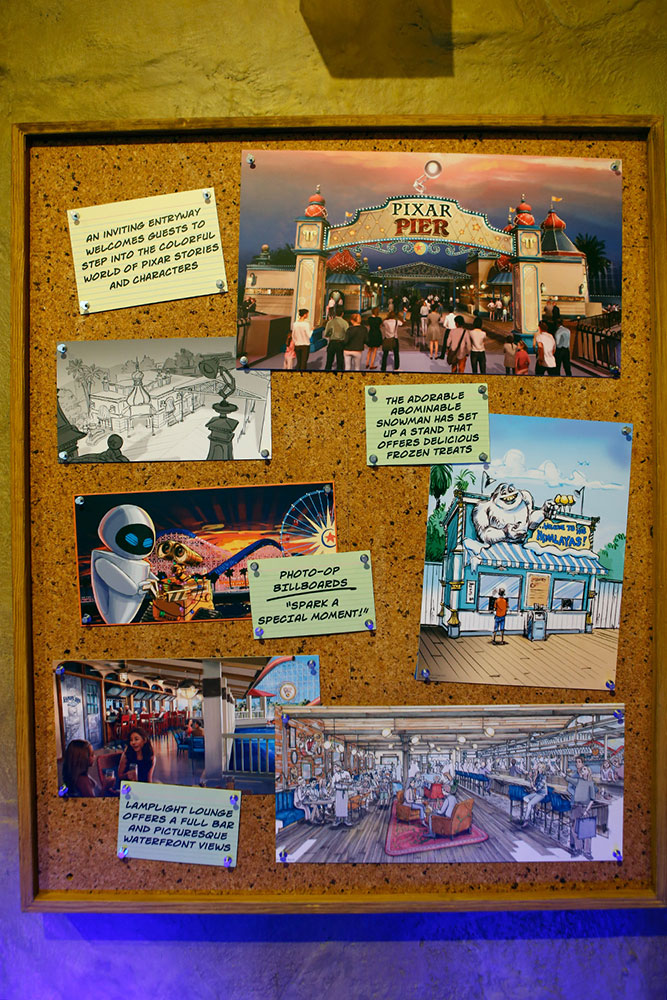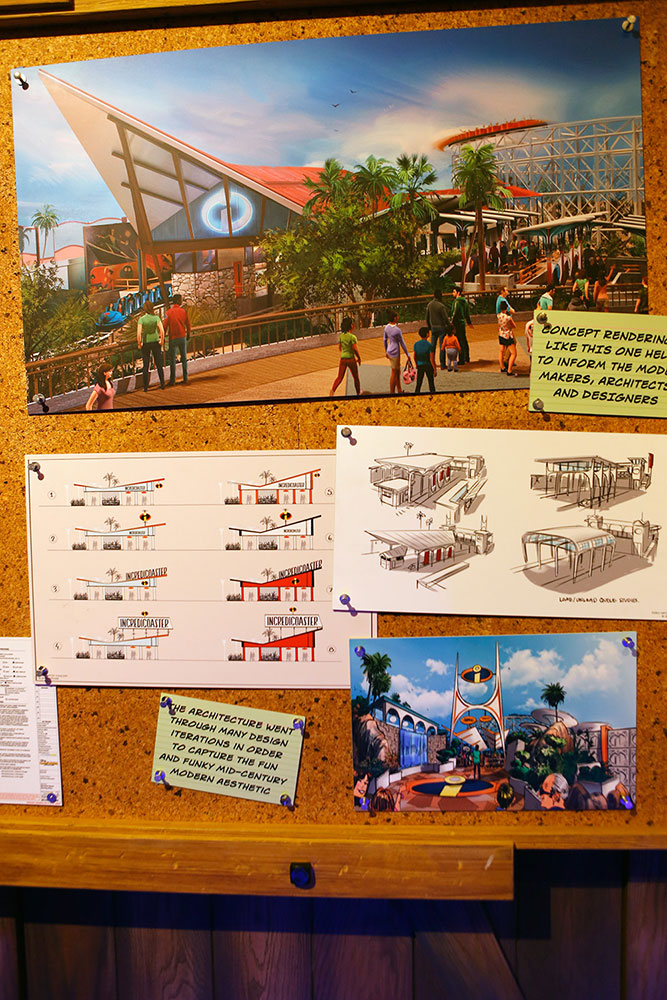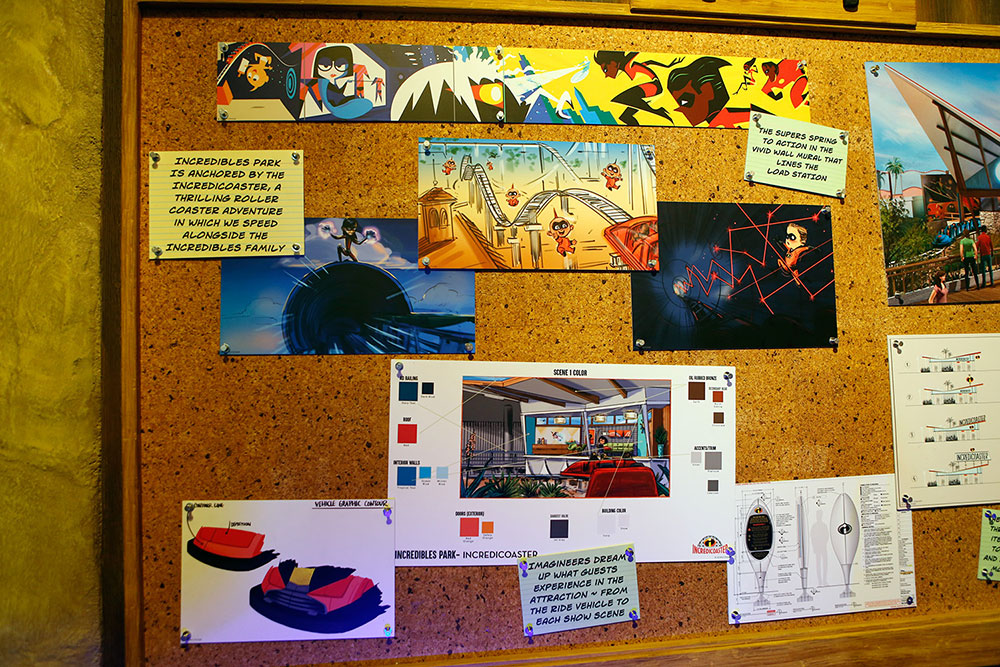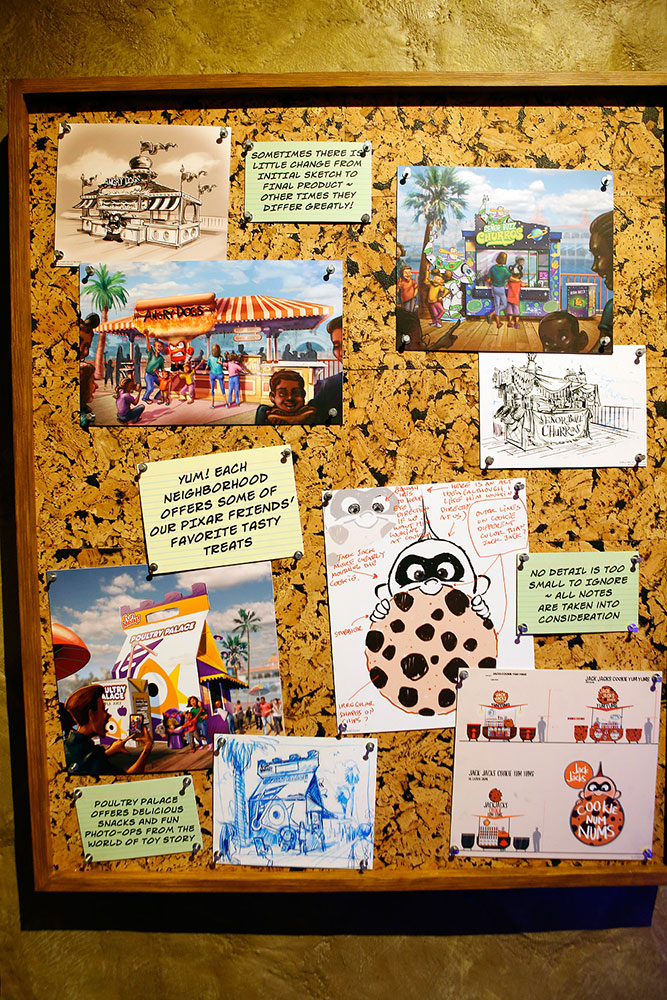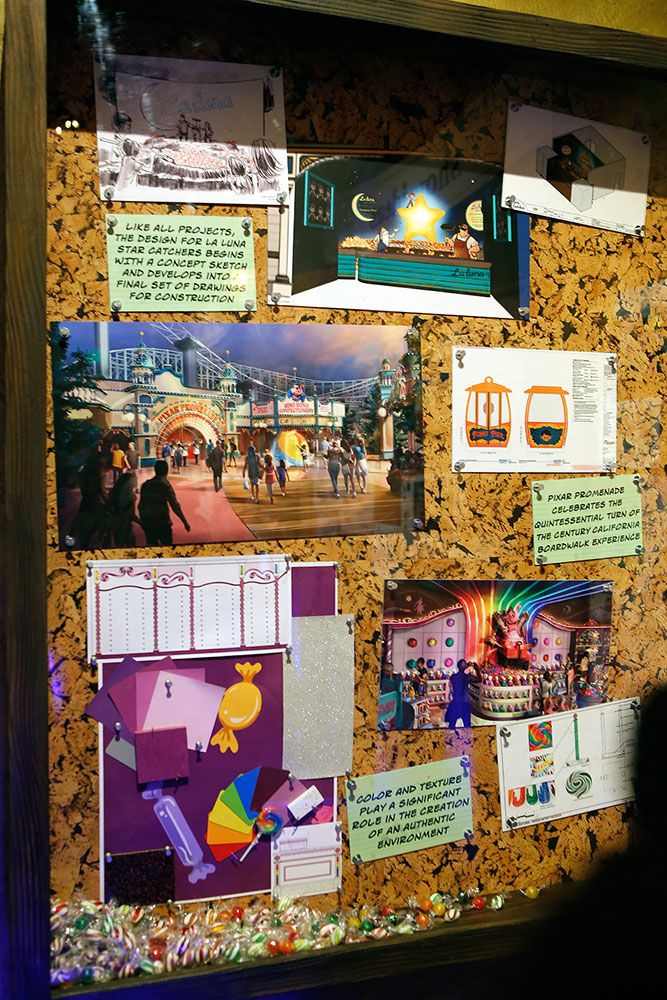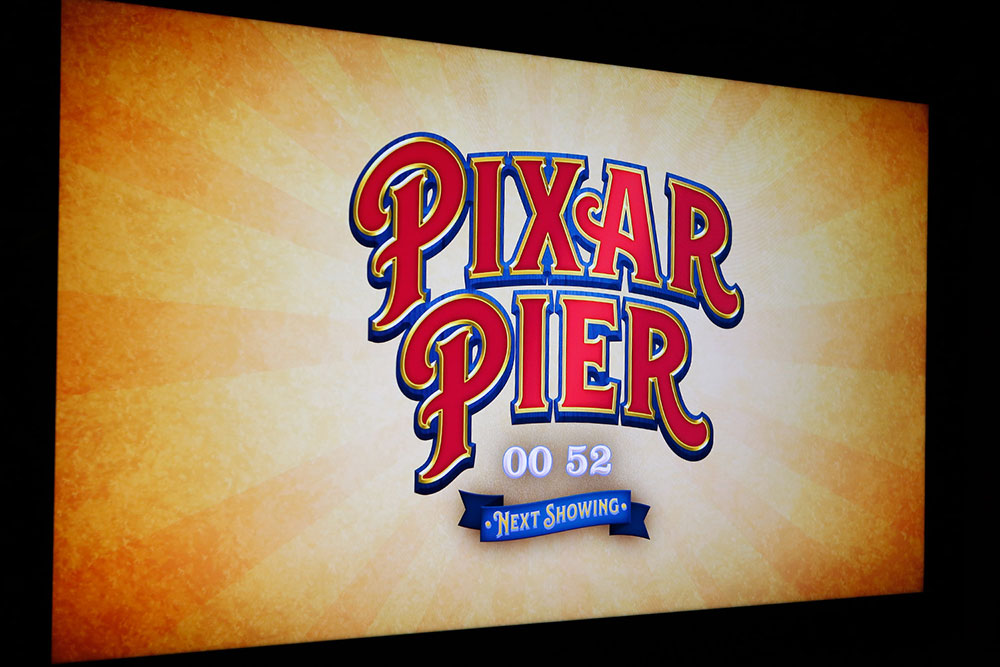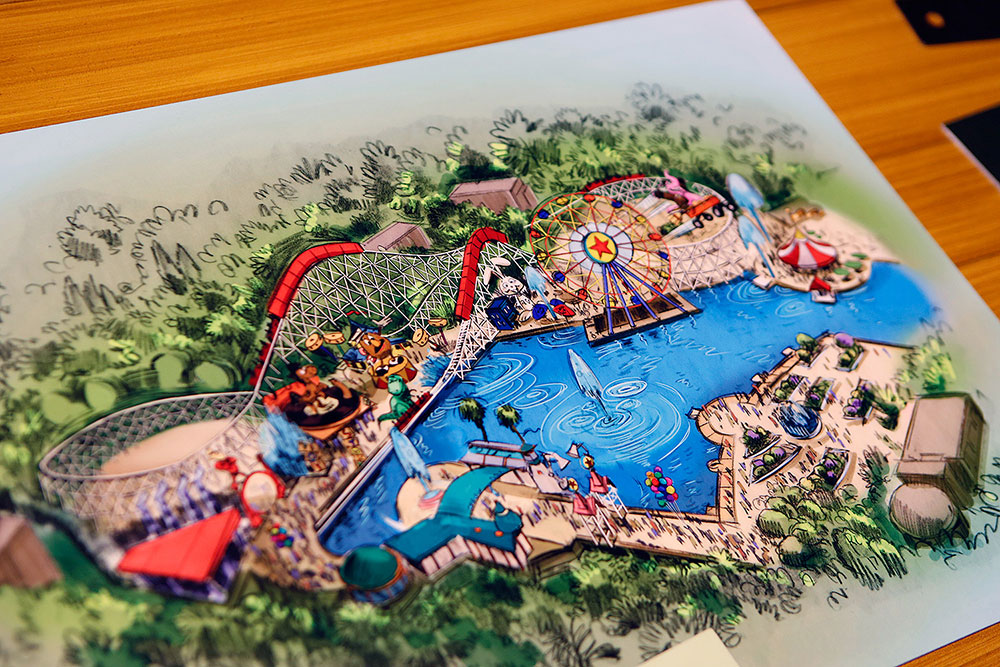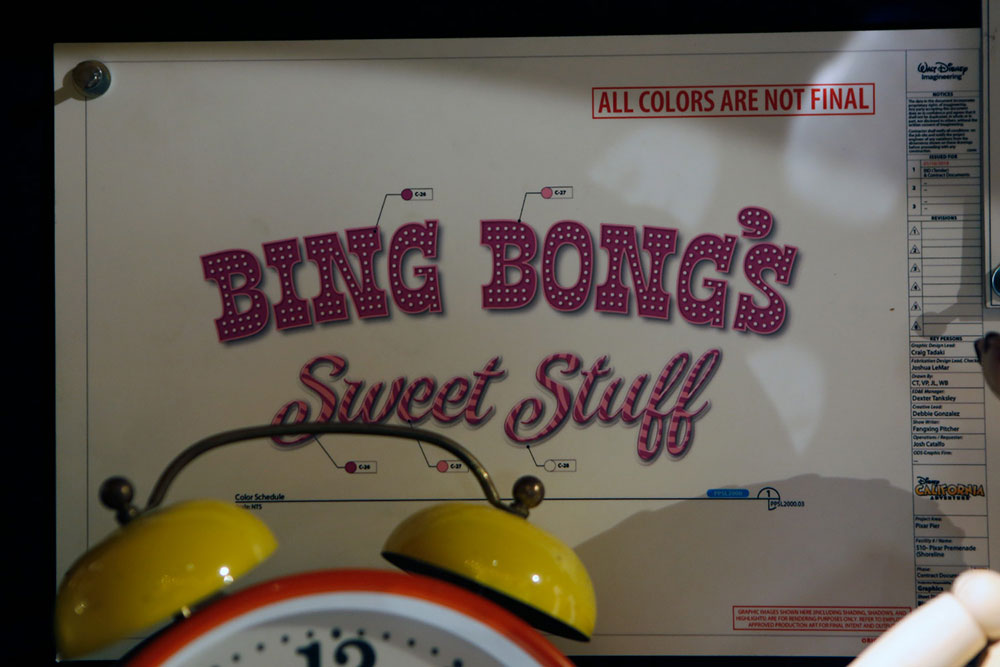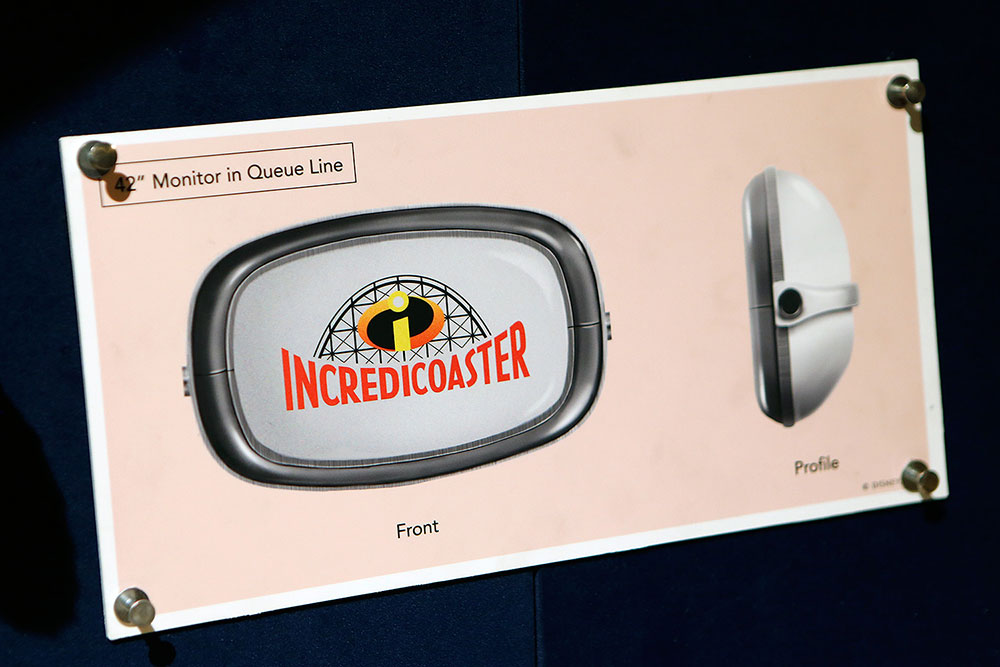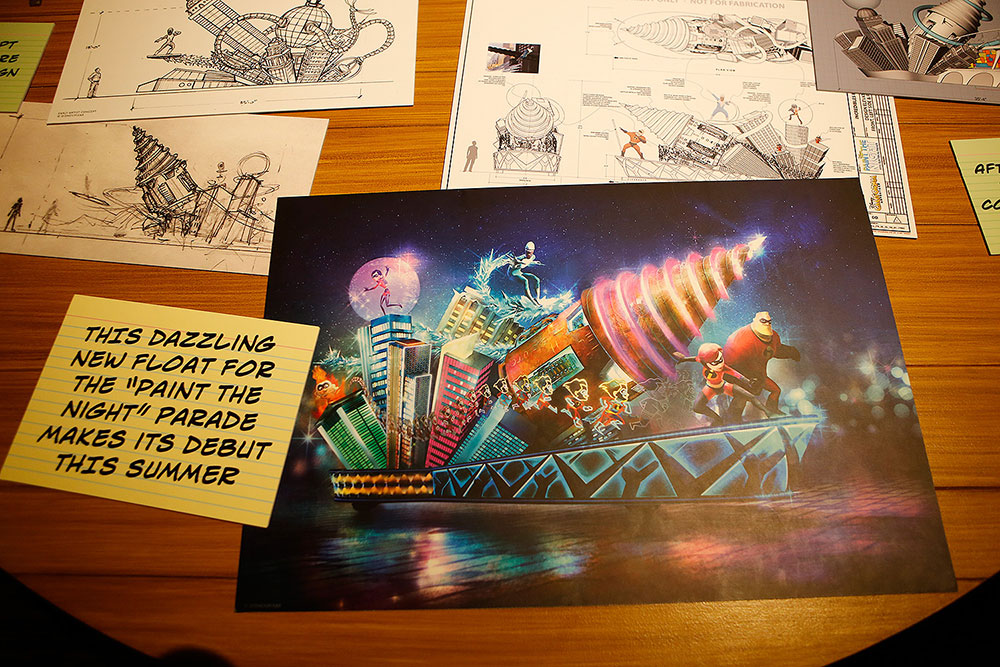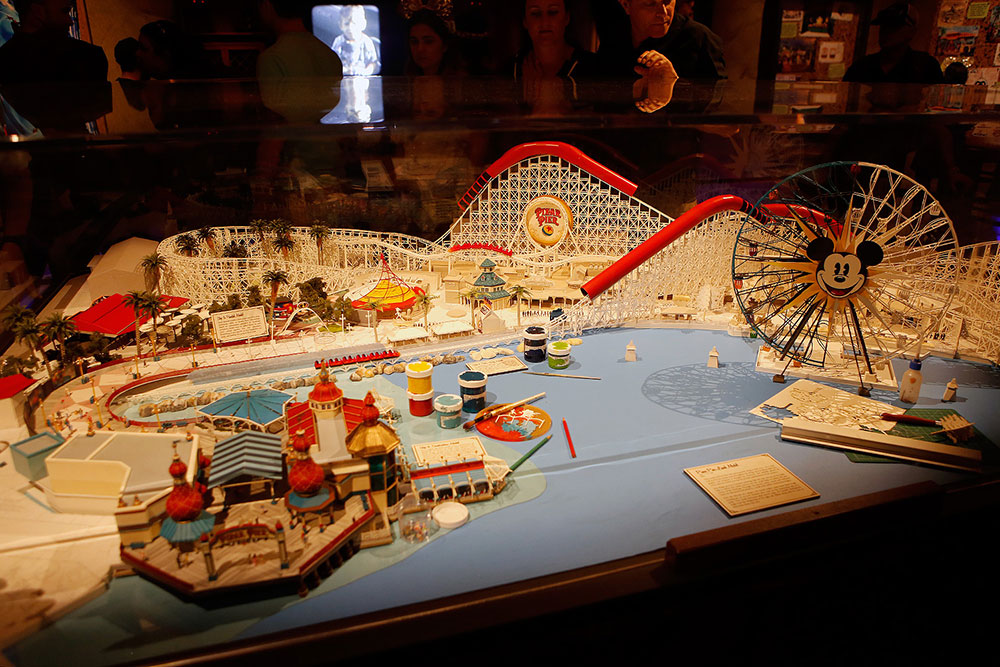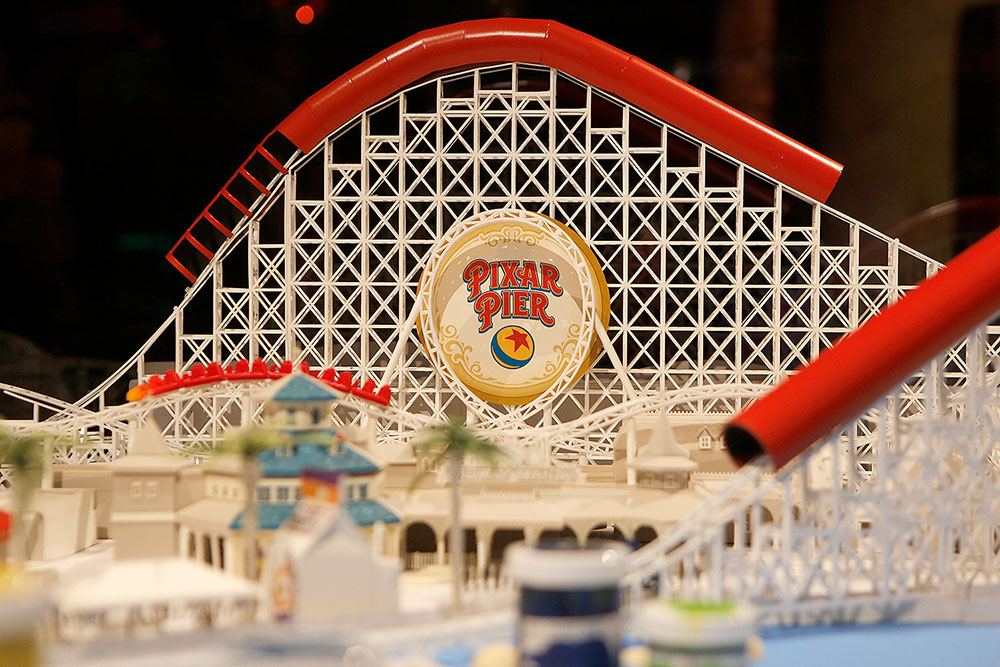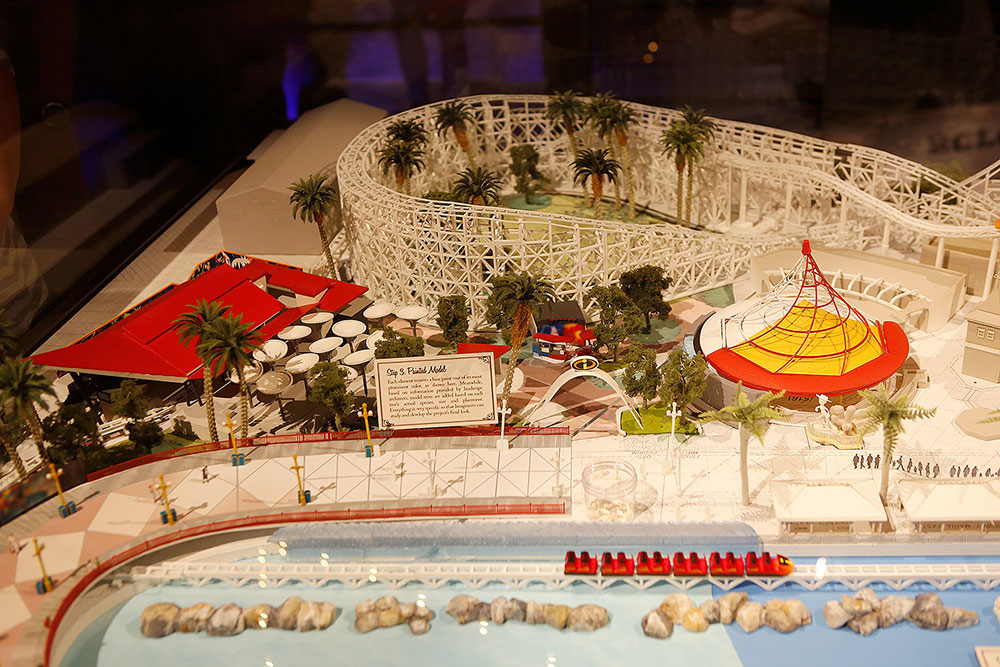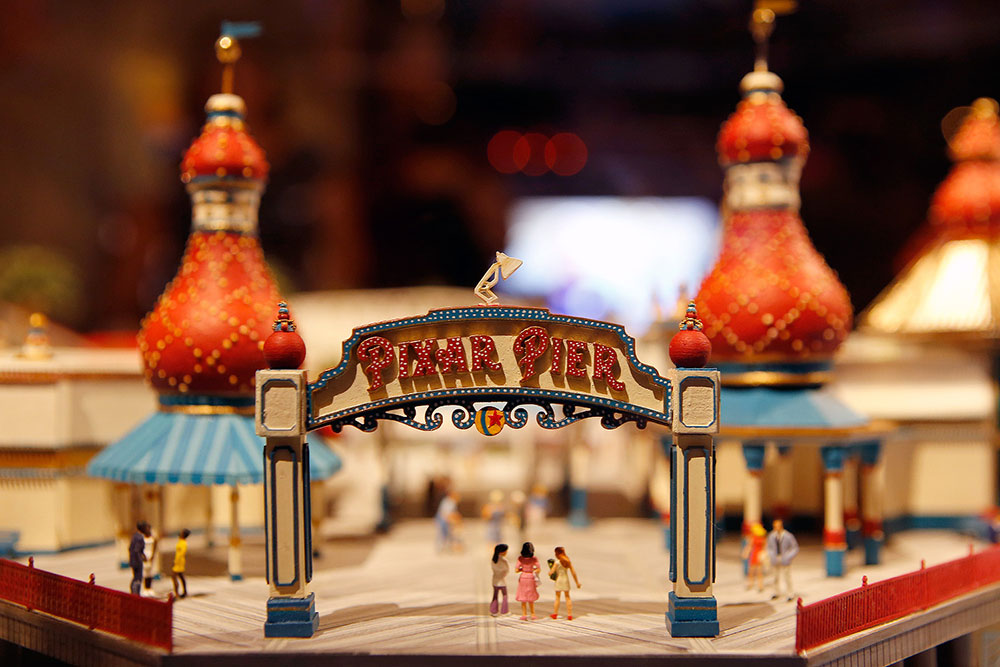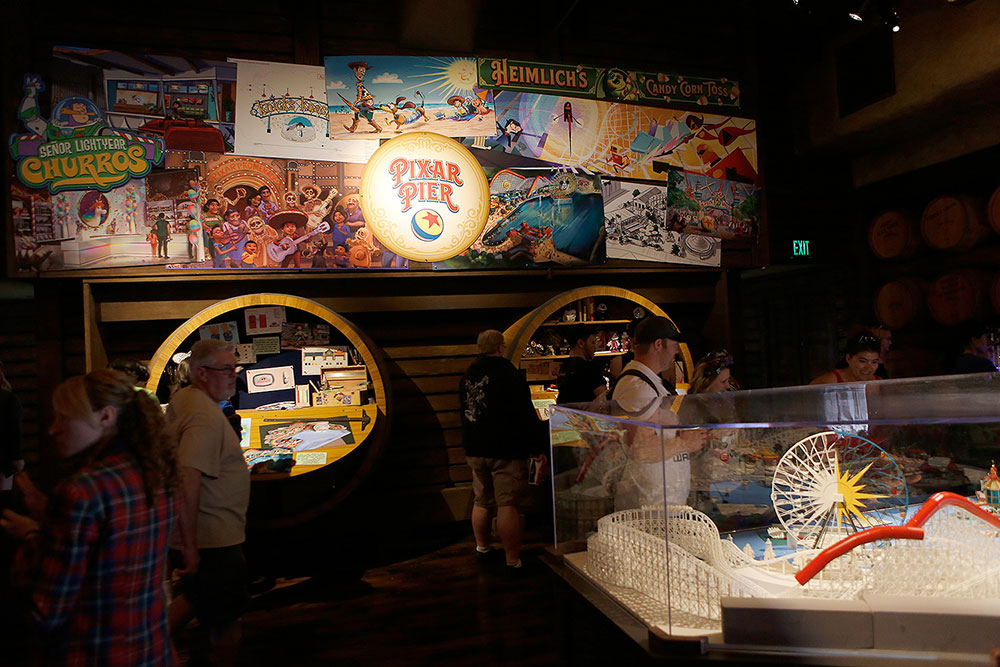 And that's it for now on Pixar Fest, going now through September 3! What's your favorite aspect of Pixar Fest? Let us know!
For additional information on the celebration, you're going to need The Foodie Guide to Pixar Fest, and 10 Fun Facts to Pixar Play Parade and Paint The Night Parade!
We'll see you at the parks!
Photography by David Yeh
Additional Photography by Andrew Kim