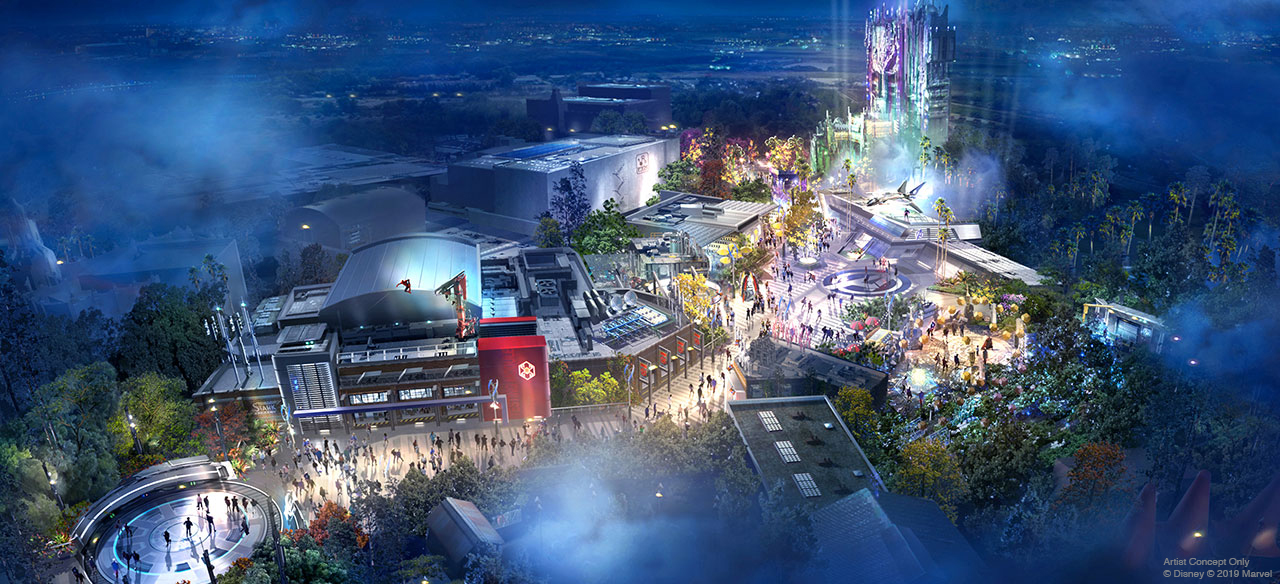 David Yeh
Marvel Cinematic Universe at the Disney Parks 2020 and Beyond
August 30, 2019
Star Wars isn't the biggest franchise in town. Not anymore, thanks to the incredible success of the Marvel Cinematic Universe. This summer's Avengers: Endgame became the highest grossing movie of all time, besting the now-Disney-owned Avatar and Titanic. While there's no plans for a Titanic Land anytime soon, there's a whole lot of new Marvel coming to the Disney Resorts worldwide, with the exception of Shanghai and Tokyo.

Let's take a look at all the Marvel that's been announced so far, but first, a quick look at what already is. The Marvel Theme Park Universe began in Hong Kong Disneyland with the launch of the Iron Man Experience, opening in 2017 and was followed up with Ant-Man & The Wasp: Nano Battle! opening earlier this year.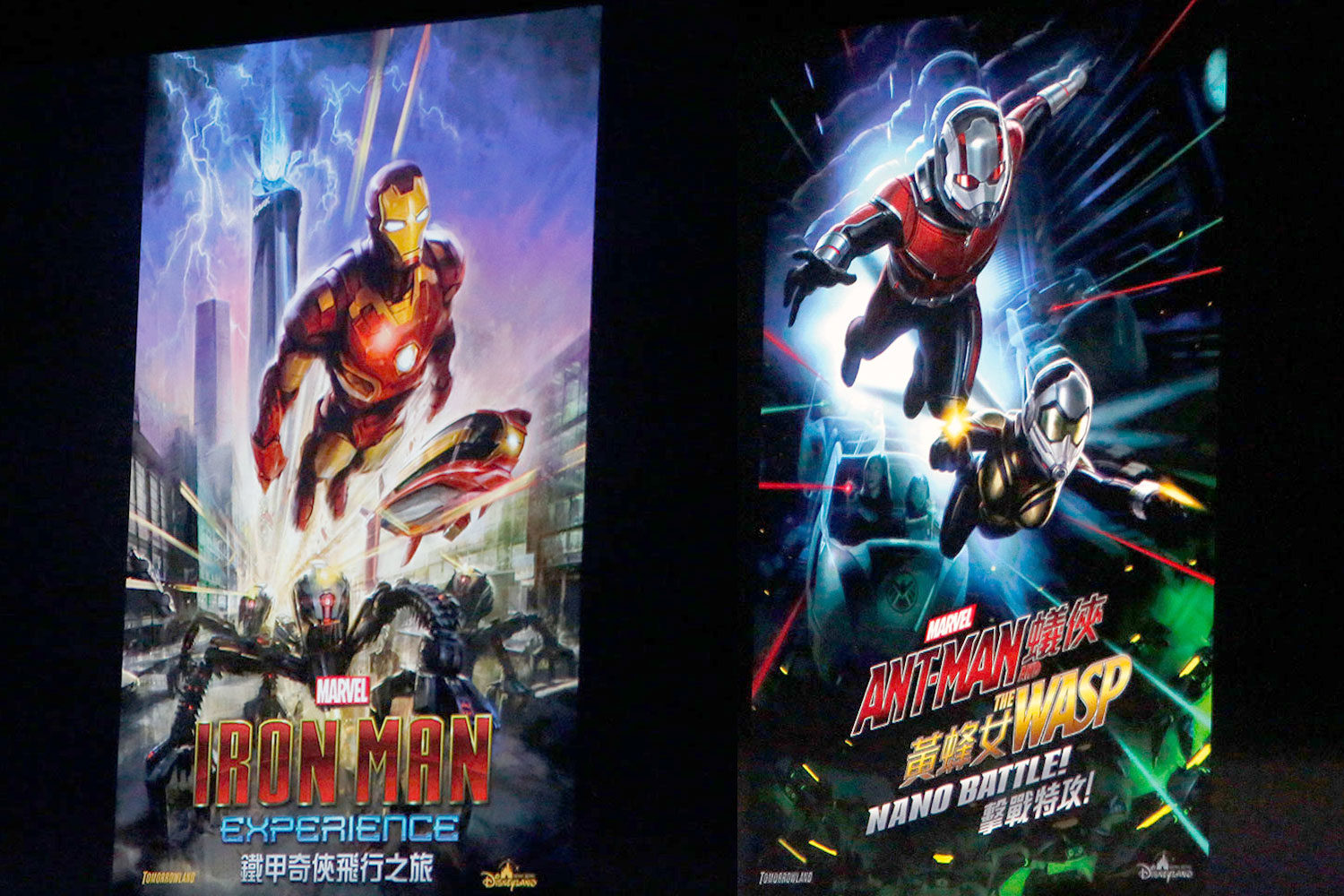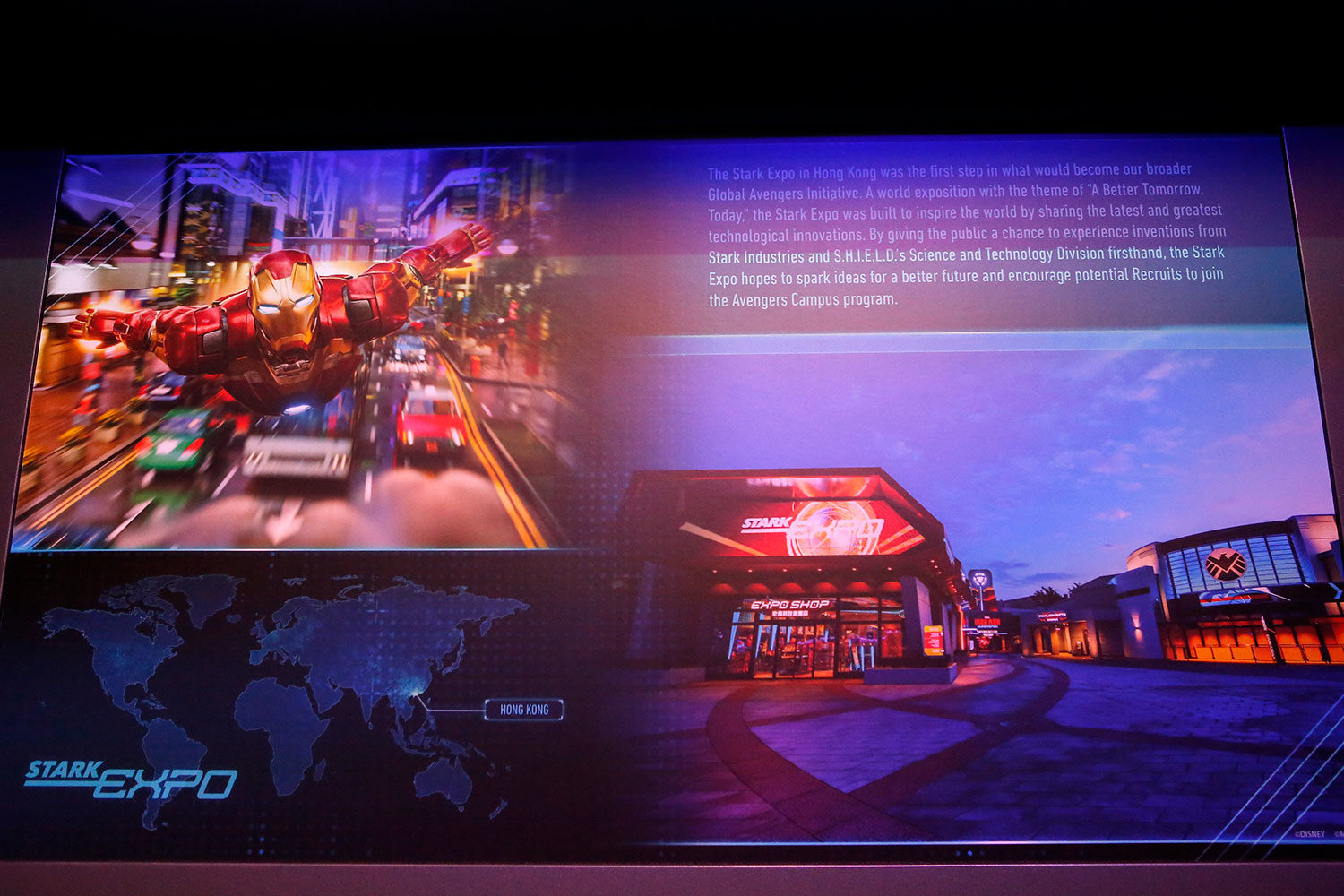 Let's go to California, shall we?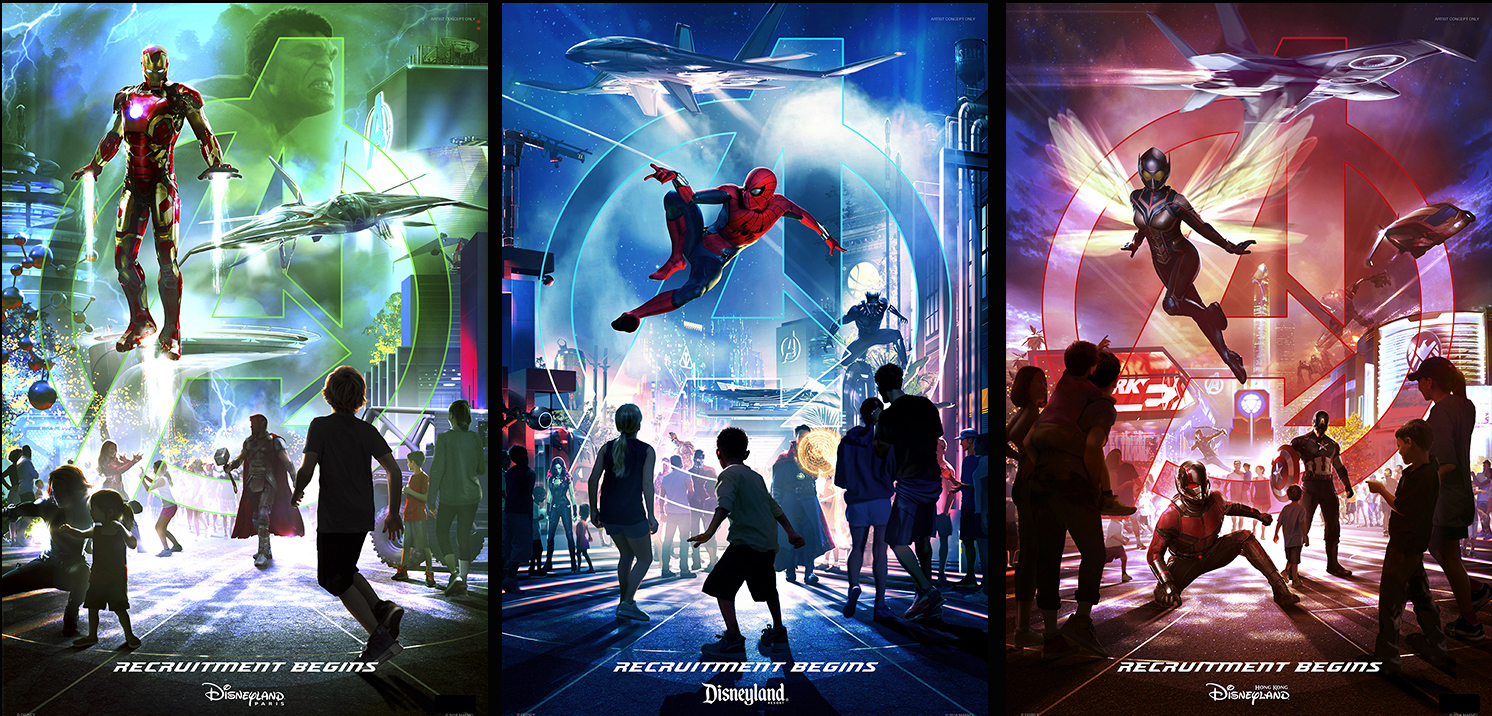 DISNEY CALIFORNIA ADVENTURE

Disney California Adventure jumped into the fray with Guardians of the Galaxy – Mission: Breakout!, an attraction that has proven quite popular since it opened in 2018.

California is the next location to break ground in 2020 with the all-new Avengers Campus, a brand new land that will have new attractions, dining, and shopping experiences, opening in two different phases. Its mission statement: to create a Centralized Assembly Mobilized to Prepare, Unite, and Safeguard – a C.A.M.P.U.S. dedicated to empowering the next generation of heroes.

The land will incorporate Guardians of the Galaxy's Tivan Collection Tower and build into what used to be A Bug's Land. The concept rendering below shows what will be Phase 1 of Avengers Campus, which includes a Spider-Man themed attraction, WEB Suppliers store, PYM Test Kitchen, and a Dr. Strange experience.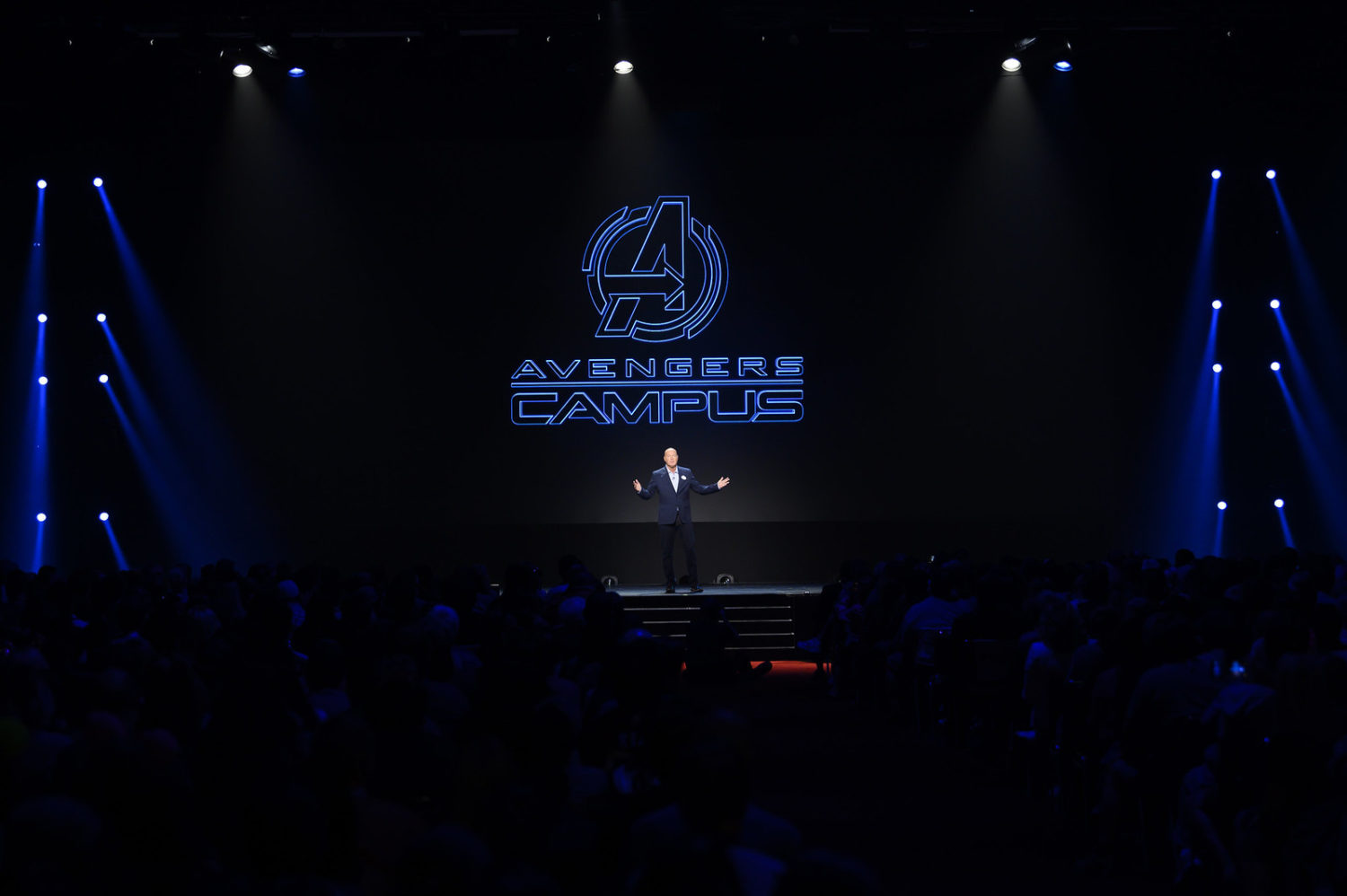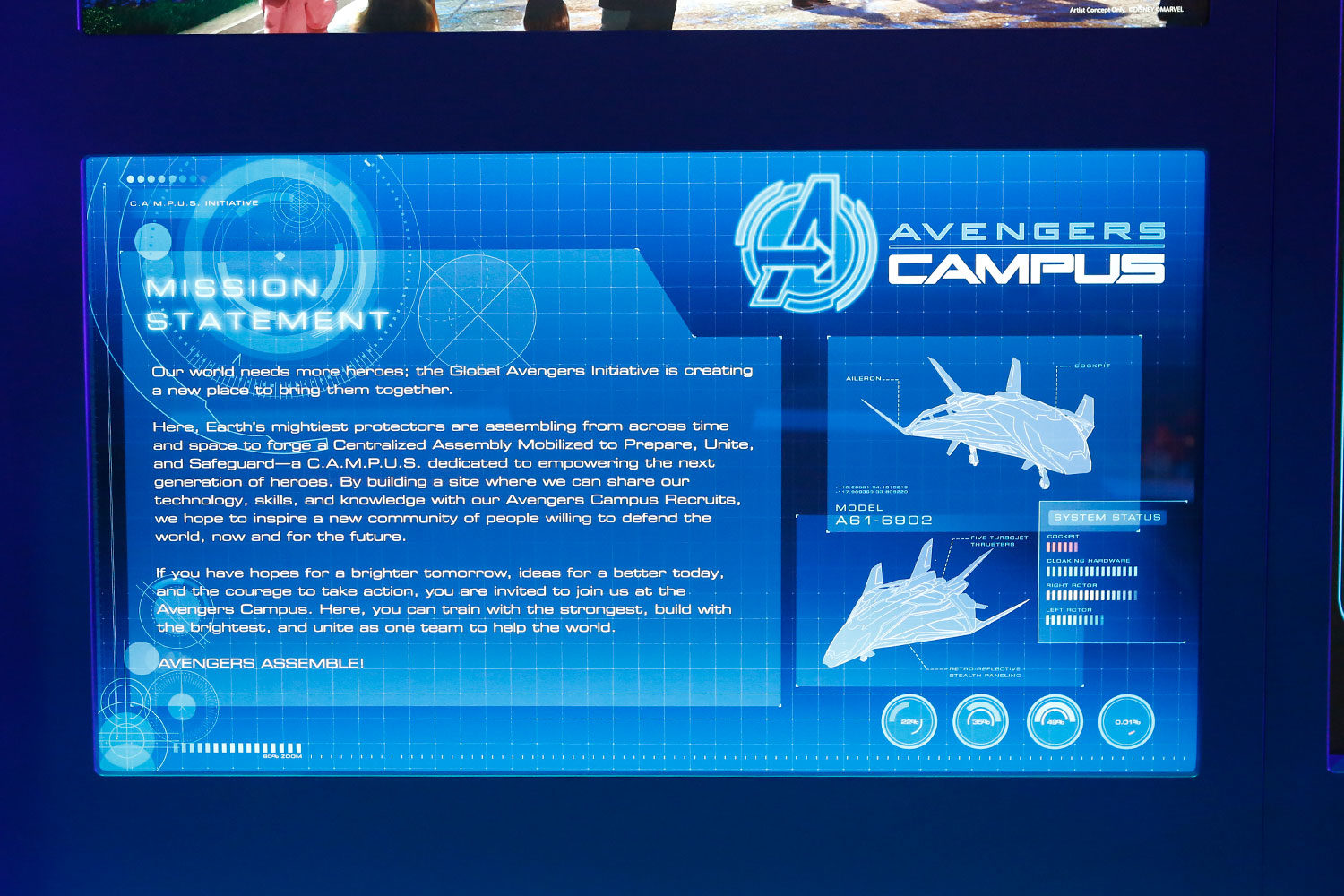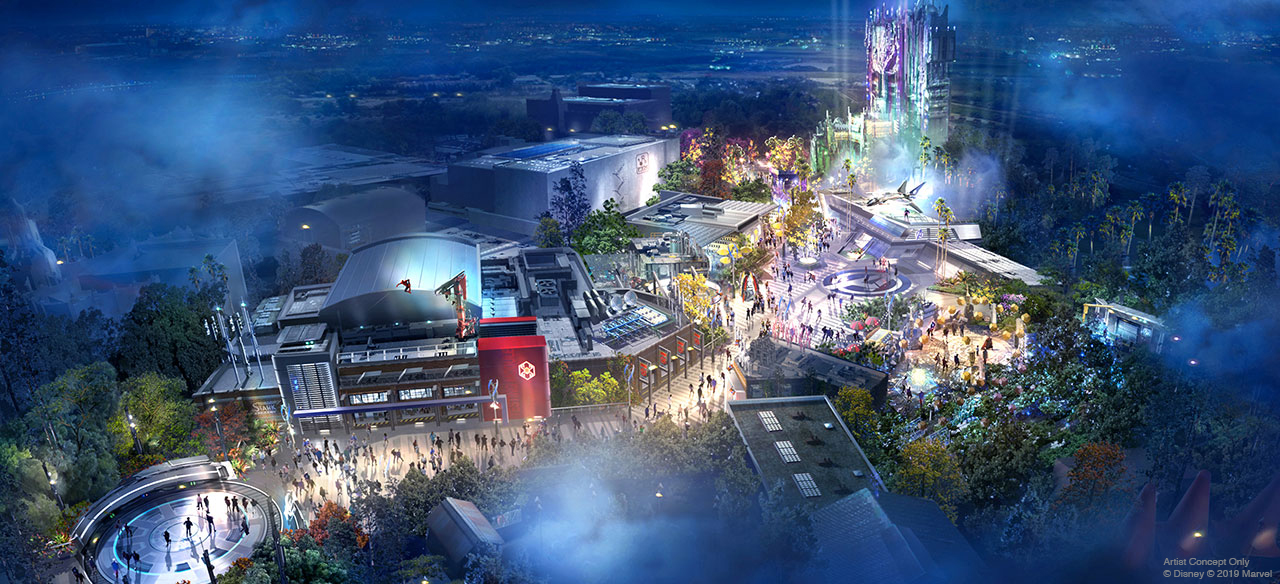 You'll notice the large building above behind PYM Test Kitchen, but that is the existing Disney Animation lobby where guests can still learn to draw their favorite Disney Characters and Turtle Talk with Crush.

Let's start though with the new untitled Spider-Man attraction, a first for Disney, which will give guests a taste of what it's like to have actual super powers as they sling webs to help Spider-Man collect Spider-Bots that have run amok.

Before we get into it, W.E.B. stands for WORLDWIDE ENGINEERING BRIGADE. It's a global co-op of inventors who specialize in creating hero tech. WEB members are the ones who will be inventing them. Tony Stark (Iron Man) has gotten people like Pym Technologies, Wakandan Design Group, and Stark Industries to donate a lot of their old tech to WEB to reverse-engineer from it. Their goal is to empower the world: "super-powers through science".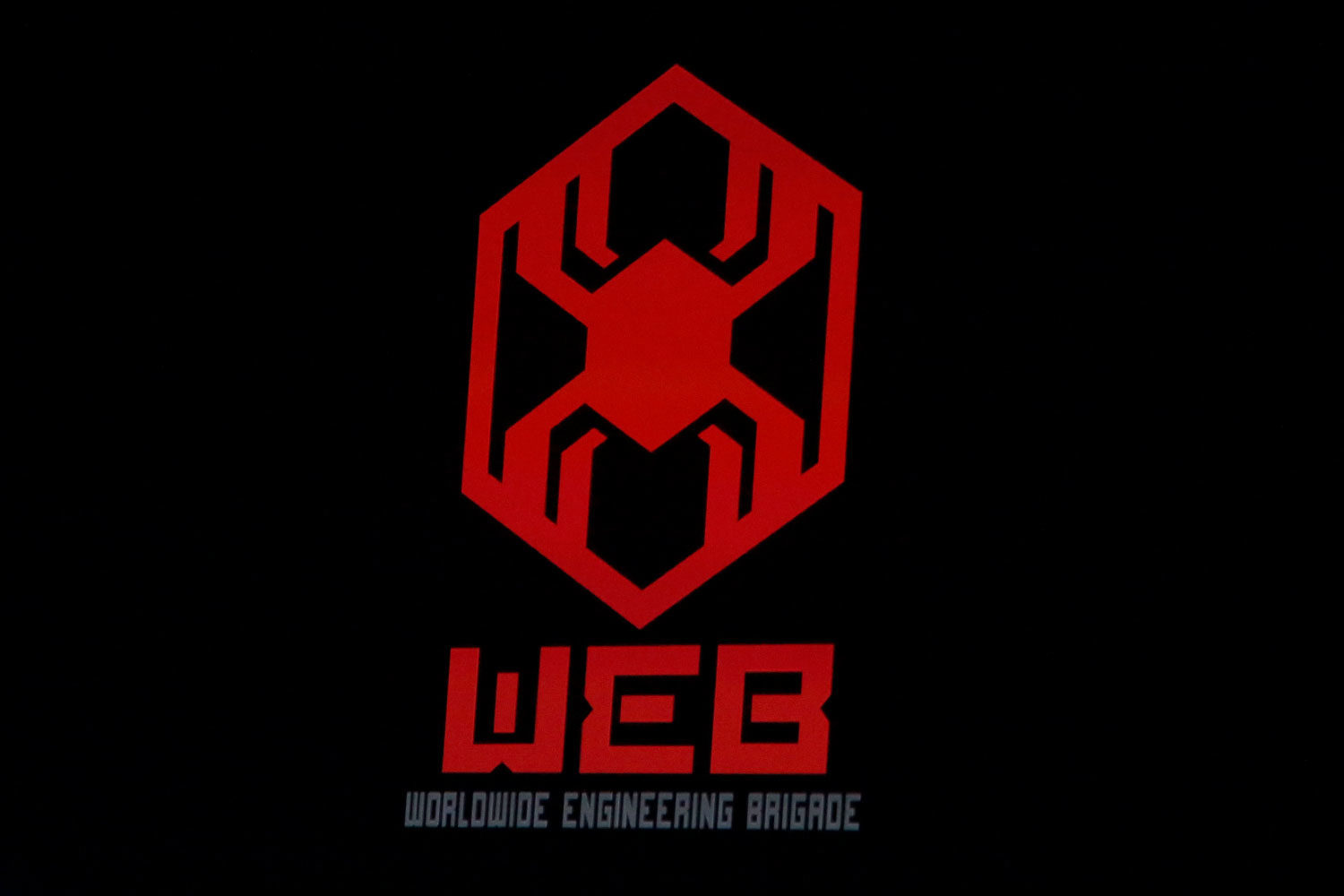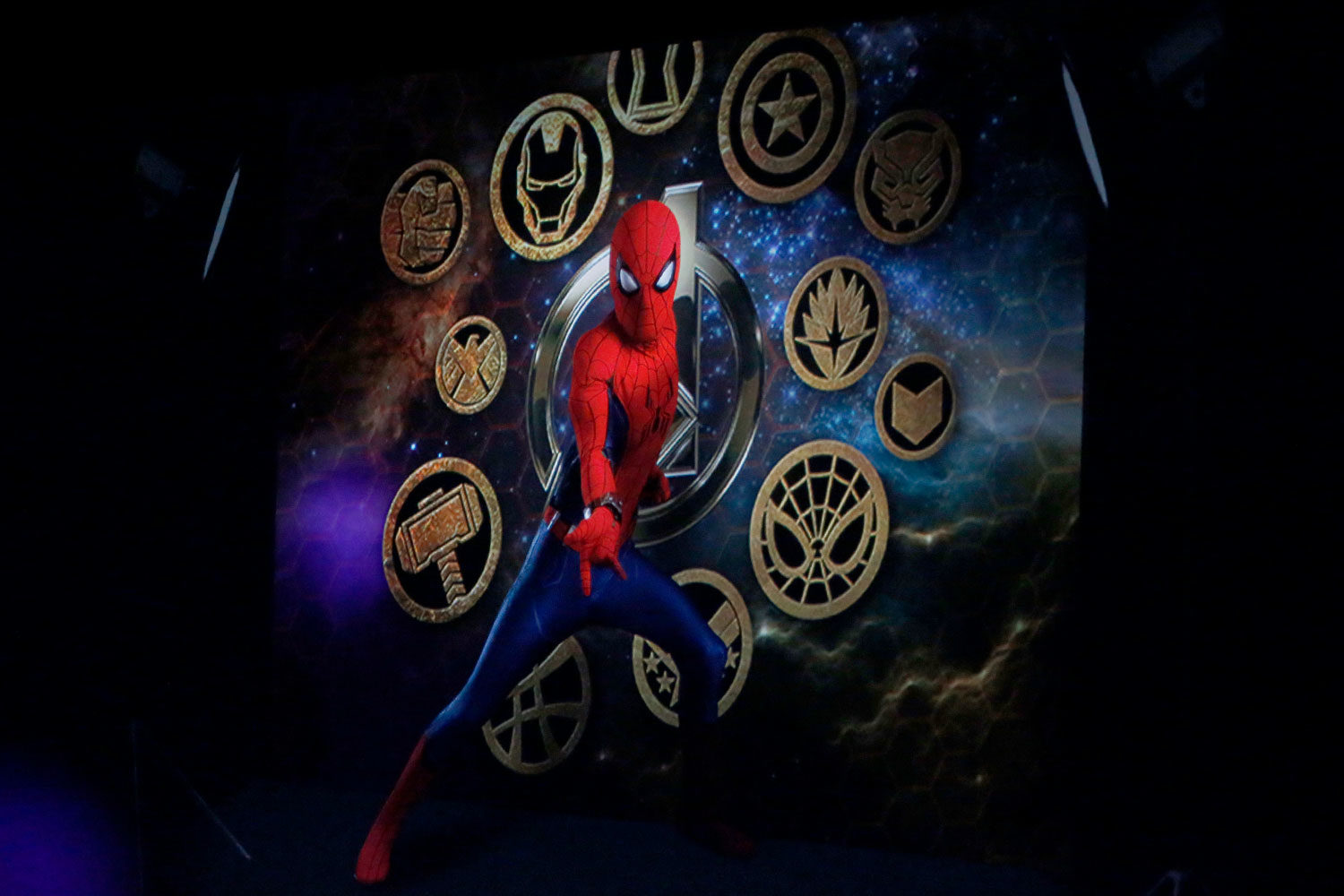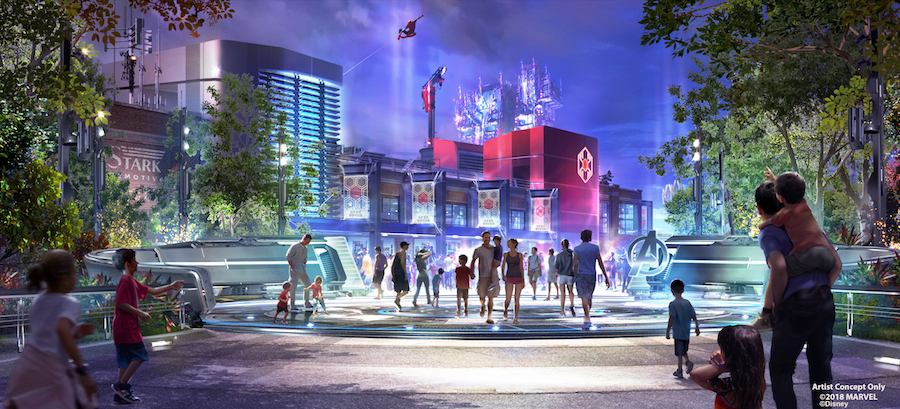 Spider-Man will be featured heavily in the ride, but it remains to be seen if they go the Tom Holland route. While Disney owns the character, Sony has the film rights and we're unsure if a deal was worked out to include this attraction.

The attraction itself appears to be a next-gen Toy Story Midway Mania-type ride where you get to test drive the latest invention: the "Web Slinger" vehicle. You'll travel down a track and interact with a screen in real time slinging webs at all the Spider-Bots.

Now, the Spider-Bots were created to aid Spider-Man or whomever in their mission as a perfect sidekick. His multi-tool leg set and assembly-focused A.I. is intended to build or repair anything you'll need in the field.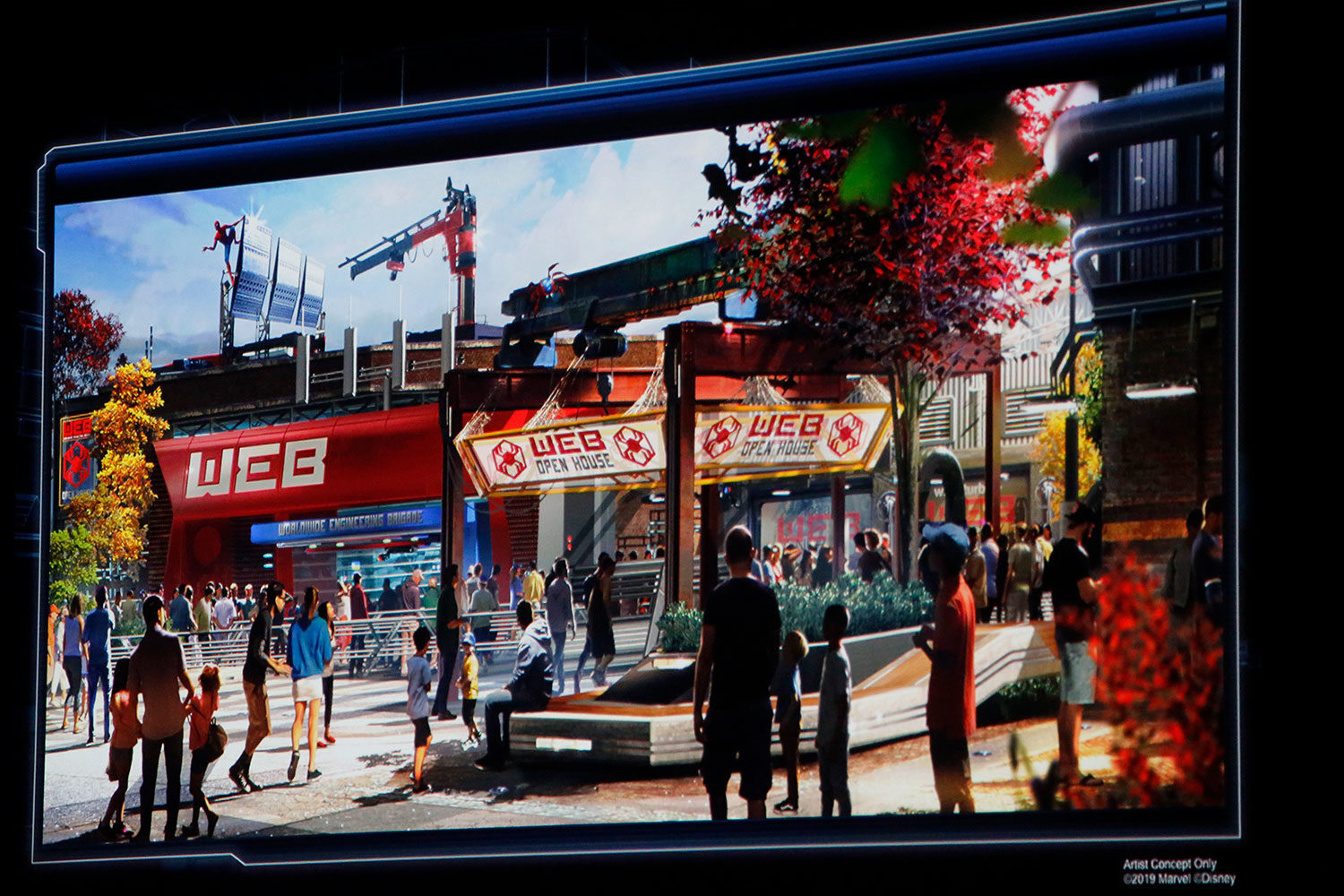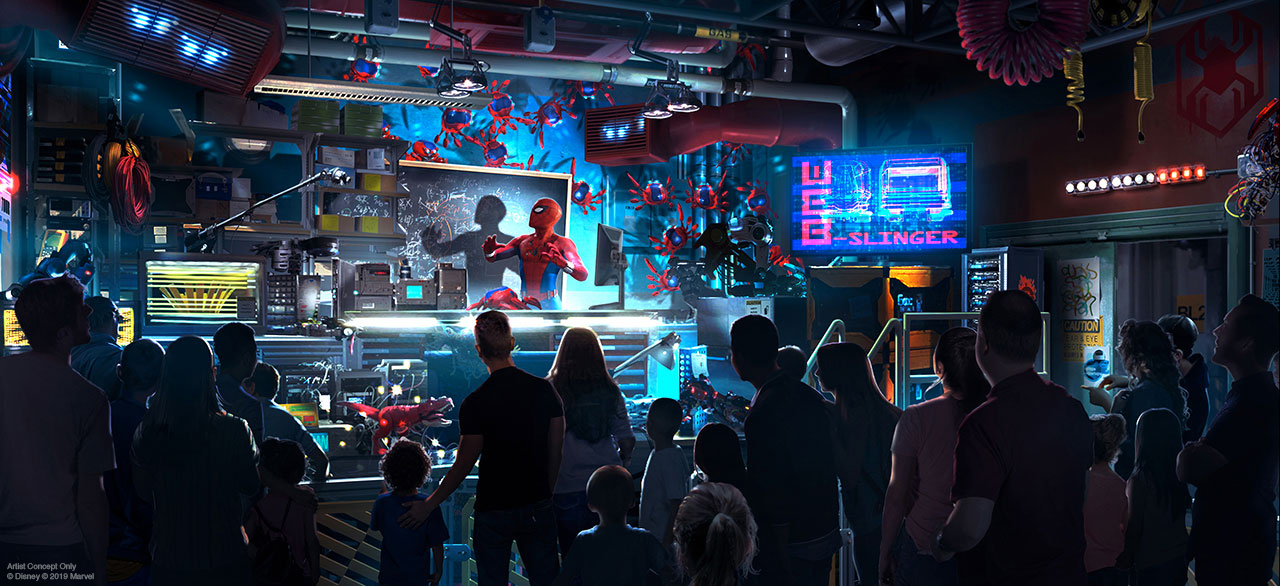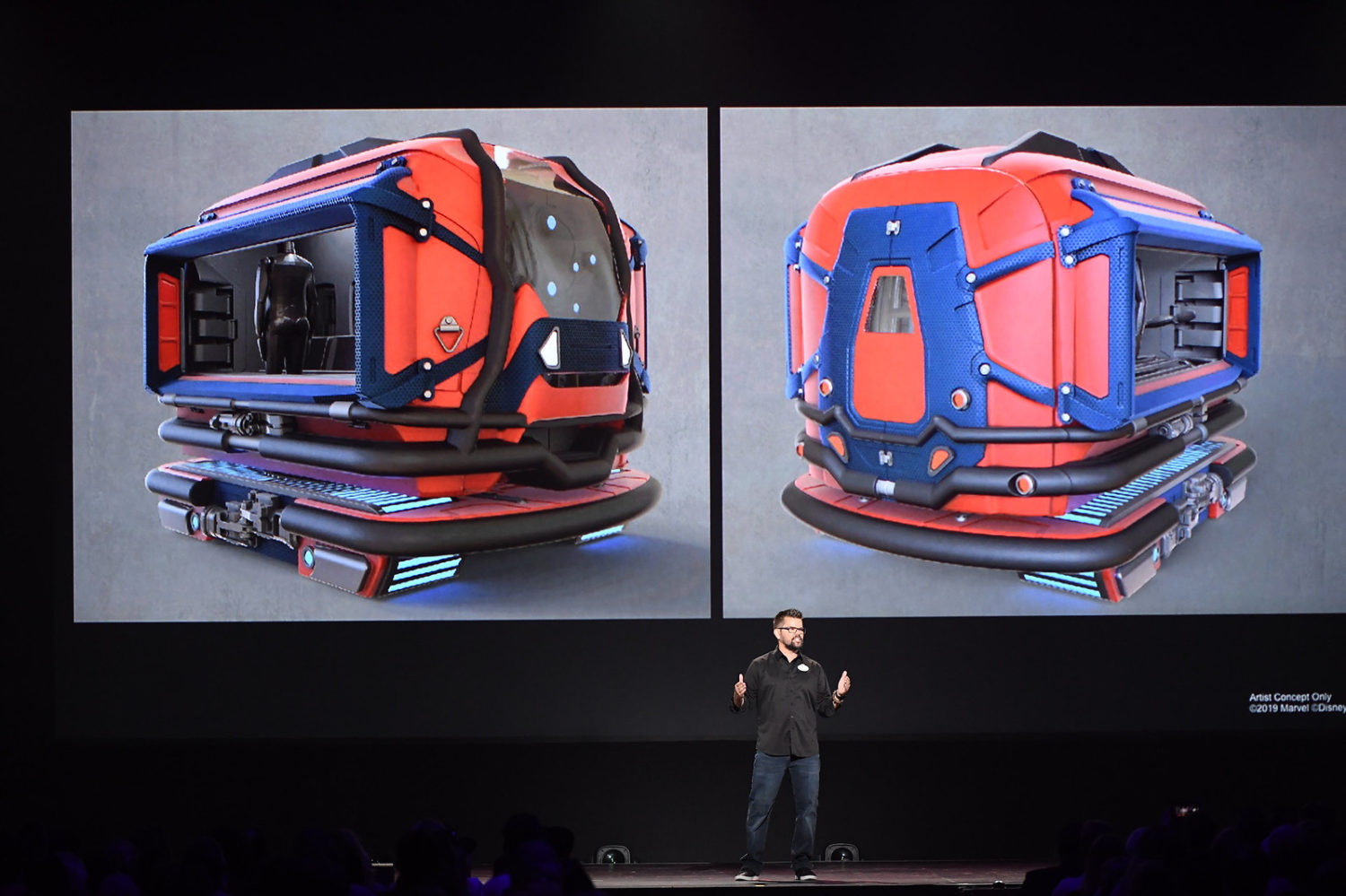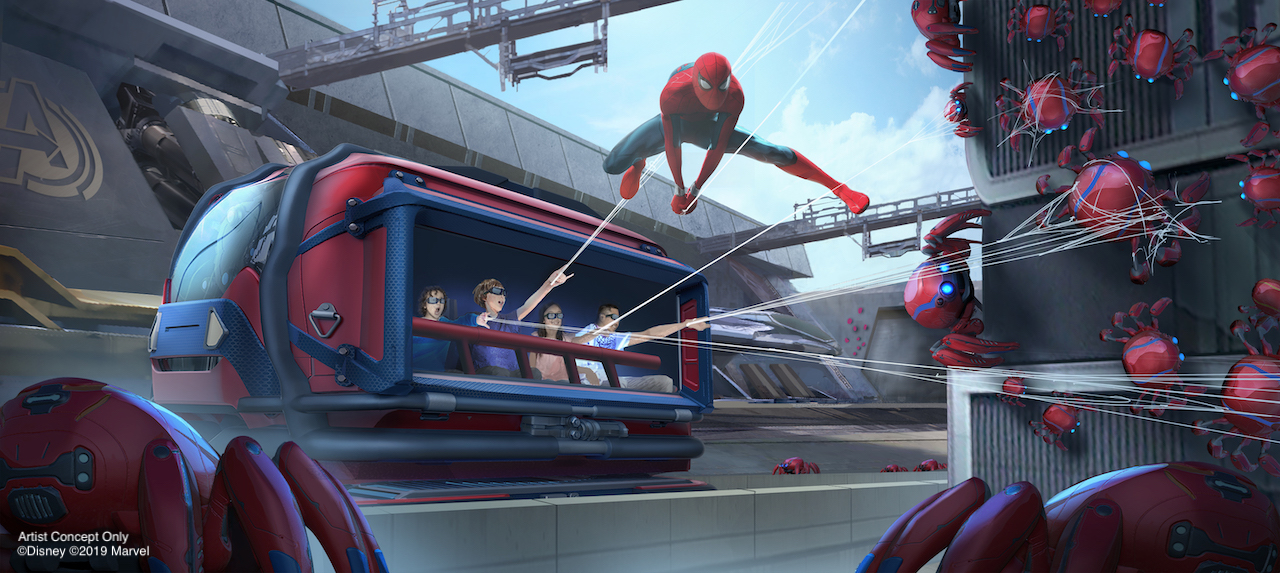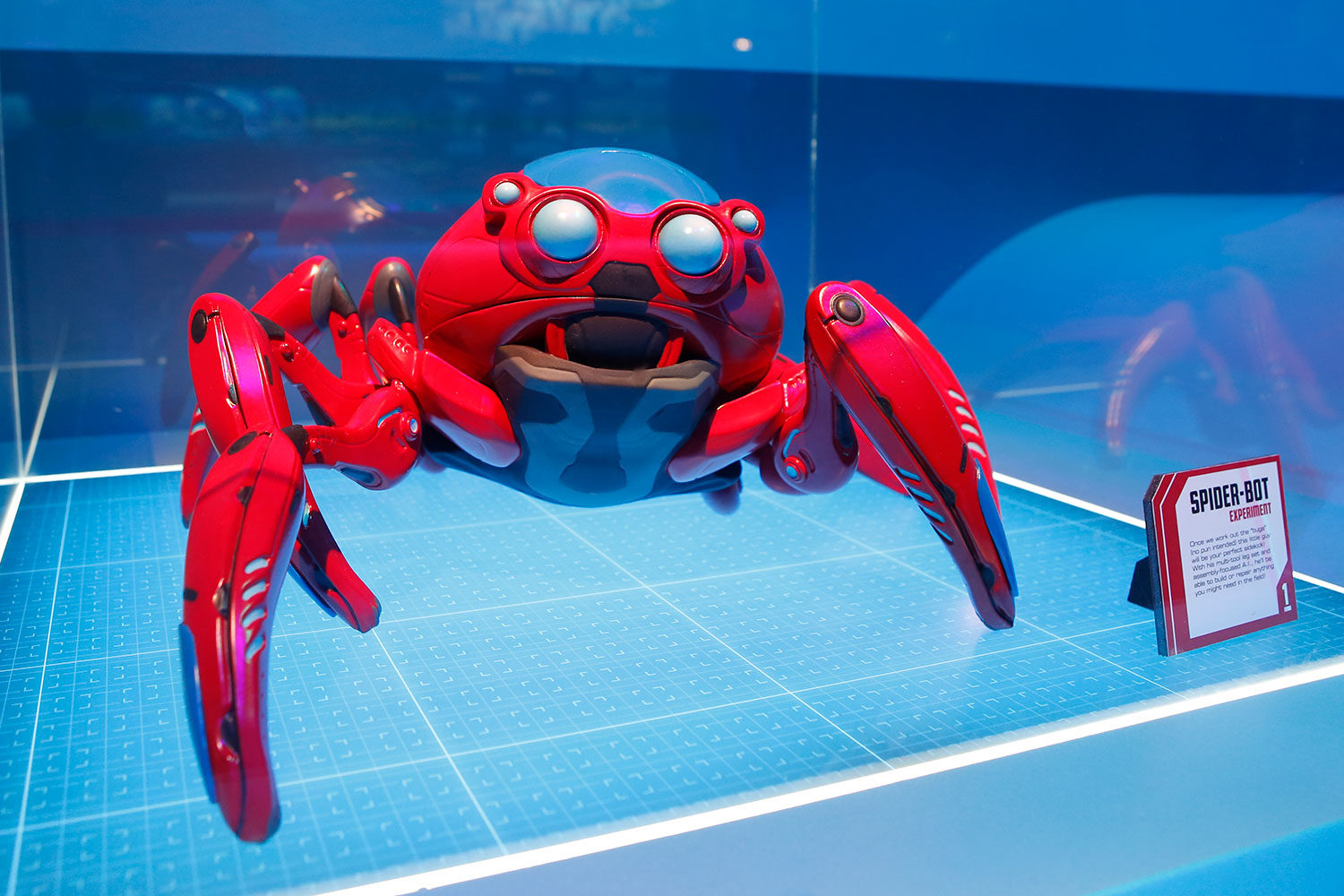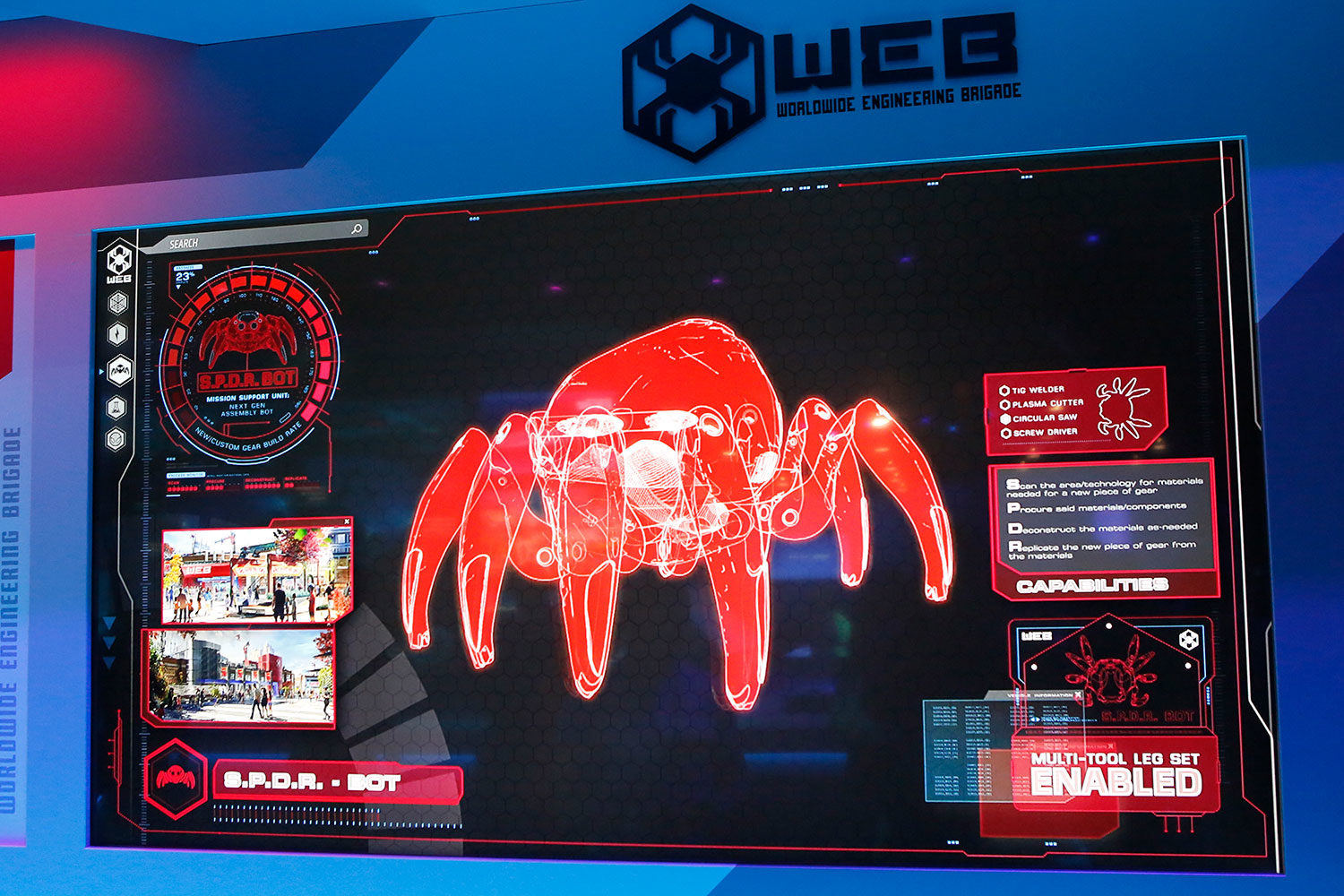 Spidey will have a new WEB SUIT, engineered with great enhancements.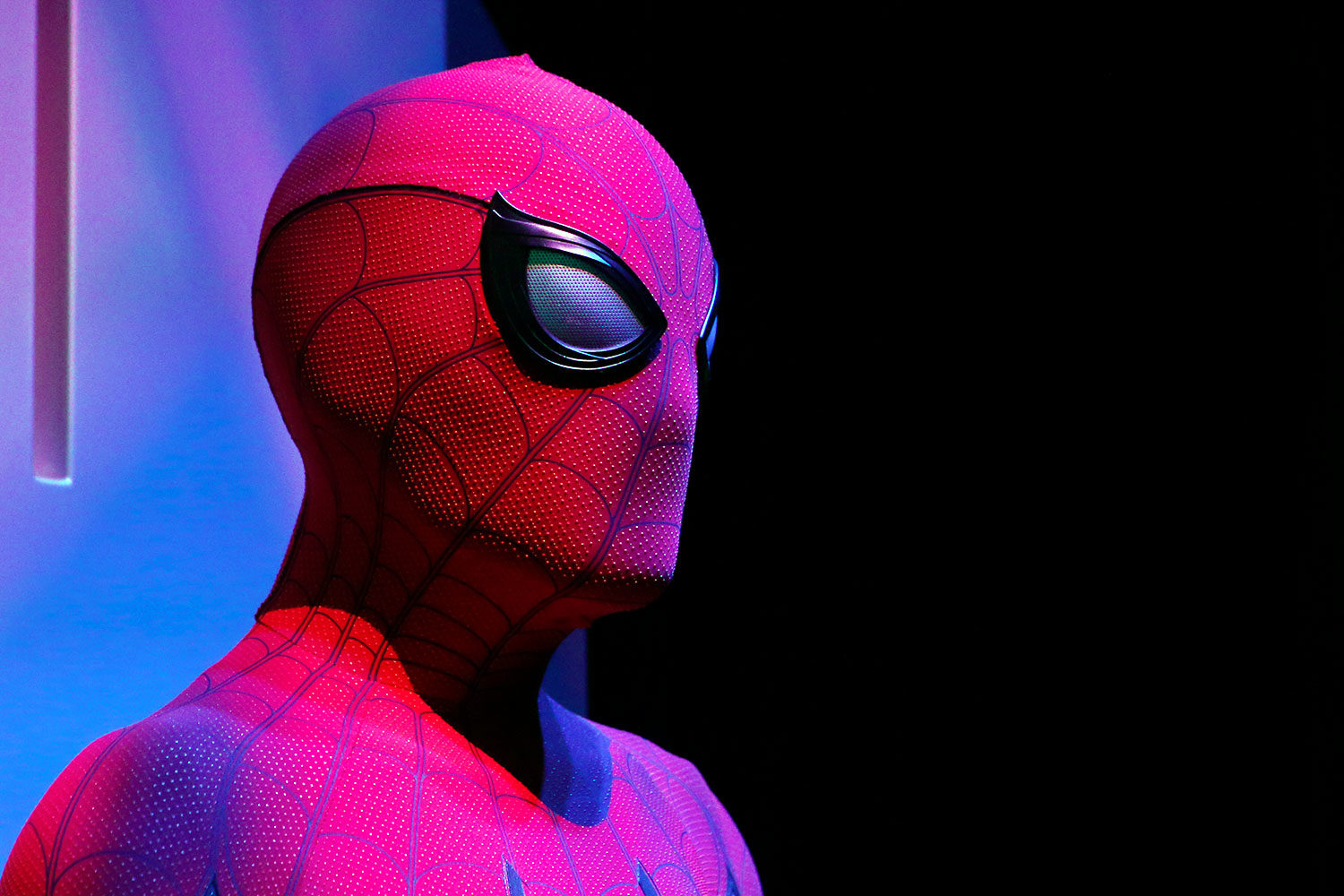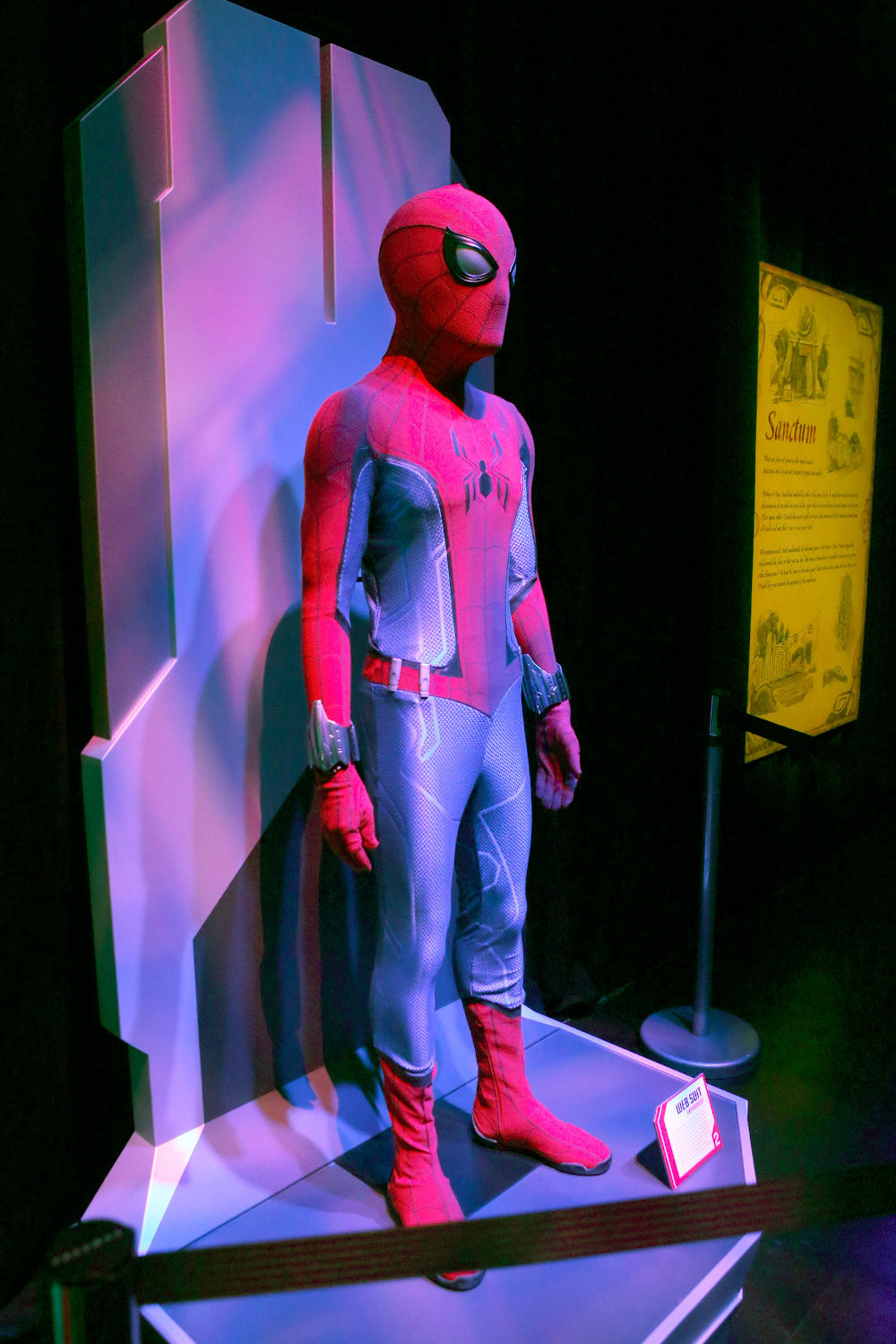 And of course there will be plenty of shopping. Welcome to WEB SUPPLIERS, where you can pick up souvenirs and merchandise featuring WEB and Spider-Man.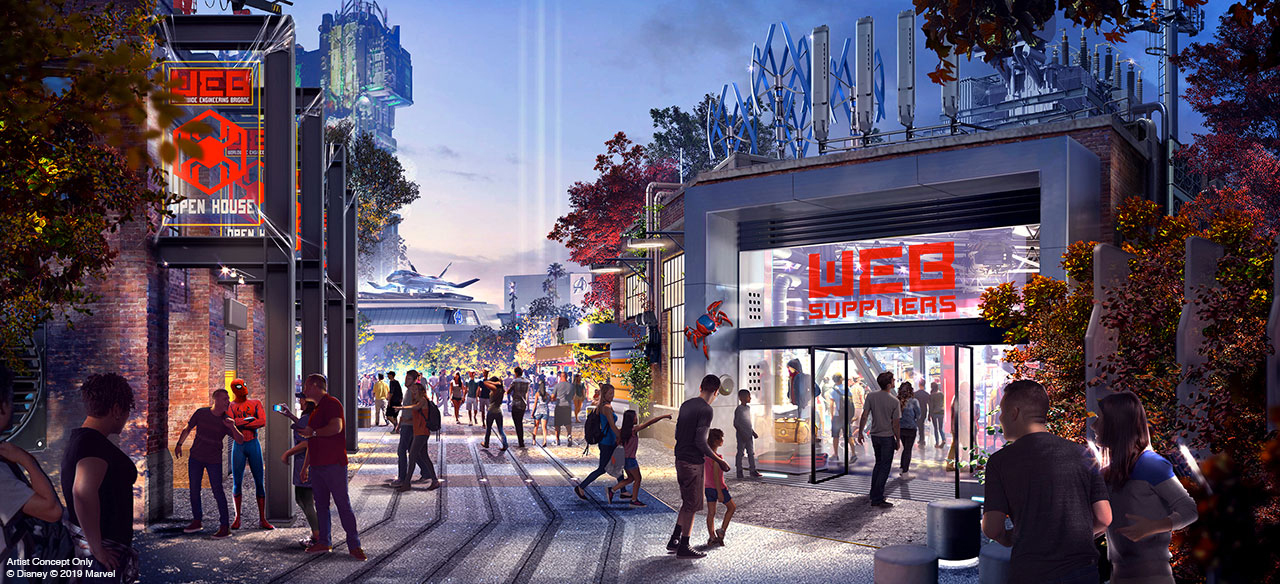 Up next is Pym Test Kitchen, where Ant-Man and The Wasp use "Pym Particles" to grow and shrink food. There were rumors afloat of an Ant-Man Microbrewery so this just might be it. At the D23 Expo the Imagineers had examples of giant food and shrunken garbage, giving us perhaps a tease of the fun that could be had with this theme.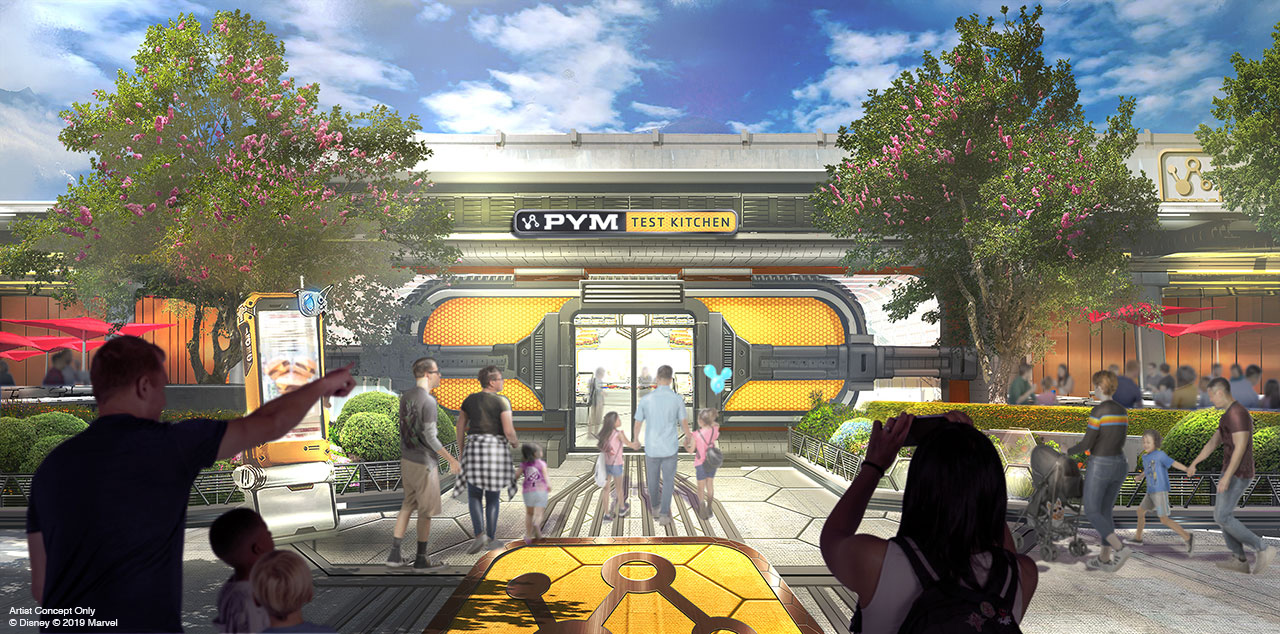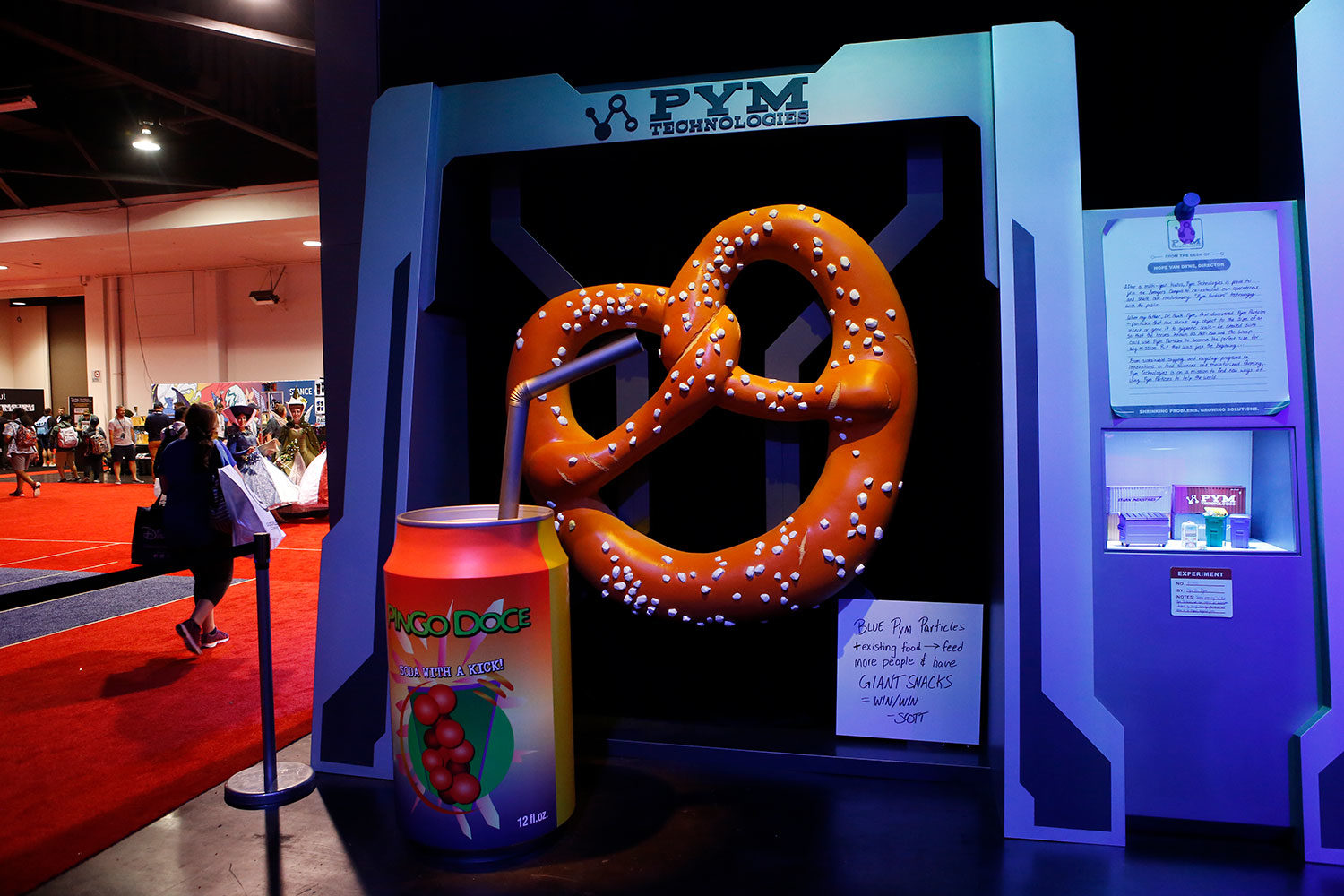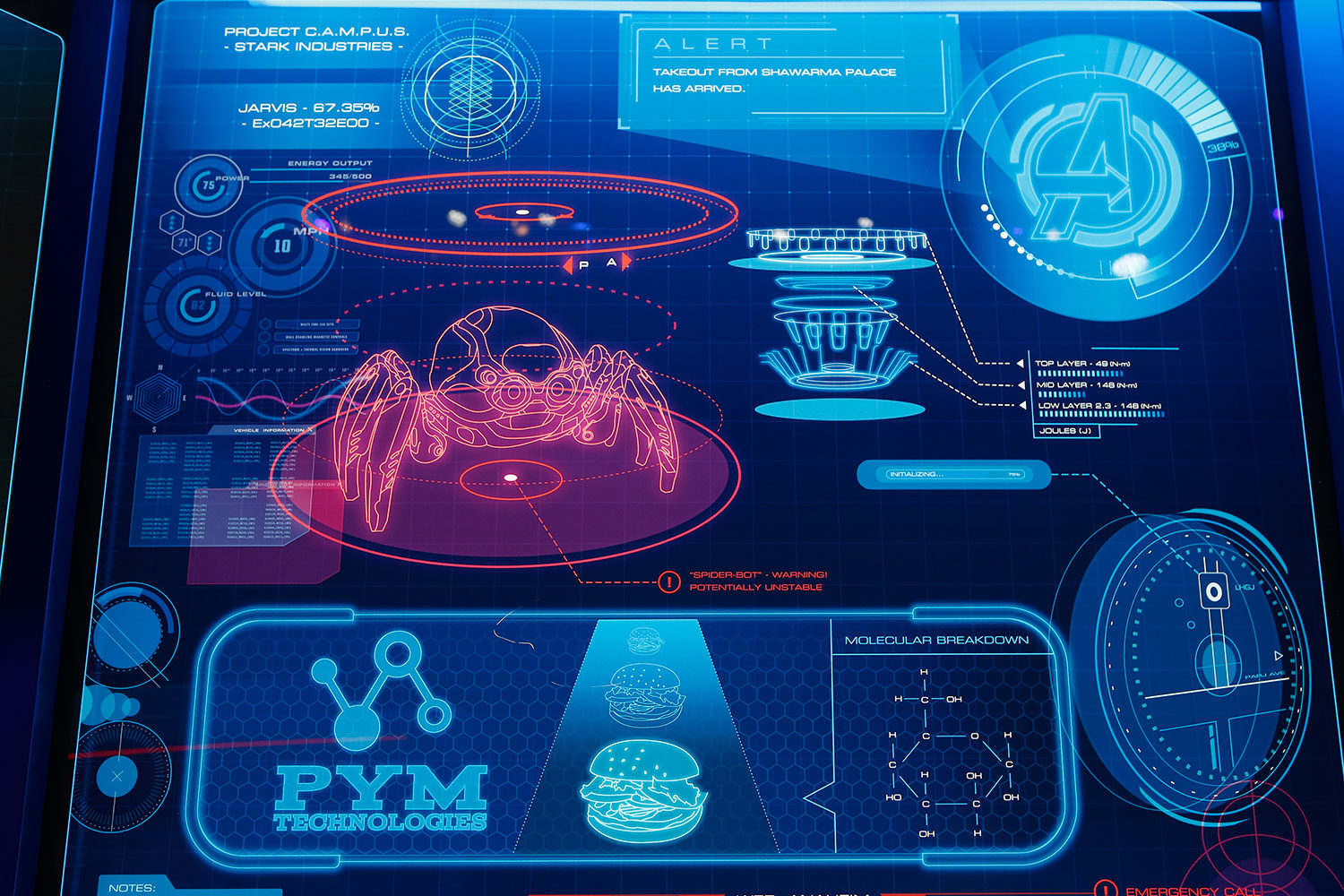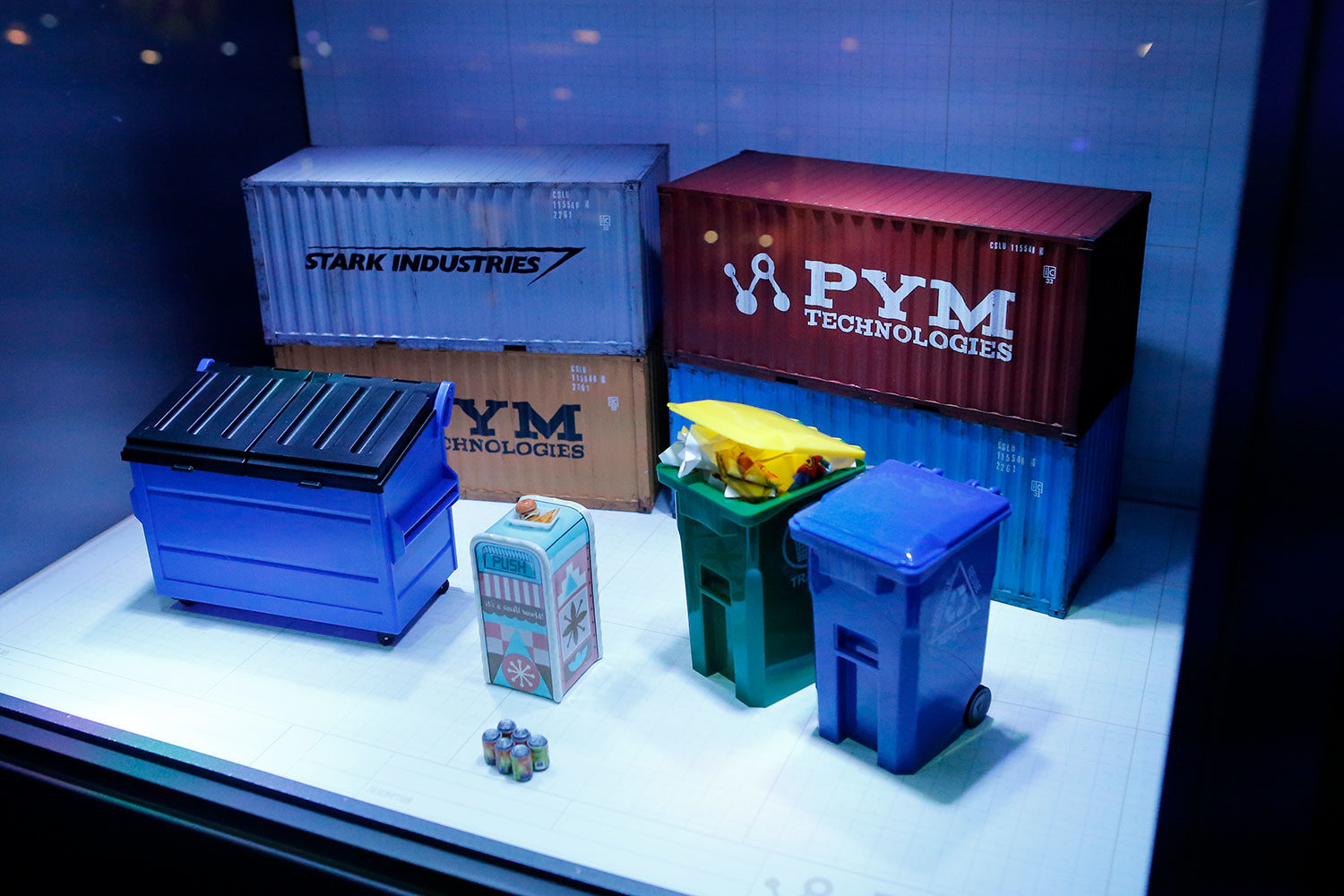 There will be plenty of active members of The Avengers you can meet throughout the campus, including Black Widow, Ant-Man and The Wasp, Doctor Strange, the Guardians of the Galaxy, Black Panther and the Dora Milaje, Thor and Loki, and even Iron Man! Doctor Strange might be bending time and space to make that happen.

Speaking of Doctor Strange, there's a "temporal anomaly" discovered at the California Avengers Campus that might require some attention.

What's a Sanctum? From Doctor Strange himself:

There are places of power in this world, sacred Sanctums built by ancient Sorcerers to protect this reality.

Perhaps if Tony Stark had studied his father's files more closely, he might have realized sooner that the remnants of one such site were hidden right where he was building his new Campus in California. Then again, when I undid the ancient spells to reveal what remained of this Sanctum's foundations, all Stark said was that it was "a neat party trick."

His sarcasm aside, Stark understands the immense power of the Mystic Arts; I have dropped the veil around this place so that you can, too. You want to know how it's possible to harness energy from other dimensions? To bend the laws of time and space? Meet with me here, when the time comes, and I shall help you unravel the mysteries of the multiverse.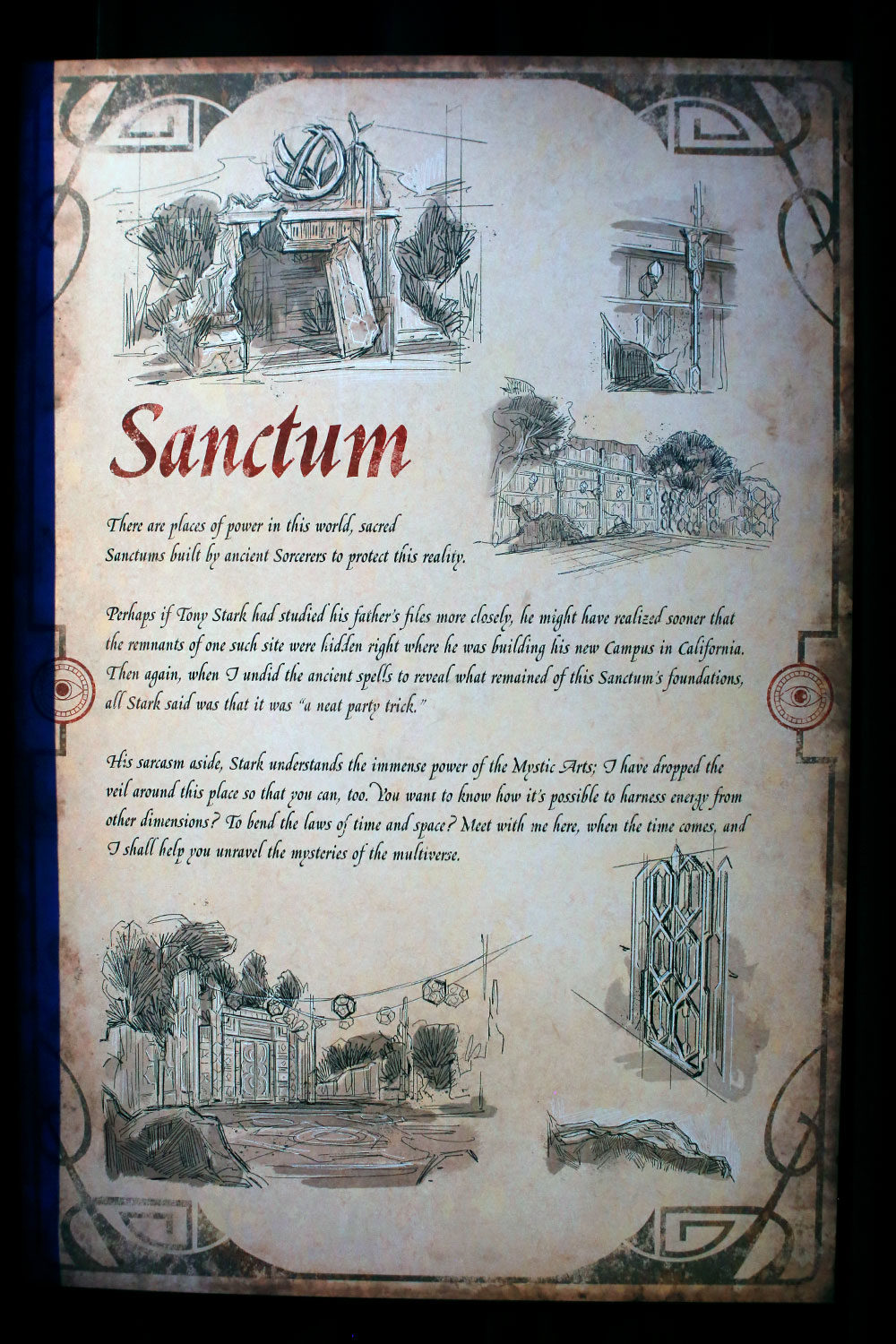 Avengers Campus Phase 2

From the Disney Parks Blog:

"As Super Heroes continue to assemble at both campuses, one of the iconic buildings in the California Campus will be the Avengers Headquarters where you may catch a glimpse of the Avengers along its rooftops. This building, which will open in phase two, will become the future entrance to a brand-new E-Ticket attraction where you will step onboard a Quintet and fly alongside the Avengers in an epic adventure to Wakanda and beyond! You will team up alongside the Avengers in a battle to save our world against of the most powerful villains they have ever faced. Imagineers are hard at work conceiving an all-new innovative ride system to put you in the middle of this action."

As you can see from the conceptual art below, it's unlike anything we've ever seen from Disney. It will be fascinating to see how they pull this off.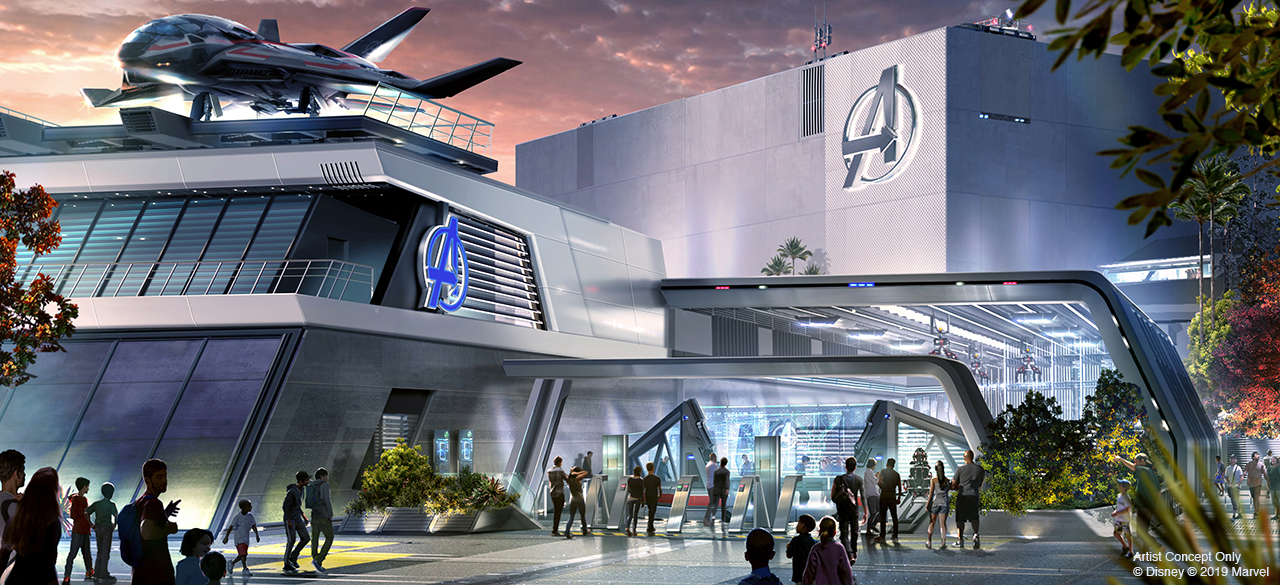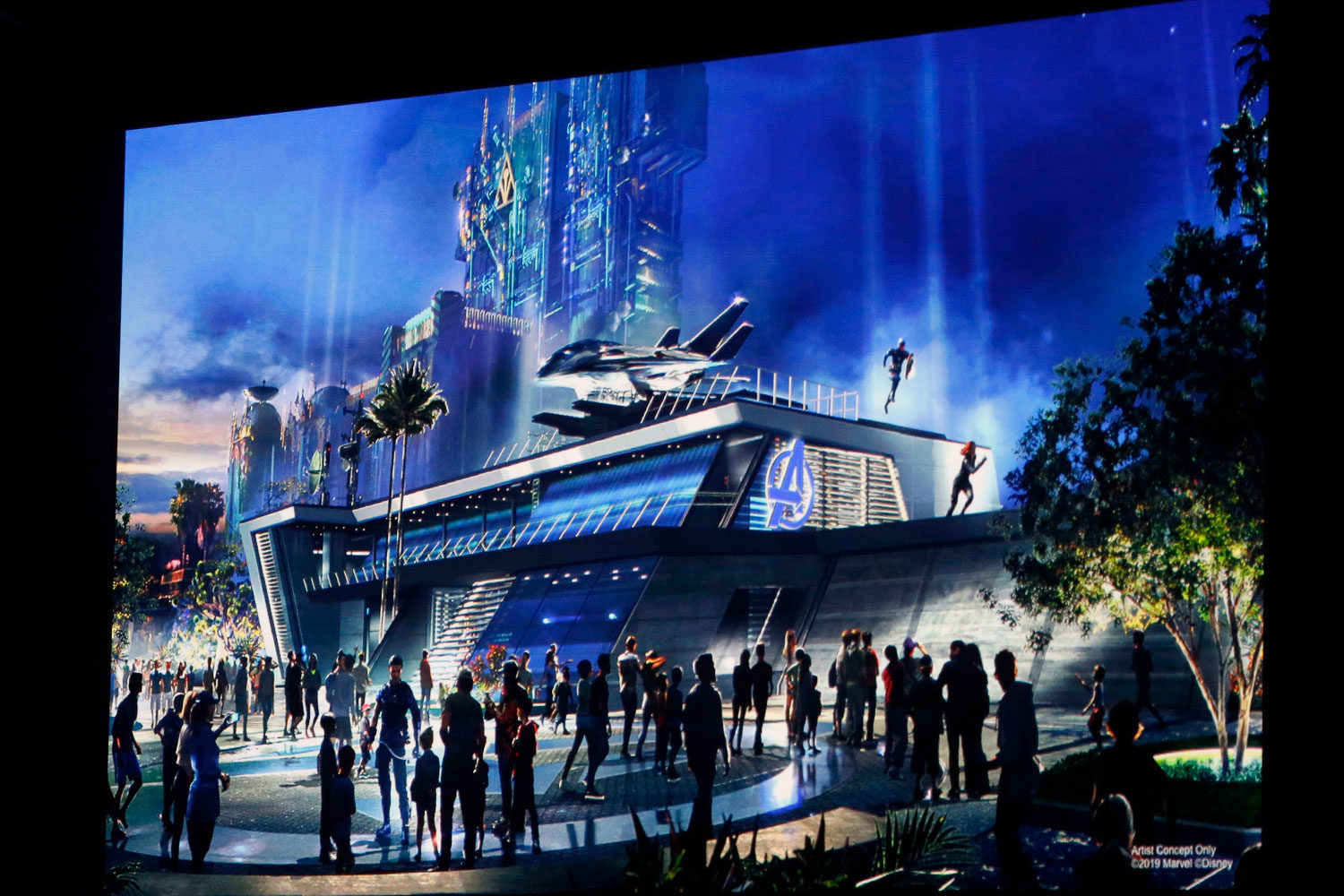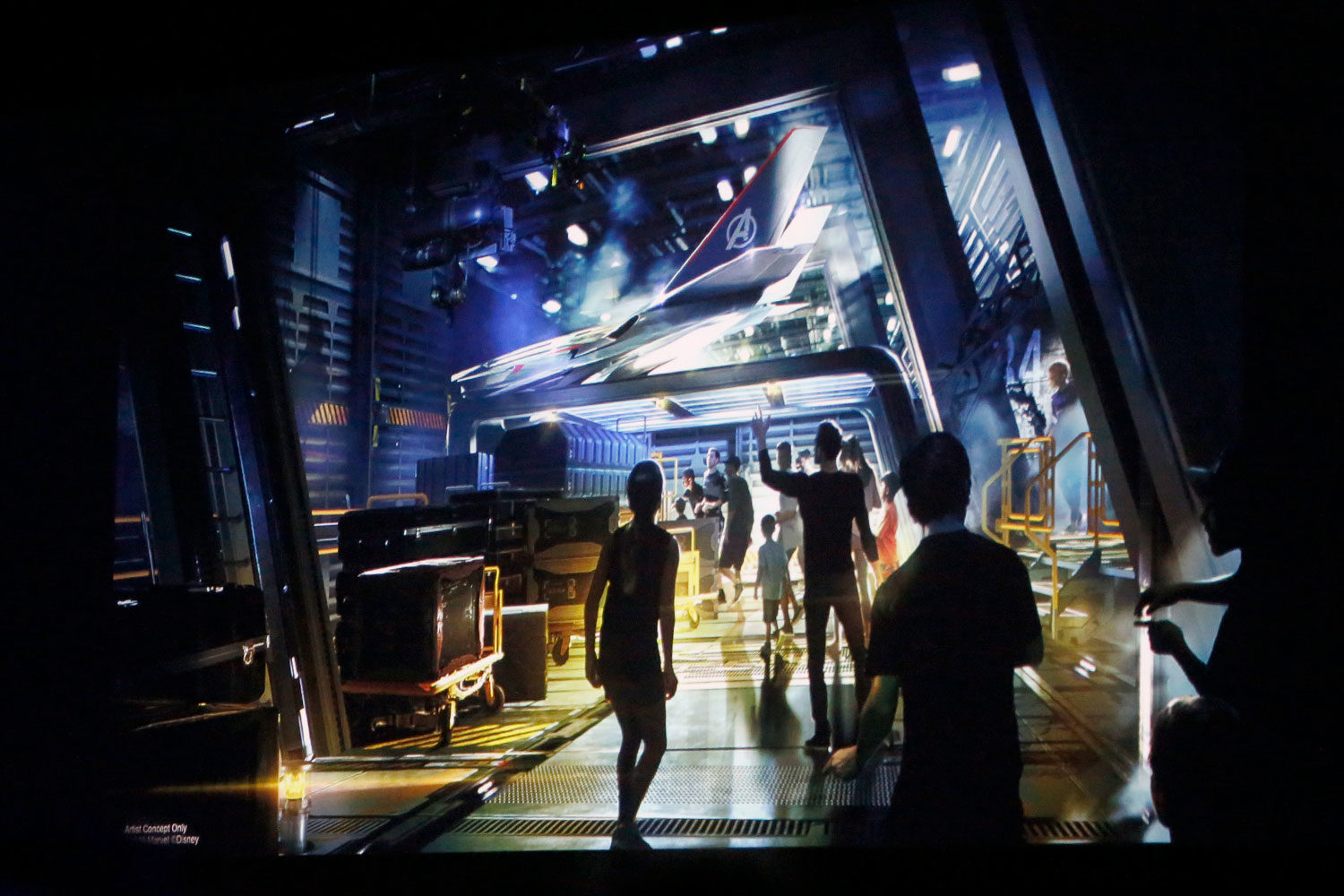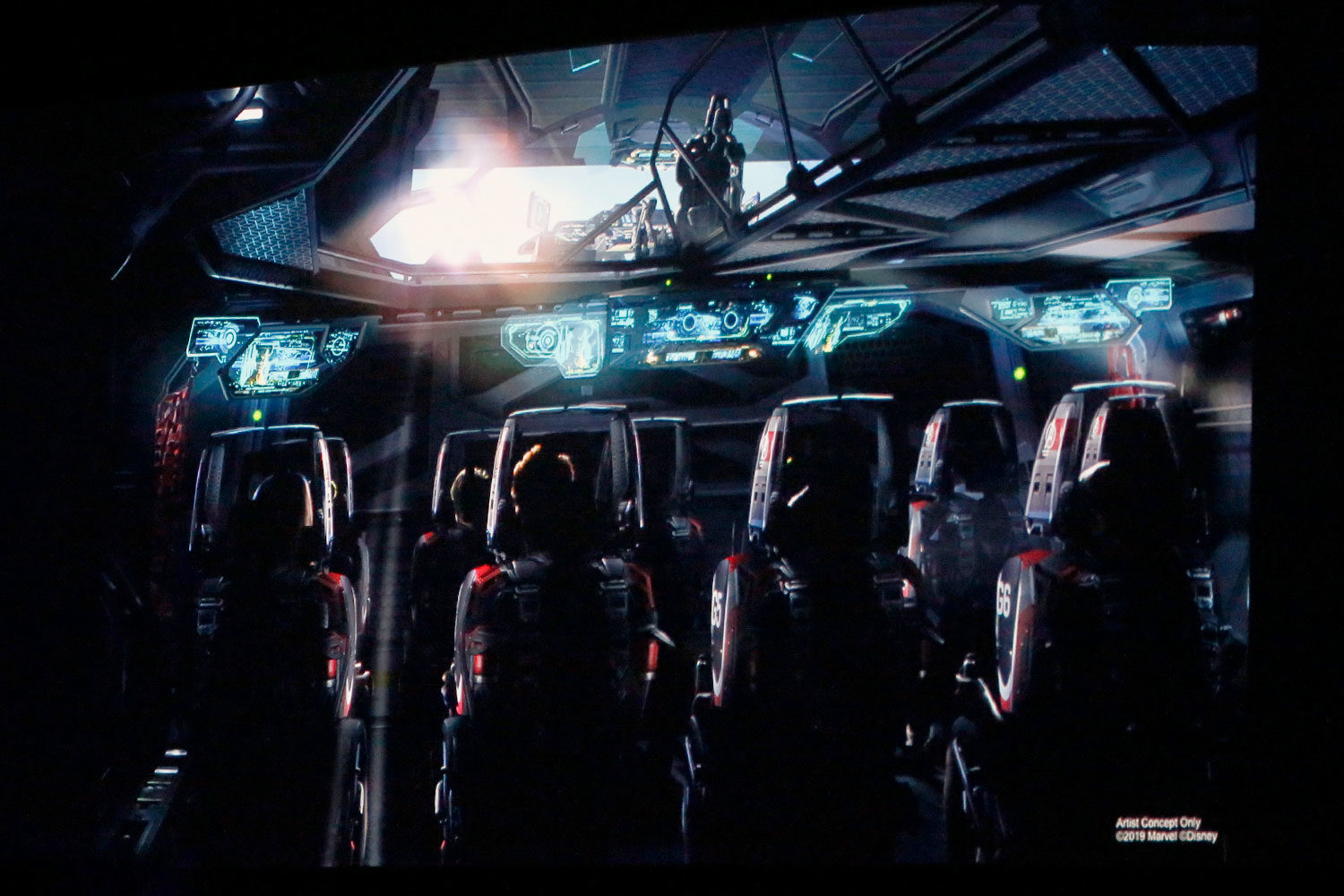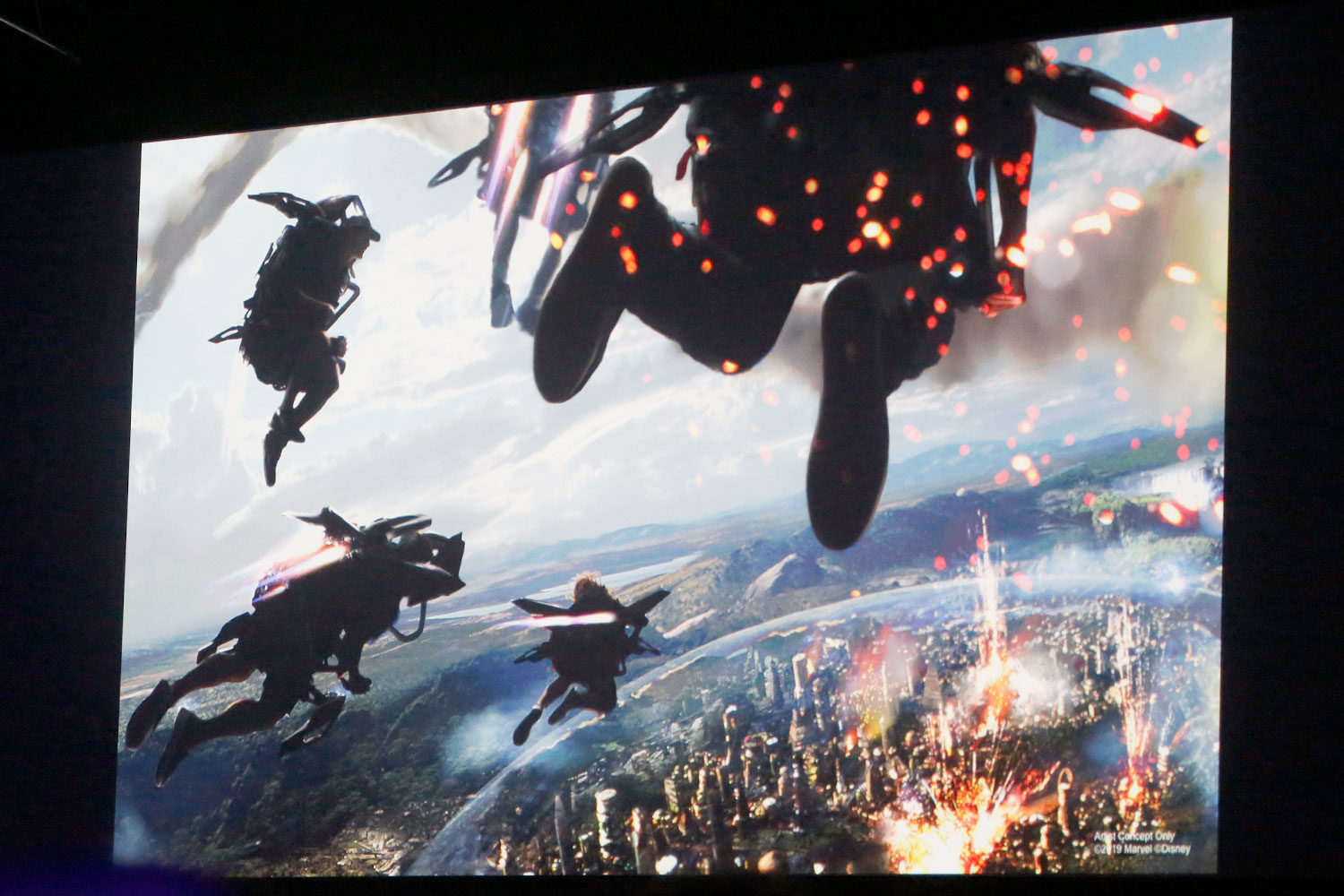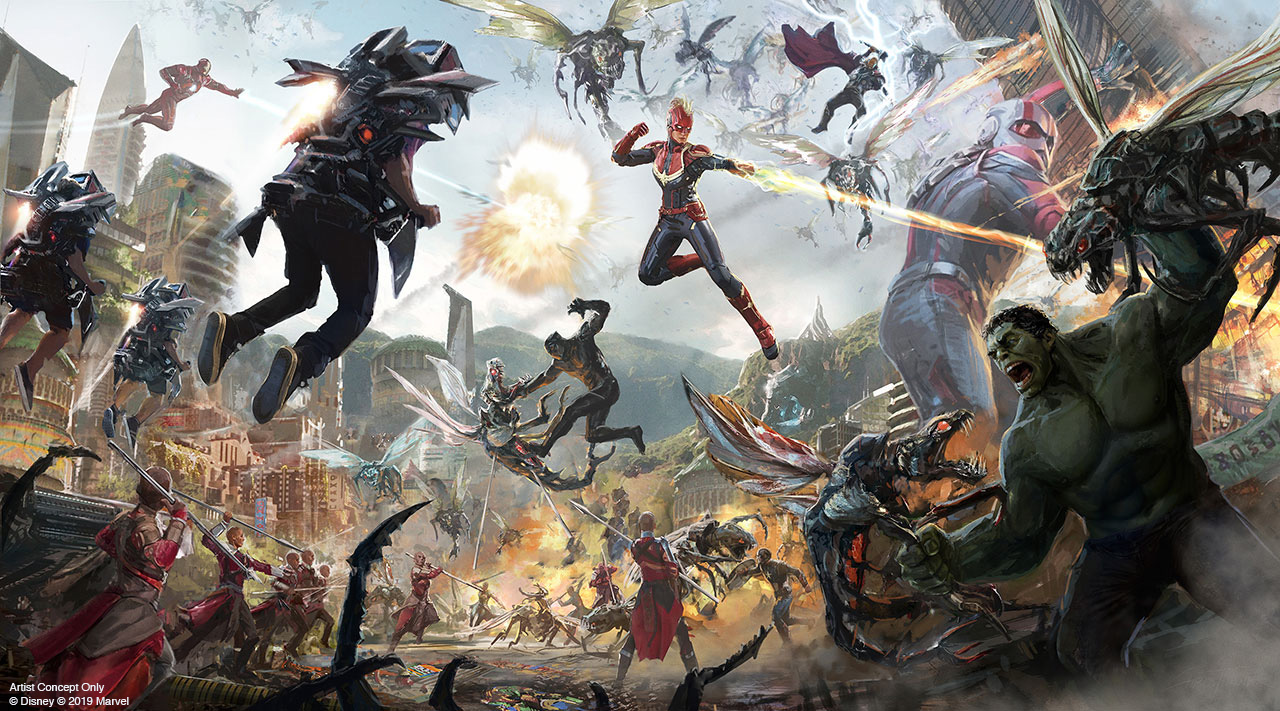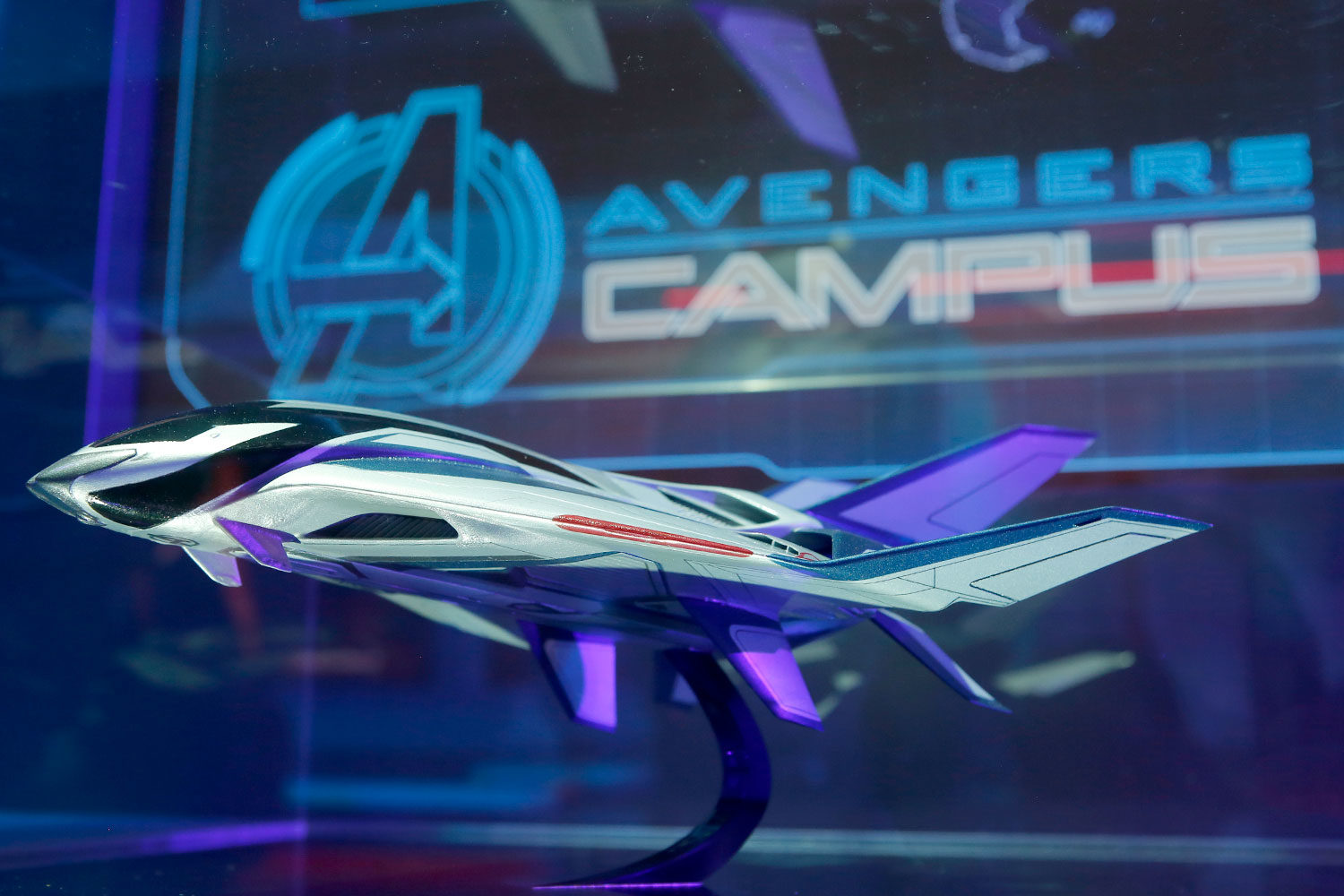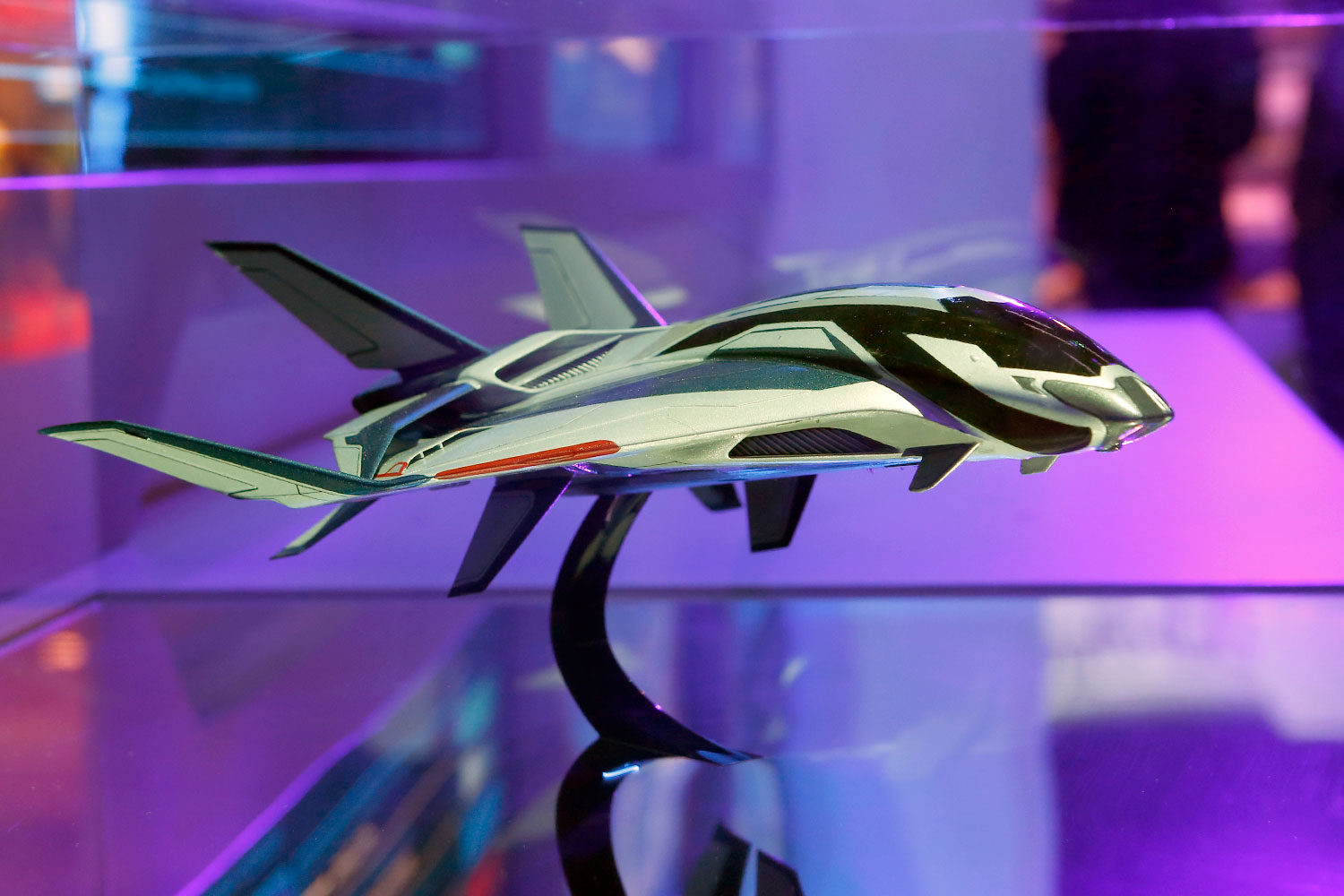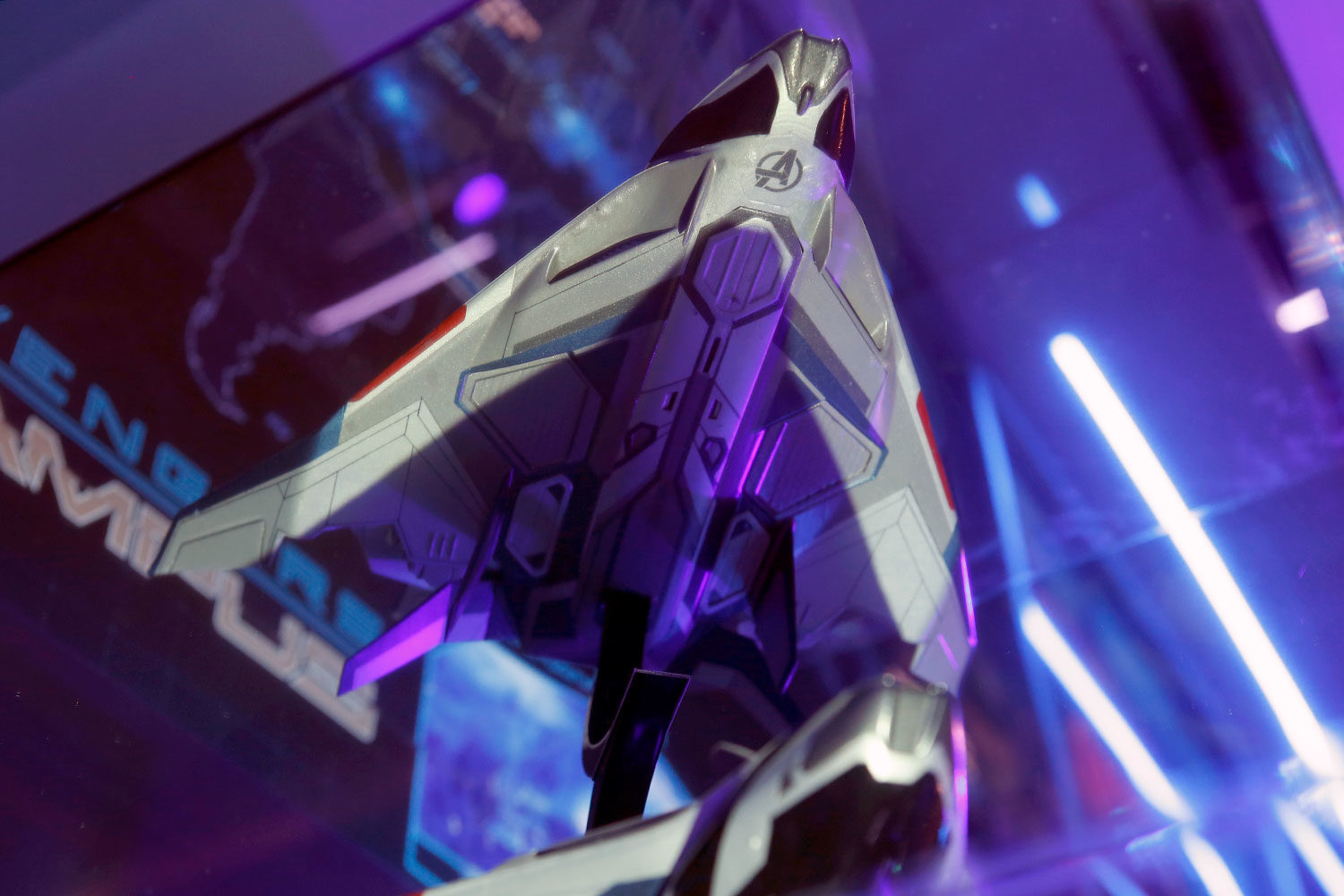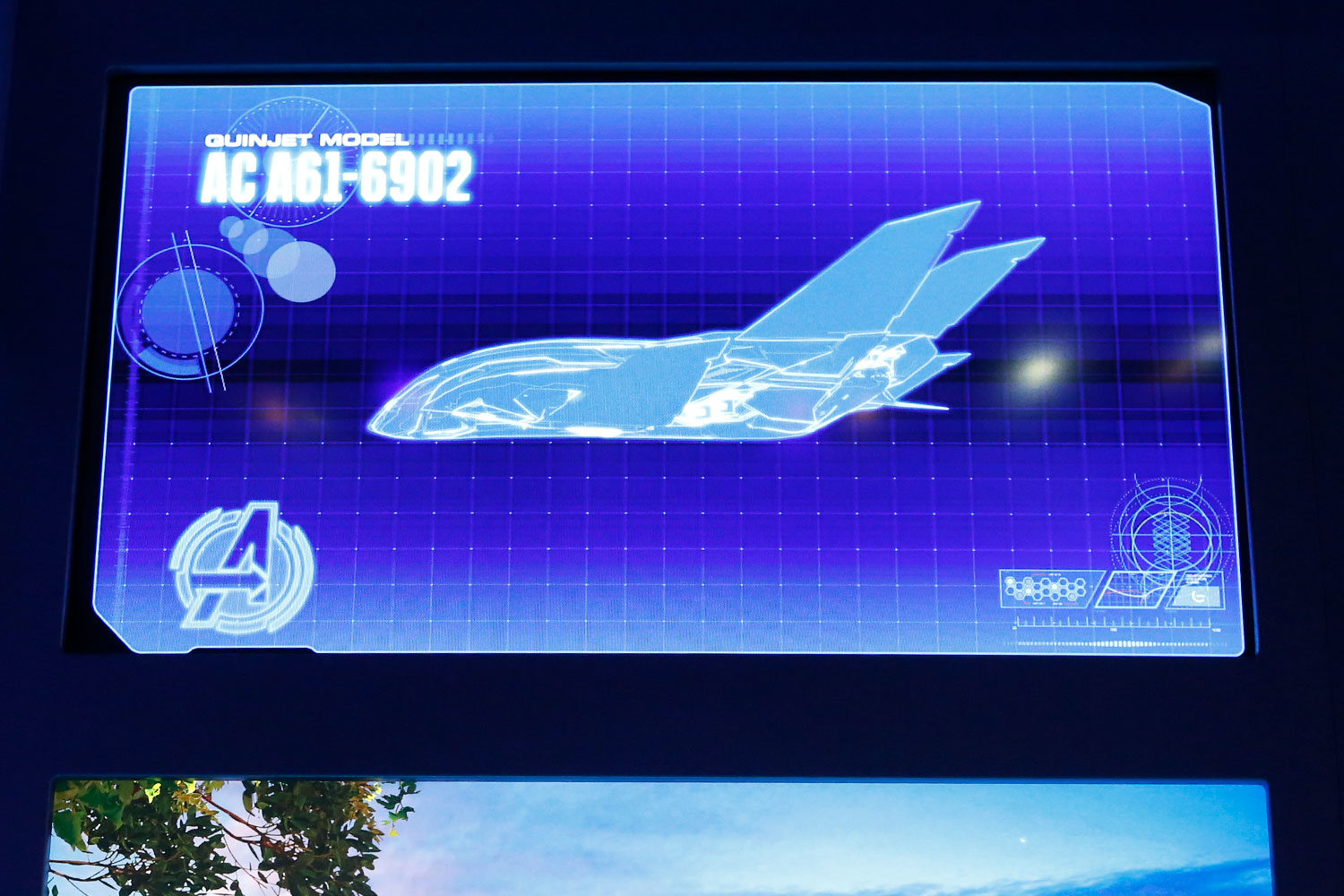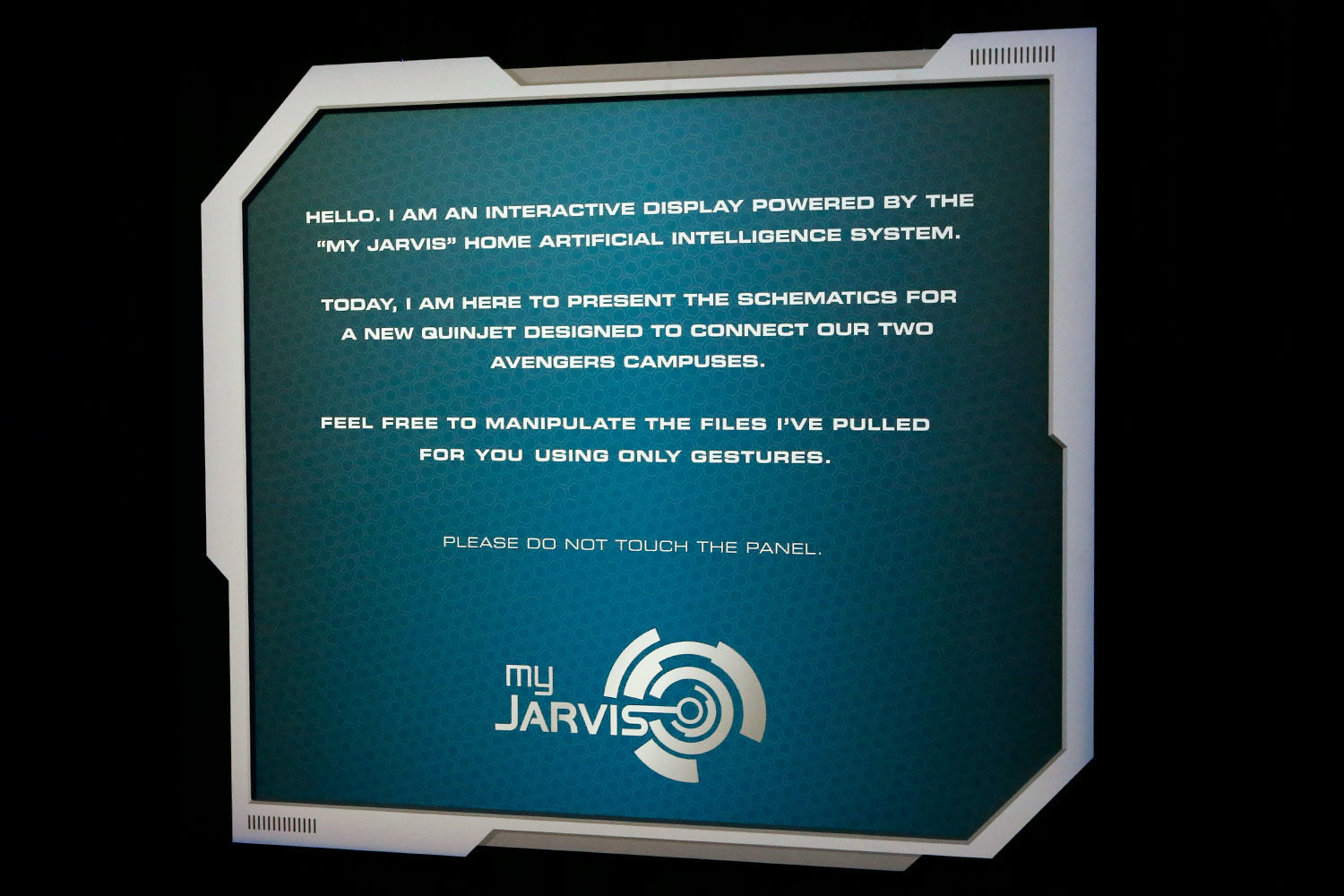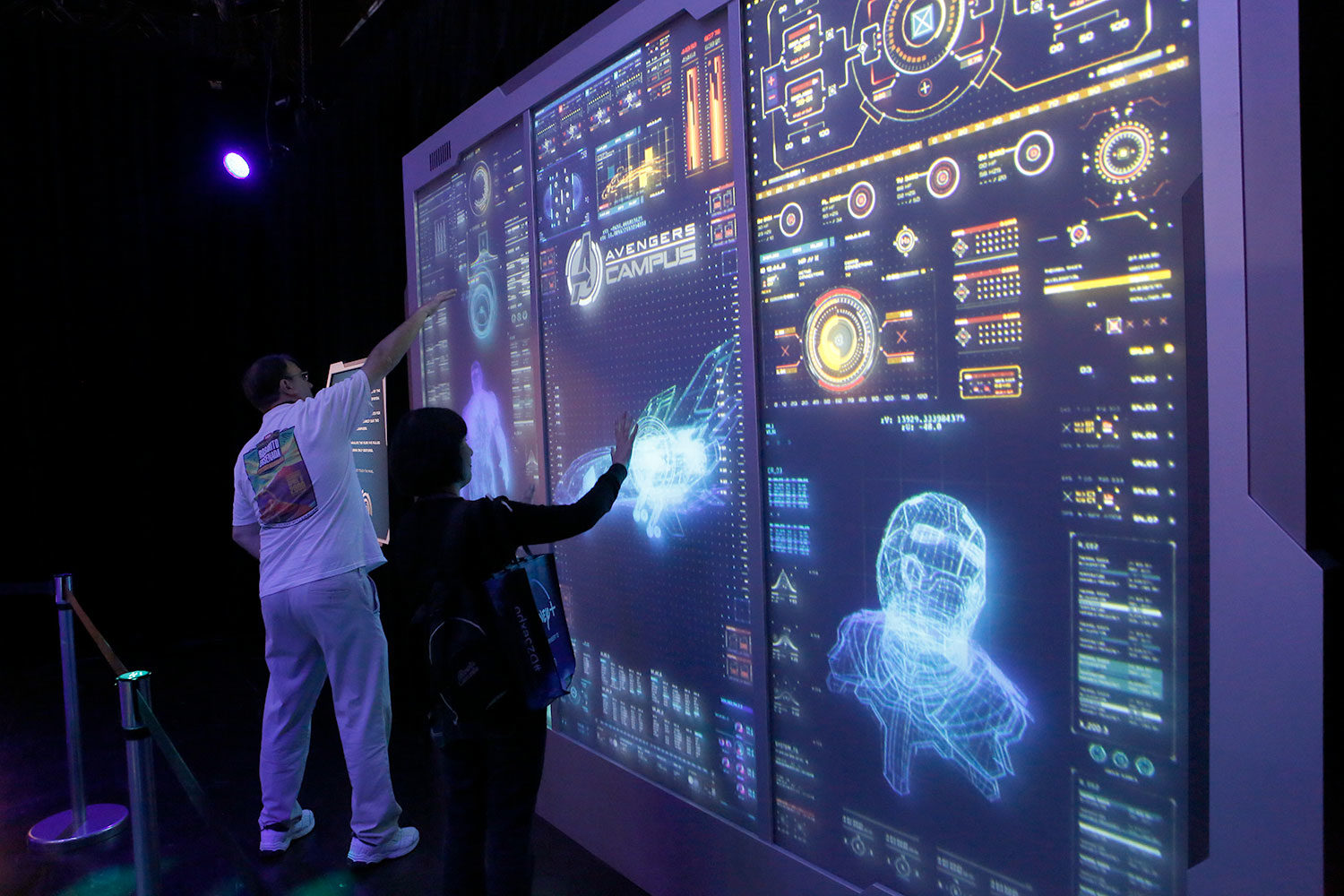 Here's a look at what the new lay of the land might be: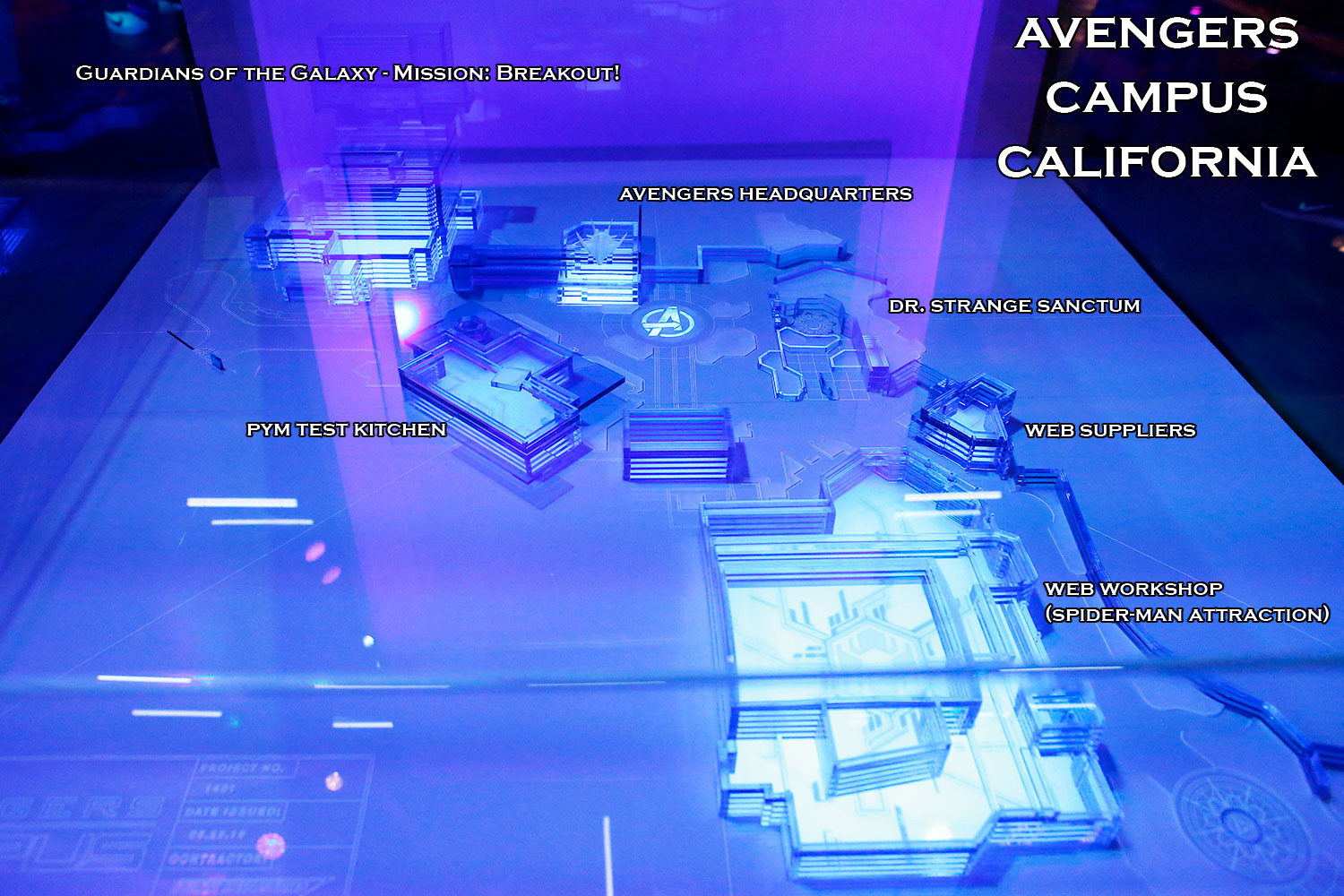 DISNEYLAND PARIS

Moving on to Disneyland Paris, who will be opening Disney's Hotel New York – The Art of Marvel in the summer of 2020. The hotel will celebrate 80 years of Marvel art and artists, with more than 300 curated works of art on display in a typical New York setting, with a contemporary Art Deco style. Inspired by a New York art gallery, the hotel pays tribute to not only the city that many iconic Marvel Super Heroes call home, but the artists who created them.

Disneyland Paris is collaborating with more 50 artists from Marvel Comics and Marvel Studios to bring together more than 300 pieces of artwork showcasing the depth of the Marvel Universe—such as comic book covers, posters, film illustrations, storyboards, and original sketches—including never-before-seen and exclusive pieces. This unprecedented renovation will include entirely redesigned rooms with a modern feel, featuring Marvel artwork in each room and a subtle nod to the legendary Iron Man in all Empire State Club rooms. Disney's Hotel New York – The Art of Marvel will also have suites that go above and beyond for super fans, with suites themed to Avengers and Spider-Man. The walls will display spectacular works by Marvel artists and the furniture will include subtle references to these iconic Super Heroes. Additionally, guests staying in club rooms and suites will enjoy exclusive amenities and services.

Rooms will include one-of-a-kind themed suites featuring favorite Super Heroes like Spider-Man and more, and you can even meet these legends in a dedicated space.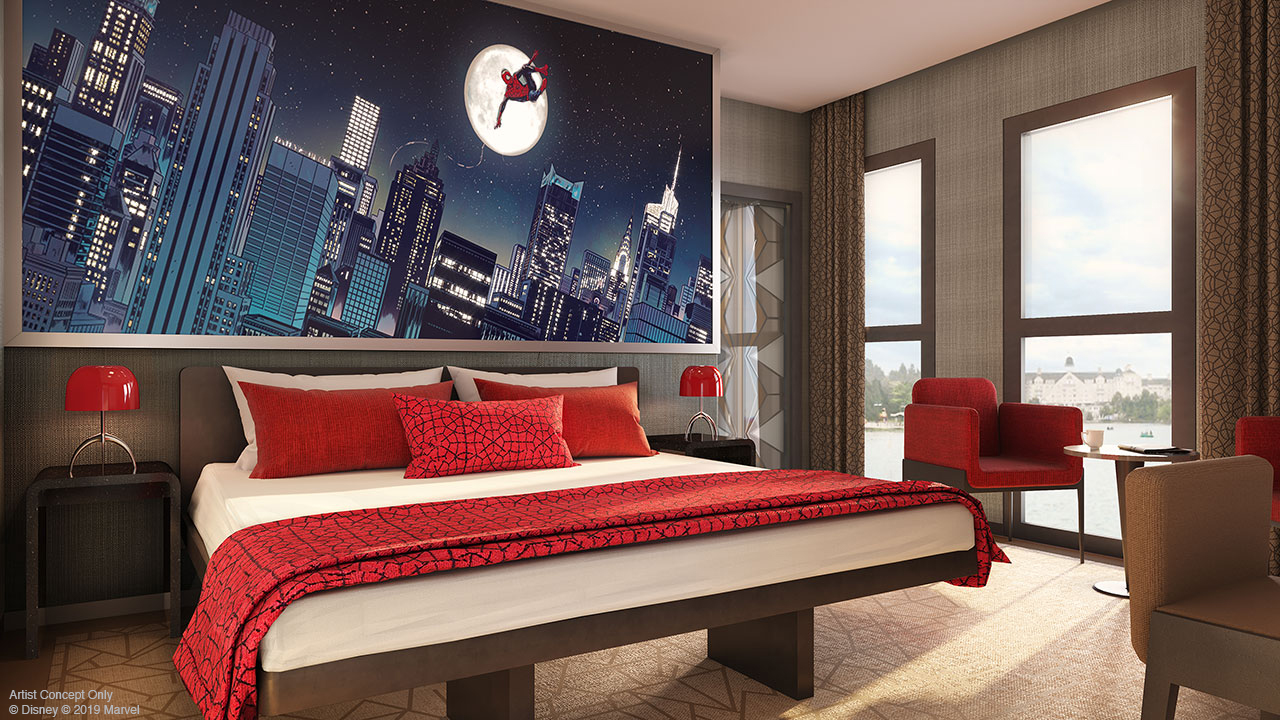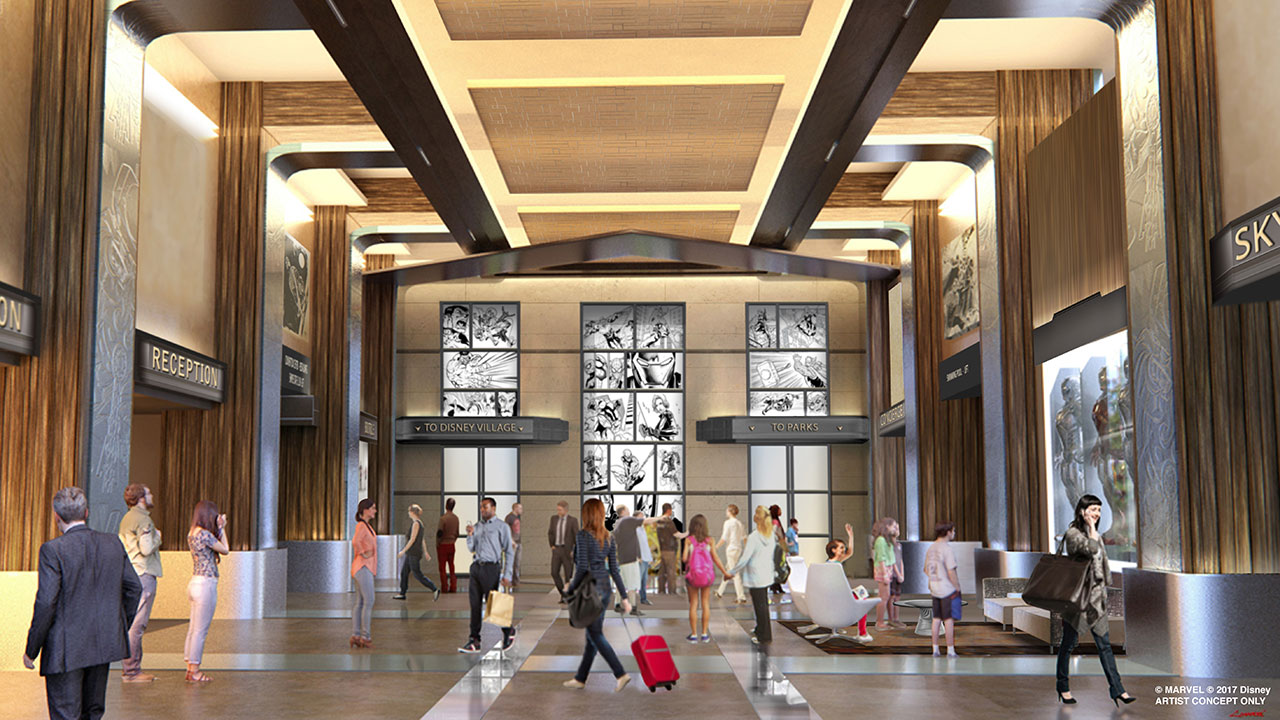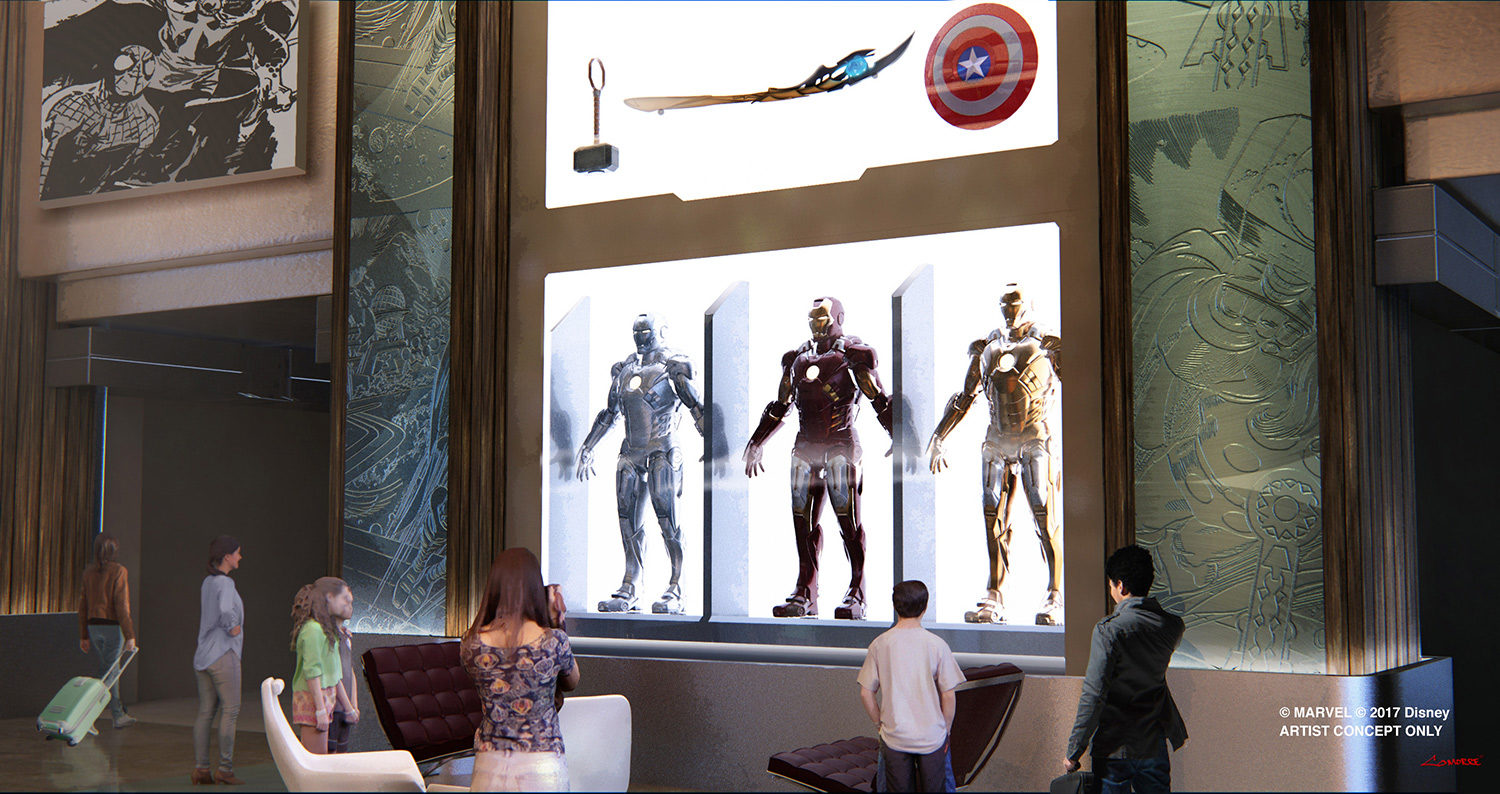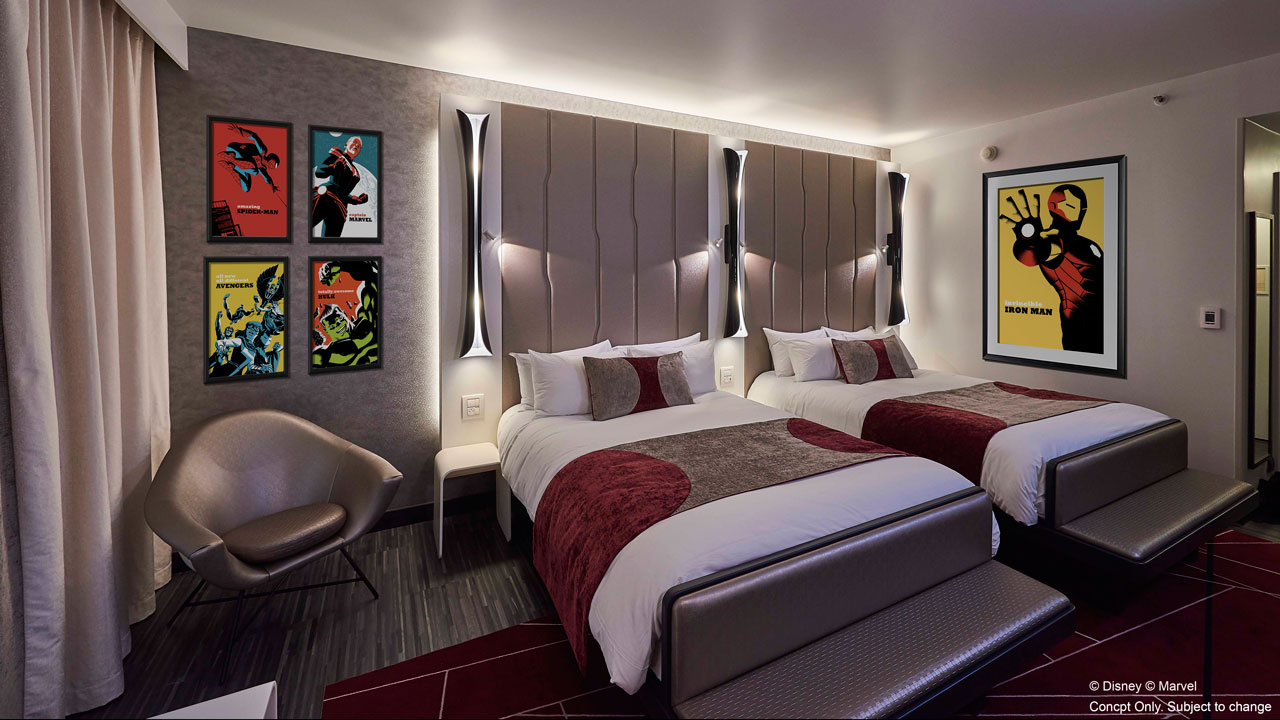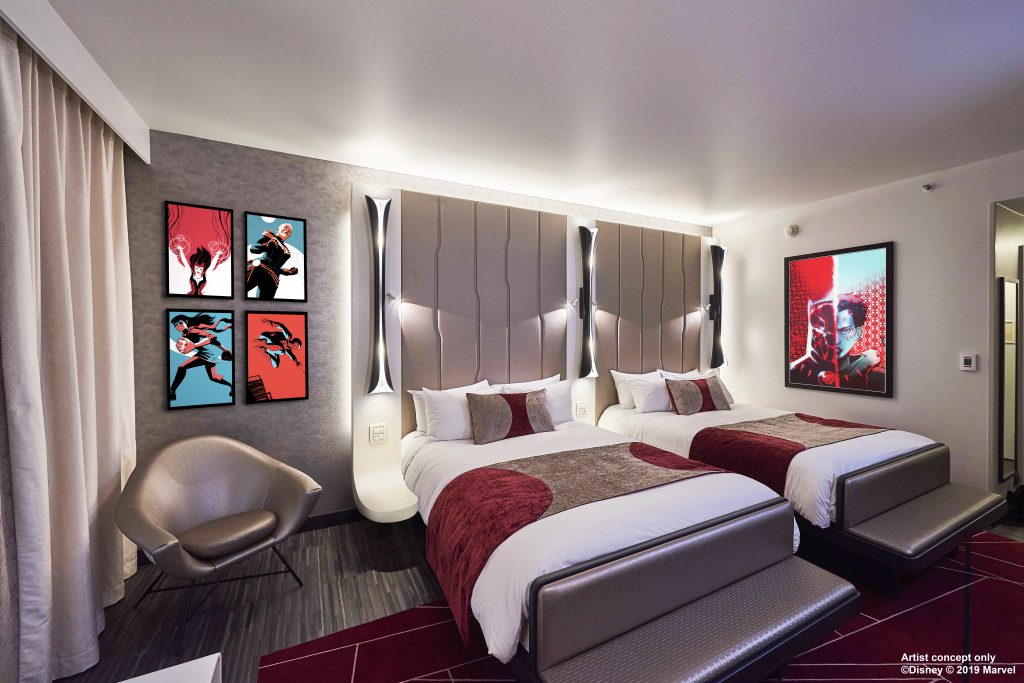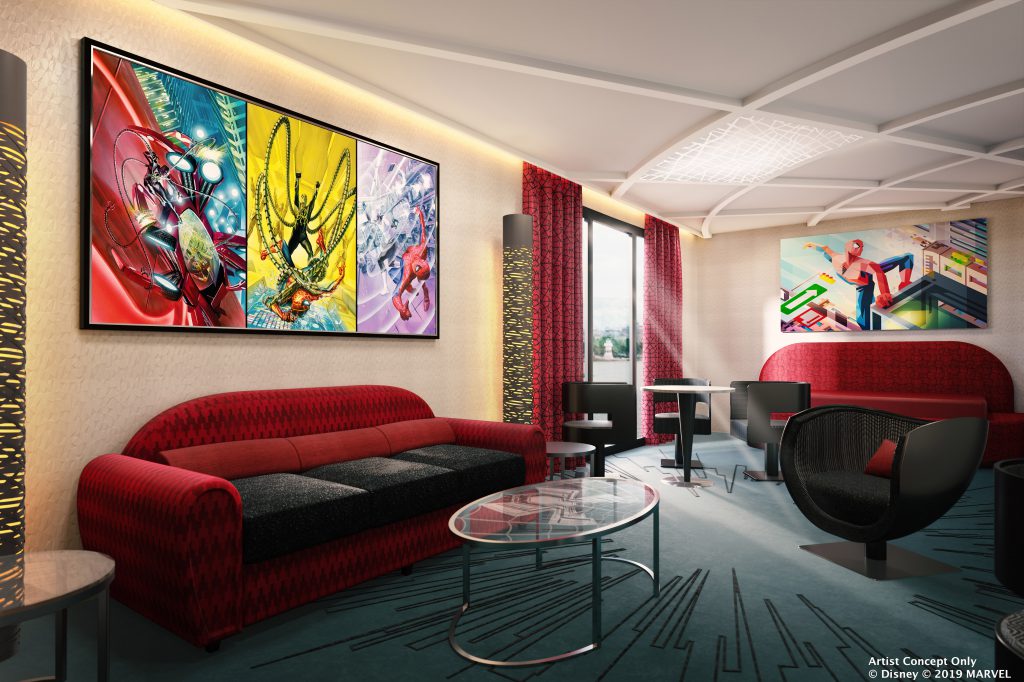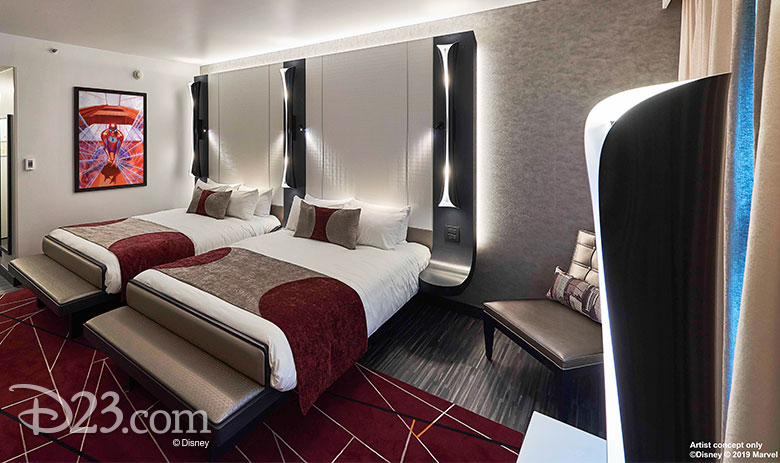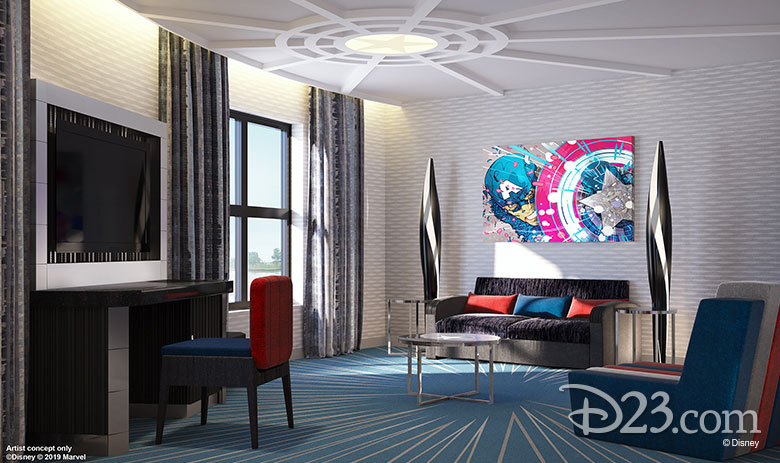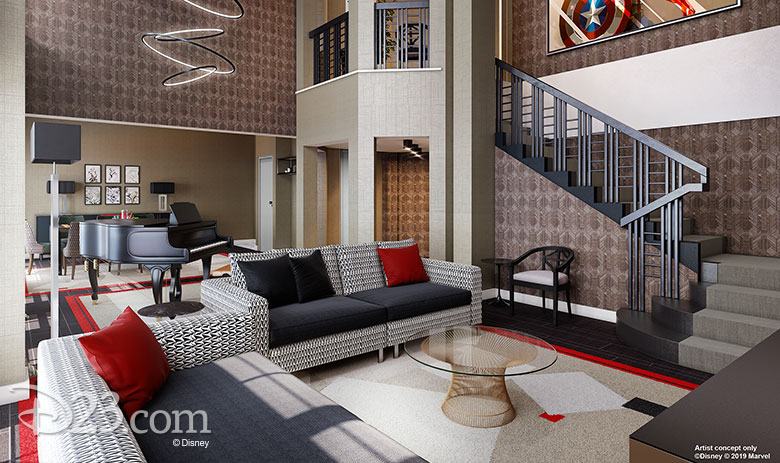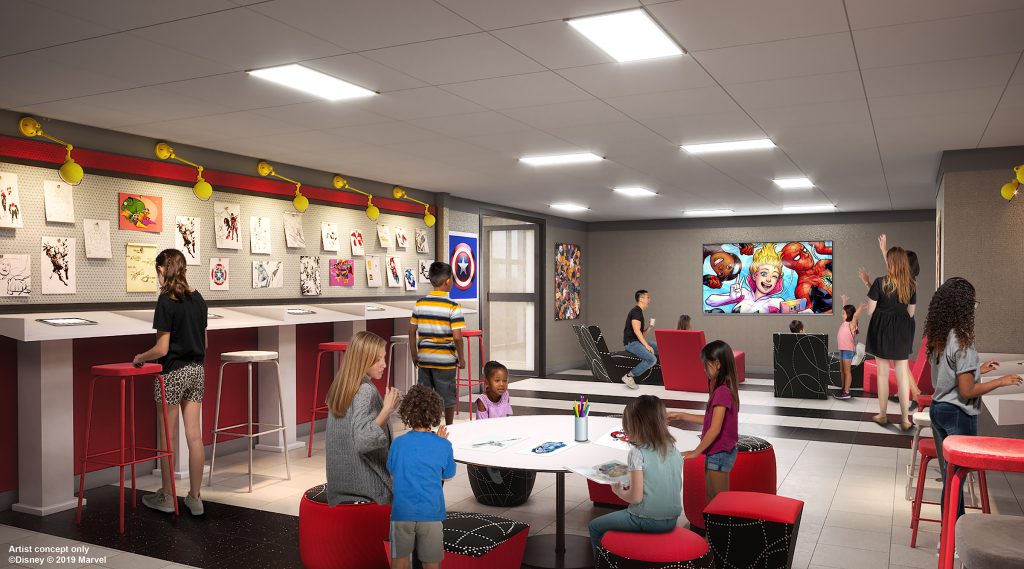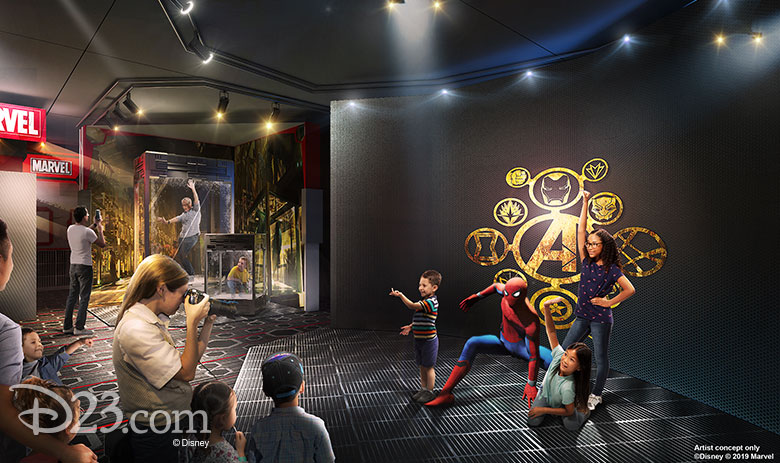 Disney's Hotel New York – The Art of Marvel will be the first Disney Hotel to host Marvel Super Heroes. In addition to encountering their favorite heroes every morning, guests can become part of the action with fun photo locations inspired by Guardians of the Galaxy, Thor, and more.

Restaurants and bars celebrating the Art of Marvel will include:
Manhattan Restaurant will be an elegant and refined table service restaurant, featuring a chandelier inspired by Thor's Asgardian Palace and a menu highlighting authentic flavors, reminiscent of a family-owned Italian trattoria, with fresh and local ingredients.
Downtown Restaurant will be a culinary journey through a cosmopolitan New York where typical American dishes will meet flavors from Chinatown and Little Italy. Guests can even watch chefs preparing meals. The restaurant will offer a selection of Marvel-inspired dishes and its walls will display 90 sketched portraits of Marvel Super Heroes.
Skyline Bar will be an elegant, typical New York martini bar, offering breathtaking views of the skyline of New York. Guests can find cocktails as well as a fine selection of wines.
Lounge Bar will be a trendy Manhattan loft-style bar, serving its patrons fresh and organic products like biodynamic wines, bottled beers from craft breweries, and more.

Guests can also take advantage of many other amenities during their stay, including:
Metro Pool: an indoor/outdoor pool complex, with a jacuzzi, sauna, and Turkish bath
Metro Health Club: a fitness center equipped with machines and sports accessories
Marvel Design Studio: a space for kids to learn how to draw Marvel Super Heroes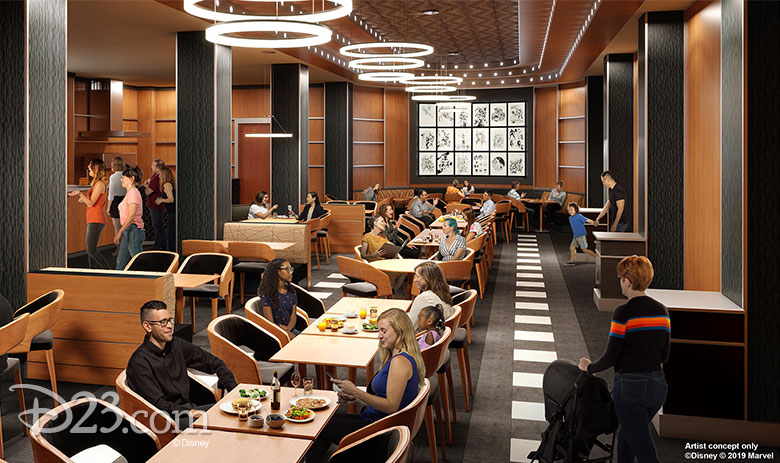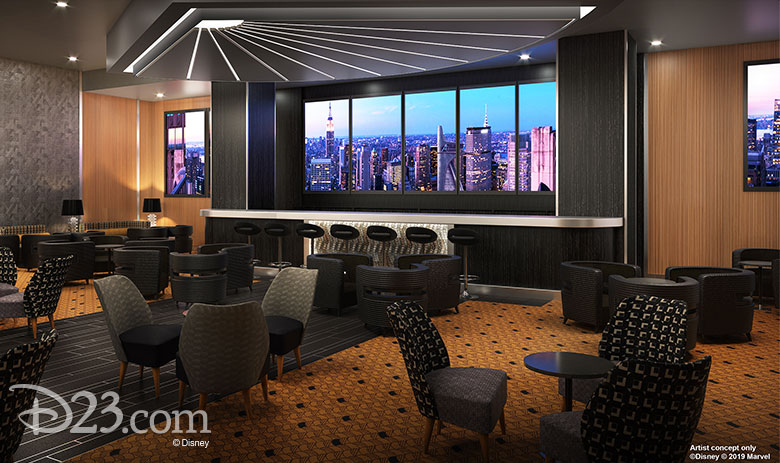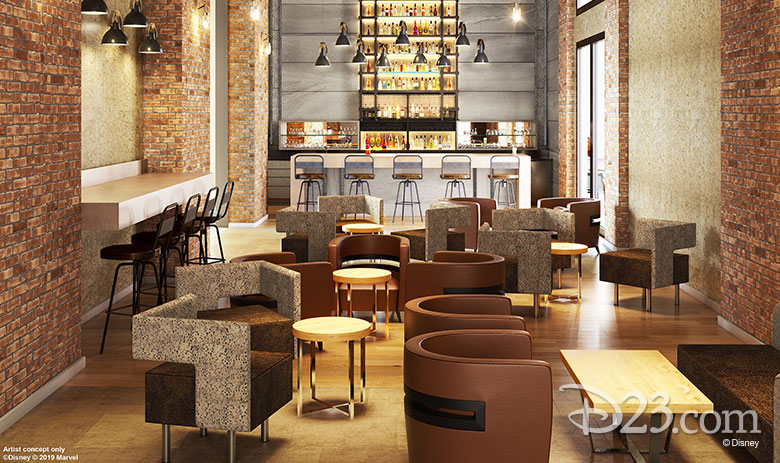 Disneyland Paris is also slated to receive their very own AVENGERS CAMPUS in 2021. Their version of Rock 'n' Roller Coaster Starring Aerosmith, located in Walt Disney Studios Park, will be "No More No More" becoming a high-speed Iron Man / Avengers attraction.

Avengers Campus will immerse guests in action-packed adventures with incredible attractions, heroic encounters, and new restaurants. One of the highlights will be a special attraction dedicated to Spider-Man, giving guests of all ages a taste of what it's like to have superpowers as they sling webs to help Spider-Man collect Spider-Bots that have run amok.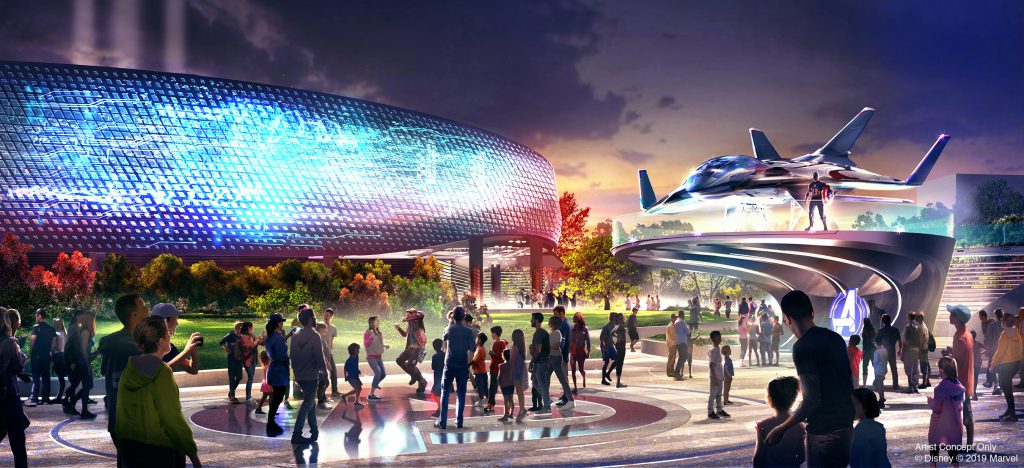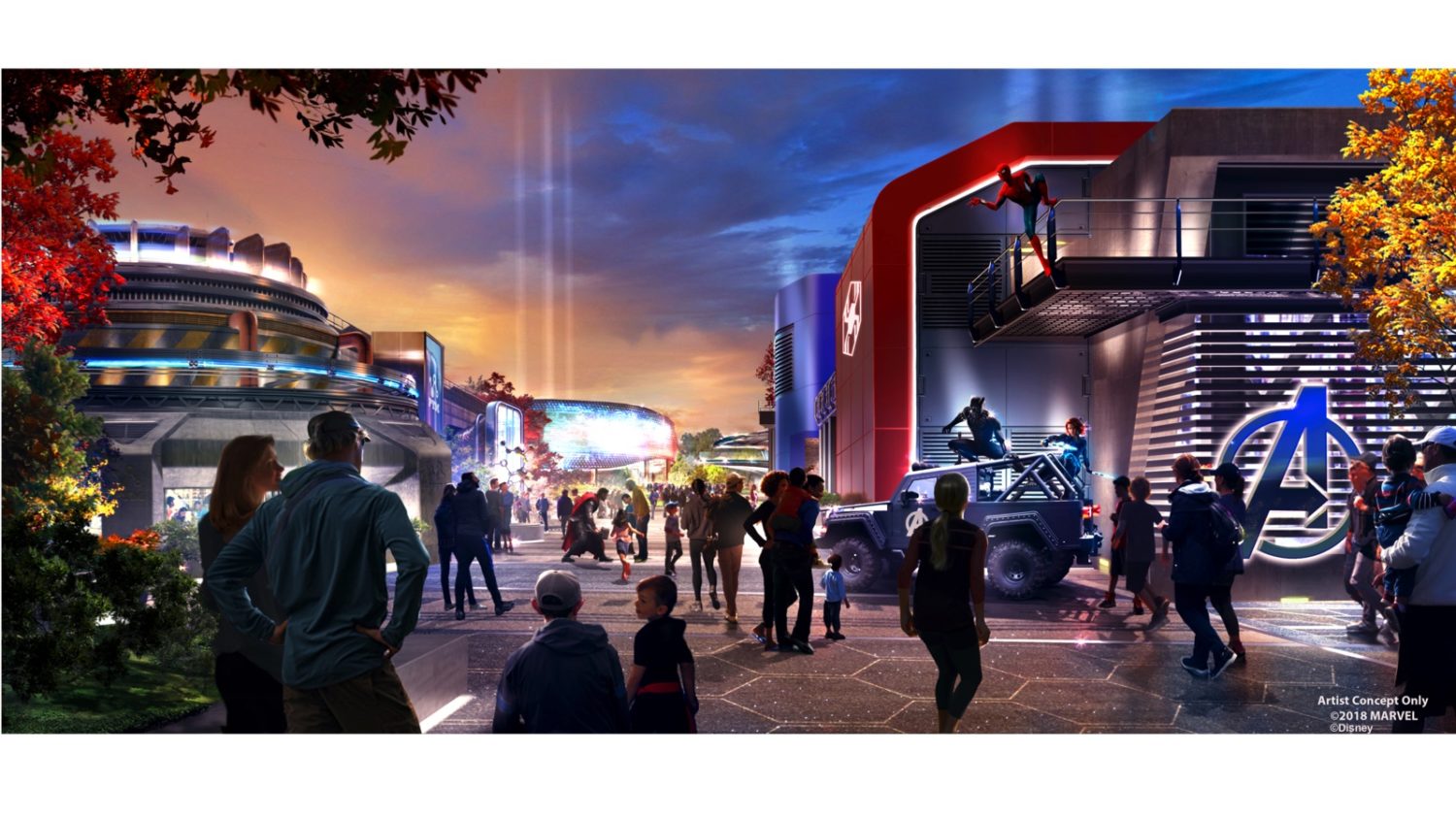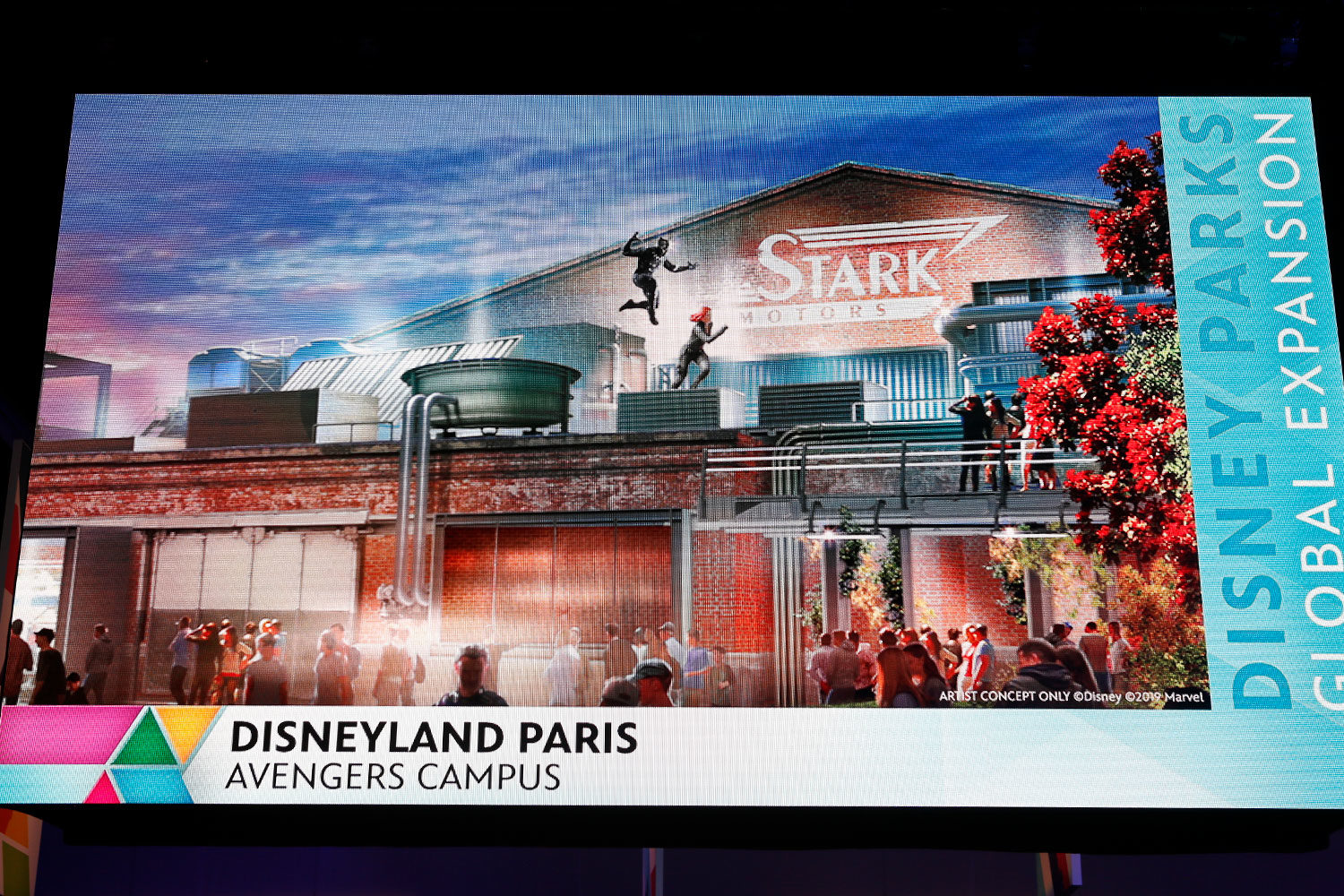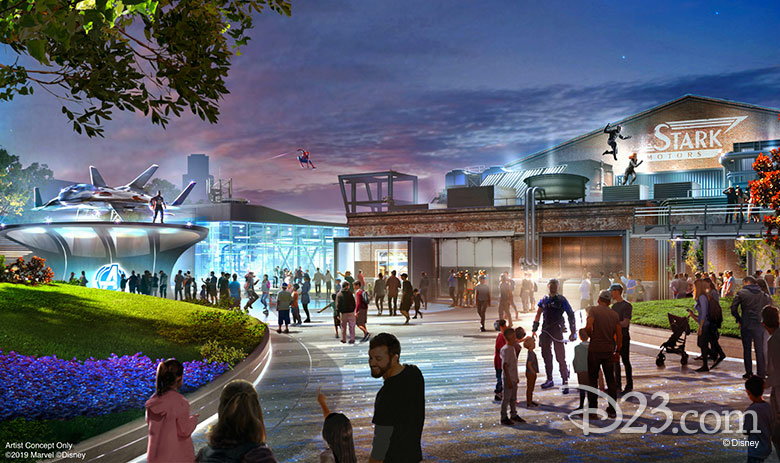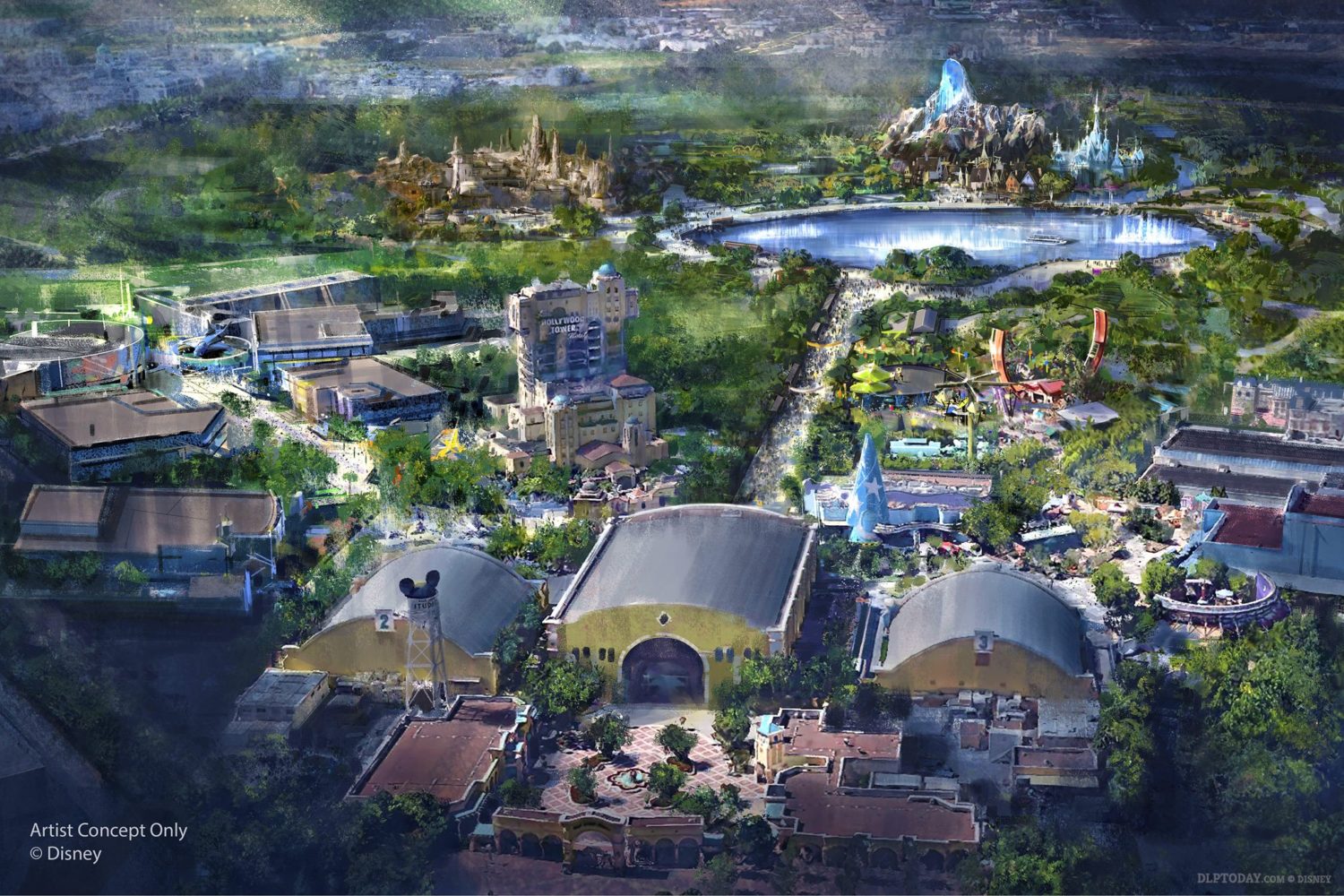 WALT DISNEY WORLD – EPCOT

Guardians of the Galaxy: Cosmic Rewind is the name of the resort's longest indoor roller coaster, and it will arrive in time for the 50th Anniversary of Walt Disney World in 2021. Situated in the new land titled WORLD DISCOVERY, the new attraction is described as a one-of-a-kind storytelling coaster that connects the adventure of a storyline with the thrills of a coaster.

"On most coasters, the vehicles point straight ahead throughout the ride," Bob Chapek, Chairman of Disney Parks, Experiences, and Products explained. "But on this attraction, each individual cab will be programmed to direct your eye to the story happening around you. That means instead of whizzing by the action, you'll be fully immersed in the story from the minute you launch."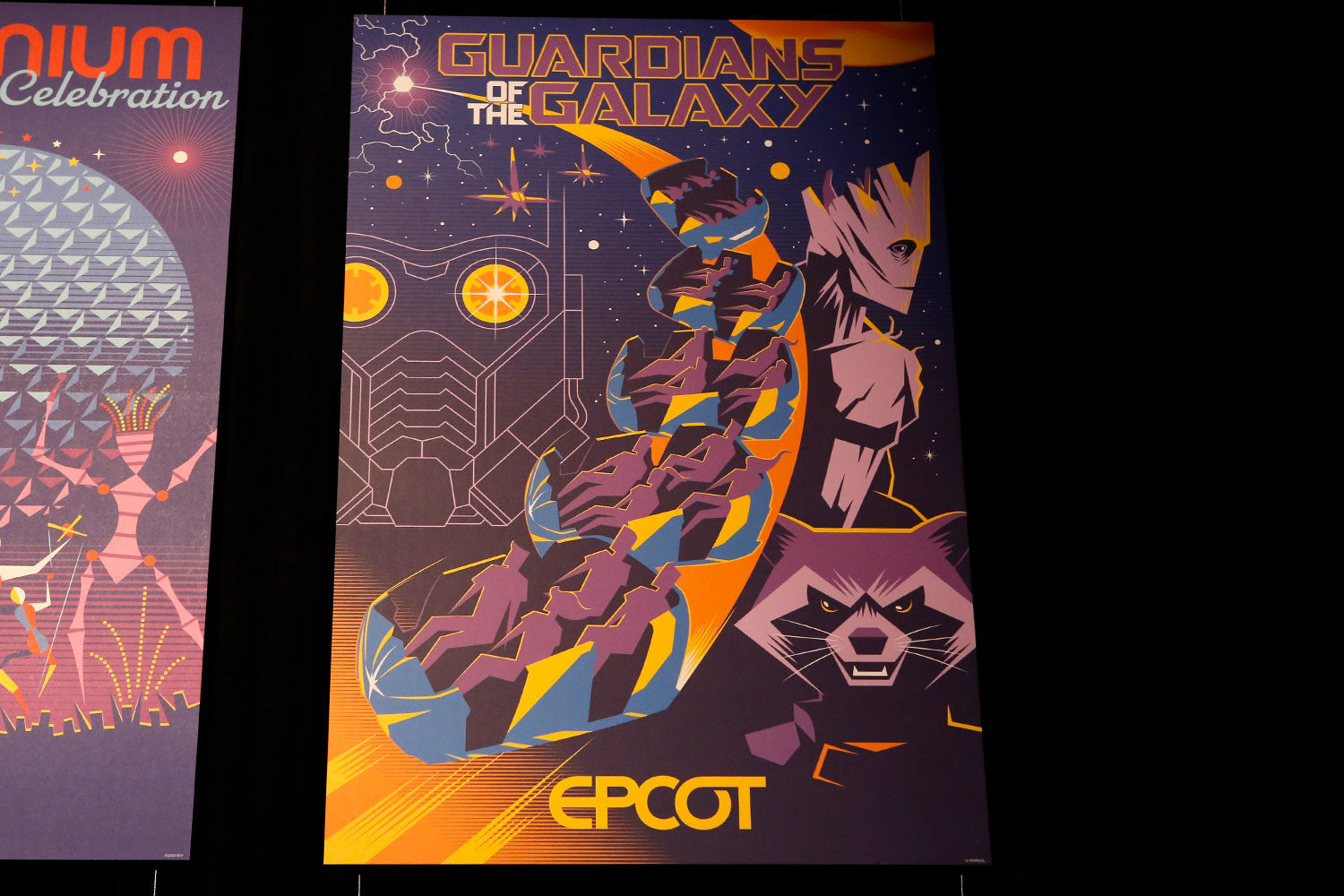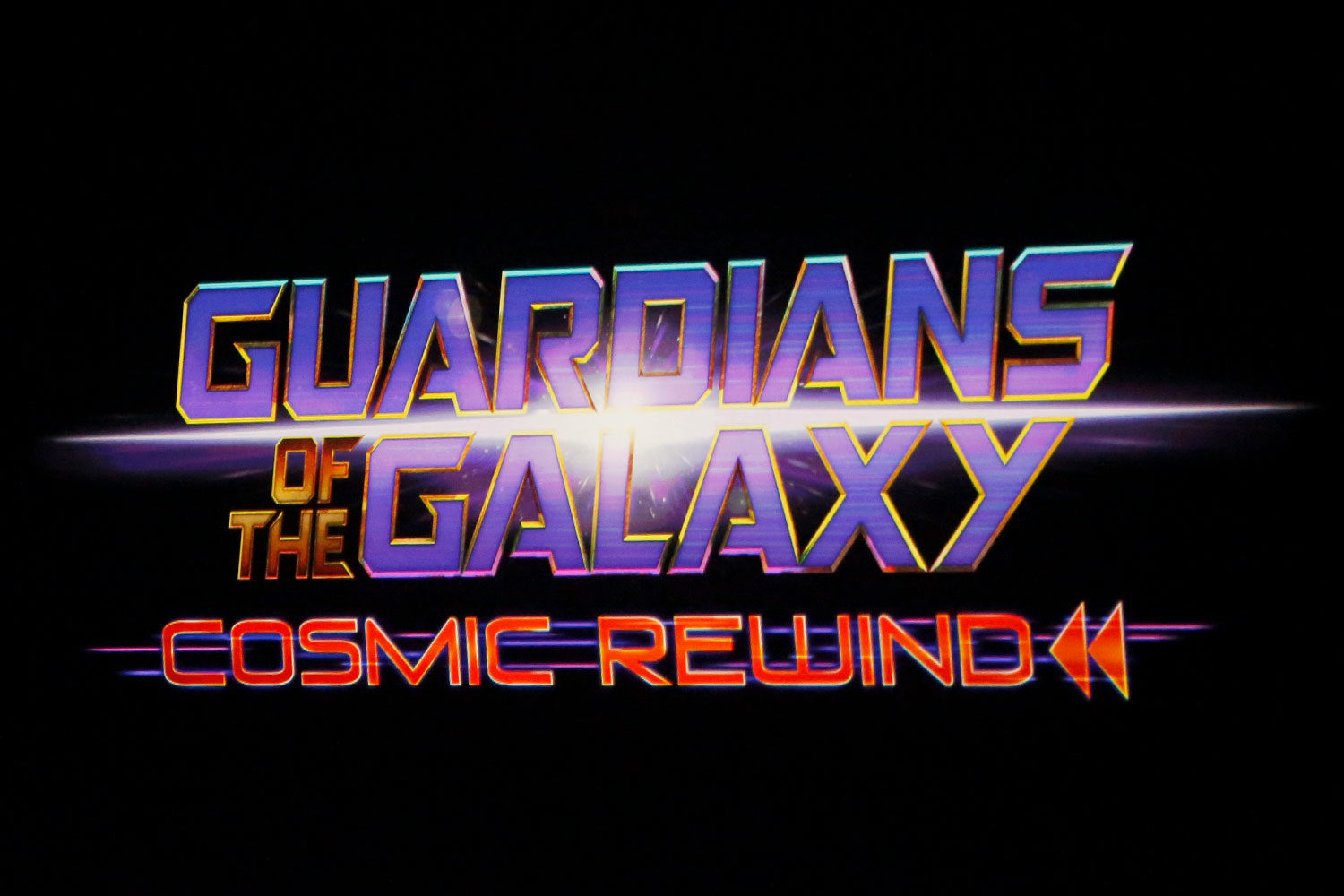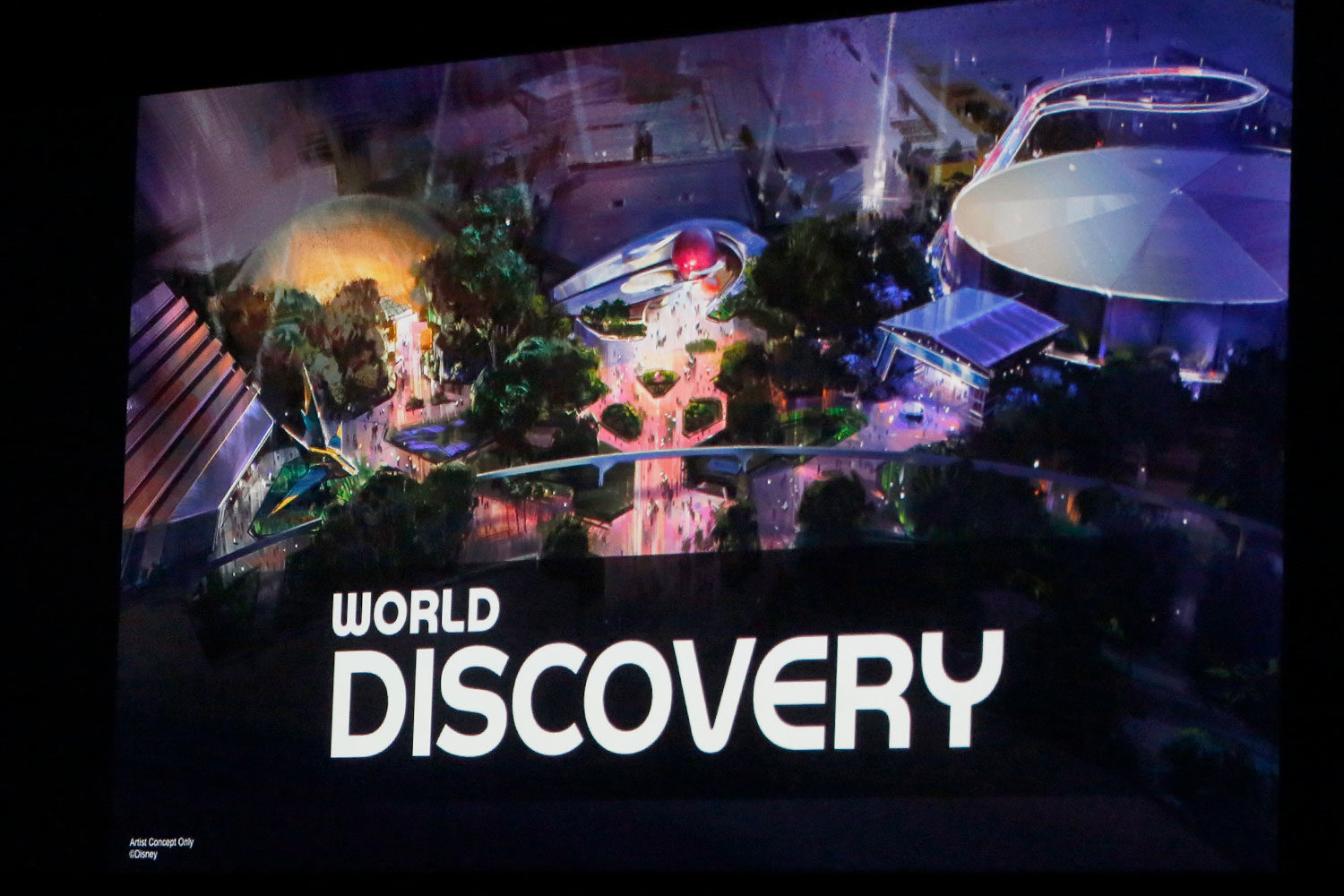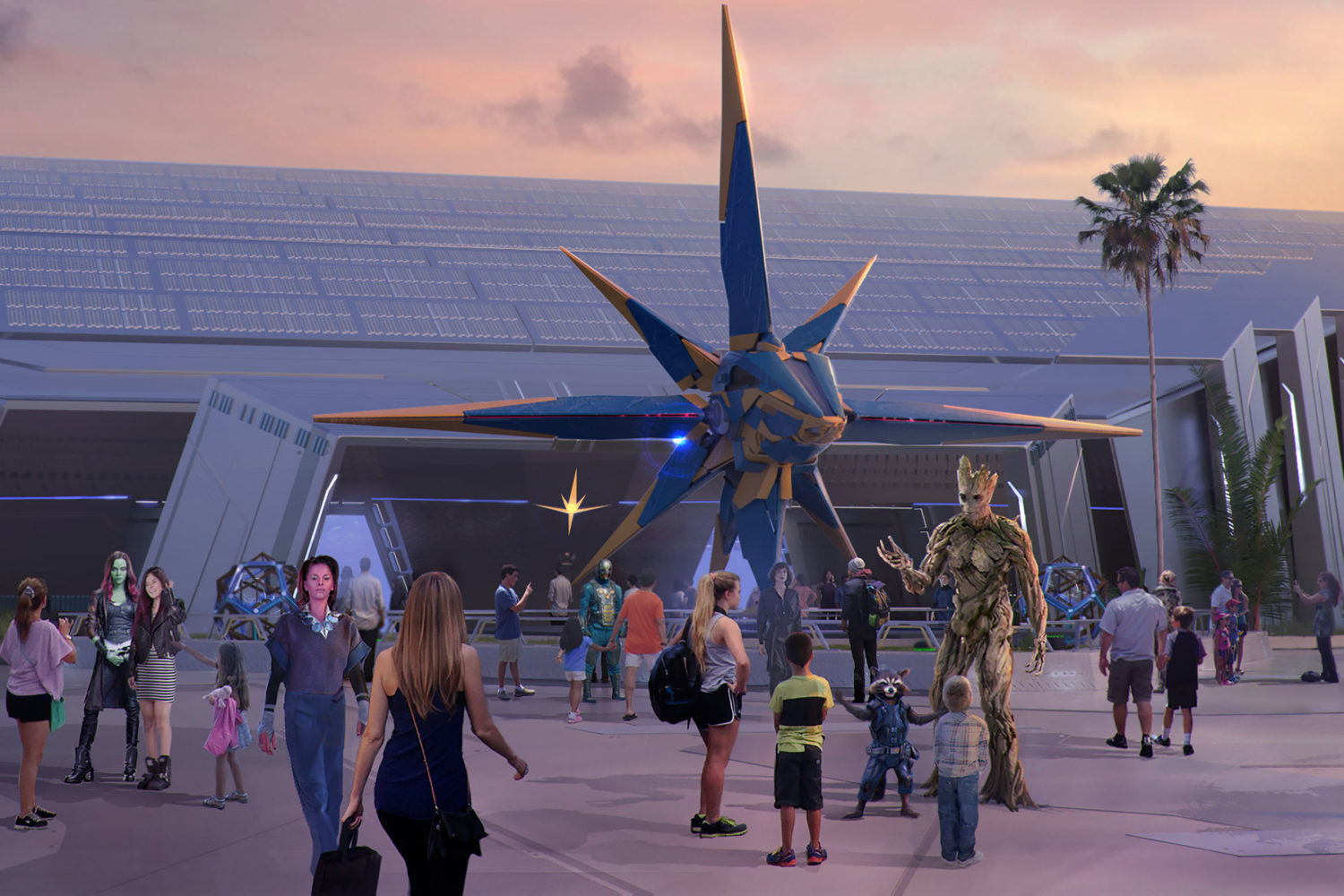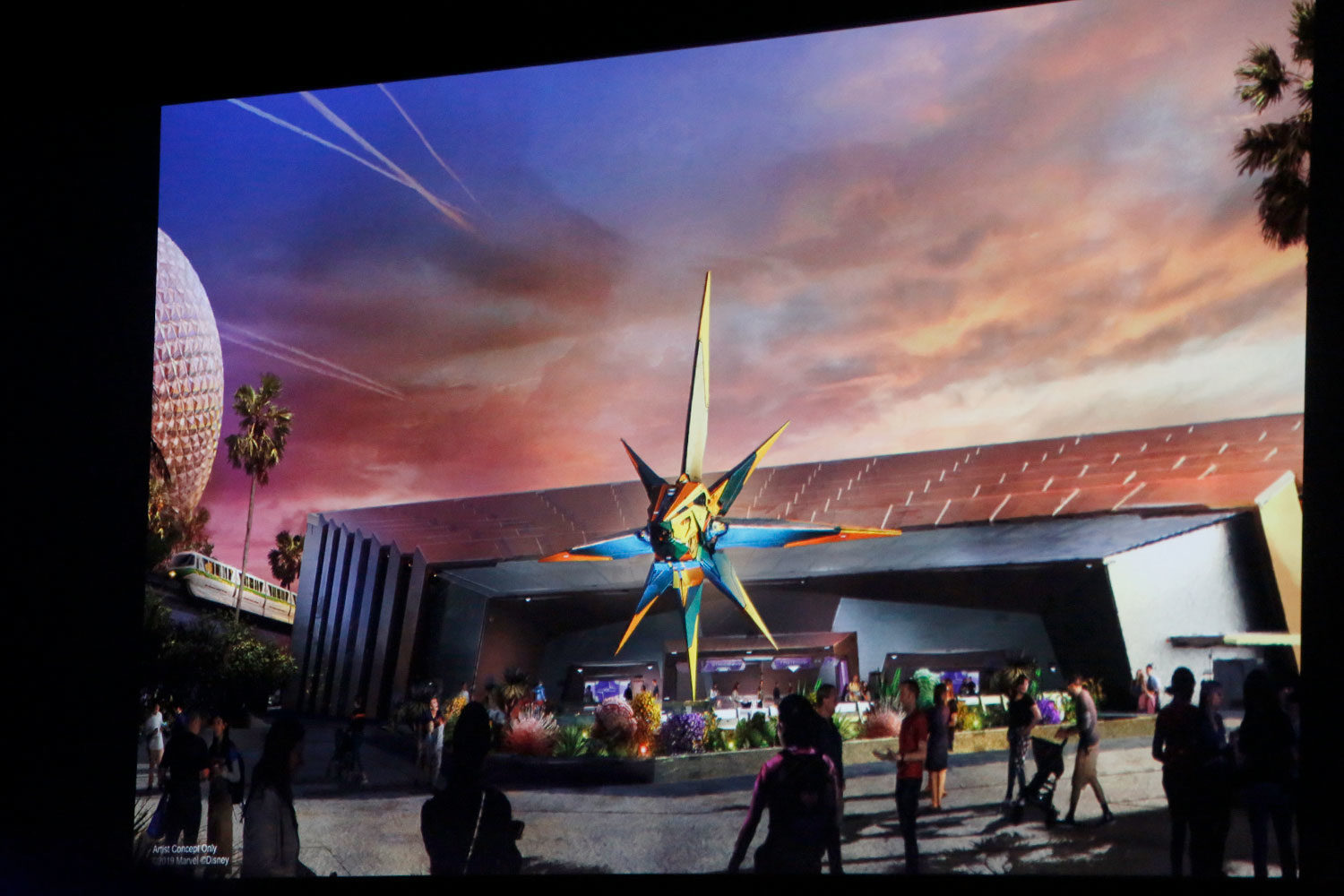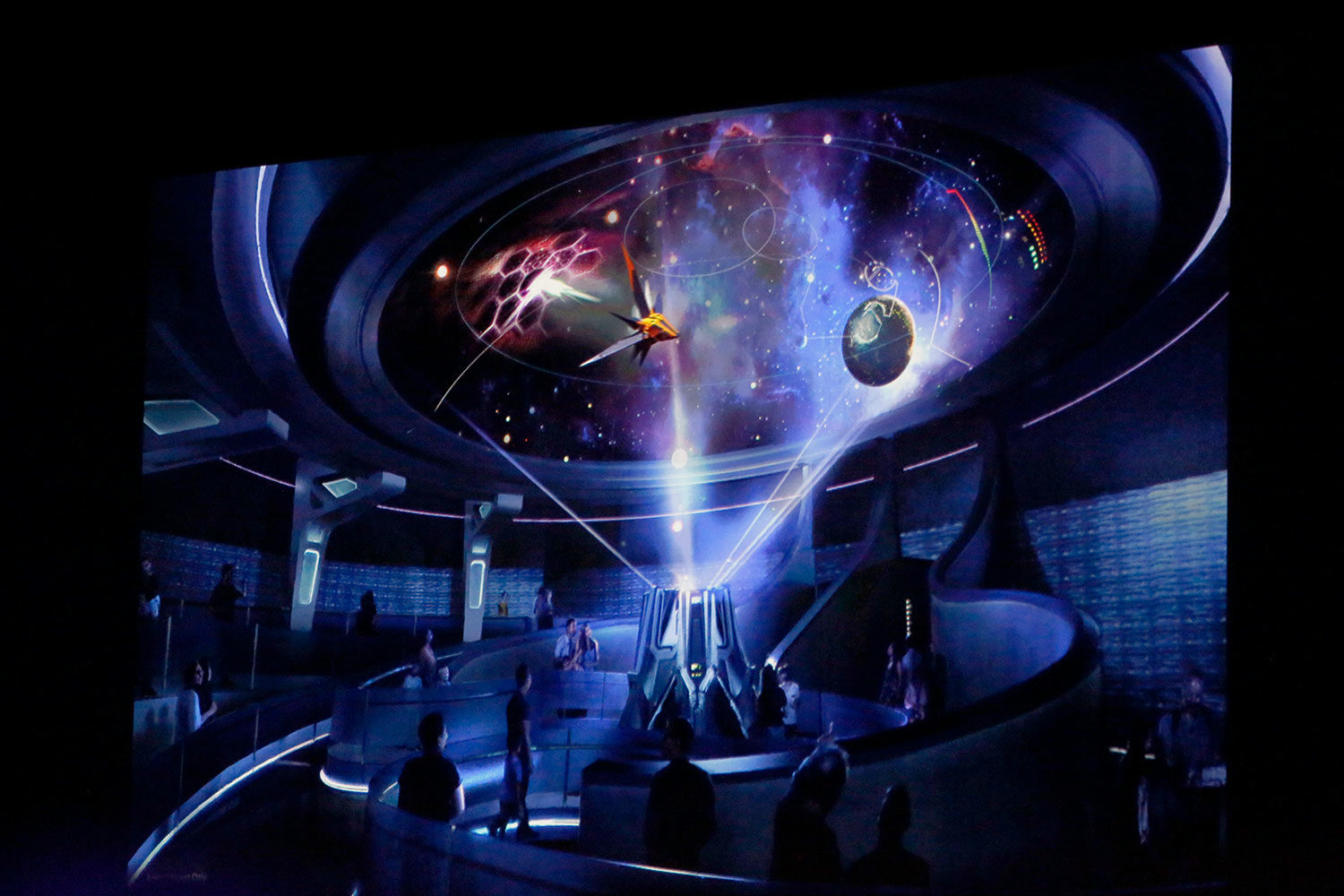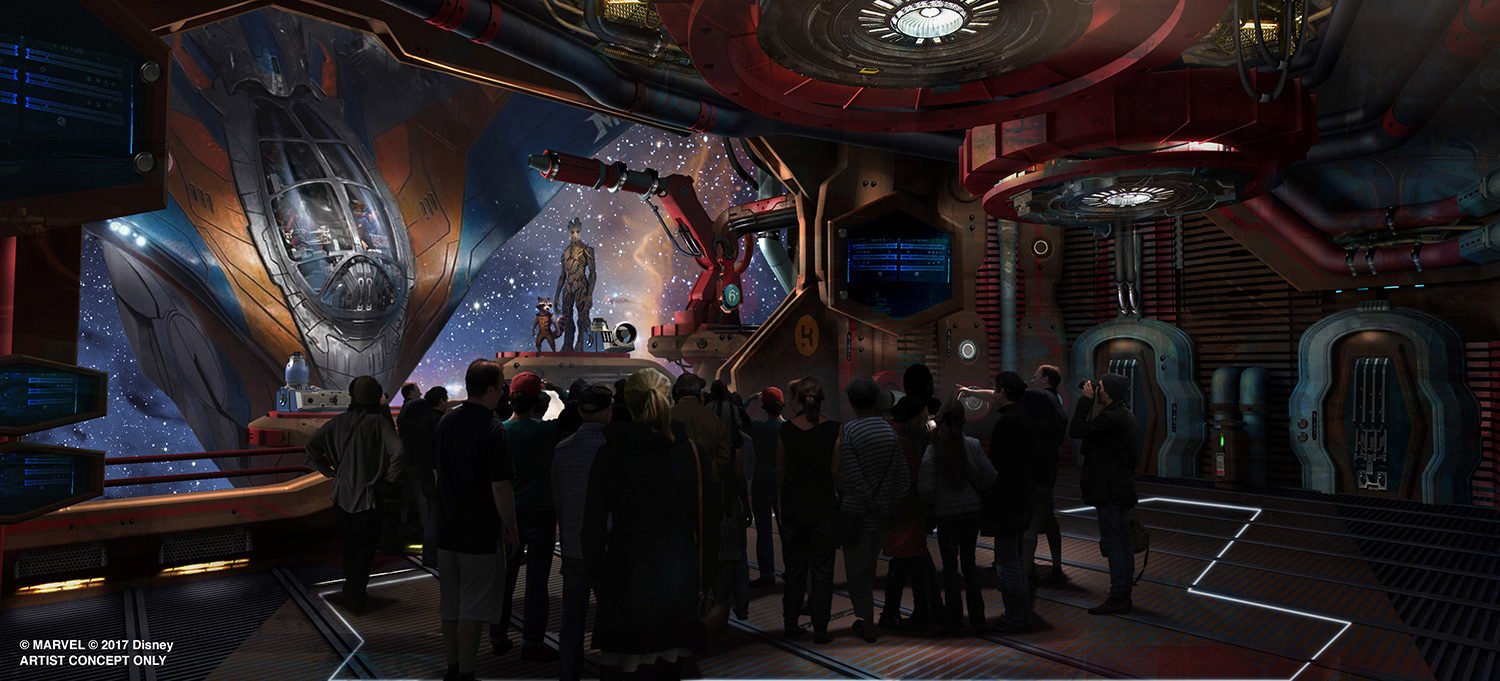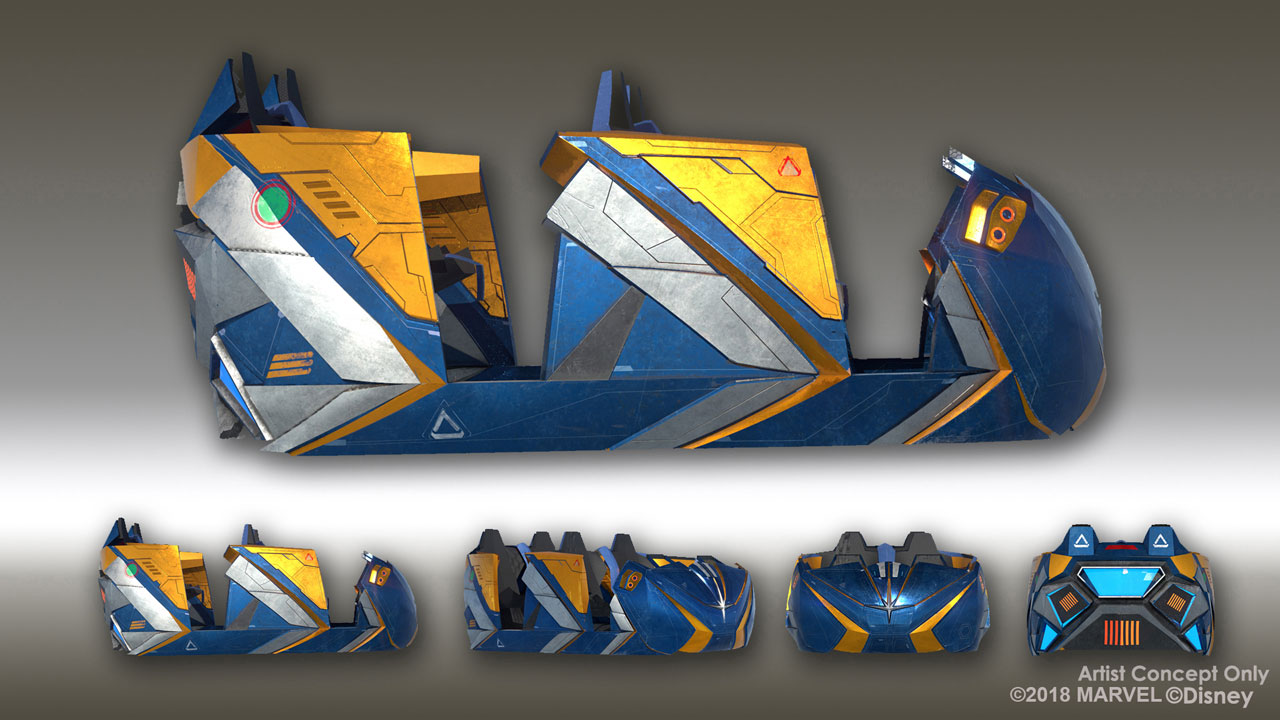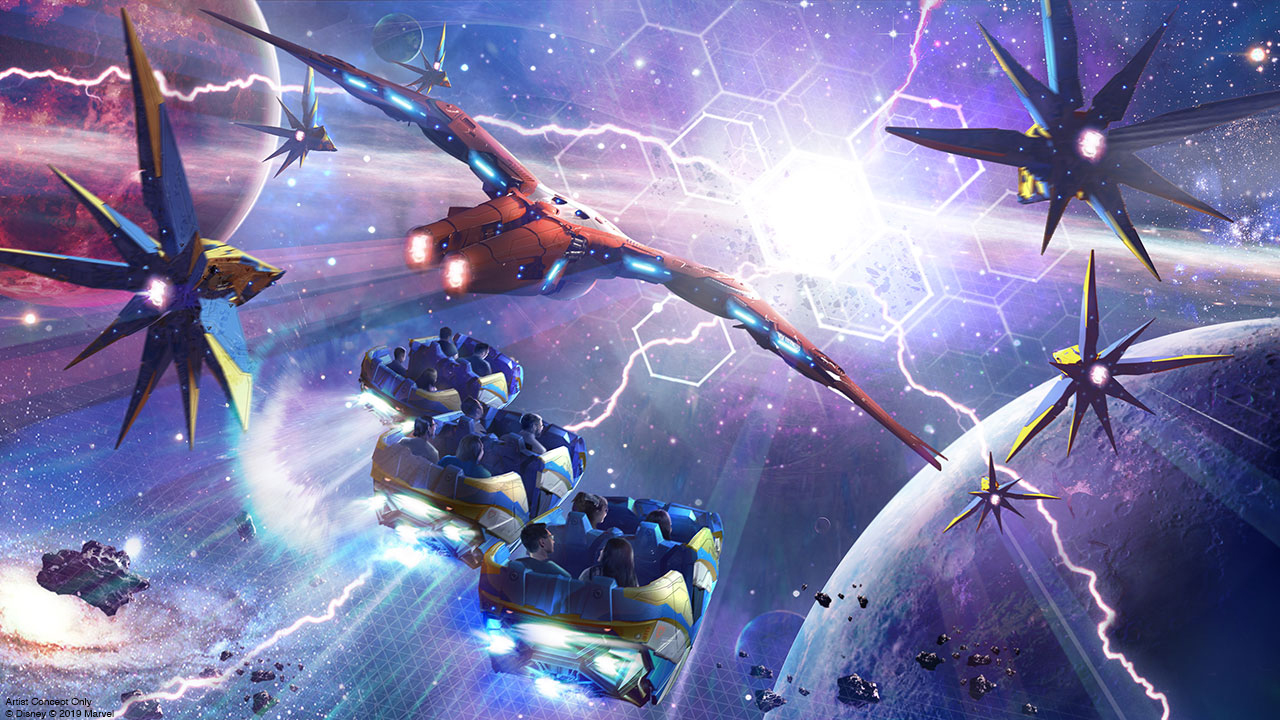 HONG KONG DISNEYLAND

Circling back to the park that kicked it all off, Hong Kong Disneyland is still slated to receive an Avengers E-Ticket attraction but the date remains unknown. It was originally slated for 2023, which could still be the likely year, as it just may be the attraction that lands in Walt Disney Studios Park in Paris and Disney California Adventure at the same time.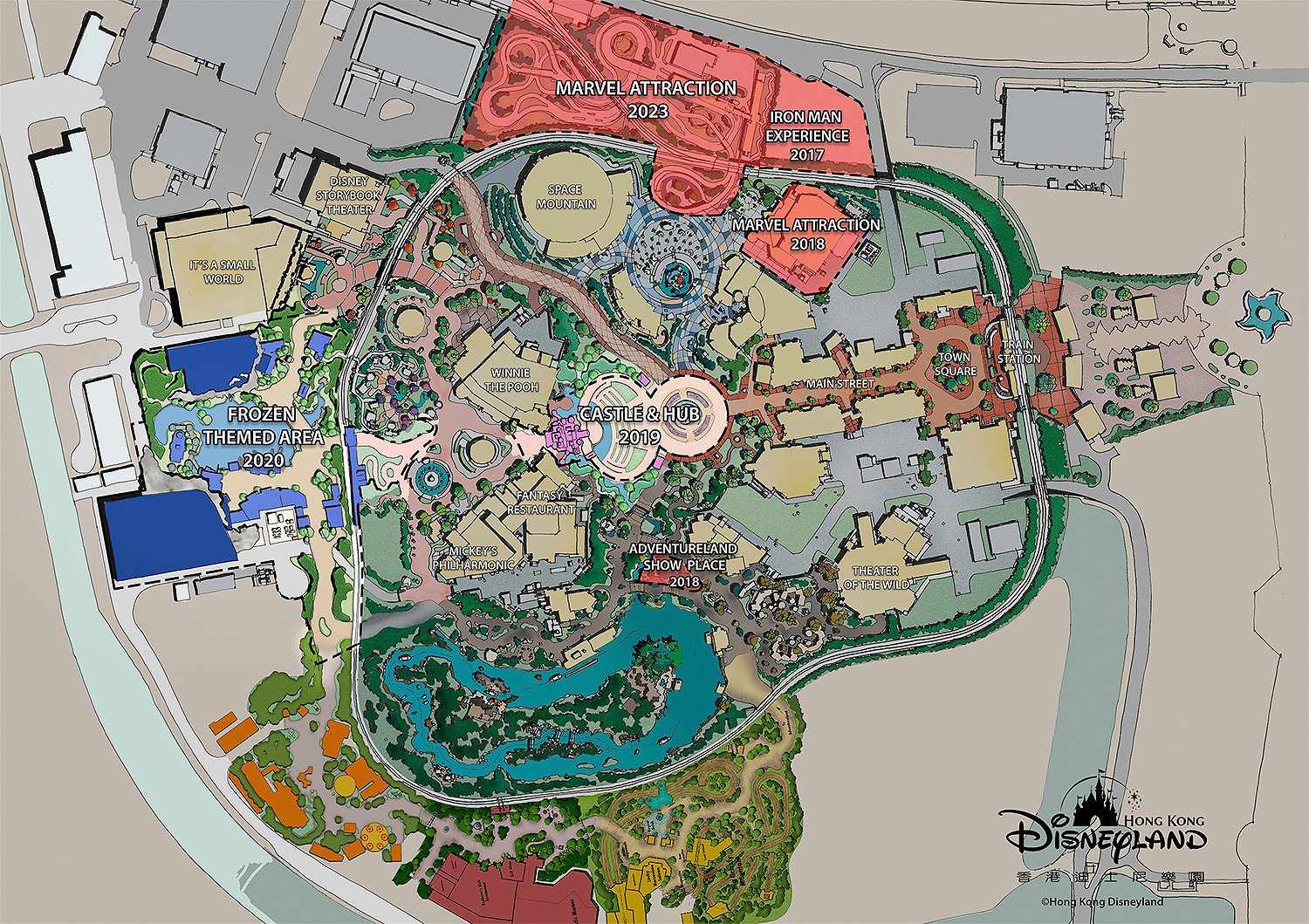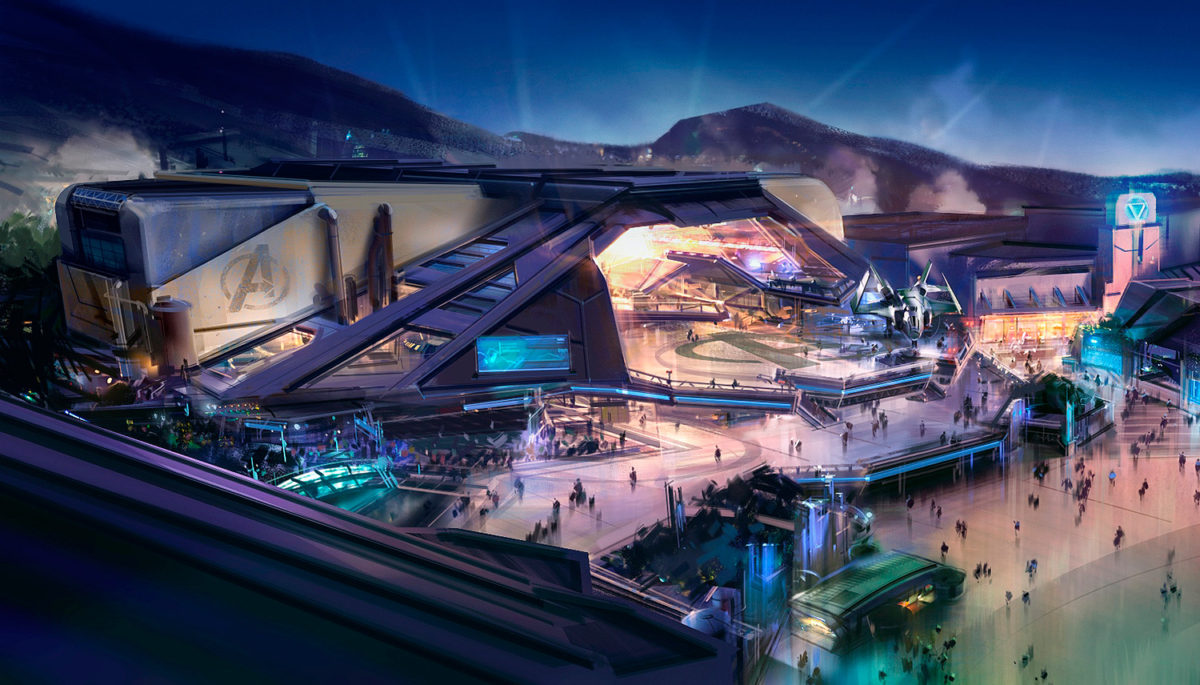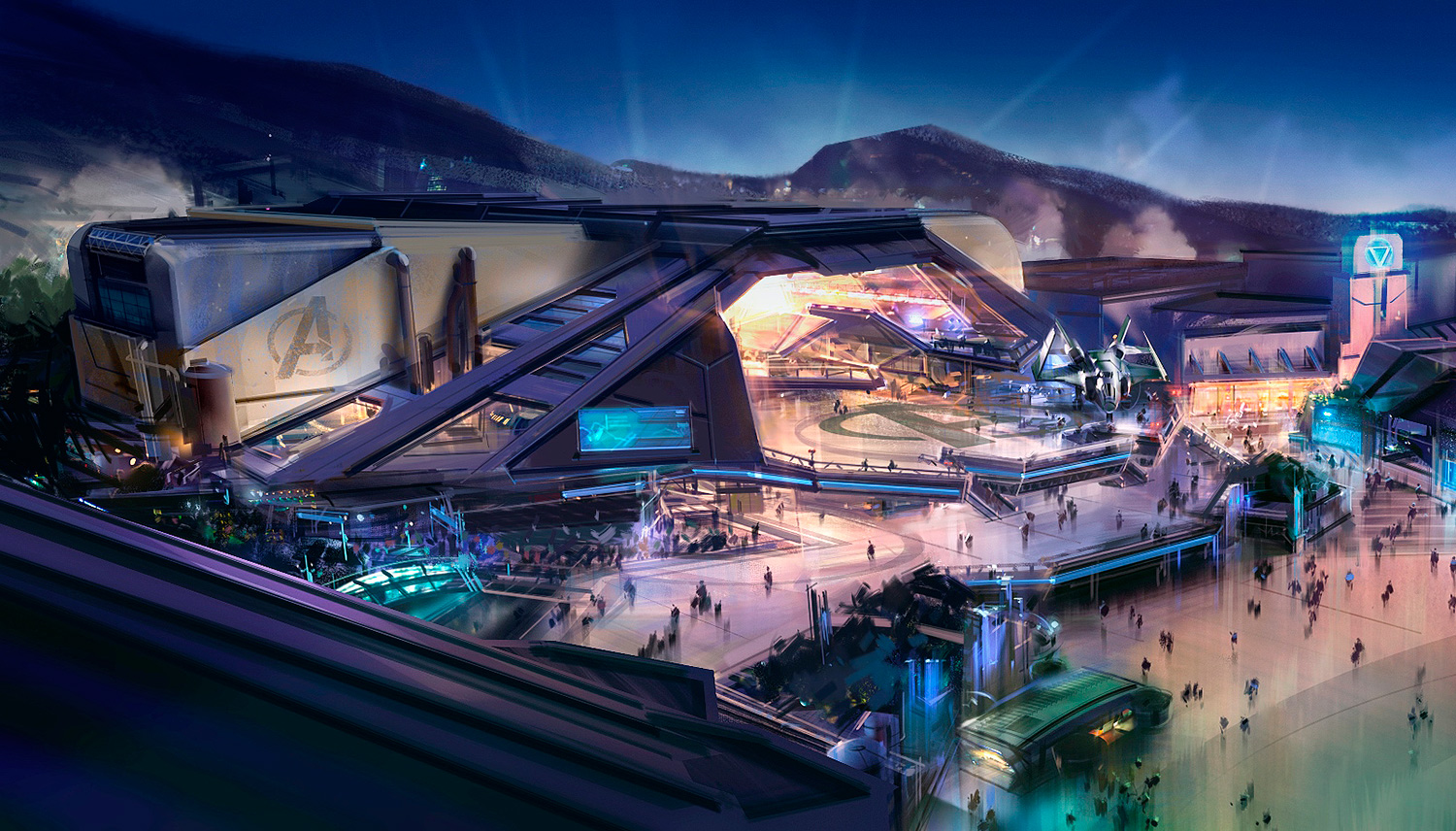 And that's about it! If you're curious about Shanghai Disneyland, they do have a Marvel Universe attraction that includes Marvel Comic Academy, Become Iron Man, Inside the Marvel Cinematic Universe, and Meet Captain America and Meet Spider-Man.

Get ready to assemble next summer at Disney California Adventure!

Concept Art by Disney
Photography by David Yeh