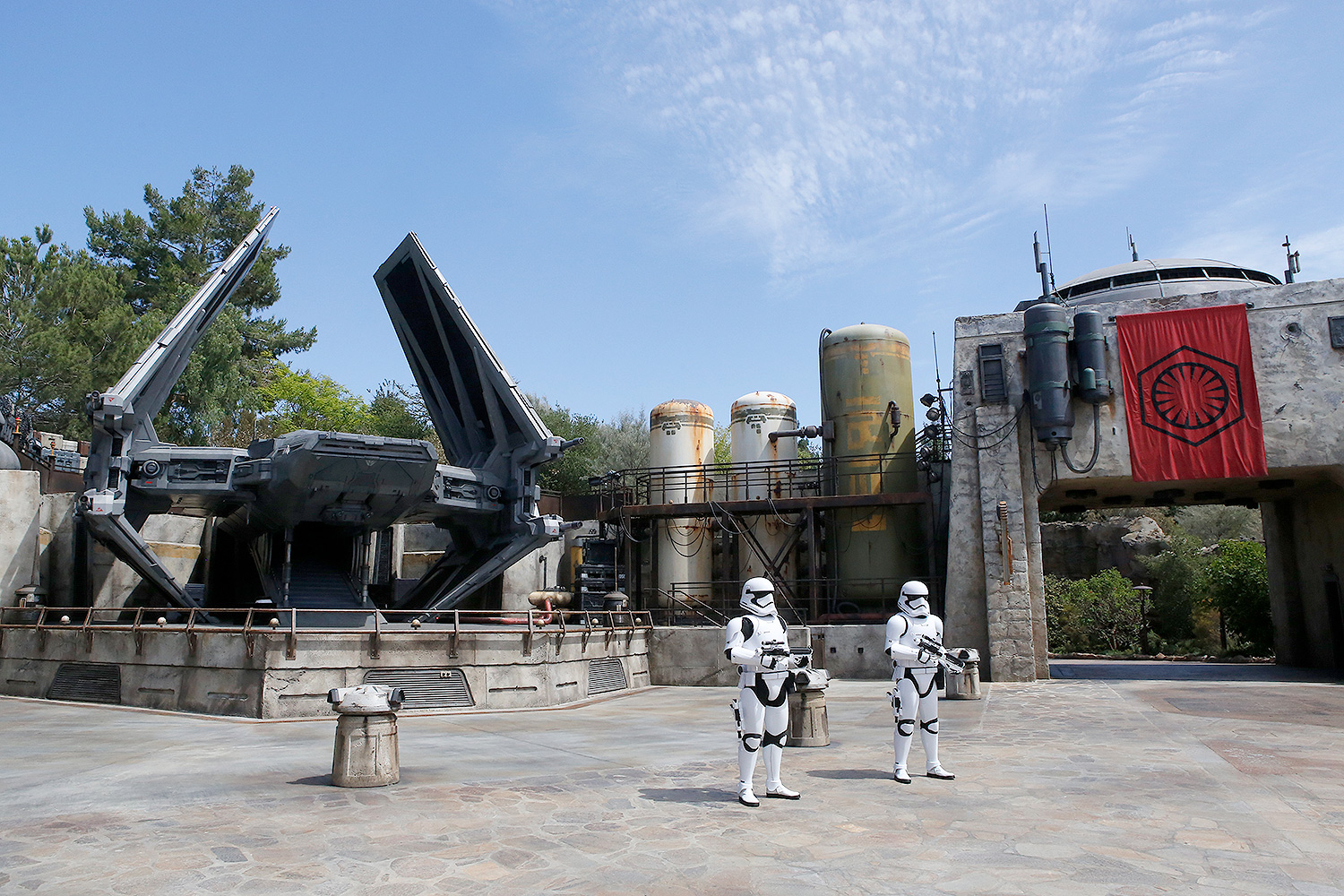 David Yeh
Plans for Disneyland's 65th Are Go…
Disney announces phased openings for Anaheim park.
June 11, 2020
The internet is abuzz with news of Disneyland's re-opening proposal dates. "The Magic is Returning", said Josh D'Amaro, Chairman, Disney Parks, Experiences and Products, and just in time for Disneyland's 65th Anniversary that falls on July 17th. There's a lot to look at so let's take it step by step.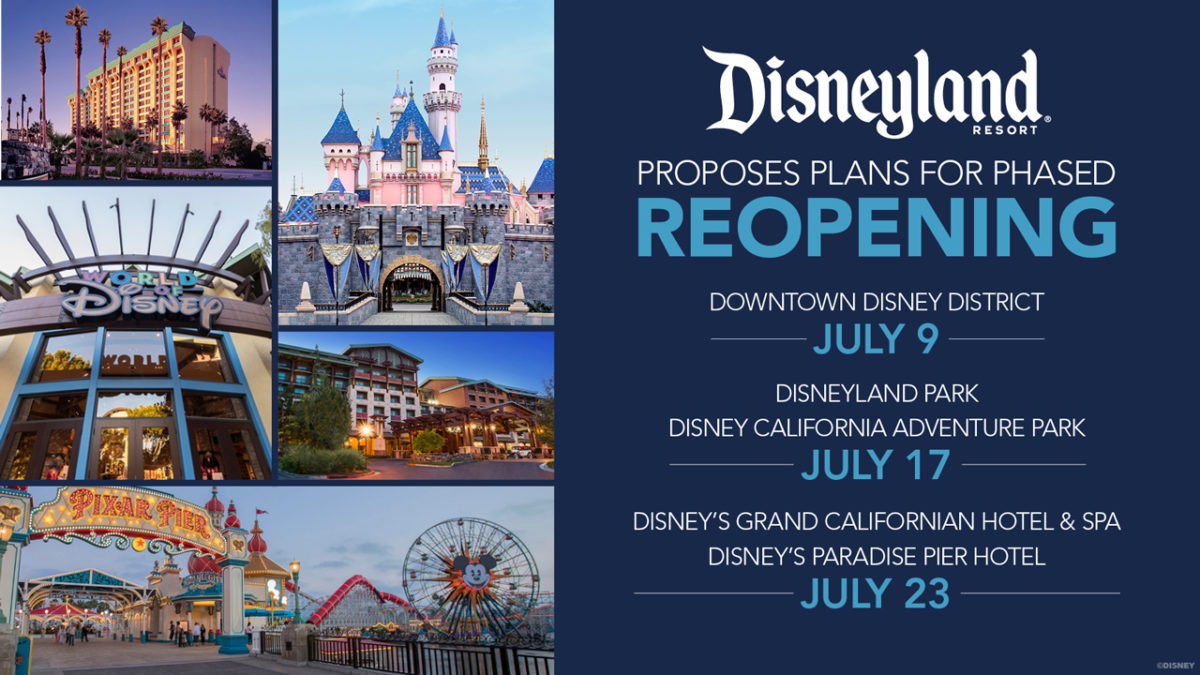 As you can see from the graphic, the proposed dates and corresponding locations are spelled out for you.

Because theme park capacity will be significantly limited to comply with governmental requirements and promote physical distancing, the Disneyland Resort will manage attendance through a new theme park reservation system that will require all guests, including Annual Passholders, to obtain a reservation for park entry in advance. Theme park reservations will be subject to availability. More details about this new reservation system will be available soon. At this time, there will also be a temporary pause on new ticket sales and Annual Passport sales and renewals. Additional details will be available soon.

Certain experiences that draw large group gatherings – such as parades and nighttime spectaculars – will return at a later date. While character meet and greets will be temporarily unavailable, characters will be in the parks in new ways to entertain and delight guests.


Now, you might be wondering where Disneyland Hotel (and Trader Sam's Enchanted Tiki Bar) fits into all of this. That, we've been told, is coming at a later date yet to be revealed. Due to Disneyland Hotel's multiple points of access, it would be more difficult to control and do a security check for that location, so more planning will be required.

Guests staying at Disney's Grand Californian Hotel and Disney's Paradise Pier Hotel will need to learn the updated requirements.

(note: Disney Bands are not coming to Anaheim as of right now)


From Katie Kelly, Vice President of Worldwide Safety Services:
Throughout Disney Resort hotels, we're increasing cleaning in high-traffic areas such as elevators and escalators, handrails, benches, tables, handles, restrooms, and more. We've also expanded the number of hand sanitizer locations across the property.

At our restaurants, lobbies, pools, fitness centers, and other public areas, we're looking at adjusting services to enable preventive measures and physical distancing, including reducing capacity where appropriate and implementing enhanced cleaning measures.

We're using technology to aid us in these efforts, with limited-contact services in place at our shopping and dining locations, with Mobile Order, cashless options and Magic Bands.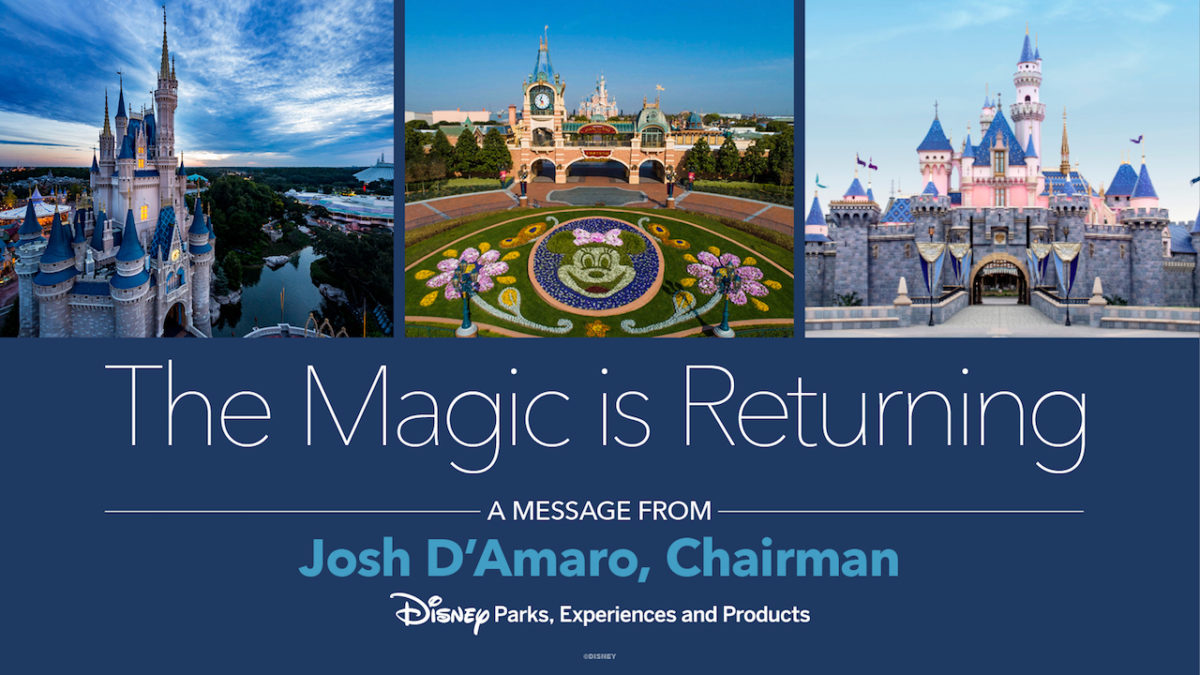 Chairman, Josh D'Amaro's message about the planned reopening is below:

With the announcement of the proposed reopening dates for the Disneyland Resort, we are one more exciting step closer to reopening all of our Disney parks and experiences around the world. Throughout the past few weeks, we have reopened Shanghai Disneyland, Disney Springs and several Disney stores, and set dates for both Walt Disney World and Disneyland Resorts, with more announcements coming soon.

We are purposefully taking baby steps during this very intentional phased approach. As one of the first major theme parks to close our operations and the last to reopen, we have been deliberate about keeping the health and safety of our cast, guests and local communities top of mind. And as we look forward to bringing our cast members back to work, and welcoming you back as cherished guests – we know it will take all of us working together responsibly to recapture the magic.

We're fortunate to be guided by a talented team of professionals who've helped us implement a variety of new health and safety measures reflecting the guidance of local health and government authorities. These are designed with both the cast and guests in mind for the unique environments of each of our parks, resorts and stores.

While certain aspects of your visit may change, I assure you the quality of our storytelling, magic of our experiences and the caliber of our cast members has not. We recognize the trust that you have in the Disney brand, and we will continue to earn your trust every day.

My confidence comes in part from all of the hard work our teams have been doing behind the scenes in the past few months… as well as by the early successes we have seen at Shanghai Disneyland, the first of our theme parks to reopen. Guest satisfaction has been extremely high, and we will continue to make sure that as we bring back experiences, our attention to promoting your safety, maintaining your trust and providing unique ways for you to come together with family and friends to create new memories remains high as well.

Walt Disney once said that it takes people to make the dream a reality, and as we prepare ourselves to reopen his original park, I want you to know how eternally grateful I am for all of you who have made Disney parks, stores, hotels, cruise lines, guided tours and vacation properties part of your lives, as well as for the cast members, crew members, Imagineers, and employees who have brought them to life for the past 65 years.

I know this has been a difficult year due to the impacts of COVID-19, but I can't help but feel a great sense of hope and optimism. And like many of you, I look forward to hearing the laughter and seeing the joy of families making memories together… and I can't wait to see you when the magic returns to all of our parks and resorts.

Be well,
Josh

For more information, visit http://www.disneyland.com