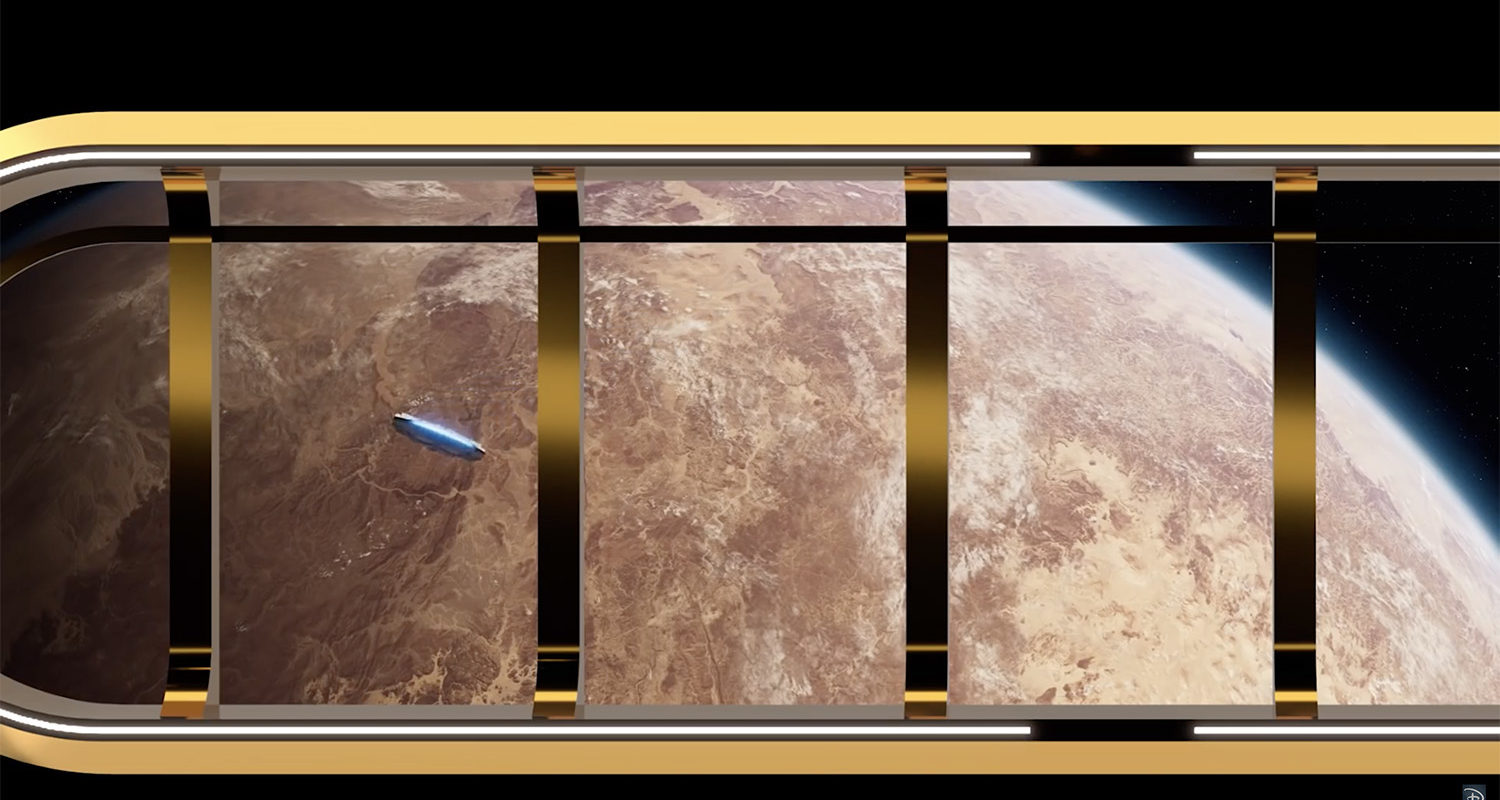 Disney
Star Wars in the Parks Recap
There's been a flurry of Star Wars news for the Disney Parks & Resorts this week, so here's a look at everything!
May 7, 2021
It's been quite the week of news and reveals and with so much of it coming in from different sources, it's easy to miss something. Here's a look back at everything we thought was newsworthy this week!

Let's start with the Disney Cruiseline, with more details about the Disney Wish's latest bar, the Star Wars: Hyperspace Lounge. StarWars.com lists over 40 starships you'll encounter as you fly over Coruscant, Mustafar, Tatooine, Batuu, and Endor, including an appearance of a certain Starspeeder from Star Tours!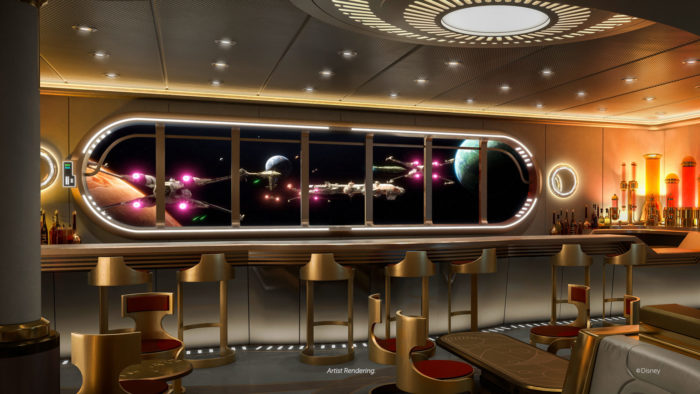 There's a new behind the scenes video that shows the making of this new experience: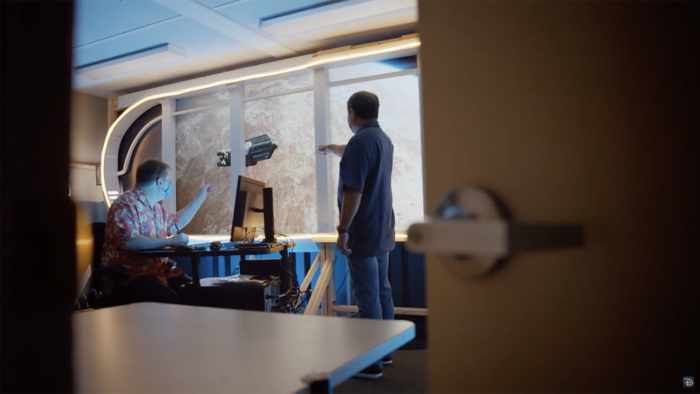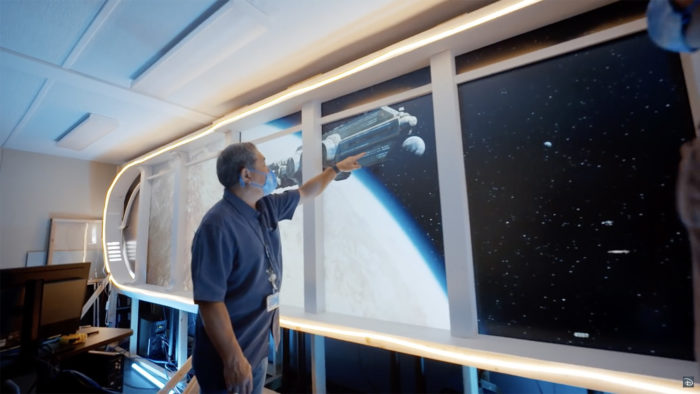 Watch the video below:


For more information on the Disney Wish, visit https://disneycruise.disney.go.com/why-cruise-disney/wish/ .

Next up, news of the Star Wars Galactic Starliner have started to firm up. While the original opening slated for 2021 is not happening, they have stated that it will be open in 2022! It will be an immersive 2-night adventure where you will be able to live out your own Star Wars story and this time, they seem to mean it when they say your actions may determine the outcome of your adventure.



Right now, for a limited time, guests at Disney's Hollywood Studios can spy a model of the ship, The Halcyon, at Walt Disney Presents.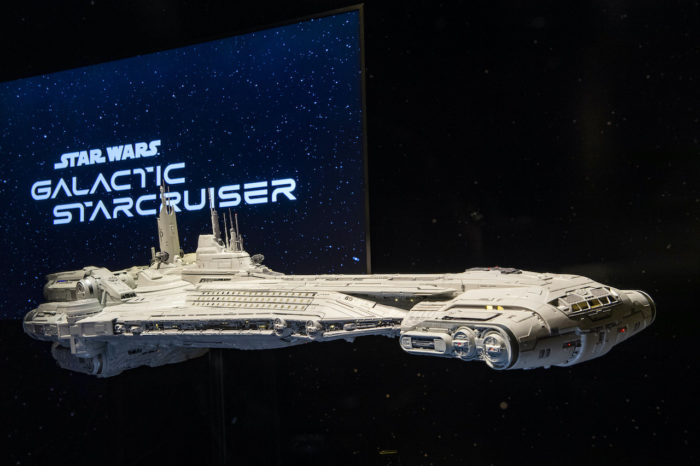 Aboard the Halcyon, we have a name for one of the main dining facilities! CROWN OF CORELIA DINING ROOM. This is what the DisneyParksBlog reveals:

"During your stay aboard this glamorous ship, you may interact with an eclectic group of characters both familiar and new, possibly including the starcruiser's strong and charismatic captain, a plucky ship's mechanic and a galactic superstar who can captivate an entire room with the crook of one jewel-encrusted purple Twi'lek finger.

This singing sensation will be a featured performer during one of your exquisite dining experiences inside the Crown of Corellia Dining Room, which you can see in this artist concept rendering we're sharing today for the first time. The enticing supper club's name is an homage to Corellia, the planet known galaxy-wide for its shipyards that gave us not only the Halcyon starcruiser, but also the Millennium Falcon. The dining room is a bright and welcoming hall that will offer breakfast and lunch to passengers before transitioning each evening into a lavish multi-course menu of both otherworldly and familiar origins."

StarWars.com has an interview with Imagineer Ann Morrow Johnson that you can read up on here. There's one detail in Crown of Corelia that really tickles her:

"But I gotta say, there's this one design detail in the Crown of Corellia dining room where our guests will get to see a repulsor column. The Halcyon was built long ago, right when repulsors were first en vogue, and in a sort of starcruiser-modernism way, the Halcyon celebrates the technology by placing its repulsor columns in the center of the Crown of Corellia dining room for everyone to see. As a design fan and Star Wars nerd, those two things coming together has been extremely fun to see coming to life aboard the ship."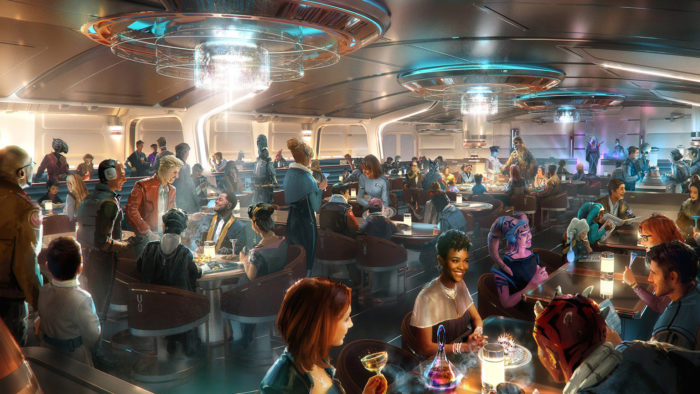 The name of the bar aboard the Halcyon, is The Sublight Lounge.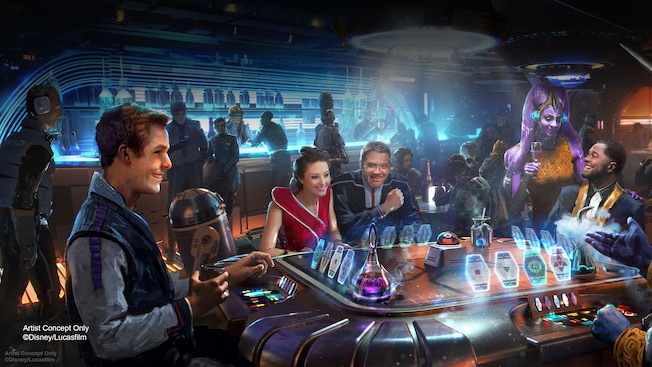 But of course the main talk of the week was the fully extending lightsaber! Take a look:


The DisneyParksBlog says it best:

"Yes, that's a new type of lightsaber Rey is holding in her hand, created by Walt Disney Imagineering Research and Development. Guests who experience Star Wars: Galactic Starcruiser will be the first to see it in action – along with so much more – starting in 2022 when this amazing new two-night adventure debuts. Watching that lightsaber activate right before your eyes will be just one of the countless ways that, from the moment you arrive to the moment you depart, you'll be plunged into a Star Wars story where your decisions and actions – or even the casual conversations you may have – determine how your personal journey unfolds."

Pretty neat right? It is a pretty chonky looking lightsaber but still, that is pretty great to see! Will it be a part of the lightsaber experience teased in the conceptual art? Probably so.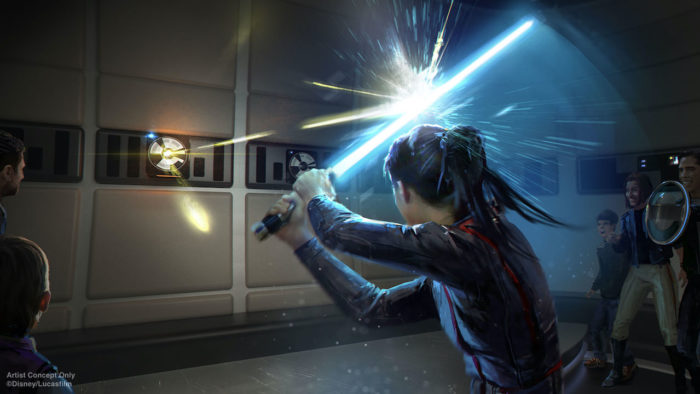 For more information on the Star Wars Galactic Starcruiser visit starwarsgalacticstarcruiser.com



Speaking of Lightsabers, Disneyland locals who signed up for the Shopping Reservations, shopdisney.com shoppers, and guests at Disney's Hollywood Studios all had a chance to pick up the new Leia Organa lightsaber as seen in The Rise of Skywalker. The new hilt was packed in a set with a reforged Skywalker hilt in an exclusive box for $375 and an edition size of 3,000. It has sold out online and is quickly selling out in the parks.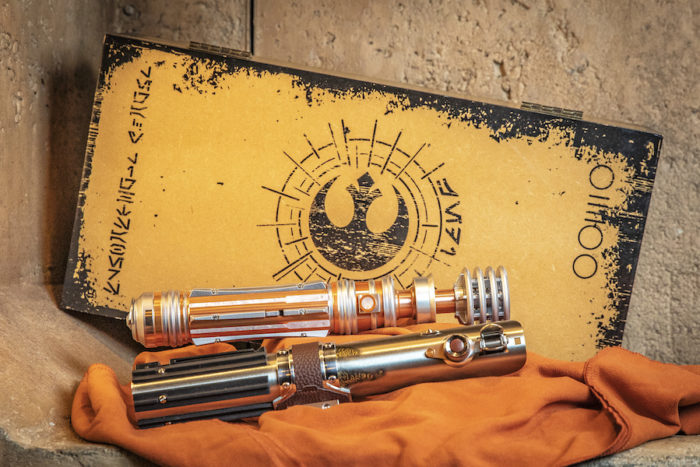 In other merchandise news, Star Tours Disney Wishables have been released! You'll find Captain Rex, Starspeeder 1000, C-3PO, Stormtrooper, and R2-D2. But wait! There's a chase Starspeeder 3000!!! These can be found at both Disneyland and Walt Disney World Resorts for $9.99 each.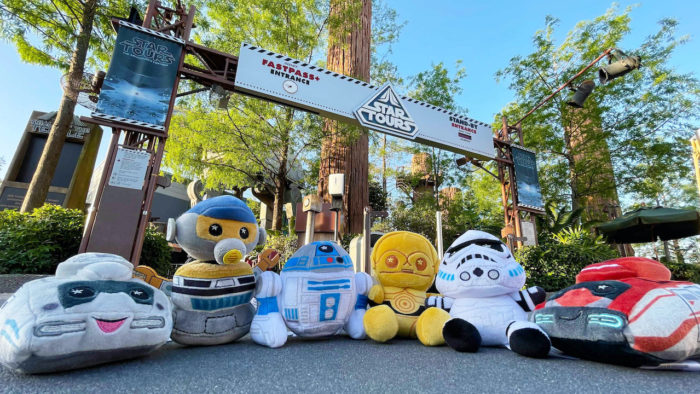 NEW BATUU MERCHANDISE! Those visiting Batuu this month are in for some surprises… New local artistries will be rolling out across Black Spire Outpost from exotic creatures including a new Loth Cat and Lava Meerkat at Creature Stall to plush of Dok-Ondar, Darth Maul and Jar Jar Binks at Toydarian Toymaker. Keep your eyes peeled for those new additions, only at Star Wars: Galaxy's Edge at Walt Disney World Resort and Disneyland Resort!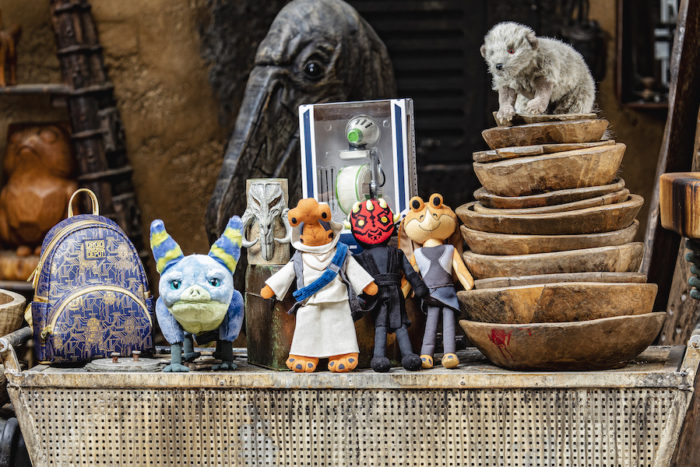 For lightsaber hunters, Savi's Workshop is accepting reservations at Disneyland Park. You must have a valid Disneyland Park Ticket AND Reservation. Click here.

Find more Star Wars merchandise news from the parks here.


AVENGERS CAMPUS

On the Marvel front, Disney Parks Blog revealed the new costumes for Avengers Campus, opening June 4 at Disney California Adventure. See the rest of the new costumes here or in the video below.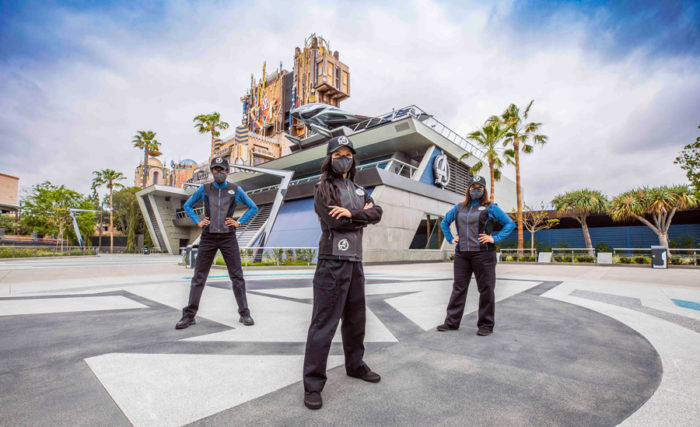 And if you simply can't wait, there's a tour of the new land here.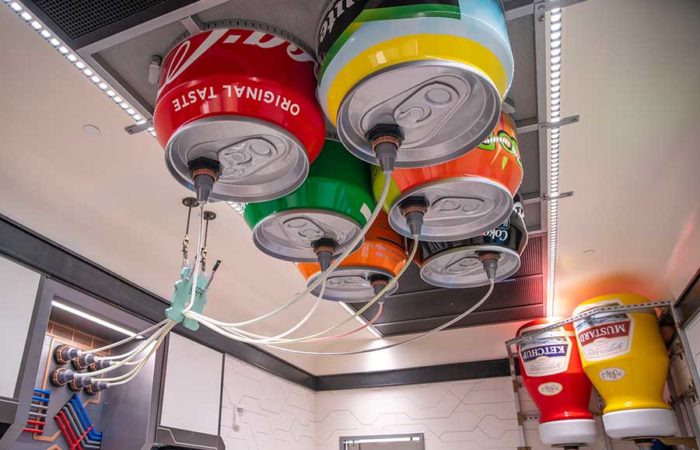 Whew! Did we miss anything? What an exciting time to be a fan. We hope to update you again with fun news again soon. Be sure to follow us on Instagram @endorexpress for more pics and updates from the parks!