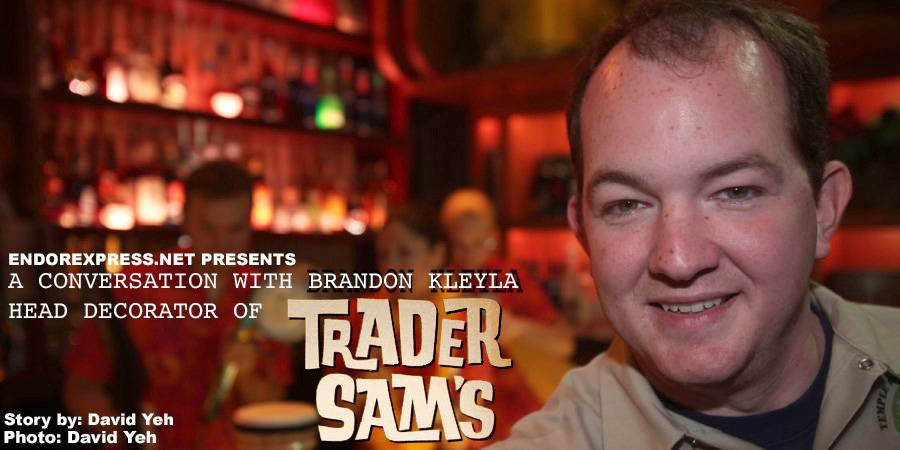 Kris Van de Sande
The ART(ifacts) of Trader Sam's
Article
November 3, 2011
Brave explorers coming to the Disneyland Hotel can enjoy island style food and cocktails at TRADER SAM'S ENCHANTED TIKI BAR, one of the newest hot spots at the resort. Inspired by the Jungle Cruise's head salesman of the same name, this intimate location serves up more fun than the God's will tolerate. But it's not just the island "cruise"-ine that brings worldly travelers to this "Tiki Room" it's the thousand plus trinkets, artifacts, photographs, props, and artwork that adorn the space that really make coming here something special. Here at EndorExpress, we have a huge appreciation of all things Indiana Jones and The Rocketeer so we went straight to Brandon Kleyla, "head" decorator of Trader Sam's to tell us about the unique décor that went into creating one of Southern Californian's hottest bars.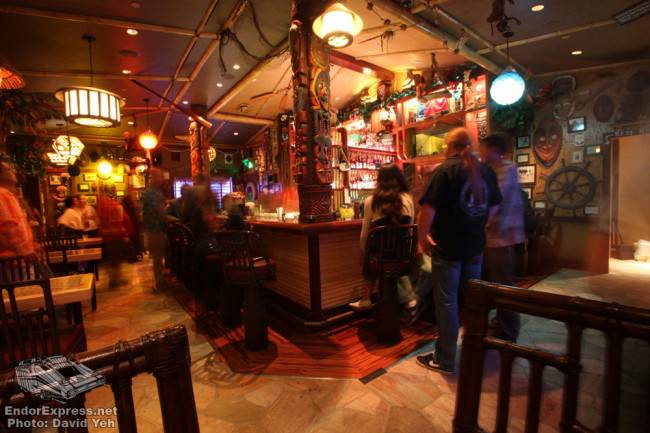 EE: I'm here at Trader Sam's Enchanted Tiki Bar with Brandon Kleyla! Tell us what you do…

BK: Walt Disney Imagineering Set Decorator is my official title and in the case of this project, it was to find everything that you see on the walls around us, which equals to about 1600 individual pieces. We have more props than the Little Mermaid.

EE: That is quite an impressive feat.

BK: Yeah, so that was fun. We had to establish "Who is Trader Sam?". Well, he's a trader, he's on the Jungle Cruise… we looked at the basics. And then we asked, "what if he knew Indiana Jones, what if he knew Jack Sparrow, or Swiss Family Robinson", you know, all those types of characters. Basically what it came down to is that he can know anyone live-action from pretty much anywhere in Disney's "Adventure" history. There's the picture of Sam with Jack Sparrow on the wall, there's the note from Ned Land to Sam, there's a harpoon from 20,000 Leagues Under the Sea, there's even a reference from Castaway Cowboy, the James Garner film that takes place in Hawaii. There's a lot of references… and park references obviously Jungle Cruise, Walt Disney's Enchanted Tiki Room, Indiana Jones, Adventurer's Club…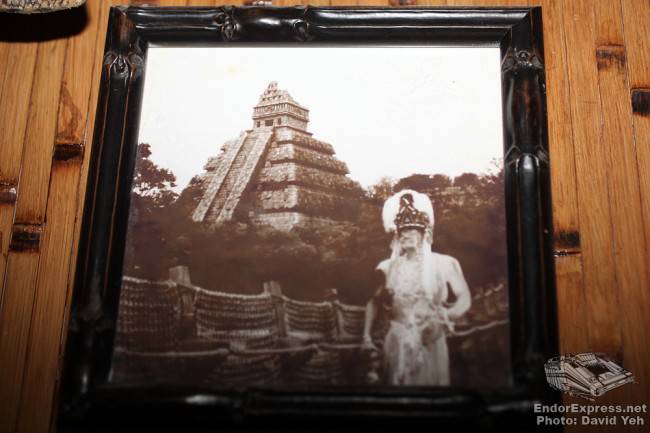 EE: Let's stop right there for a moment and talk about The Adventurer's Club, which is absolutely my favorite thing in Walt Disney World… WAS my favorite thing and I was so sad when it closed.

BK: I grew up in Florida and was always too young to get into the Adventurer's Club. So I actually never got to go in ever! I was there for the night it was closed and didn't get in so I still to this day have not gotten a chance to experience The Adventurer's Club. That being said, I certainly did my homework, talked to some of the original cast, and watched plenty of videos.

[At that moment Skipper Stacy brought our drinks. I ordered the Shipwreck on the Rocks, which causes a ship in a bottle to sink… a very cool effect.]

BK: Speaking of the Adventurer's Club, the Shipwreck… The only thing, to my knowledge that is in here from The Adventurer's Club is that bottle and possibly that fishing line. A lot of that actually got picked over and taken to Mystic Manor in Hong Kong. But that bottle is the original bottle. We built a new ship for it. I brought on Kevin Kidney and Jody Daily who built us an amazing one-of-a-kind "Wicked Wench" for the bottle. The "Wicked Wench" of course being the ship that is attacking the fort in Pirates of the Caribbean.

EE: So you need to start somewhere when decorating… where does all of this stuff come from?

BK: Oh, good heavens. Originally we thought of building a Tiki bar and then call it Trader Sam's. I used to be a skipper on Disneyland's Jungle Cruise so I emailed my boss and went crazy saying I need to work on it. I eventually got on the team and once I had a few meetings, I thought that if it's Trader Sam's, it's gotta be crazy. It's the Jungle Cruise… it's gotta be quirky. Around the time we said that, the vision shifted from a posh Tiki bar to fun crazy Tiki bar, which was fun for me because I could buy a ton of things and have a lot of fun with coming up with things that you couldn't do in a nice classy Tiki bar. So it became Adventurer's Club meets Jungle Cruise meets Tiki Room. The tiki totems were always on the plan to put on the bar, those were always there. The planters were always planned but everything else kind of came from seeing what we could find. I shopped for about a year on this. Swap meets, eBay, flea markets, antique stores, anything and everywhere. With a project like this you really can't plan it that much. You just go "I need an achor. I don't know what size anchor and I don't know what it'll look like." There's one outside chained to the palm tree. It was so big but so great looking. Things were mix and matched and then we brainstormed gags. A lot of bars have house rules, so why wouldn't Trader Sam's have house rules? We came up with forty house rules and they were all great.

EE: Rule number three is painted out…

BK: Three is painted out and to be honest, I don't remember rule # 3. And it was always intended to be scratched out. That was part of the gag.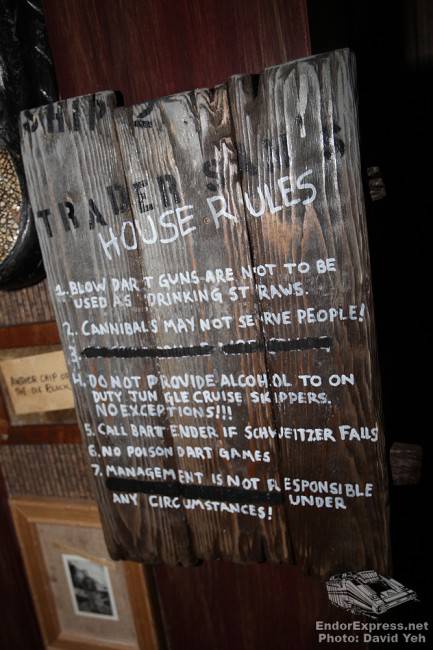 EE: When designing a bar like this, how many Tiki bars do you visit?

BK: Being one of the guys who doesn't drink was a fun thing. Fortunately for the totems, they were painted by Kevin Kidney & Jody Daily, who are well known for their collectibles, and also just designed "Soundsational." Kevin & Jody are huge Tiki experts so I asked them where I needed to go and where I needed to see. They pointed out all the good tiki bars, the little places around town, so we went and they would have some drinks and I would just stare at everything, you know. I didn't want to take from them perfectly because people come to Trader Sam's but they also go to the other bars. Being in Southern California, our clientele know the Tiki bar so we wanted to always go a little bit further in our approach and make Disney fans and Tiki fans happy. One of my biggest concerns was that we had to make sure people knew that this wasn't The Adventurer's Club. A fun fact is that these are the only totems in the world that are three-sided. The ones in the Tiki Room are four-sided.

EE: And even then, this place gets hoppin'.

BK: Yes, this place can get really packed. Part of the magic is that it literally looks like a tucked away, hole in the wall Tiki bar. The size I think is fun and when you're in, the camaraderie and inclusion is a lot like Adventurer's Club and everyone belongs.

EE: Talk about these windows. Is that part of the decorating process or another division in Imagineering?

BK: The windows were done through Special Effects and are the next generation of windows at the Tiki Room in Florida. They do a variety of different things and are pretty neat. It's another touch of Disney DNA.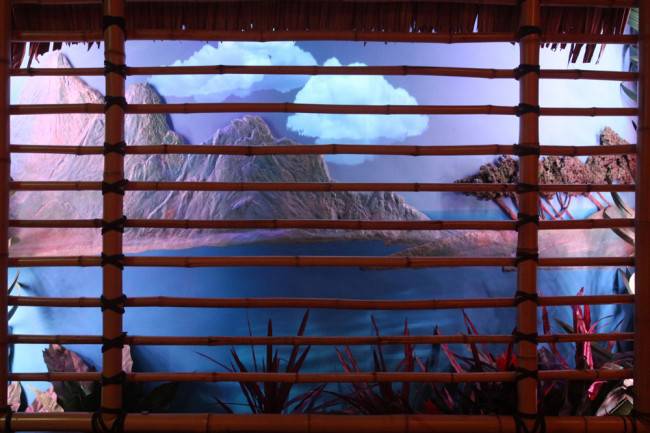 EE: How did you get so involved into this project in particular?

BK: We really had a great art director in Ray Spencer and he was swamped on Buena Vista Street at the time so he was kind enough to trust me on doing whatever was needed to do on Trader Sam's. I kind of niched myself into a little spot at the office for being the guy that really has a passion for the Adventure time period of the 30s and 40s. I pretty much imagined what I would want to see if I was coming into a tiki bar. Disney's never really done anything like this so we really got to play a lot and when it came to the bartenders, story-wise they are retired or off-duty skippers. WDI Senior Concept Writer Kevin Rafferty and I sat down, took the Jungle Cruise jokes and went through them figuring out which would work for this place. The bartenders have a few pages of spiel to know for each drink, certain props on the wall and the stories that go with them, the Aloha's when you come in the door, all that stuff…. Let's just have a lot of fun and everybody's happy with it.

EE: Sitting in here, it really makes me wonder how cool would it be if there was a Haunted Mansion bar or a Big Thunder Bar as an old saloon, it would be really really fun! But the reason we're really here is to talk about Indiana Jones. Tell us a little about all the cool things you put into this place.

BK: My history with our friend in the fedora goes back a bit. I did a documentary called "INDY FANS" that focused on the fan base and culture of Indiana Jones. Through that I met Tony Baxter and other folks at Imagineering which is how I got to be here. Originally some were saying let's put up the hat and whip and I said "Well, he wouldn't leave his hat and whip. It's iconic because he always has it with him." So the whip that's on the wall is a gift for Sam. It's the same style, but it's not Indy's. When it comes to Indy's stuff I can get pretty nit picky. Beyond the whip, we knew we wanted to do the map from Indiana Jones Adventure. We went to the files of the Art Library at Imagineering and found that the map wasn't there at all! The original map had been sitting in Indy's office on his desk in the queue for the last 16 years. When we realized that we took the map, scanned it, and made two of them. One came here to Trader Sam's and the other went back into the queue. The original is now in the art library to be restored. But we always wanted the map in there because I was always a fan of that piece and you never get to really look at it in the Indy queue. So here you can really sit down and study the map.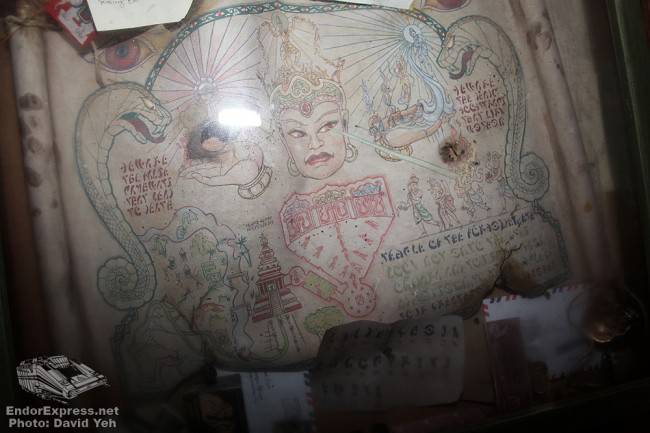 BK: Over on that wall over there is a postcard from Marcus Brody. Indy's been missing for awhile so Marcus sent Sam a postcard asking if he's seen him. In the larger bulletin board on the side there's the voodoo doll from Temple of Doom with a note from Short Round. What's fun about that is that the Temple of the Forbidden Eye falls after the Temple of Doom so it makes a little bit of sense to bring Short Round into the picture. There's also the seltzer bottle from Marion's bar, picture of Trader Sam in front of the temple in Tokyo and one in Anaheim. So it was fun to play around with that.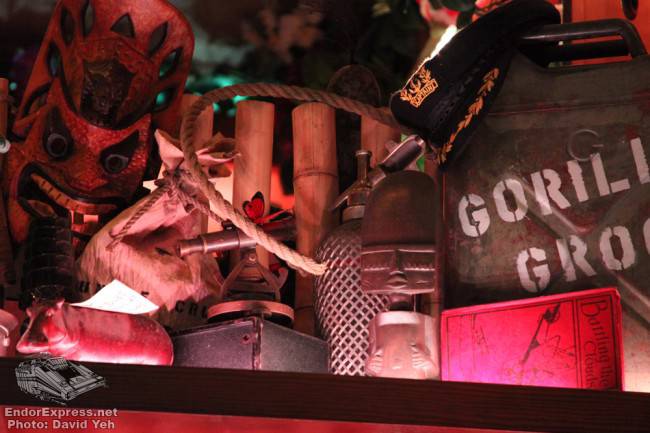 EE: Before we poke around the bar, how about telling us your favorite attraction.

BK: Oh dear… well I grew up in Florida and really found myself always at the original Journey into Imagination. That was the main one that really got me inspired. Currently, there's a ton. Indiana Jones, Jungle Cruise, Tiki Room…

EE: Basically all of Adventureland!

BK: Yes, all of Adventureland. I also love Tower of Terror in Florida, Expedition Everest… it gets tricky to pick.

EE: Favorite theme park?

BK: I love Disney's Hollywood Studios because I enjoy watching the streetmosphere. I can do that for days without riding any attractions. I love all the parks in Florida because I grew up with them but I love Disneyland because it's Walt's park. It's really hard to pick a favorite because I hold them very differently. Florida is so amazing and crazy and Disneyland is intimate and the truest version of a Disneyland so it's really hard to pick.

EE: Well there's great things about each park and we really do appreciate you spending time with us this afternoon.

BK: It's my pleasure!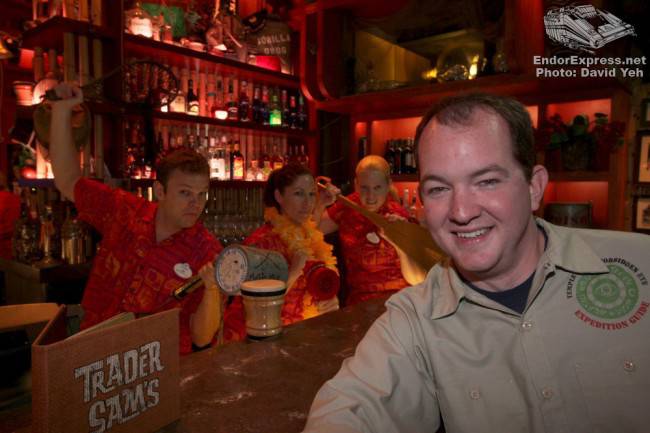 Check out even more photos of Trader Sam's in our gallery below! Thanks and sincere appreciation goes out to Brandon and Frank for their help in this story!