Kris Van de Sande
Experiencing the Tomorrowland Skyline Lounge
Article
Review
June 21, 2017
Introducing the Tomorrowland Skyline Lounge Experience at Disneyland – a new exclusive dining experience in Tomorrowland that allows guests to relax with family and friends and enjoy an evening of fireworks from way above Tomorrowland – all whilst partaking in desserts and unlimited soda and coffee. Play games (Jenga, Connect Four) with friends old and new or engage in a friendly lightsaber duel. The $45 a person experience opened just as Summer of Heroes began at Disney California Adventure and has easily sold out weeks in advance. But how is the experience? Is it worth the hefty price tag? We'll explore all of this as we take our very own visit to the new Skyline Lounge. To make reservations, you can go to disneyland.com, download the Disneyland app, or call 714-781-DINE.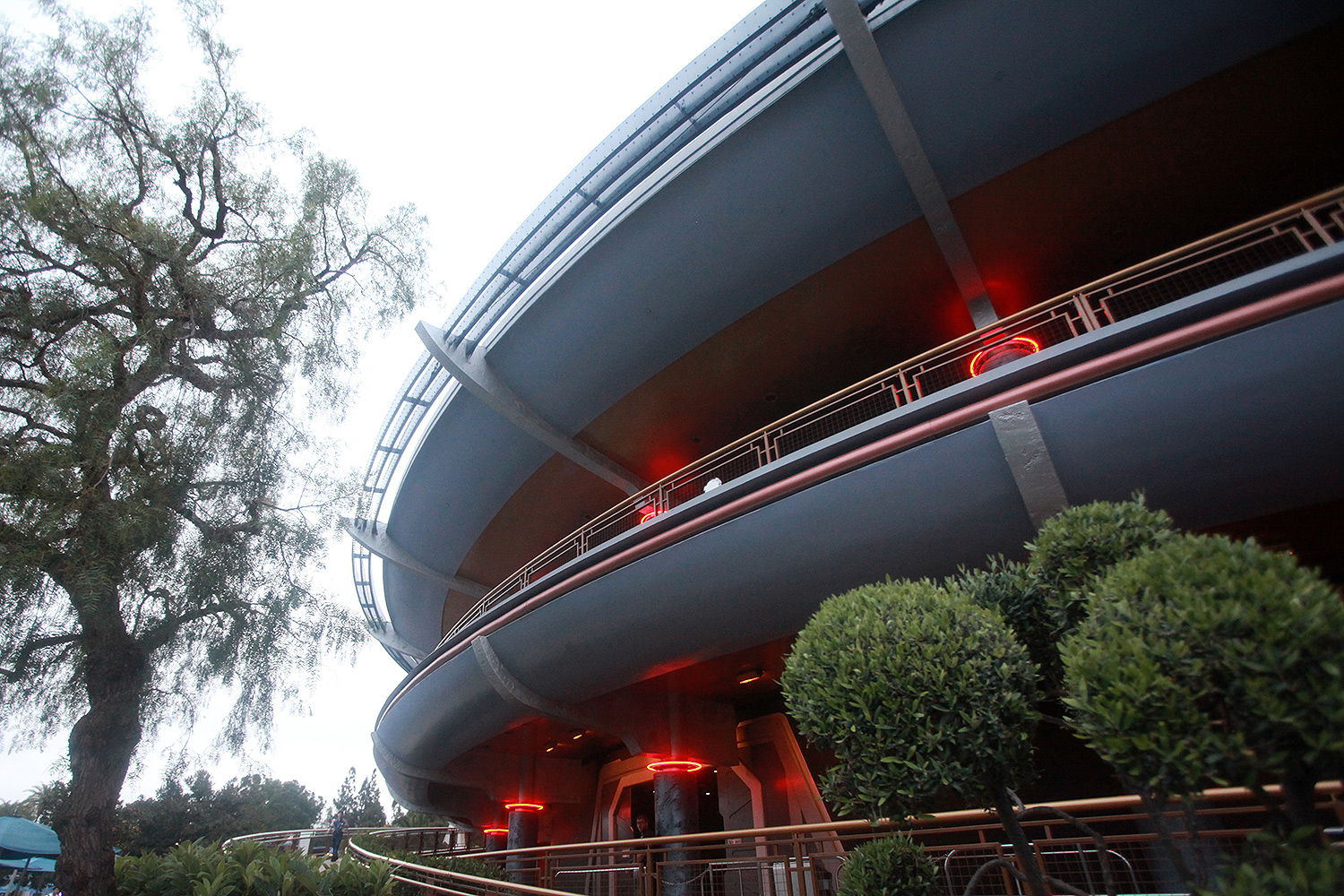 It is important to preface before we dive too far into it, is that the Skyline Lounge is first and foremost a dining experience rather than expensive seats for the fireworks show. The reason for this being is that the fireworks can cancel without notice depending on wind conditions or other unforseen factors. If you buy a night where the fireworks show doesn't happen, there are no refunds. It is the dining experience that is worth $45 and if the fireworks occur, that is simply icing on the cake! So without further ado, let's find out how good this cake is…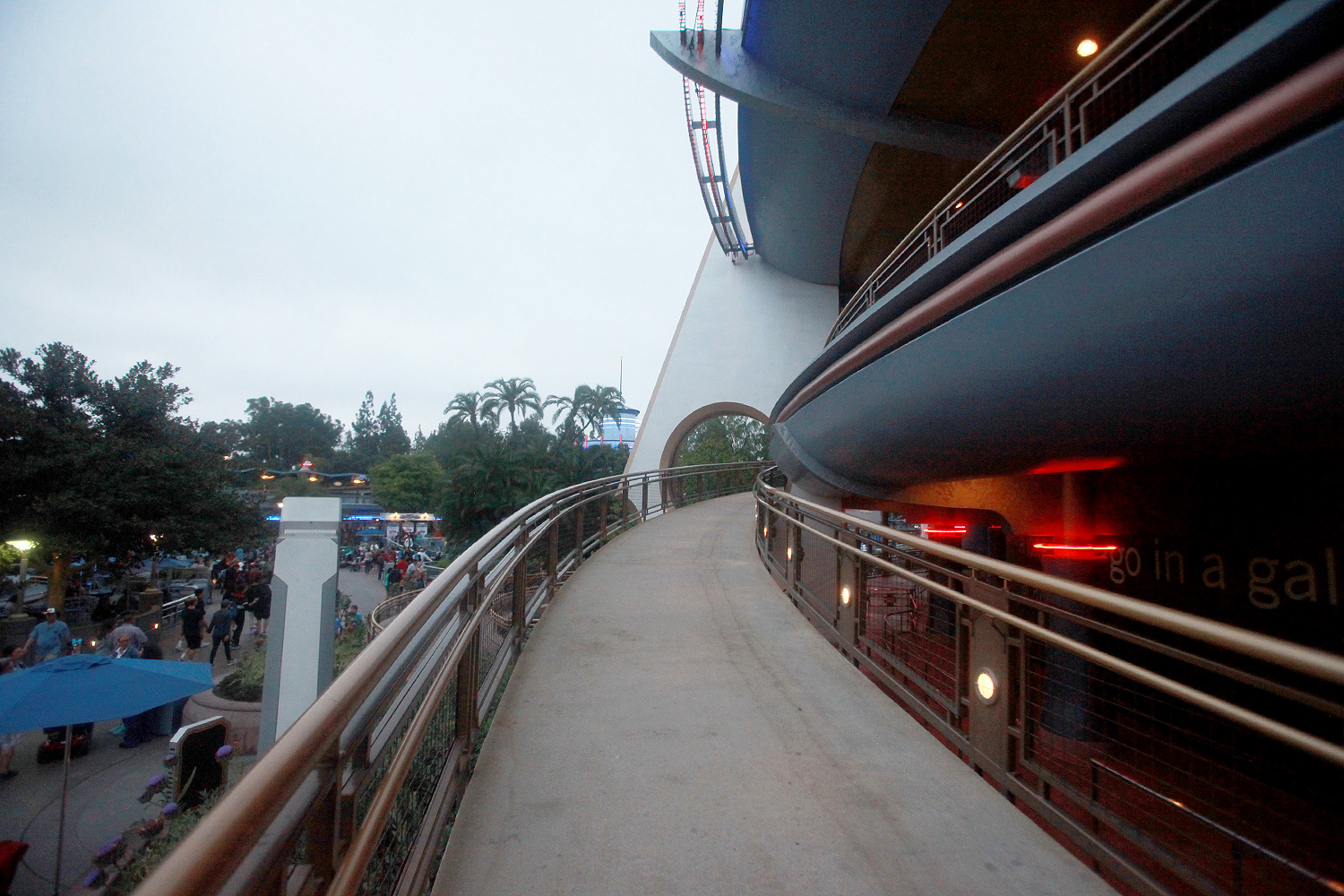 Check-in for the experience begins on the ground level of the Innoventions building (now Star Wars Launch Bay) not too far from Redd Rockett's Pizza Port. The location of the Skyline Lounge itself occupies the upper patio area of the old Innoventions building, abandoned most recently by the Marvel Super Hero HQ. The bottom floor still belongs to Star Wars Launch Bay but with no activity on the upper deck it was definitely a wasted space. Each reservation grants you access to the lounge that is now decked with plush seating, tables, and phone chargers, an assorted number of games as well as lightsabers. You might even get a visit from Mickey Mouse himself!
You pay at check-in, a flat $45 charge. No extra taxes or gratuity, just $45. You're guaranteed a seat but where you sit is dependent on a first come-first serve basis, so do check-in as soon as they allow. Wrist bands and lanyards are distributed as you are taken up one group at a time. You have two hours to enjoy the experience from 8-10 p.m. Fireworks are at 9:30 p.m. most nights so if you have ample time to relax from a day of play.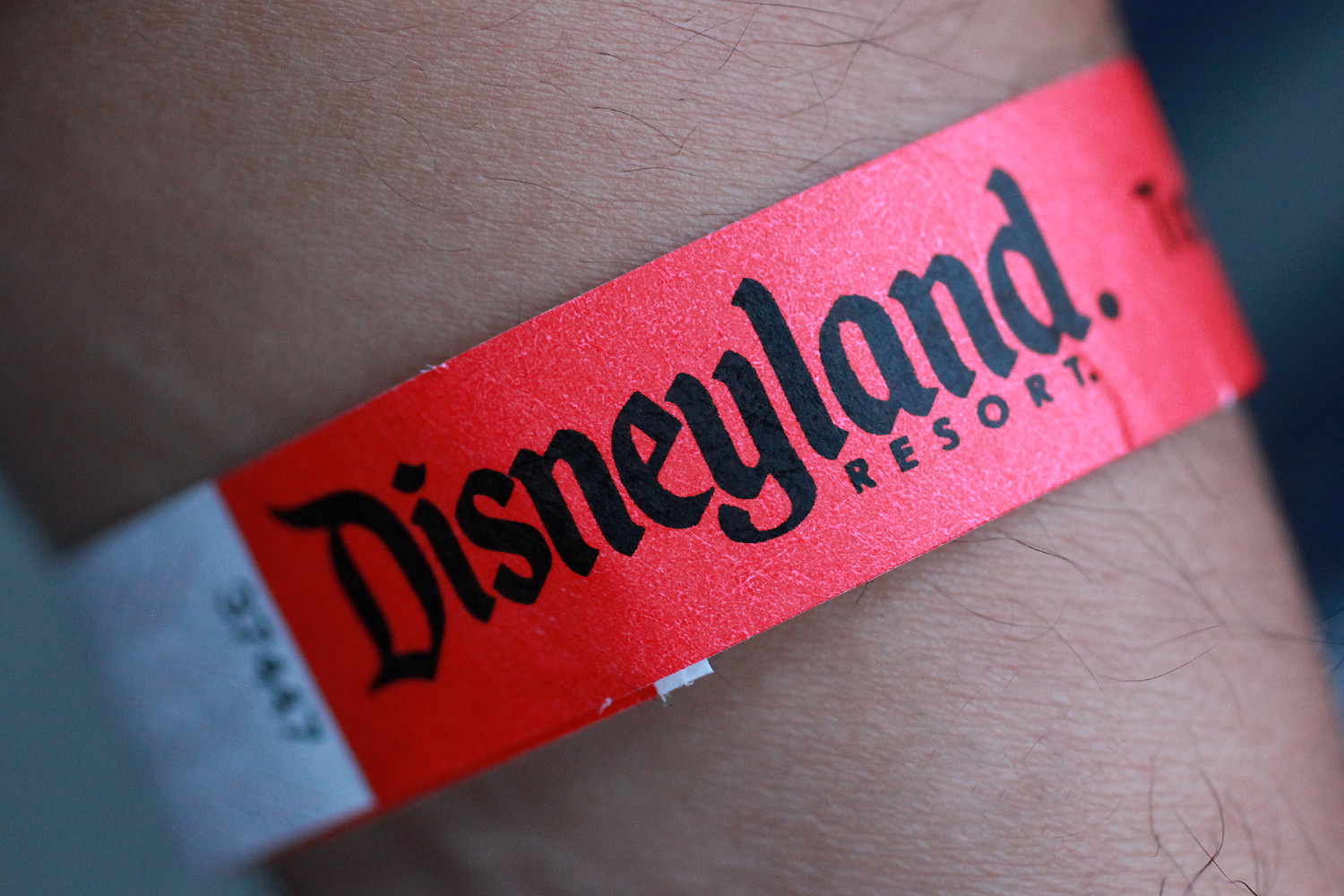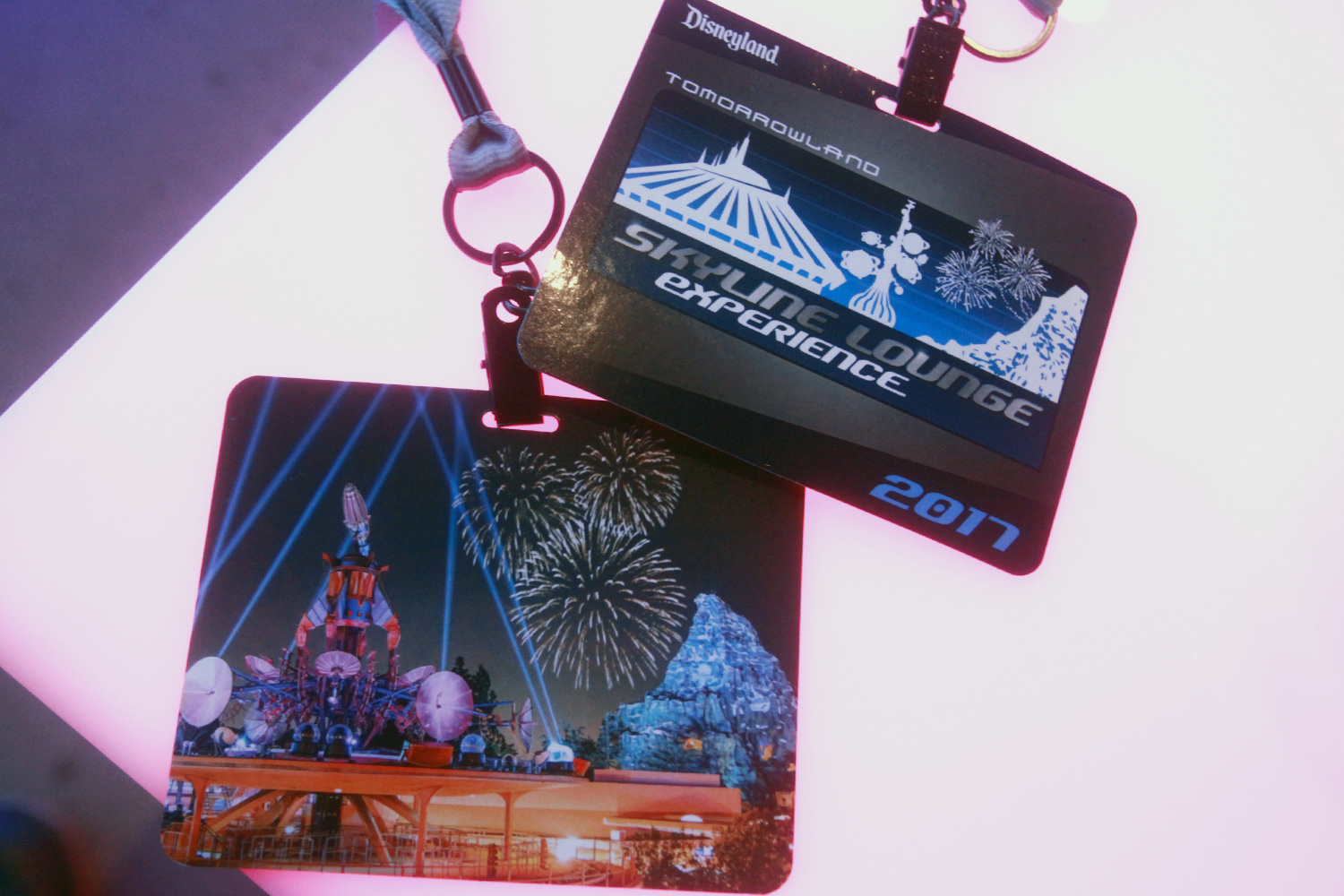 The upper deck is lined with plush seating and high-chairs, tables, phone chargers, games, lightsabers, bubbles, and yes, even blankets in case you forgot your jacket. Southern California nights can sometimes get rather chilly unexpectedly. Depending on your group size, you're allowed or limited to where you can sit. Groups of two for example aren't really allowed to occupy the best part of the couch seating, but you're welcome to an end seat or the high table for two, which doesn't have phone chargers. Right off the bat, some experiences will be better than others depending on the size of your party, which is unfortunate. Smaller tables for two also don't provide a lot of room for your food AND games so you'll need to do one at a time there.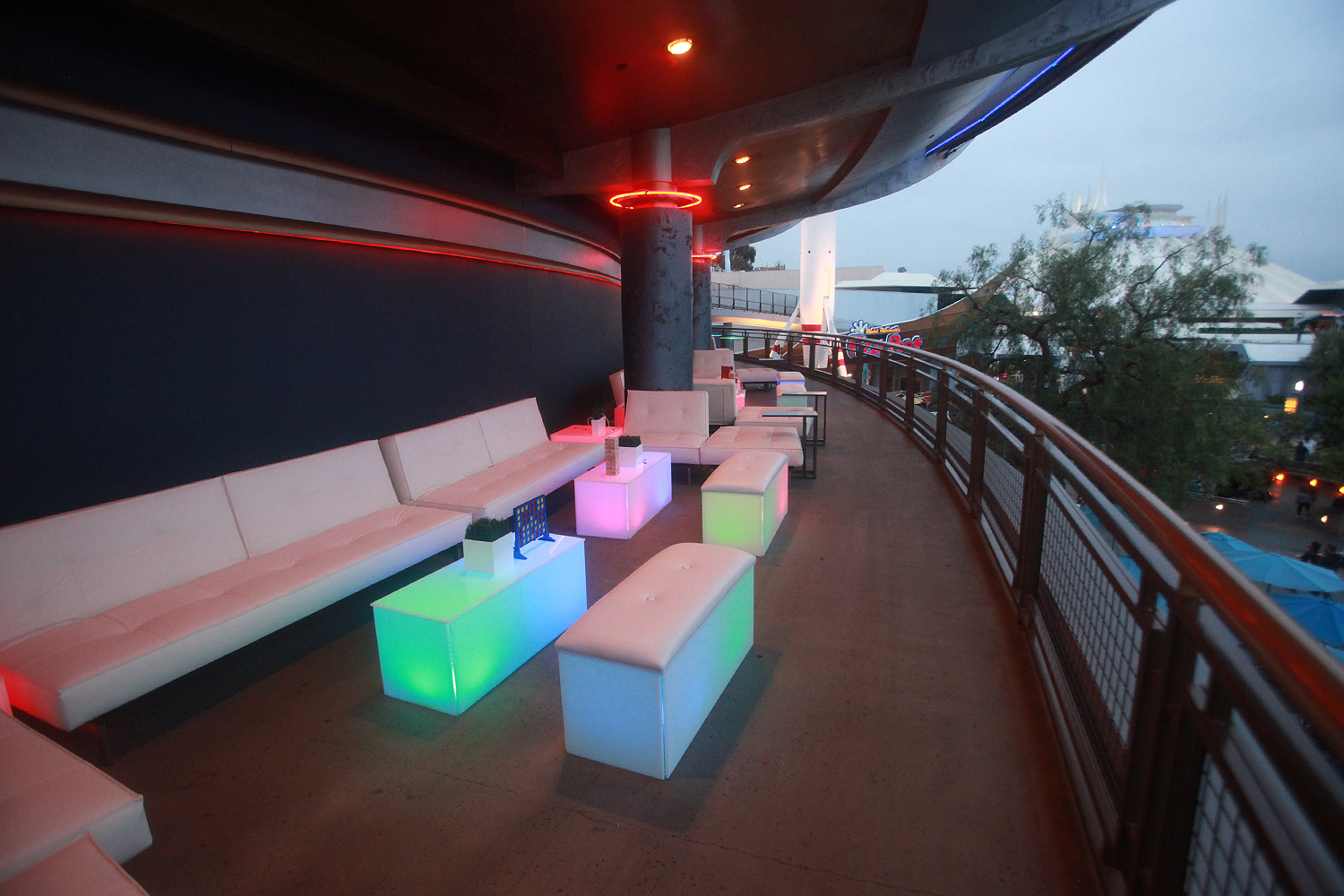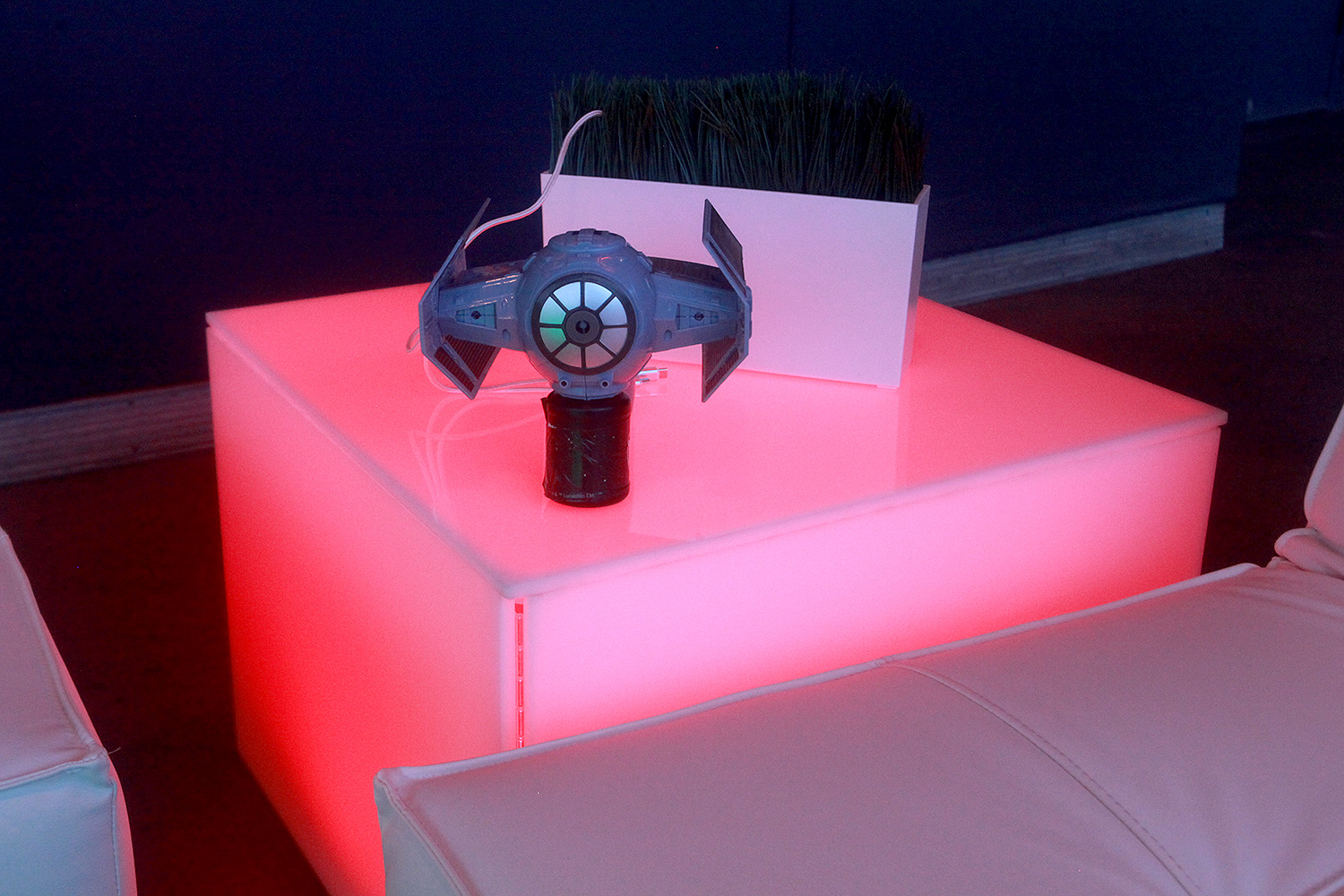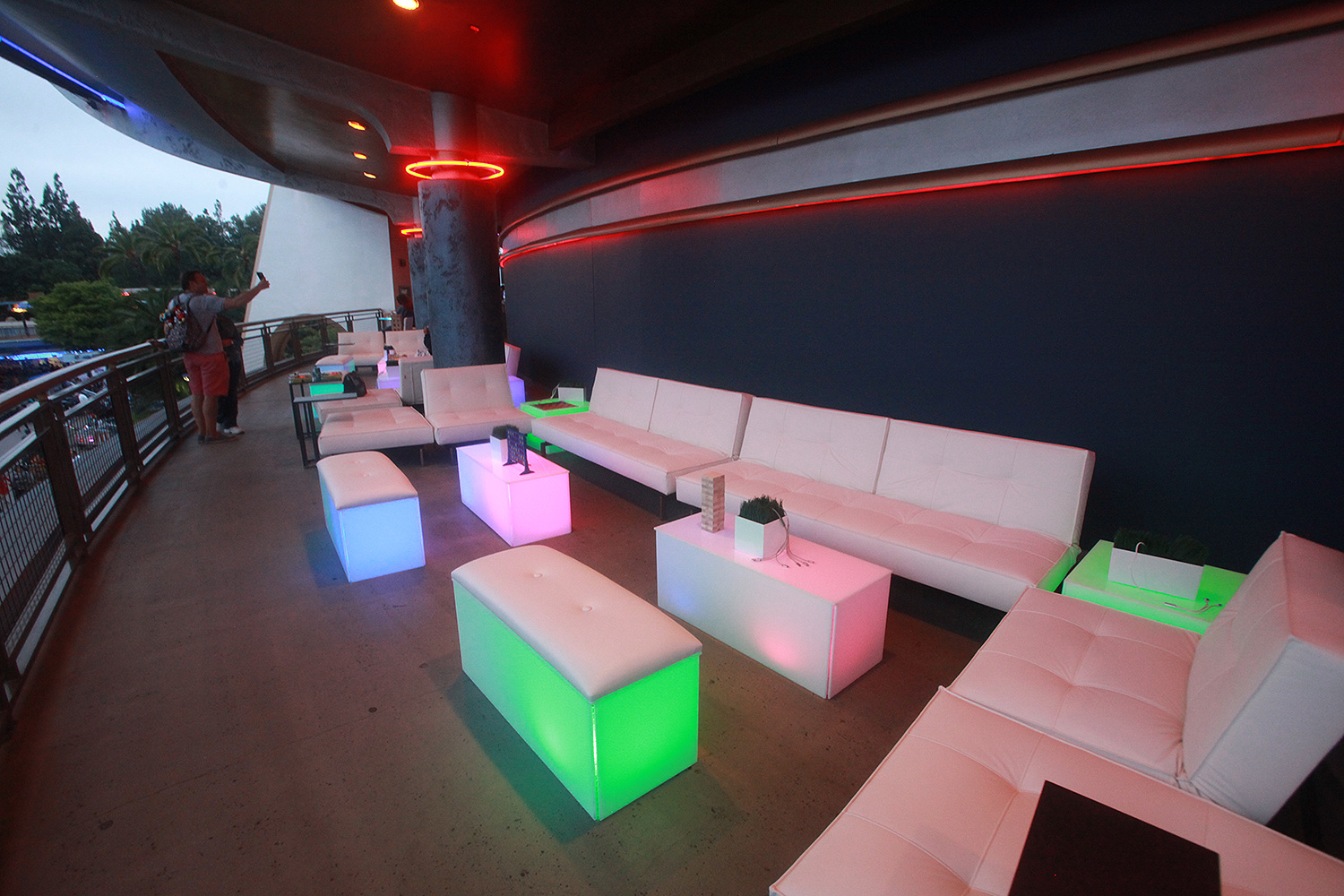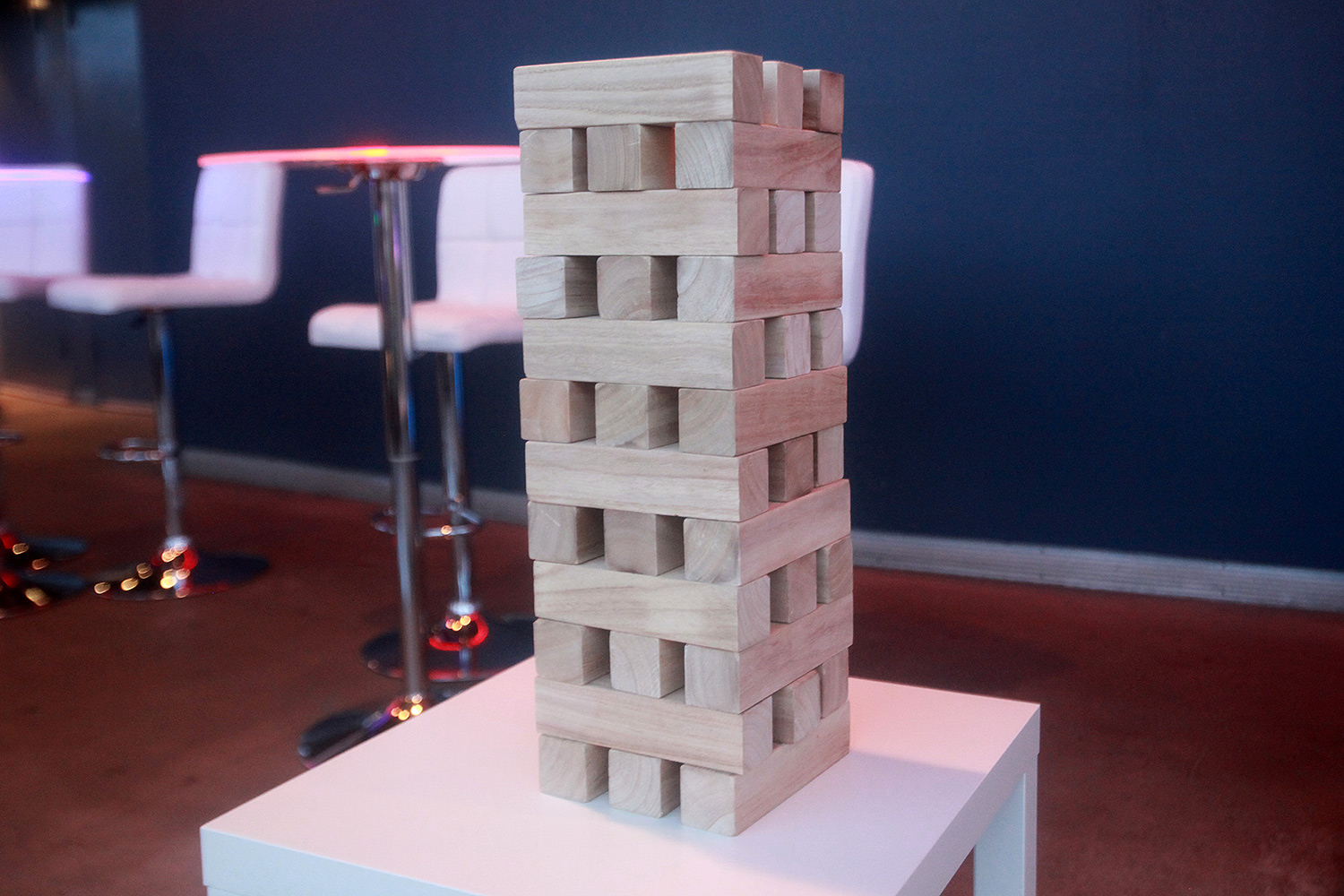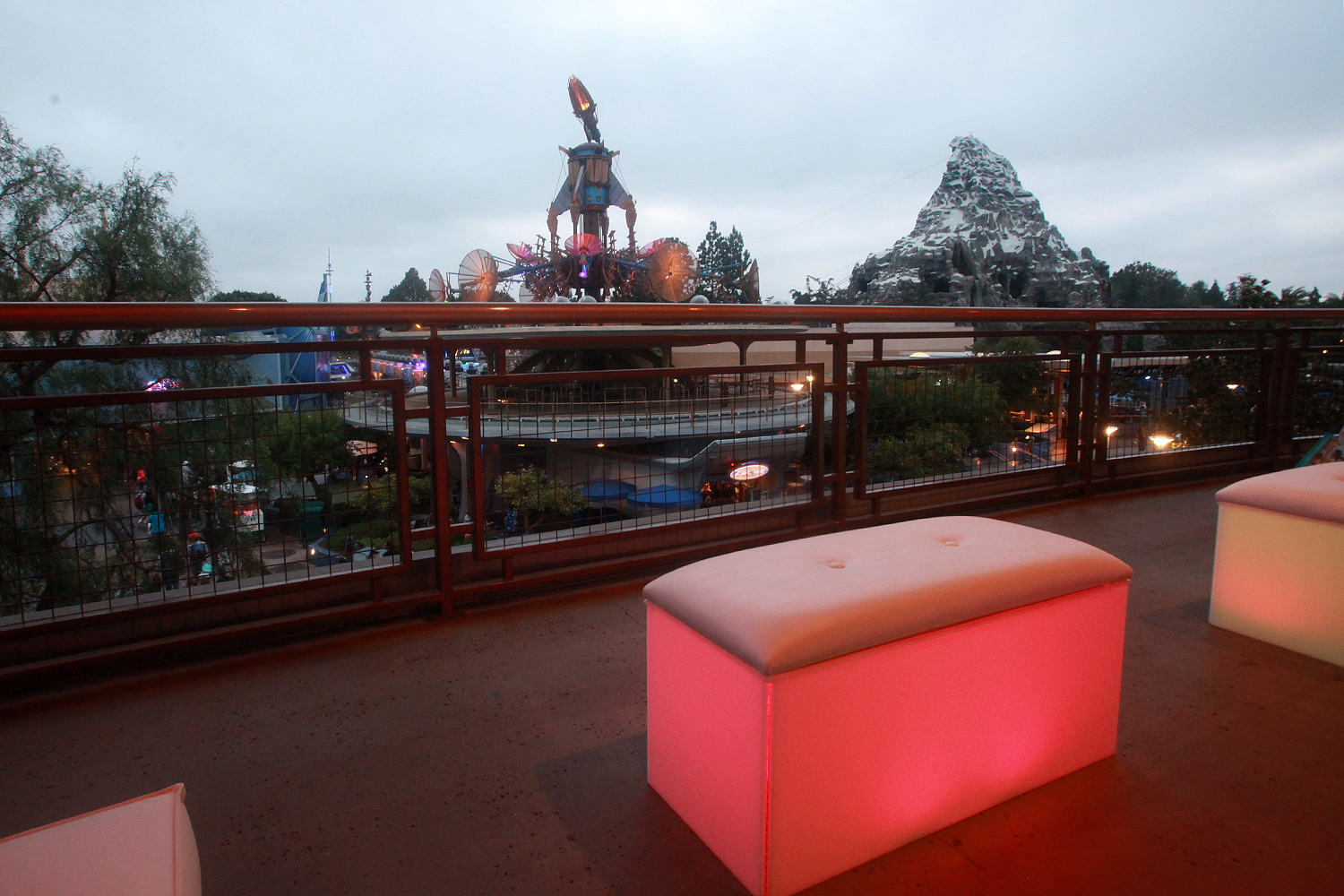 Blast your taste buds to the moon & back! Every guest is given a box of "Solar System Sweets" as they find their seats. The dessert box contains way too much sweets for one person or even two people to consume. If you arrive on an empty stomach, it is enough that you will leave without feeling hungry, but you won't be happy or satisfied or well nourished. Even halfway through, you can tell you're in for a big crash later in the evening. Aside from the grapes, which I would prefer an entire box of, you get the following treats:
Mickey Cloud Cake: Cream-filled Sponge Cake
Chocolate Eclipse: Cream-filled Chocolate Cake drenched in Chocolate
Coconut Comet: Coconut-Strawberry Iced Sponge Cake filled with Cream
Planetary Pie: Mini Cherry-filled Pie
Moon Rocks: Boursin Herbed Cheese, Cream Cheese, Shredded Cheddar and Jack Cheese, Chives, Pimento, Bacon (with Crackers)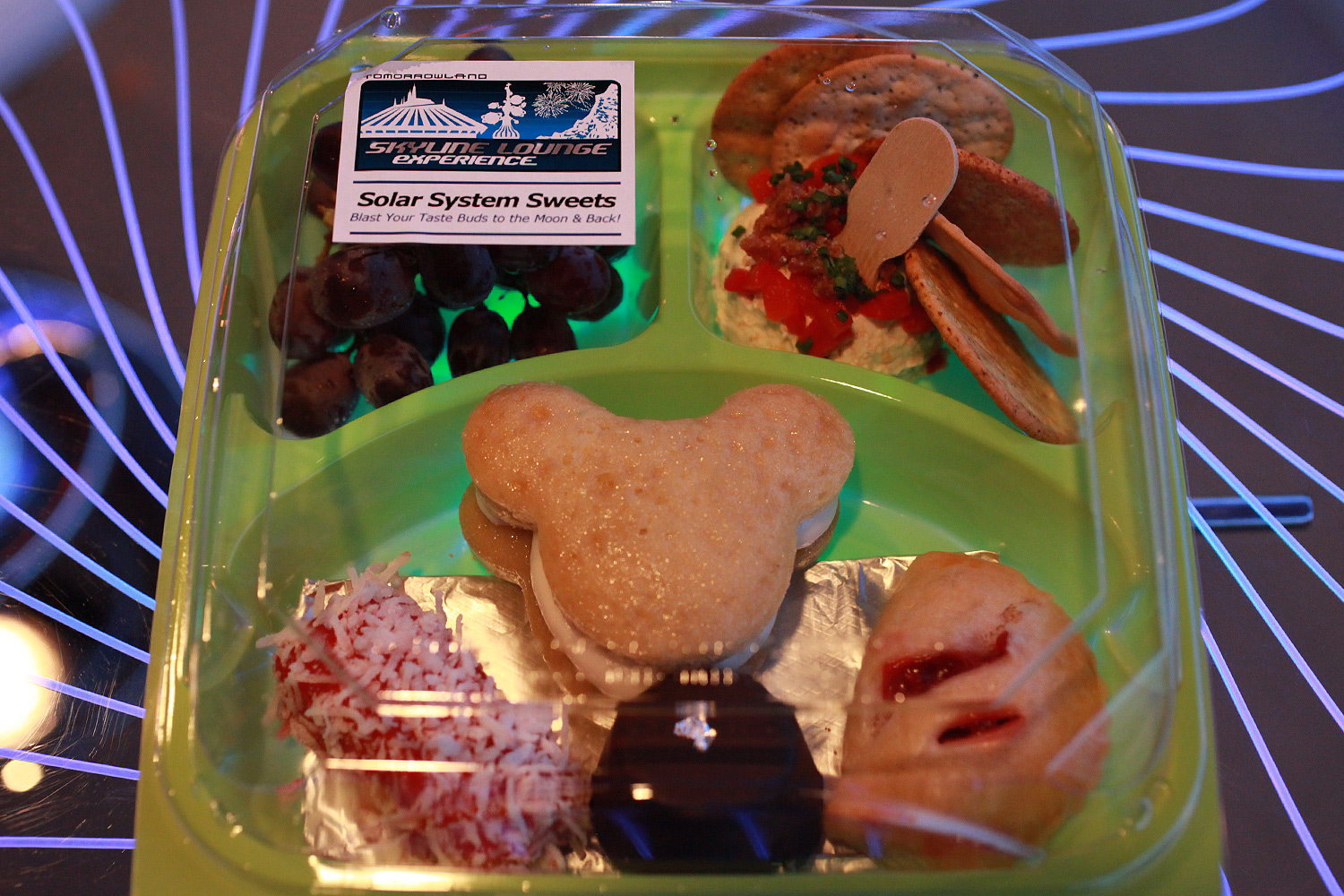 The desserts are all variations of treats you'd find in a box of Hostess. One is certainly enough, but you get four. My least favorite was the Cherry Pie, being the most generic tasting of the bunch. If you're into cheese and crackers, that could be a plus too, but while I received five crackers, I've heard later reports of folks getting only three. If they're already cutting back then that's very disappointing.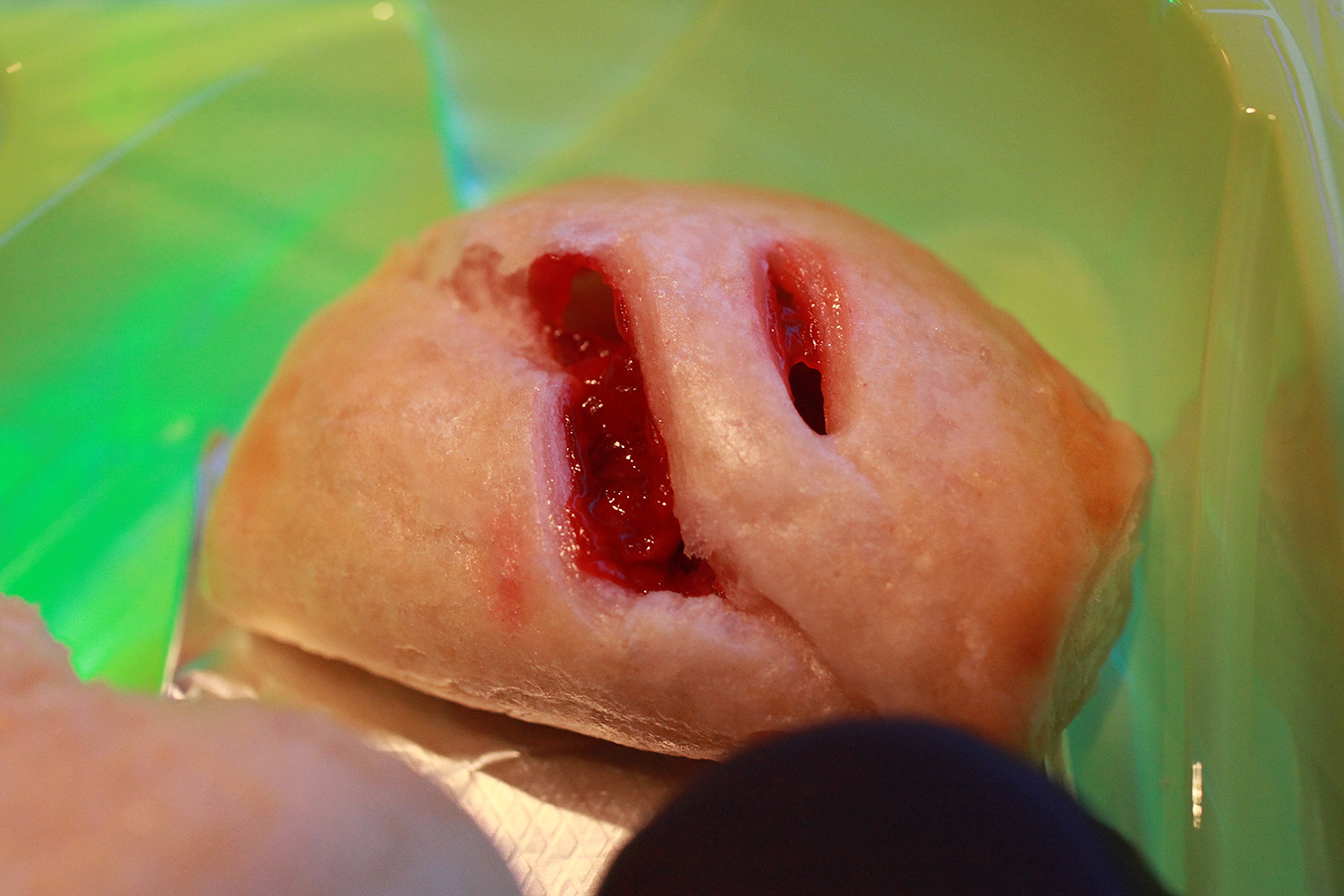 The drinks are of the canned variety but the smaller sized cans: Coke, Diet Coke, Sprite, Bottled Water. There's also coffee, hot tea, and hot chocolate. All beverages are "all you can drink" but with all the sugar already in the dessert, I honestly couldn't do much more. If I could choose, I would much prefer fountain drinks vs cans and at least an option of Iced Tea. Better yet, a beer option would make me so happy. It's an experience and a lounge and what better way to end the night than with some suds?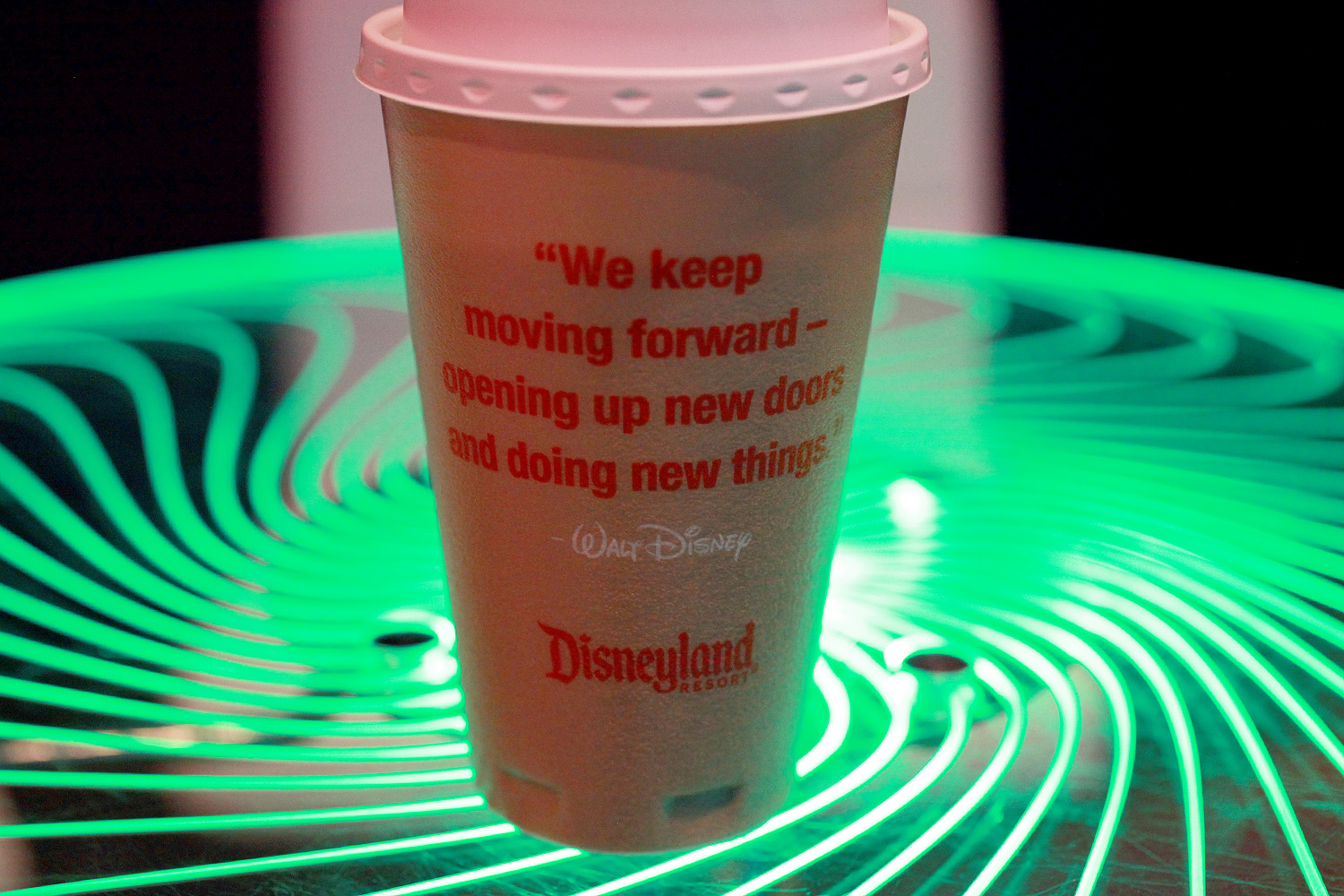 During the evening you do get a visit from our two favorite mice, Mickey and Minnie. While it's always great to have a personal audience with the big cheese, I'm surprised at how unspecial it was. Meaning, they were dressed how they normally dress when you meet them on Main Street, USA. This is a $45 a person Skyline Lounge Experience in Tomorrowland. Why are they not dressed up in their space gear? It seemed like a no brainer to me and a little disappointing that this wasn't offered.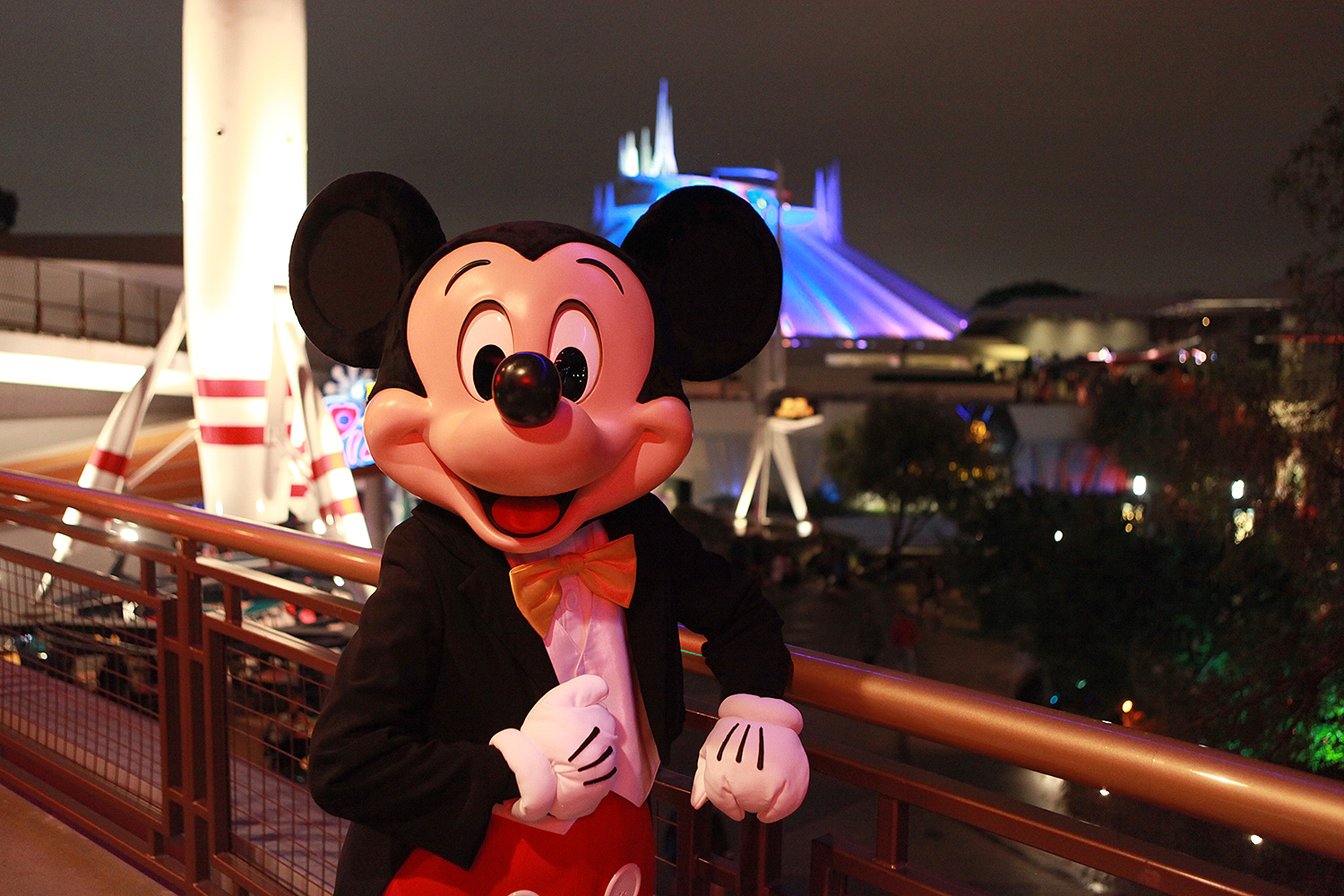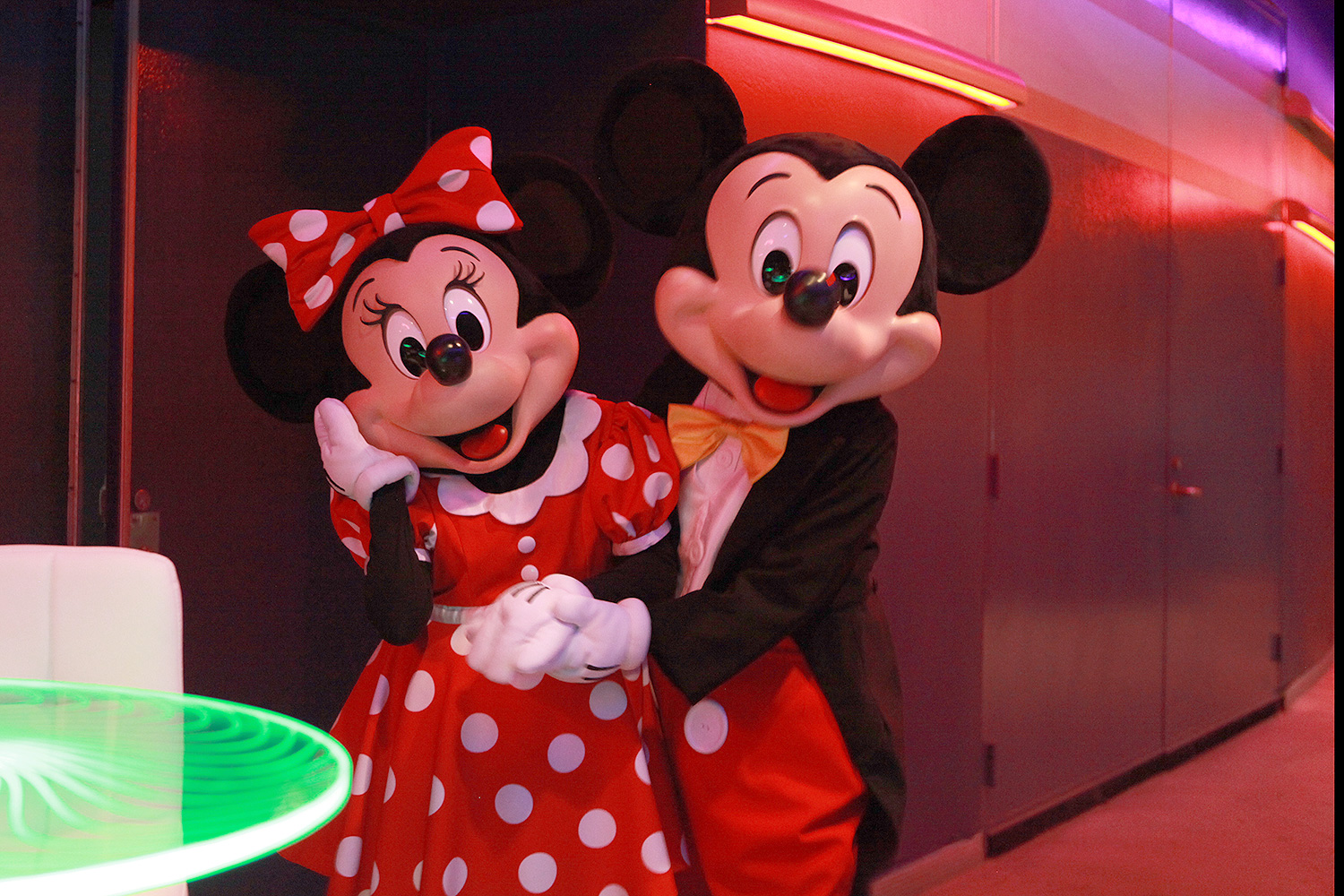 The fireworks began and there's supposed to be music to go with it but it wasn't very audible at our viewing. If you care about the view, I strongly advise you avoid the very back end of the lounge nearest to Space Mountain. It boggles the mind why there's even seating back here and especially why they're high chairs. The roof of the building will very much block any good view of the fireworks at that angle. Interstingly enough, the beverage station on the opposite end where no one gets to sit is the best view in the house.
DO NOT SIT HERE. Unless you want a blocked view of the fireworks.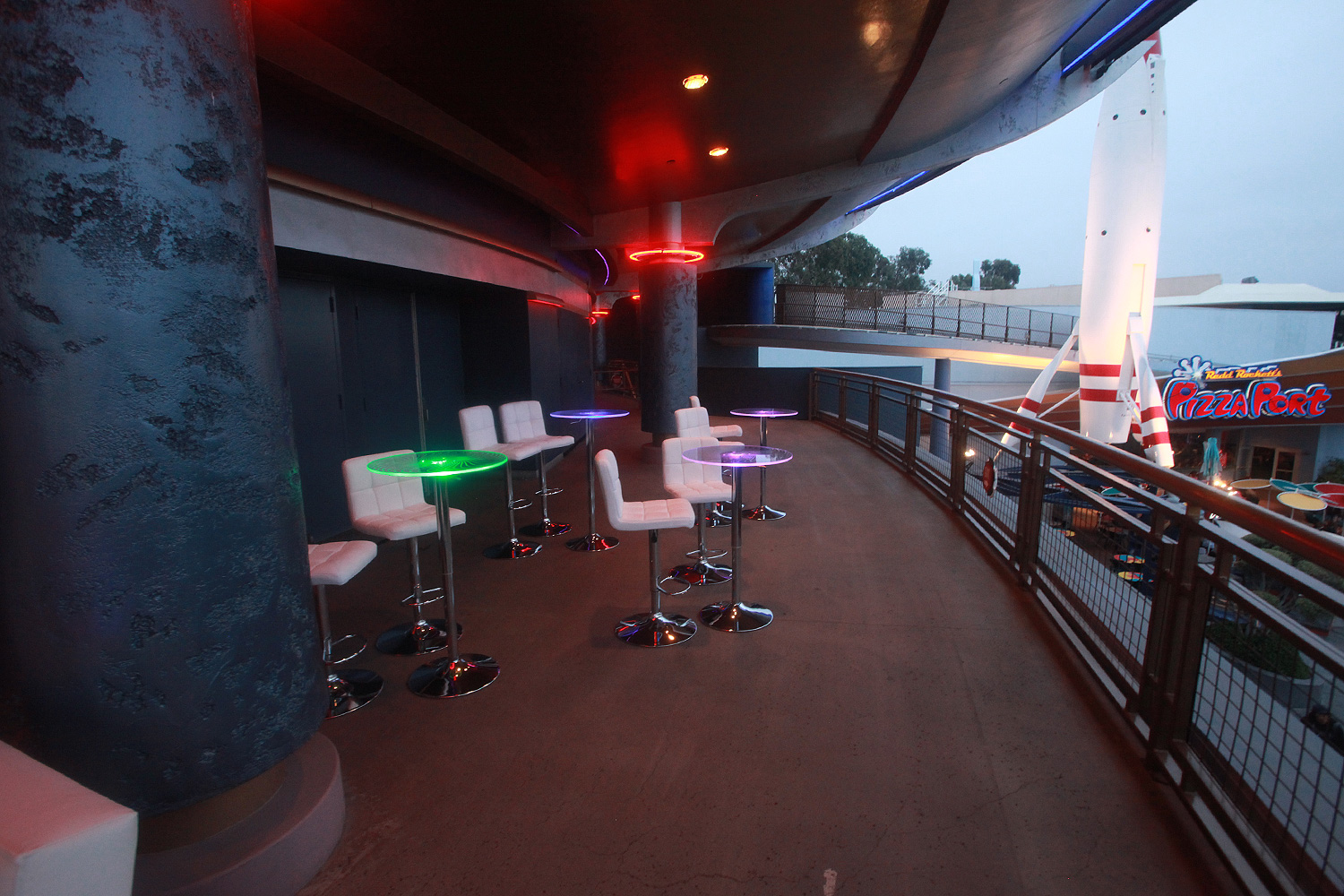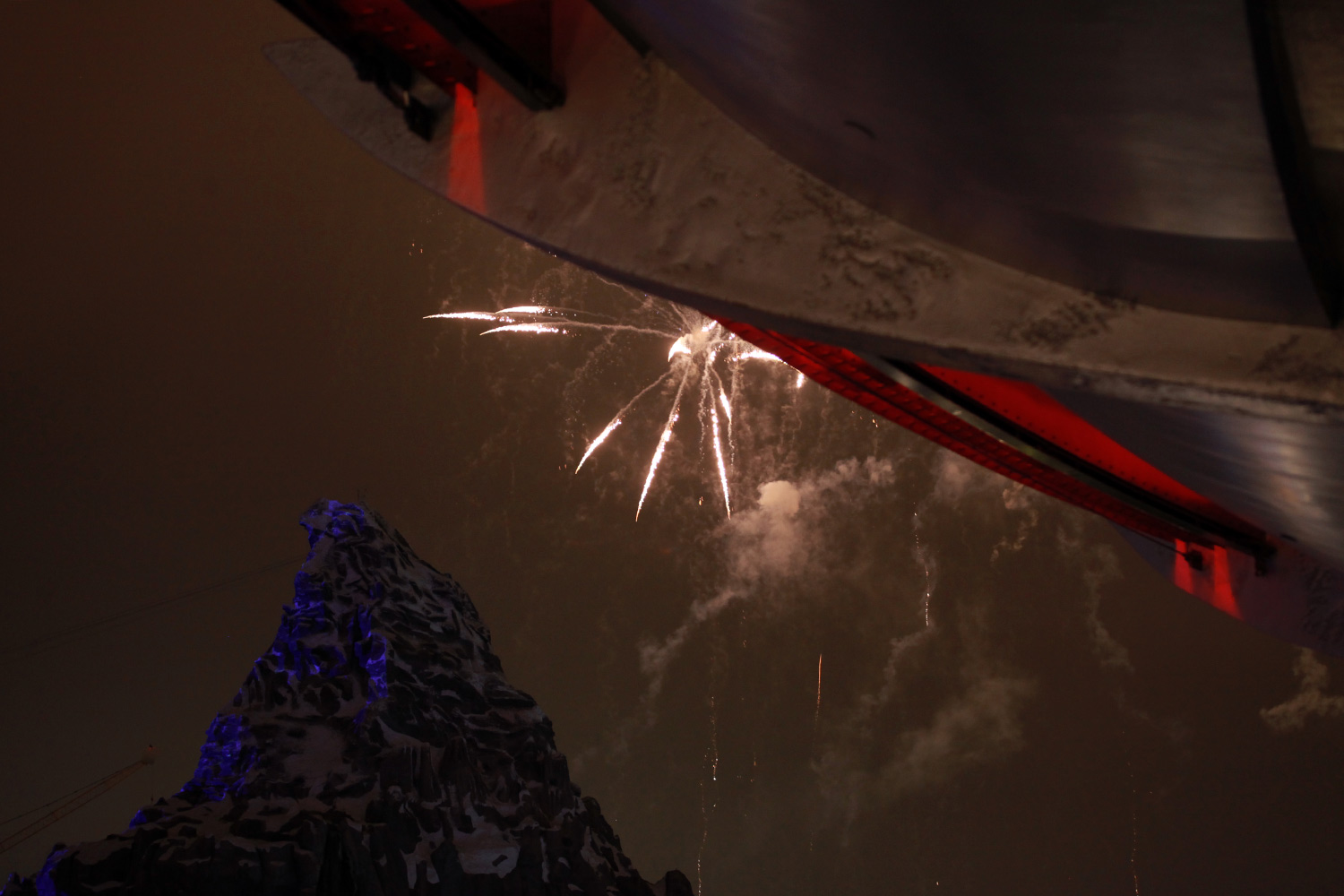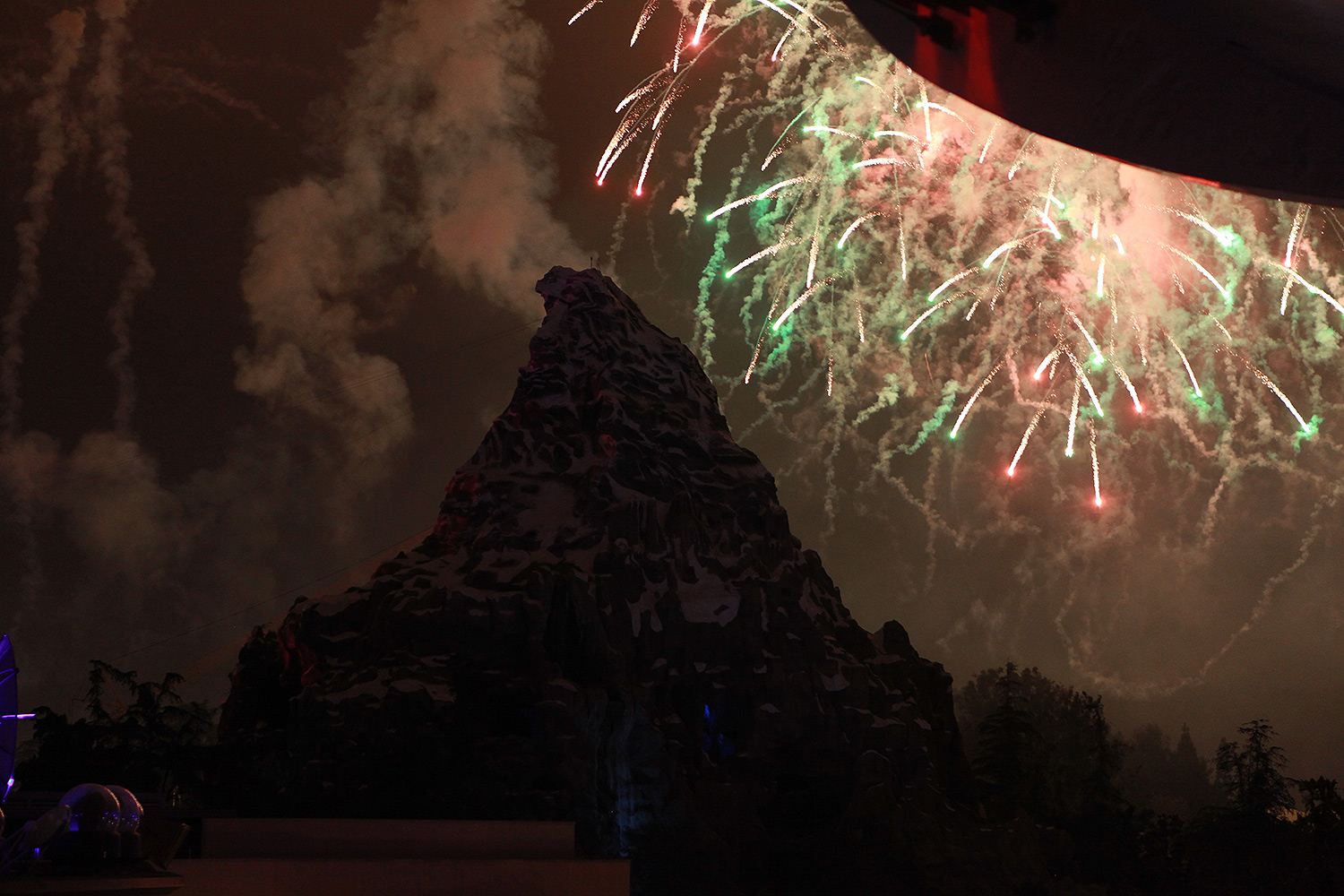 All the way nearest to Autopia, much better view.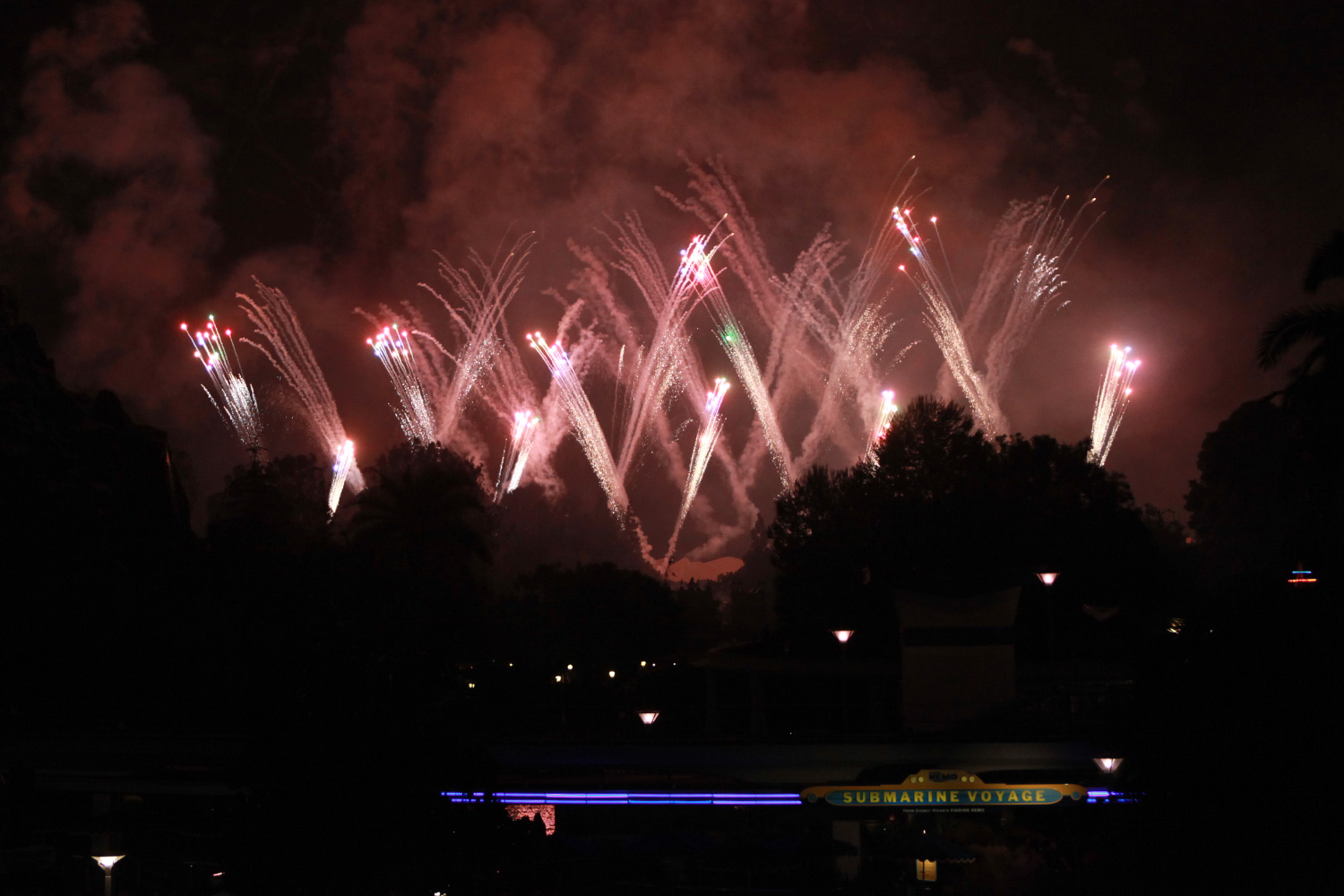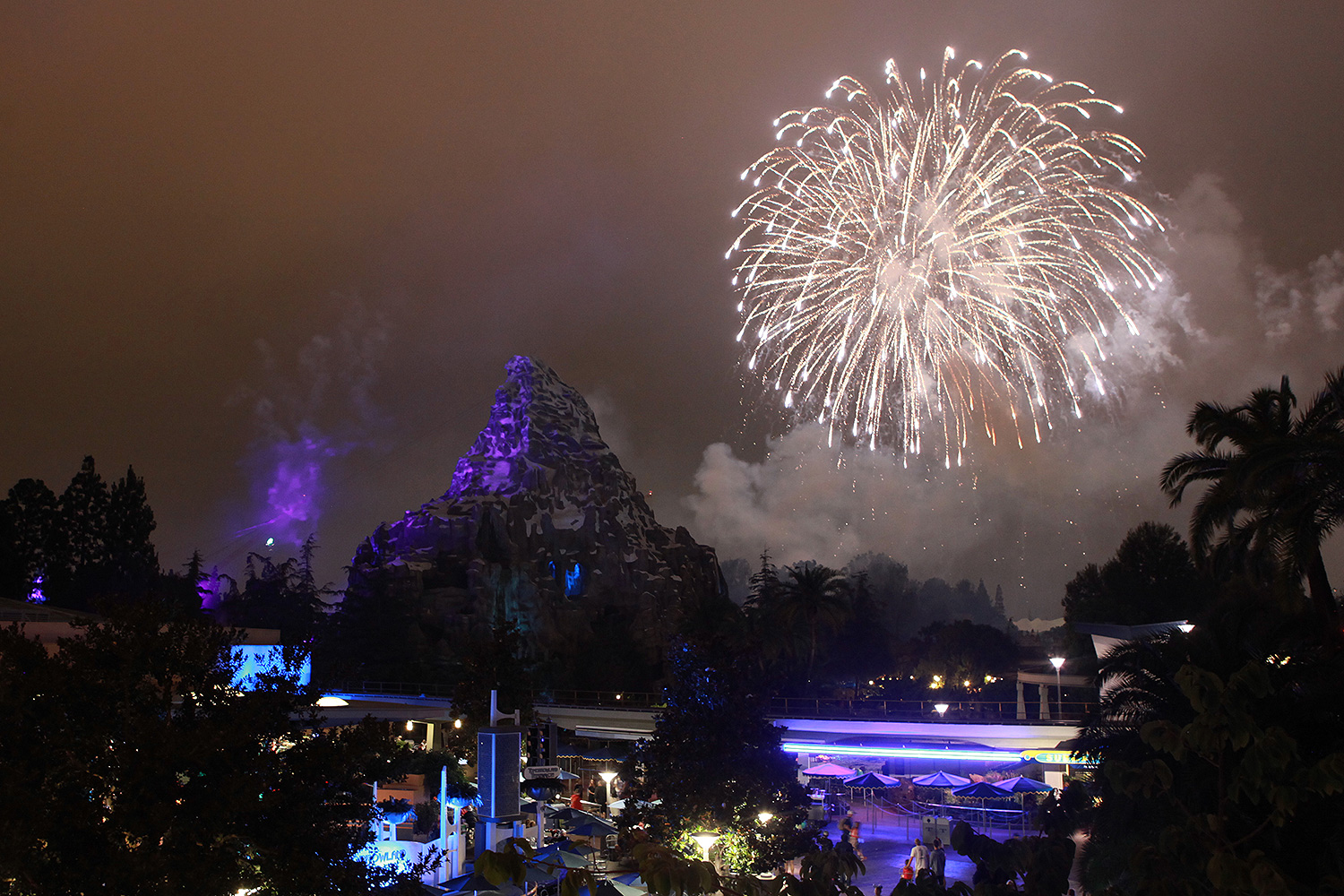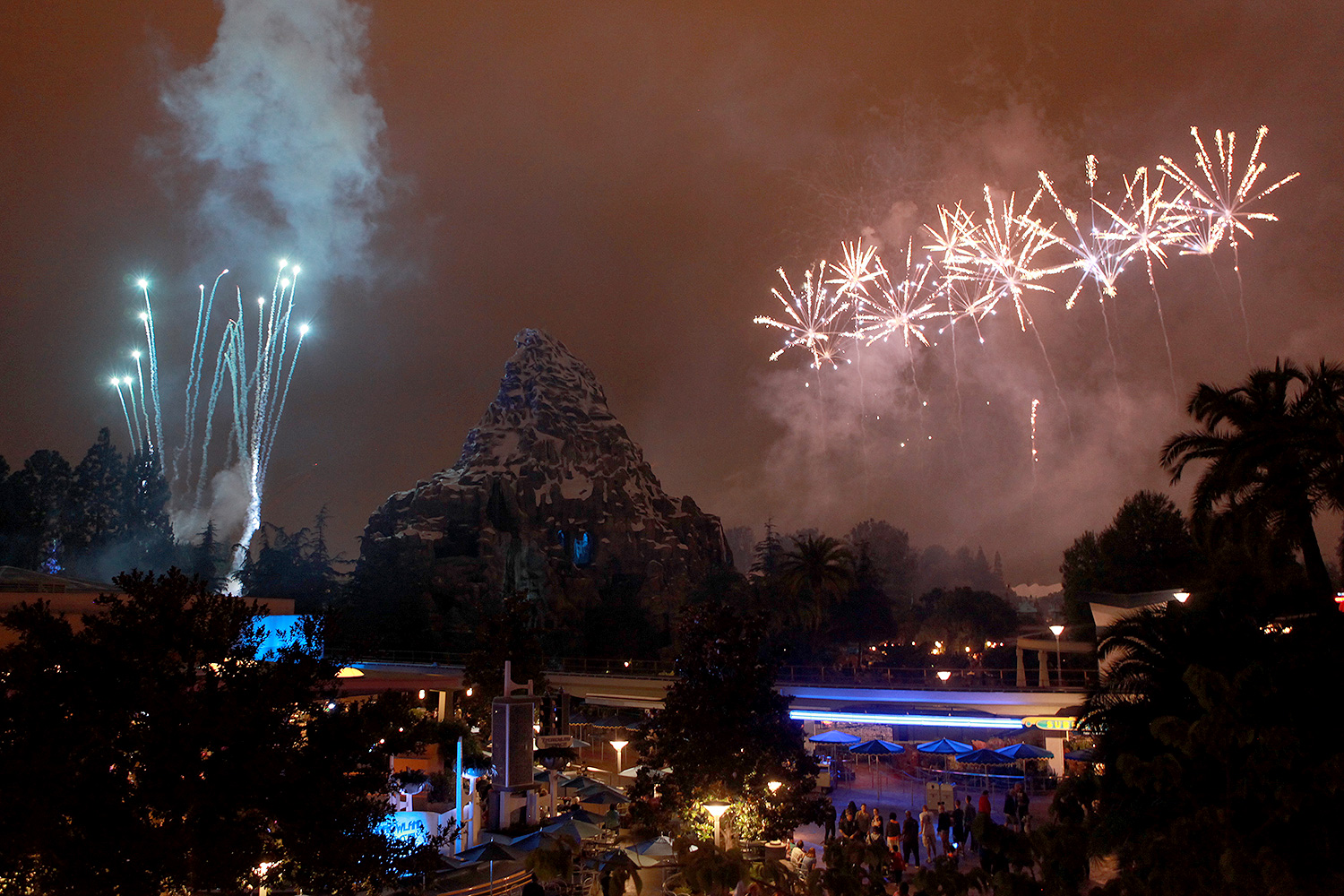 With the fireworks over, there was only a small little bit of time to relax and have another sip of hot chocolate before heading back down to regular Disneyland. So how was the experience overall? To be honest, a little disappointing. And if you went up and don't see fireworks, it would be VERY disappointing. The lounge as a concept is actually incredible. I love the notion of it – taking an area that is unused and turning it into something that is unique and special. It's an area that I used to visit often when it was open to everyday guests. Regarding Mickey and Minnie, I loved the more personal character visit, but I believe there would be a lot of folks that would sign up for this experience in an instant if it was a unique costumed Mickey and Minnie in Tomorrowland outfits. It would actually encourage Disney Bounders to dress in their Tomorrowland best just for the photo opp. The desserts, while tasty individually, is really too obscene for one person to consume. I'd personally prefer a slice of Pizza Port pizza and one dessert, but if this is meant to be a dessert following a meal, that's asking a lot of your guests to eat a proper dinner prior to spending two hours on dessert. A happy medium would have been great. As for the drinks, an optional beer, even if it was extra would forgive many other issues and really drive more people up here.
The experience at $45 is a bit high. $35 would be more appropriate…. But for unique Mickey & Minnie, an option of dinner or dessert, a beer (I'd settle for Ice Tea), better sound for the fireworks…. All that would really drive this up to a $50 experience. For those who simply have to do everything once, it's still an experience that won't last all year so I recommend signing up sooner than later, but definitely be aware of what you're getting to level expectations. The Tomorrowland Skyline Experience can be amazing with a few tweaks. Right now, it's simply "OK", but "OK" at Disneyland is most certainly better than a lot of things.
Tomorrowland Skyline Lounge Experience: C+