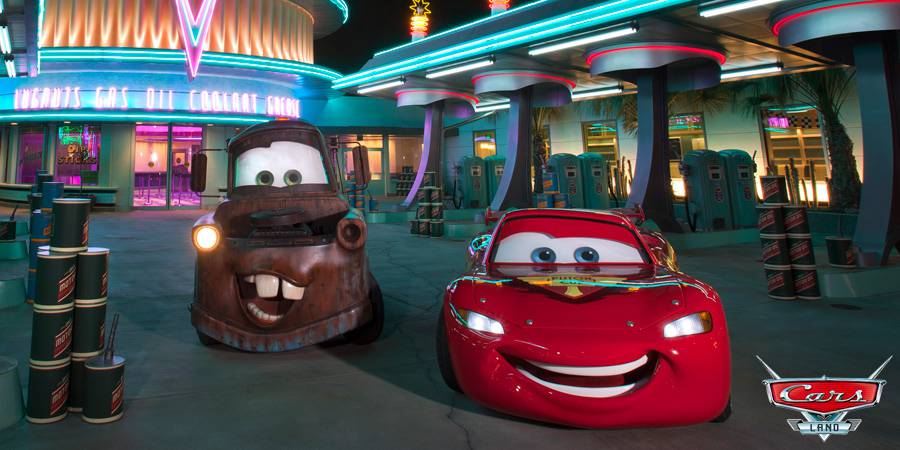 Kris Van de Sande
Disney California Adventure Re-Opens June 15
June 10, 2012
In less than a week, the five year transformation of the Disneyland Resort will finally be completed; as the Happiest Place on Earth gets even happier with the grand opening of two new lands: Buena Vista Street and Cars Land. The excitement happens on June 15, 2012 and EndorExpress will be there to help celebrate and capture the magic. We'll be sharing our photos and experience with you so please come back and check out the fun!
June 15, 2012 also marks the day the famous Matterhorn Bobsleds reopens after a lengthy refurbishment. There's plenty of reason to return to the Disneyland Resort this summer!
Press Release:
The Happiest Place on Earth Gets Even Happier This Summer with Completion of Disney California Adventure Park.
ANAHEIM, Calif. (March 7, 2012) – The Happiest Place on Earth will get even happier June 15, 2012, with the grand opening of Cars Land, Buena Vista Street and the Carthay Circle Theatre at Disney California Adventure park. The exciting, new additions will complete the five-year expansion of Disneyland Resort, a premier, multi-day vacation destination in Southern California with two theme parks, three hotels and the Downtown Disney shopping and dining district.
With four new attractions opening at Disney California Adventure park, full day-to-night experiences at both parks, and the magical transformation of the Disneyland Hotel with new pools, themed suites and remodeled rooms, guests of all ages will enjoy more fun and adventure than ever before at the Disneyland Resort.
Cars Land expands Disney California Adventure by 12 acres and immerses guests in the thrilling world of the Disney•Pixar blockbuster "Cars." Guests will feel as if they have stepped into the town of Radiator Springs as they enjoy three family attractions showcasing characters and settings from the movie, plus "Cars"-themed dining and shopping locations such as Flo's V8 Café, Ramone's House of Body Art and Radiator Springs Curios.
One of the largest and most elaborate attractions ever created for a Disney park, Radiator Springs Racers is a twisting, turning, high-speed adventure through Ornament Valley and the town of Radiator Springs. Luigi's Flying Tires invites guests to glide on air aboard special tires, whirling around with their pals. At Mater's Junkyard Jamboree, guests will whip around behind a baby tractor and enjoy tunes from a giant jukebox built from Mater's most prized possessions.
Starting June 15, guests will enter Disney California Adventure along Buena Vista Street, a place that transports them to an era when Walt Disney arrived in California with new dreams: 1920s Los Angeles. Buena Vista Street features Red Car Trolleys, inspired by the transportation system that once served Southern California, and the Carthay Circle Theatre, modeled after the site of the 1937 world premiere of "Snow White and the Seven Dwarfs." Carthay Circle Theatre will include a lounge and the elegant Carthay Circle Restaurant, designed to be the premier dining location in Disney California Adventure.
Adding to the fun at Disney California Adventure this summer will be the new Mad T Party in Hollywood Land, the return of Pixar Play Parade, and the new Ghirardelli Soda Fountain and Chocolate Shop at Pacific Wharf. Mad T Party will feature nighttime, family fun inspired by the wild and whimsical world of Tim Burton's "Alice in Wonderland."
The summer debuts of Cars Land, Buena Vista Street and Carthay Circle Theatre complement previous additions to the park, including the 4D fun of Toy Story Mania; the spectacular after-dark "World of Color" show; The Little Mermaid ~ Ariel's Undersea Adventure; Boardwalk Pizza & Pasta and Paradise Garden Grill restaurants, plus the re-themed attractions Mickey's Fun Wheel, Silly Symphony Swings and Goofy's Sky School.
To accommodate a media preview and make final preparations for the exciting debuts, Disney California Adventure will be closed June 14. The fun, new attractions, locations and entertainment will open to the public June 15.
###
About the Disneyland Resort
The Disneyland Resort features two spectacular theme parks – Disneyland (the original Disney theme park) and Disney California Adventure park – plus three hotels and the Downtown Disney District, comprised of unique dining, entertainment and shopping experiences. The Resort's hotels are the luxurious, 948-room Disney's Grand Californian Hotel & Spa, which also features 50 two-bedroom equivalent DVC units; the magical, newly renovated, 969-room Disneyland Hotel – both AAA Four Diamond properties – and the 481-room Disney's Paradise Pier Hotel with its "day-at-the-beach" fun. For information on attractions and vacations at Disneyland Resort, visit www.disneyland.com, call (866) 43-DISNEY or contact local travel agents.
Images © Disney