Kris Van de Sande
Christophe Leclercq
The master of the Jedi Training Academy
Article
Interview
August 5, 2015
Christophe Leclercq can be easily considered a household name in the Disney Show Business. Starting as a dancer with The Walt Disney Company in 1989, three years before Disneyland Paris would open its gates, his motivation and skills quickly gained him several promotions until in 1999 he became a Show Director.
His most recent project is a brand new version of the Disneyland Paris Jedi Training Academy. The american versions have been playing in American parks for a a few years, until now being brought to the European audiences in the summer of 2015.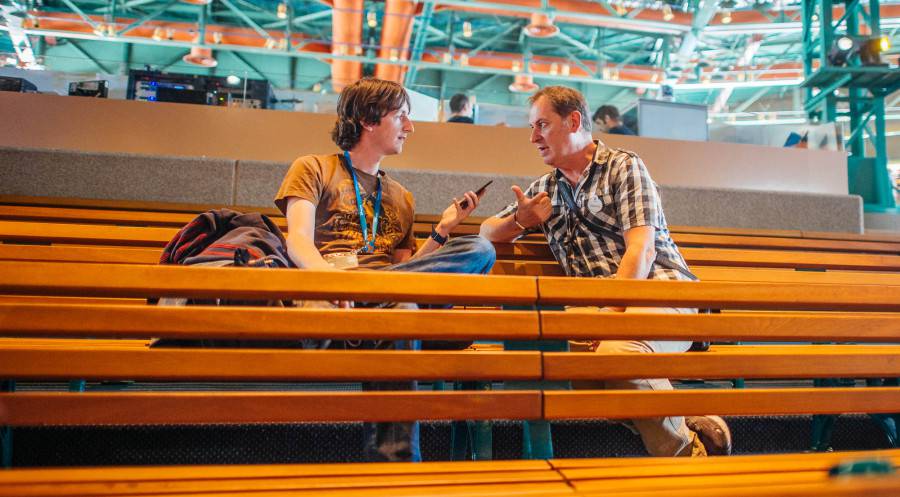 EE: Hi Christophe, thanks for taking the time. To start off, when did you begin working on the new Jedi Training Academy show in Paris?
Christophe: We have been talking about the new kids animation, the Jedi Training Academy concept, for more than a year now. It takes a long time to put everything in place, finalise the concept, find the room and build the decor.
So, what is your job on the show?
My main responsibility as a Show Director is to deliver the show. I've got help from choreographers, assistant choreographers, the dance captain, … . I have a team around me that can do the job for me on stage, and I'm sitting in the seats like we are now where I have an overview of the concept. I can't say to my assistant "can you change this little part because it doesn't work". You cannot focus on just a part. Even when you have Darth Vader coming on stage, you need to focus. Everyone around you needs to stop to move. Because the door opens, and all focus should be on Darth Vader. It's all about focus on stage if you want to capture the guests.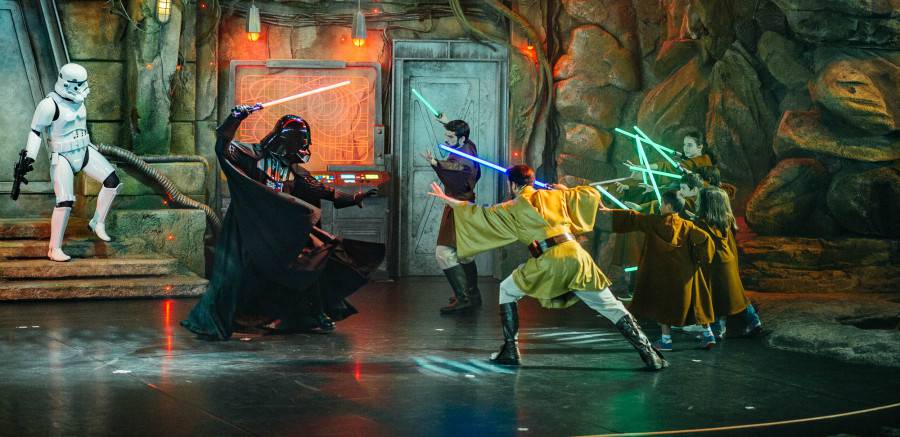 Did you have the freedom to do something new and different or were the guidelines locked in place?
We took the concept from the States, but for example we know that we will do this show in an indoor theatre instead of outside, so that is why we have to take the concept and the script and rearrange things so they work for us. We also have the French and English languages, so that's another reason to modify things a bit. In the end we got a more theatrical version, but the concept is still the same.
Were there any challenges translating the show to a European audience?
The biggest issue in two languages is that it can't be too long when you talk. You need to be very fast and quick with the kids. (Snaps fingers in a theatrical fashion). Because they need to understand everything in a snap. So mostly short phrases in both languages. Also they are not being trained to translate all the time between the languages, it's an adaptation of what we want to say. You have to take care, because it can be longer. So that's why you have to do very short frases.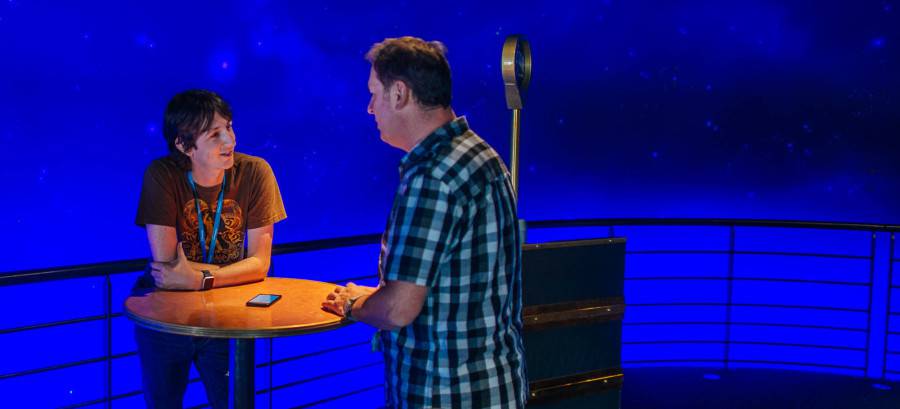 With adaptation comes improvisation. There is this famous YouTube video of a cute girl bowing to Darth Vader instead of fighting him. Do you anticipate something like this can happen?
It has already happened here as well! This small girl stood in front of to Dark Vador (Darth Vader in French), went on the knee and wanted to go to the Dark Side, so we just said: "okay, so you're in the wrong Academy". So we have something to say to these kids when they choose the Dark Side. Working with children is never easy, but you see when the children meet the Jedi and stand in front to the three thousand people in the theatre they really are impressed and have really are focussed. In fact, when I was casting I only wanted to cast male Jedi Masters, but then this amazing woman came in. Very tall, a beautiful face and a great voice that commanded presence, so I ended up casting her. Another fun bit of trivia, when we cast our Jedi, they get a unique Jedi name that only they will ever get, and even when one day they leave the Company, that name leaves with them.
The show decor is inspired by Episode VII, how much access did they provide to the upcoming film?
The entire project of course is still very Top Secret. When we start working on the decors we where given some very small images from the new movie and a color palette of Pantone colors. So we had to compose something new with the limited information we where given. It's the first time we show our guests what is going to happen in the new movie, and it's only in Paris.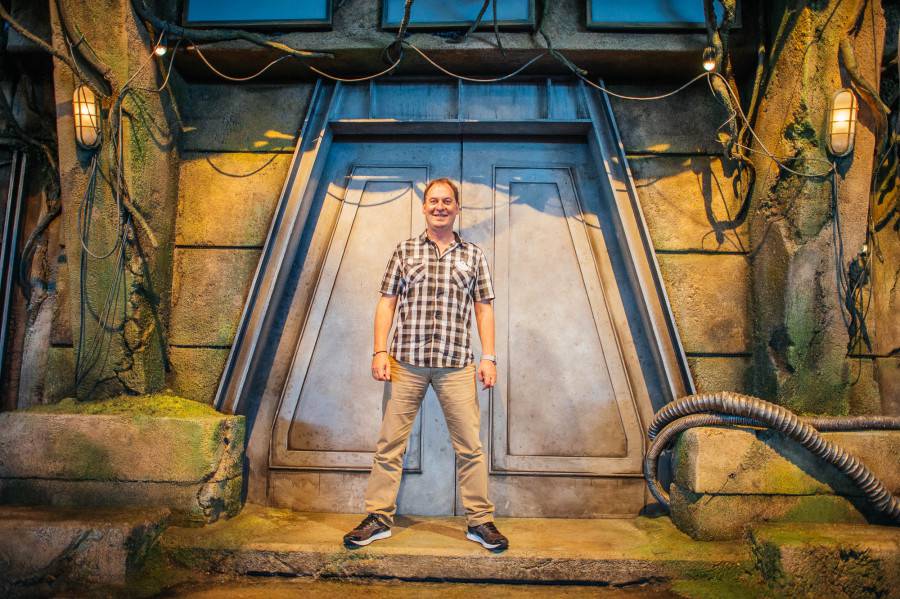 The first Jedi Training Academy debuted at Disney's Hollywood Studios in 2005. Why has it taken 10 years to bring this experience to Disneyland Paris?
I think the show came from the fact that the space in Discoveryland was available next to the Star Wars attraction. It came up in a meeting where we asked "what can we do in this area?". It had to be short for our guests because it's a restaurant and a theatre. And it had to cater for the for the boys as well. We have a lot of girls, but the boys are more interested. So that made us decide to have the Jedi Training Academy in Paris.
Everything in the show, from costumes and set design, is much more elaborate than in the States, it seems you really went all the way here.
Yeah, I mean, we have a very beautiful space here and you have to adapt to it correctly. The version in the US is a good version, but we decided to add more to the show. Since it's in a theatre we want to feel that effect so we added R2-D2 on stage that has a special interaction with our padawans.
What elements are you most proud of in the show?
I will say the moments when all the kids are in position with the Jedi Master and Knights, and when they all activate their lightsabers at the same time. It's a very magical moment. They are also different lightsabers from the States. We added a LED system, so when they are doing the fight with Darth Vader we have a special lighting effect in the decor. His lightsaber has a special program inside, so when a padawan strikes Darth Vader's lightsaber, that effect will automatically happen.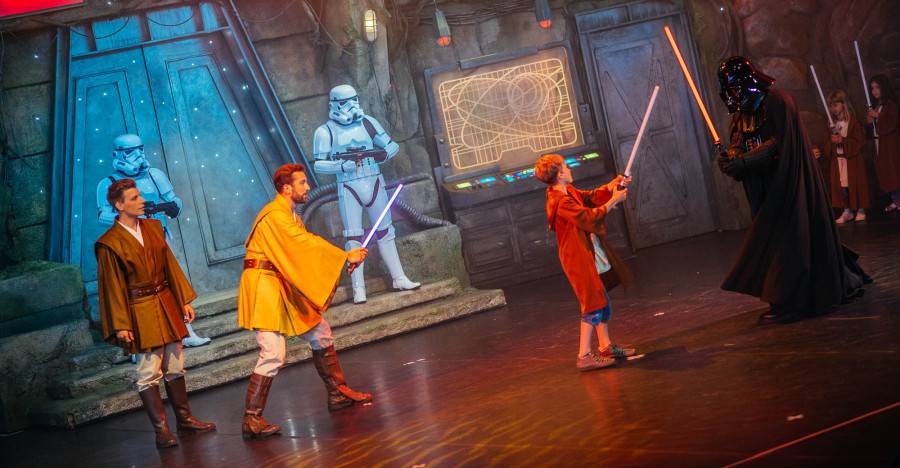 Very impressive! Are there certain things you wanted to include in Jedi Training Academy, but couldn't due to time/budget reasons?
No, the first idea was that we would do the exact same as in the States, but in the end we just elaborated more to the version we have now. But if we want to do something else, well, we are going to wait until the new movie is coming out, we will see. I think we will have a new version next year, maybe with a new villain. So it will keep evolving, depending on what happens in the new movies.
You've been at Disneyland Paris since the beginning, how do you see the evolution in entertainment between then and now?
Time is passing by quick, and by now I've been working twenty-six years for Disney. In the past I did shows like Beauty and the Beast, Mickey's Winter Wonderland and C'est Magique. I did singing shows like The Lion King and dancing shows as well, and now I am doing the Jedi Training Academy which is completely interactive with the kids. So with time passing there are different kind of shows. I'm right now preparing a brand new show for the Chaparral Theater which will be a new kind of experience as well. We are also using a lot of new technology now that didn't exist twenty years ago. Now we have LED's, screens like in the new Frozen Sing-Along, new effects, so it's different. However, we still do the same thing, tell stories.
What is your most special Disney-memory?
For me it was the Millennium Celebration. I was standing on one of the rooftops of Main Street, U.S.A. watching the amazing 360° fireworks display. It was so gigantic and impressive. The combination of changing millennia and the massive fireworks was just a magnificent souvenir.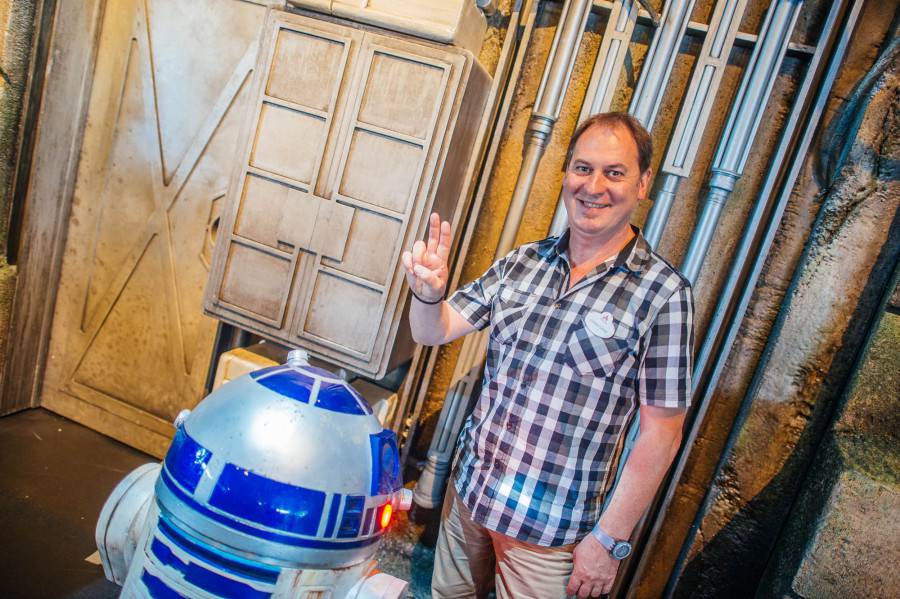 Are you a Star Wars fan?
Well, I'm not a real fan, but we grew up with the original trilogy, and it always amazed me how big it became. We see it with our guests. No matter their age, everyone knows Star Wars.
What would your color lightsaber be?
Hmm… I think it would be a blue one, like our Jedi Masters. I feel a little bit like Obi-Wan Kenobi in this project. I am like the father of the Jedi today. It was fun to work with the Jedi, we had a great time.
Thank you for your time!
Photography by Kris Van de Sande, additional photography by Jasper Orens. Additional information by @CafeFantasia. This interview has been condensed and edited for clarity. Thanks to Disneyland Paris and The Walt Disney Company Belgium for making the features on the Jedi Training Academy happen.