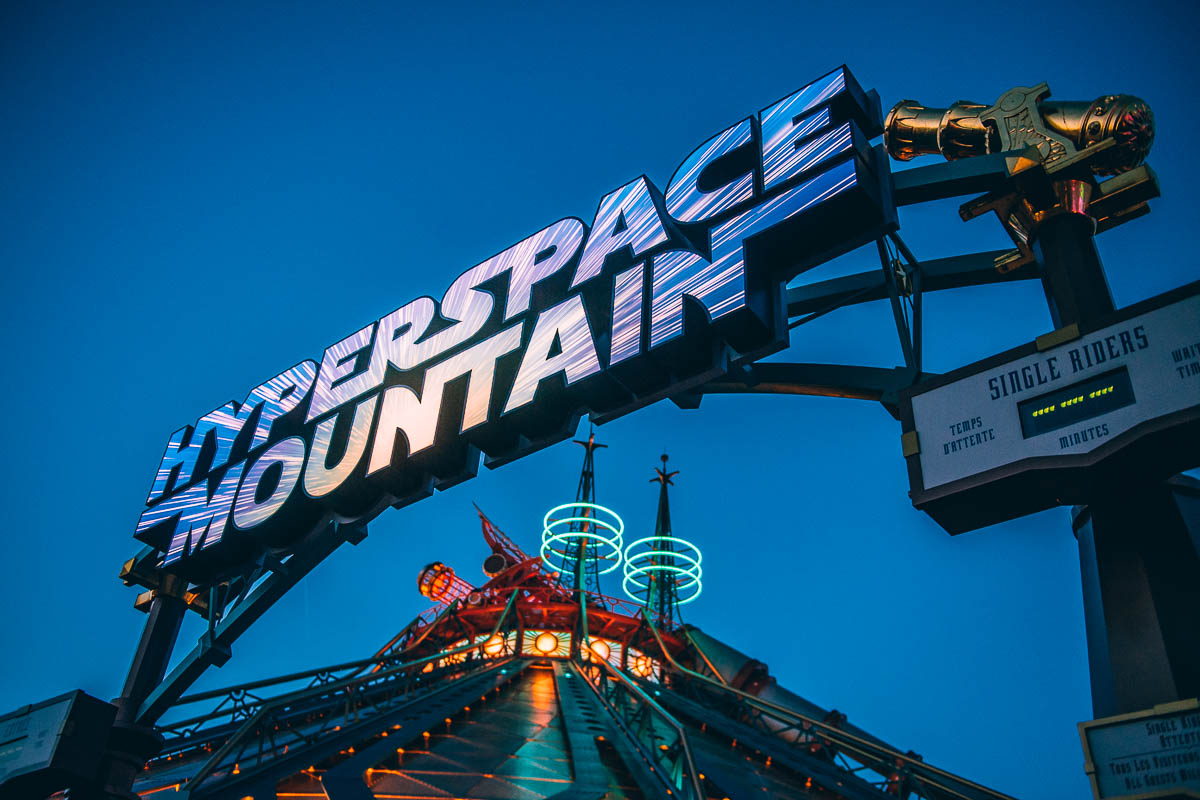 Kris Van de Sande
Celebrate May the 4th at a Disney Park for intergalactic fun
April 30, 2019
May the 4th is Star Wars day, with Disney destinations all over the globe joining on the action.
Disneyland Resort
Jump to light speed with the return of Hyperspace Mountain for a limited time, the popular Star Wars-themed overlay to Space Mountain.

Captain Phasma and a small legion of Stormtroopers make their way through Tomorrowland in an incredible display of the Force in March of the First Order.

Regardless of whether you're a supporter of the First Order or the Resistance, grab a friend and snap a picture at a special photo opportunity in Starcade.

Galactic Grill and Alien Pizza Planet are serving up Star Wars-inspired snacks that are out of this world! Grab a Dark Side Chicken Sandwich or Outer Rim Pasta. Mark the day with a novelty stein, sipper or popcorn bucket inspired by Star Wars icons. Additional details on these delicious surprises and more will be shared later this week, so stay tuned!

Grab a souvenir from Star Trader or Launch Bay, such as a t-shirt, hat or limited-edition pin!
Disneyland Paris
This year, Discoveryland will once again transform into a intergalactic headquarter, with numerous experiences, meet and greets and opportunities to celebrate this special day!

In the Beta arcade at Videopolis, choose to sport the colors of the First Order or the Resistance with our makeup artists available throughout the day!

Right outside, R2-D2 will be waiting for you for a one-of-a-kind meet and greet.

Then, head towards Star Traders where you can purchase an assortment of Star Wars merchandise

Outside Discoveryland Theater, two opportunities to strike a pose in the Star Wars universe await : a meet and greet with Chewbacca and an exclusive 3D photolocation on Planet Hoth! 

Finally, Star Tours: The Adventures Continue and Hyperspace Mountain will propel you to a galaxy far far away.

Wearing a Star Wars-themed costume is exceptionally permitted for the day and evening of May 4th. (With some rules enforced).
Star Wars Day at Sea
Also Disney Cruise Lines join the celebration with Star Wars Day at Sea
From January to early March, 2019, nine special seven-night Disney Fantasy sailings will transport guests to the Caribbean and a galaxy far, far away. 

Star Wars Day at Sea is an out-of-this-galaxy experience unlike any other where guests can celebrate the legendary adventures and iconic characters from the Star Wars saga with Jedi, Wookiees, droids, Stormtroopers and others during the special day-long celebration.

The seven-night cruise features a full day of Star Wars activities including a deck party spectacular with an extraordinary fireworks display, encounters with the galaxy's most formidable and heroic characters, Star Wars-themed family and youth activities, unique food and beverage offerings and special merchandise. 

Star Wars Day at Sea 2019 will only be on Disney Fantasy seven-night Caribbean cruises sailing from Port Canaveral, Fla., departing Jan. 5, 12, 19, 26, Feb. 2, 9, 16, 23 and March 2.
Tokyo Disneyland
While there are no specific Star Wars festivities happening in Tokyo Disneyland, it is interesting to mention it's Golden Week, which is one of the busiest weeks in the year for the Japanese resort. You can read all about it here.