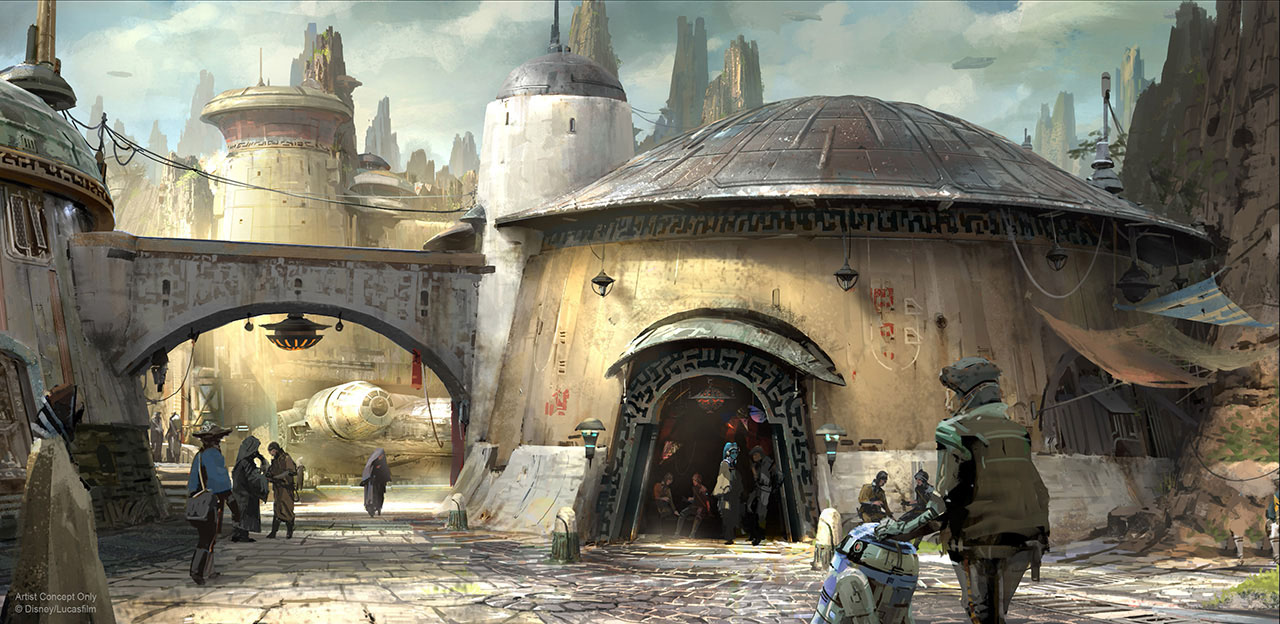 Kris Van de Sande
New details emerge for Star Wars Land at SWCO
April 15, 2017
Brand new details about the upcoming Star Wars Land expansions in Walt Disney World and Disneyland have been revealed at the Star Wars at the Disney Parks Panels at Star Wars Celebration Orlando.
With A Galaxy In The Making WDI and Lucasfilm staff joined the stage; Wendy Anderson, Doug Chiang, Scott Trowbridge, Pablo Hidalo, Asa Kalama and Chris Beatty.
This project is the biggest project I've ever seen in the history of Walt Disney Imagineering.
We know the stories from Hoth, Tatooine etc, so these lands are new stories and destinations, so they will take you to new places in the Galaxy. These have been developed by the Star Wars Story Group! It takes place in a mysterious destination somewhere on the Outer Rim — lying on the edge of the Unknown Regions, that has never been seen before, but is "on the map". The story group also knows "the ramifications of that location in the galaxy". Timing wise, the setting happens post Return of the Jedi, with active presence from Resistance and First Order.
Oh, and there will be blue milk! There also seems to be a Pod Race engine rigged as a grill.
Art wise, the Imagineers looked at Ralph McQuarrie art, but also traveled to Istanbul, Morocco, & more. Everything has been designed to look good throughout day, night and ever-changing weather. Imagineering is planning on tickling all senses, including for the first time we will know how Star Wars smells like!
It seems that there is already cast in training with fight choreography as well, with action coming from all places, including rooftops. Each guest will be completely emerged. New technology has also been created to have realistic looking lightsabers.
It's been really fun. I approach this as just another film. What I like about the park is you will live it. – Doug Chiang
Droids, with their own personality, are a very large part of the Star Wars expansion, with a lot of new, but some familiar faces as well. Is hoping to see RX-24 there too much?
Talking about attractions, you and your flight crew will be able to pilot the Millennium Falcon! Or help the First Order. Every choice you make has consequences! How you pilot the Falcon will matter. If you're a bad pilot, you might be treated differently in the land. You can build a reputation. The experience really followed you after you have done the ride.
The First Order vs the Resistance is according the Disney the most epic attraction they have ever undertaken, unlike any they have ever done before. It seems to feature the two full sized AT-AT's that we've seen from earlier construction pictures!
Expect more news to come from D23 Expo this July, and on the Disney Parks blog. Of course, we will also bring you any news that will be revealed.